Summary
Although most of us now rarely chat with others via the Messages app on Android, it is still a vital function for us. On the one hand, many important notifications are sent by SMS. On the other hand, we need to send messages in some special occasions. But where are texts stored on Android? If we want to back up valuable text messages to a computer, we need to find them in File Manager first.
But the point is that we cannot find them in any folder. That sounds a little weird, but it is true. Thus, to solve this problem, we will talk about 6 related tips in the following. After that, we will get the answer.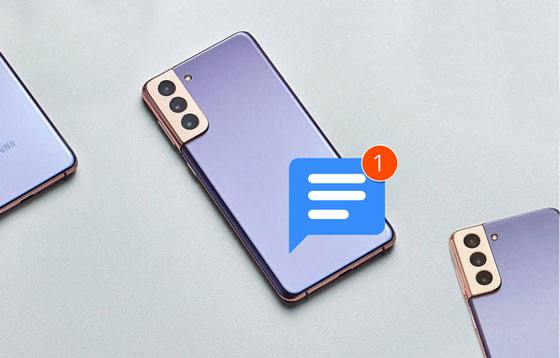 Part 1: Where Are Texts Stored on Android Devices?
We can only view text messages via the Messages app, but we cannot find them on the File Manager. Then, where are messages stored on Android? Actually, they are still on the internal storage in an unreadable file format. In general, you can find the data in a database.
You can find the detailed location via the following routes:
1. On Android OS 7.0 and above:
/data/user_de/0/com.android/providers.telephony/databases/mmssms.db
2. On Android OS 4.4 or later:
/data/data/com.android/providers.telephony/database/mmssms.db
3. On Android OS 4.3 or lower:
/data/data/com.android.providers/telephony/database/mmssms.db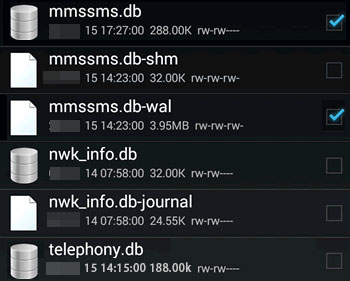 Bonus: Are text messages stored on a SIM card? Text messages are stored on Android internal memory, not the installed SIM card. Thus, others cannot see your messages although they have your SIM card. By the way, you can move your messages to your SIM card.
Part 2: Where Are MMS Pictures Stored on Android Phones?
If you have stored the pictures from MMS, you can find them on your Gallery app. Besides, you can manually save images and audio files on your Android phone.
Here's the guide:
1. Tap and hold the picture on the Messages app.
2. Save it to the location you like as an attachment file.
3. Open the Gallery app to view it.
Tips: Where are MMS stored on Android phones? Well, your MMS are stored in the same folder as your SMS, so that you can find your MMS data using the method mentioned in Part 1.
Part 3: How to Transfer SMS from Android to Computer in 1 Click?
After finding where text messages are stored on Android, you might want to transfer them to your computer. However, you cannot view your text messages on the computer although you directly transfer them to your computer. In this case, you will need an SMS transfer tool - Samsung Messages Backup. It can transfer and save text messages to a computer in an easily readable format.
What's more, it not only transfers text messages from Android to a computer, but also transmits contacts, apps, music, videos, photos, documents, and so on without data loss. Besides, you can manage your Android data on the computer without effort, like editing contacts, receiving and sending text messages, creating playlists, etc.
Here's how to transfer SMS to your computer:
1. Download and install the software on the computer.
2. Open it and connect your Android phone to the computer via a USB cable.
3. Choose the "SMS" category, and pick the messages by ticking. Then click the "Export" icon to save the selected messages in a readable format. Then you can access your messages on the computer at any time.
Further reading: Wonder how to easily transfer text messages from one Android device to another? These 4 solutions are for your reference.
Part 4: How to Back Up the Text Messages Stored on Android to Google Cloud Space?
Would you like to store your text messages on Google cloud space? Backing up data to cloud storage will not occupy your local storage memory, and your data will not be damaged even if your device is broken. Therefore, SMS Backup & Restore is a feasible option. Moreover, no matter where your Android text message folder location is, it can back up SMS in XML format. Also, it works for MMS and call logs.
Here's how to transfer messages from Android SMS location to Google cloud space:
1. Please download this app from Google Play to your Android phone. Then launch it and click the "GET STARTED" icon.
2. Tap the "SET UP A BACKUP" icon, and enable the "Messages" option. Next, click the "NEXT" icon to select Google Drive as your backup location.
3. After selecting a location, it will require you to log in to your Google account. Finally, hit the "BACK UP NOW" button to transfer your Android SMS to Google Drive.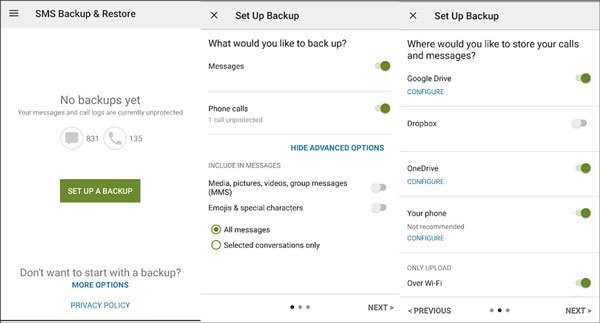 Maybe you need: You can also transfer messages from your iPhone to Android in 1 click.
Part 5: Where Are Deleted Android SMS?
So, where are deleted text messages stored on an Android phone? Undoubtedly, after you deleted a message, you can't view it on the Messages app anymore. Does it completely disappear? No, it is still on your Android phone memory, but the storage it used will be marked as readable. In other words, the new data can use its storage at any time.
Additionally, there is no Recycle Bin for messages on Android devices, so you cannot restore the deleted SMS directly. As for the accurate location of the deleted messages, no one can tell you. But if you want to find the deleted SMS, you can utilize a professional data recovery tool. You will know it in the next part.
You might like: Where are contacts stored on Android? This post has already solved this problem.
Part 6: How to Get Deleted SMS Back on Android?
How can you recover deleted text messages on Android? In this case, the SMS recovery software - Samsung Data Recovery, can help you. This is an effective Android data recovery program, supporting contacts, photos, call logs, SMS, documents, music, and video recovery. By the way, in case the new data overwrite your deleted SMS, any recovery software will be invalid.
Here's how to recover deleted SMS on Android:
1. Install the recovery software on your computer, and link your Android phone to the computer using a data cable.
2. Once connected, please select the "Messages" category and tap the "Next" icon. Then choose a scanning mode, and click the "Continue" button.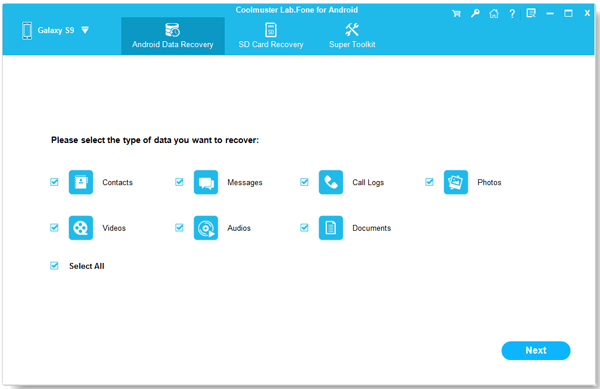 3. It requires you to root your Android device. You can also skip the step if your deleted SMS is stored on your SD card. Next, it will scan your text messages out, and you can select them on the interface. At last, click the "Recover" icon to save the SMS to your computer.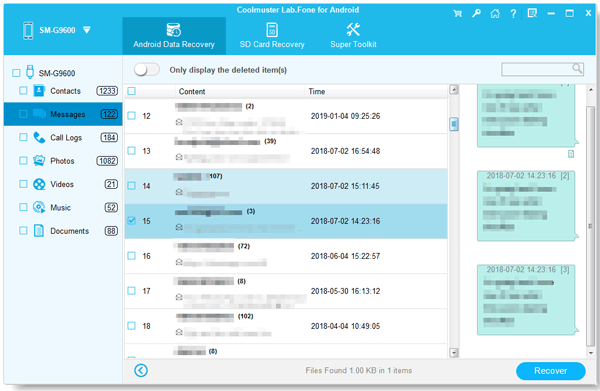 Conclusion
This post has found out where Android text messages are stored, and backed up messages and recover deleted SMS. You can click the part you want to know with ease. Besides, if you still have something confusing, you can leave your messages in the comments part. We will answer you as fast as possible.
Related Articles
How to Permanently Delete Deleted Text Messages on Samsung | 3 Efficient Ways Here
ZTE Recovery Tools: Retrieve Deleted Text Messages on ZTE (3 Top Methods)
6 Methods on How to Transfer Contacts from iPhone to Android [You'd Better Know]
[5 Best Ways] How to Transfer Music from iPhone to Android in Ease
How to Remove Duplicate Contacts in Android Smoothly | 5 Ways [Updated]
How to Recover Deleted Files from Android Phone Internal Memory with 3 Ways (Proven)