Summary
Who doesn't like getting a new smartphone? But how will you do with your data on the old phone? Actually, if you do an Android full backup, you won't lose your important files. Then you can restore the backup to your new phone with ease.
If you're looking for simple and practical methods to protect your data on Android, plenty of options are available to help you do an Android full backup and quickly restore it when switching phones.
In this article, we'll discuss different solutions you can use to make sure all your data is backed up and ready to be restored on your new phone.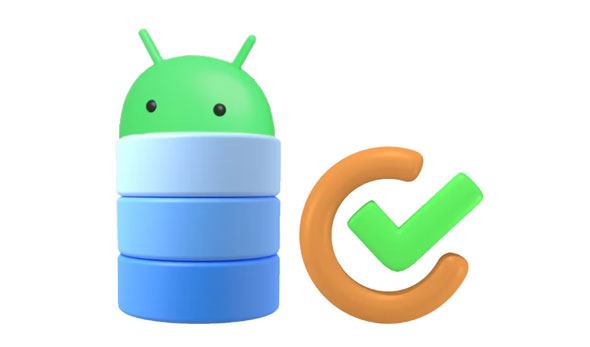 Part 1: How to Back Up Your Android Phone Completely via Backup Manager
The best way to back up everything on Android is through this software - Samsung Backup and Restore. The tool can transfer all Android files to a computer for backup, like contacts, call logs, SMS, videos, movies, music, books, photos, apps, etc. Moreover, this program has a selective feature so that you can choose the content you want by category.
Want to restore your backup data to another Android phone or tablet? Don't worry. This software can also work for this because it has a restoration function. Thus, whether you switch to a new Android device or not, you can restore your data with ease.
Highlights of this Android backup software:
- Back up almost everything from Android to a PC or Mac without effort.
- Allow you to select your file types before the backup.
- Restore your backup files without losing quality.
- Easily access your backup files on your computer.
- USB and Wi-Fi connections are supported.
- Support most Android devices and Android OSes.
Download this backup manager for your Android complete backup.
Here's how to back up your Android phone completely with this program:
Step 1. Launch the Backup Software
Download, install then launch the software on the computer. Choose "Android Backup and Restore" from the primary interface. After that, connect the Android to the computer using a USB cable.
Step 2. Enable the Program to Recognize Your Android Phone
Please enable the USB debugging mode on your phone, and the program will recognize your mobile device at once. Then you will see the connected interface.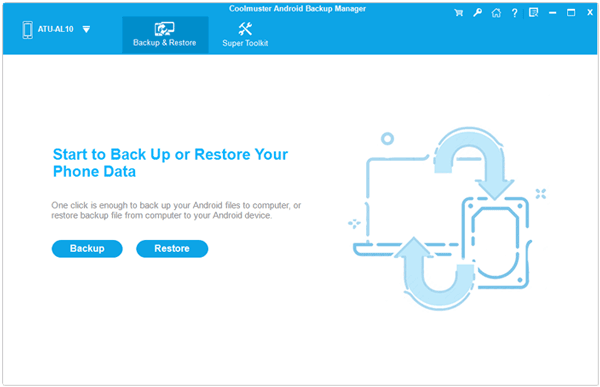 Step 3. Fully Back Up Your Android Phone
Head to "Backup" and choose the files you like on the interface. If needed, you can tap the "Browser" icon to choose a location to save your files. Then hit the "Back Up" icon to start the backup process.

You might need: Safely Transfer Files from Android SD Card to a PC without Trouble [5 Ways]
Part 2: How to Back Up Whole Android Phone with ADB Backup
If you're looking to back up all your Android data without rooting your device, use ADB backup tools. With just a few easy steps, you can securely save and preserve your information. This powerful tool does the job quickly so that no matter what happens with your phone, all your precious files won't be lost forever. While this process may take longer, the outcome is worth it. You have to set up Android SDK on the computer to start the backup process on Android. Here is how to do an Android system backup with ADB backup:
Step 1: Download, install the latest version of Android SDK on the computer, and launch it.
Step 2: Link your Android phone to your computer with a USB cable and then turn on USB debugging in your Android device by navigating to "Settings" and clicking "About phone". Click on the "Build number" option 7 times to enable "Developer options".
Step 3: Now head to the Developer Options below Settings and switch on the "USB debugging" option. To enable debugging, press "OK" on the pop-up window. Once accepted, you will see a command prompt on the computer screen. Then navigate to the directory you installed ADB tools in and type "ADB devices". Now select "ADB Backup - All" for a complete backup of your device, which will be stored as "backup.ab".
Step 4: You'll be prompted with a full backup window on your computer to provide an encryption password to restore data. To complete the backup of your Android device, simply tap "Back up my data", and you're all set. Wait for the process to complete.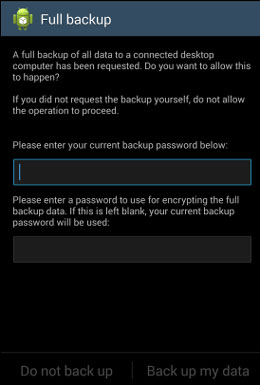 Read also: Want to transfer contacts to a SIM card on your Android device? Then you can follow this proven guide.
Part 3: How to Back Up Android Completely via Google Account
One of the amazing benefits of owning an Android smartphone is that you can take advantage of its automatic data backup feature. There's no better option than Google's cloud service that comes pre-installed on Android devices. Yet, this is only possible if you're signed into your Google Account on an Android smartphone. When signed into your account, Google backs up most data automatically, including settings, Wi-Fi networks, and display preferences. But that's not all; Google also saves your videos, pictures and apps. Here is how to conduct an Android complete backup:
Step 1: Head to Settings on your Android and click "Backup & reset".
Step 2: Enable the "Back Up My Data" or "Automatic Restore" option. If your device has both options, ensure you've enabled both by switching the slider.
Step 3: Click and choose all options listed so the data can be synced with your Google account.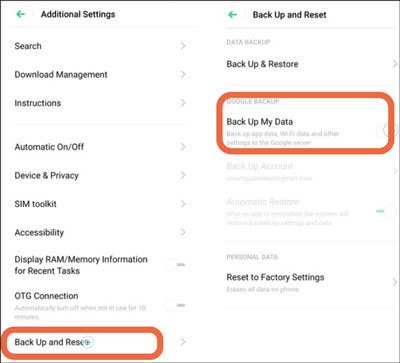 Further reading: Back Up Text Messages on Android Device with 5 Approaches [Safe]
Part 4: How to Achieve Android Complete Backup Manually
If you have very important files on your Android device, you must know how to safely back them onto a computer. The process is slightly different from using Google. Here, you have to manually back up your files by copying and pasting. Sometimes, it is best if you do everything by yourself. Though it's time-consuming, it's still easy to do.
If your primary concern is videos, photos and any other files stored on Android, the simplest route is to use a USB cable. Here are some simple steps to help you back up your Android device onto a computer:
Step 1: Use a USB cord to connect the Android device to PC. After that, open the notification menu and look for an Android system message that reads "Charging the device via USB". Tap on it. Under the section "Use USB for", select "File Transfer".
Step 2: On Windows PC, locate "This PC" in the folders or explorer window. Find your device under This PC and open it by double-clicking on it.
Step 3: Select the data to transfer by right-clicking on them and choosing "Copy". Then open the folder to store them, open and right-click on a space and choose "Paste".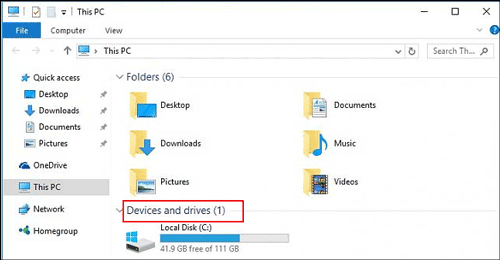 Conclusion
Hopefully, you can back up everything on Android with ease. You can easily and quickly manage all of your photos using Dropbox. For more important files, manual backing up using a USB connection is also a good way to ensure everything is safe. Samsung Backup and Restore is one of the most efficient applications to help you back up your Android device onto a computer. Then you can view and restore your data whenever you like. With these tips and tricks, you can easily back up your files fully without effort.
Related Articles
Handily Back Up Android Tablet with 5 Reliable Approaches [Detailed Guide]
How to Send Large Videos on Android in Hassle-free Ways [Must-read Guide]
How to Access WhatsApp Backup Seamlessly | Support Android and iOS
8 Fabulous Moborobo Alternatives to Transfer and Manager Android Files
Transfer Files from Android to USB Flash Drive with or without OTG
Fixed: Why Samsung Cloud Backup Failed? And How to Fix It without Hassle?