Summary
Text messages have dominated the communication sector. They provide an easy, fast, and convenient way of sharing information. However, losing an important message can be very inconveniencing. Suppose your boss sent you a text message, and you accidentally deleted the message before reading it. You will be forced to request the boss to resend the message, which is embarrassing.
The best way to avoid such stressful moments is to back up your phone's text messages. Furthermore, you will know how to back up text messages on Android without app in this article. Let's get started.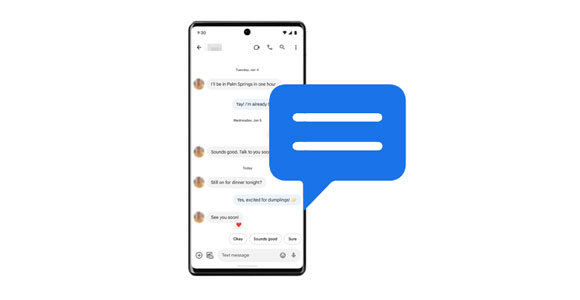 Part 1: What Are the Advantages of Backing Up Text Messages?
1. Prevent message loss - You can lose your Android device's data due to software corruption, hardware failure, theft, physical damage, accidental deletion, or physical damage. The data will be permanently lost if you don't have a backup. As a result, you should back up your device frequently.
2. Enable fast data recovery - If you back up your Android device's data frequently, you can easily recover lost messages from the previous backup.
3. Enhance tranquillity - You will rest certain that your data is securely stored. You will not worry about your data's safety.
Part 2: How to Back Up Text Messages on Android Without App
You can back up SMS on your Android phone without downloading any app. Here are 2 effective methods.
Method 1. How to Back Up Messages on Android via Google Backup Feature
Google Backup is a feature that will enable you to efficiently back up your Android device's text messages and other data to Google Drive or Google One. It is the best option for backing up sensitive text messages because it does not involve using a third-party application. With this tool, you can also restore your text messages in case you accidentally delete the messages.
Below is how to back up messages on your Android device without any app via Google Backup:
Step 1: scroll down the screen and navigate to your phone's notification section. Then select "Settings" from the available options.
Step 2: Scroll down the screen and tap on the "Google" button. Hit the "Backup" button. Enable "Back up to Google Drive", and tap the "Back up now" button to back up your Android messages and other files.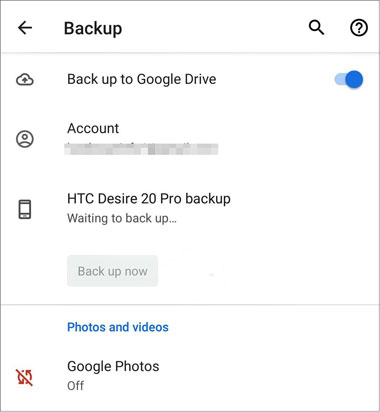 Learn more: If you want to print out your text messages for court, open this guide to get effective ways.
Method 2. How to Save Text Messages on Android via Local Backup Feature
Your device's backup feature provides a great way of safeguarding its settings and data. With the help of this potent feature, you can securely back up and restore your text messages in case of accidental deletion, loss of the device, or when your device gets damaged.
Follow the steps below to back up your device's text messages without an app via the Local Backup feature:
Step 1: Launch your device's "Settings" application.
Step 2: Scroll through the device screen, tap the "Additional settings" button, and hit the "Backup & restore" button.
Step 3: Hit the "Local backups" icon. A new screen will appear. Create a backup by hitting the "Back up" button.
Step 4: Select the data you wish to back up. Tap the "Messages" button and hit the "Start" button to initiate the process.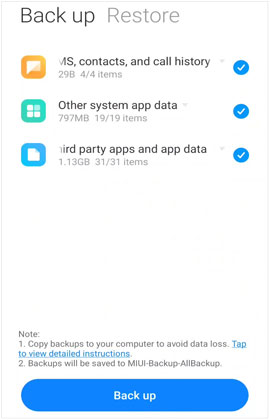 Read also: Want to retrieve your messages from a SIM card? Then please don't miss these tricks.
Part 3: How to Back Up Messages on Android with Third-part Apps
You can also use apps to save your Android messages, such as using Super Backup & Restore, and SMS Backup & Restore.
Method 1. How to Back Up SMS on Android via Super Backup & Restore
Super Backup & Restore is a handy option for Android users to back up their data. You can use it to back up your messages, contacts, call logs, calendars, and more, to your SD card. But there is no SD card slot on many Android devices. If your phone has the same case, you can't use this app.
Here's back up your SMS to an SD card via Super Backup & Restore:
Step 1: Install the app on your mobile phone or tablet, and make sure you have installed an SD card on the device.
Step 2: Run the app, and choose "SMS" > "BACKUP". Then click "OK" to start the process. Then your messages will be saved to your external memory card.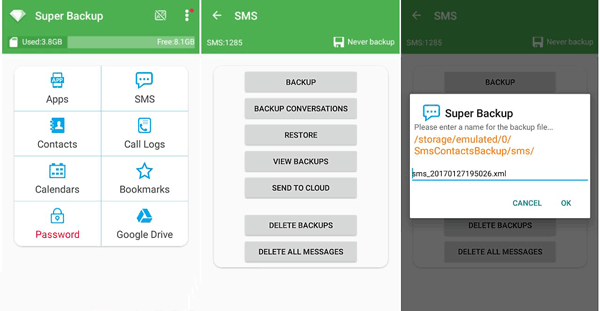 Method 2. How to Back Up Android Messages Using SMS Backup & Restore
SMS Backup & Restore is renowned because it helps users to back up SMS, MMS, and call logs to their local folders or cloud storage. Thus, you can use it to save your messages.
Here are the steps:
Step 1: Install the app on your Android gadget, and launch the app.
Step 2: Click "GET STARTED" > "SET UP A BACKUP". Then turn on "Messages" and click "Next".
Step 3: Select a location to store your text messages. If you choose "LOCAL BACKUP LOCATION", the app will back up your SMS to your phone.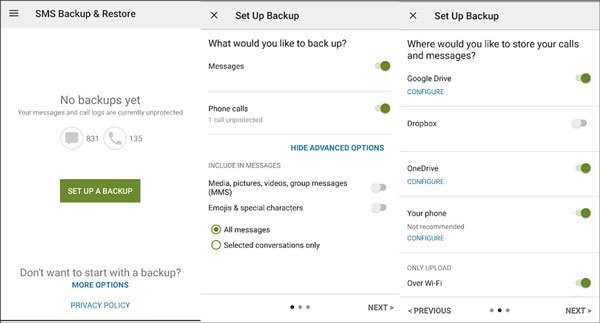 Learn more: Easily Read Text Messages Online for iPhone and Android
Bonus: How Do I Back Up All Text Messages on Android to Computer?
You can also prevent losing the messages by backing them on your computer with this backup software - Samsung Backup and Restore. With it, you can transfer all messages from your Android phone to a computer at a time, and conveniently restore your messages from the computer to any Android device. Also, you can back up your videos, music, apps, call history, etc., to your computer without effort.
Download this backup software.
Fast back up Android SMS to a computer:
Step 1: Please install the software on your computer, and open it.
Step 2: Connect your Android phone to the computer via USB, and enable the "USB debugging" feature on your phone. Then the connection will be done.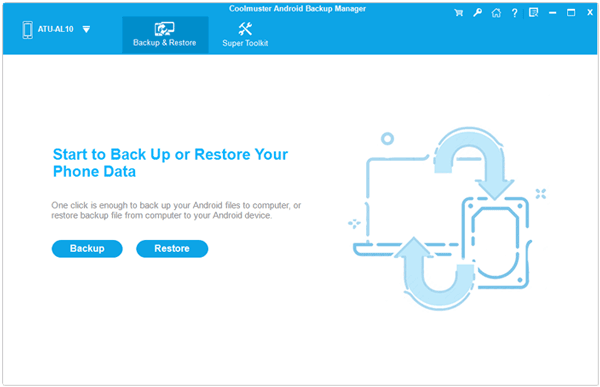 Step 3: After that, select the "Backup" option on the interface. Then tick off the "Messages" category, and click "Back Up". The software will save all your SMS to the computer for backup.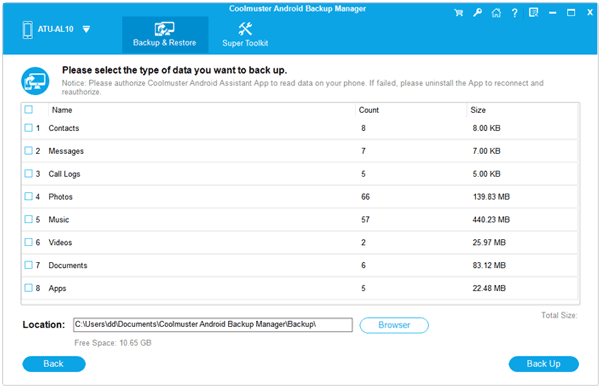 Tips: Can I recover accidentally deleted Android text messages? Yes, as long as they haven't been overwritten by new data, you can recover them without hassle. Thus, please stop using your phone before recovering your messages.
Conclusion
Finally, you have learned how to back up messages on Android using the simple methods discussed in this article. Additionally, we recommend backing up Android text messages using the Samsung Backup and Restore software. It can back up all messages to a computer securely and efficiently. The program has a straightforward user interface that makes it easily usable, even by novice computer users, and apart from SMS, it supports the backup of other Android files like contacts, videos, documents, call history, pictures, and so on.
Related Articles
How to Transfer Messages to New iPhone in 4 Ways [Worked Out]
How to Forward Text Messages on Android Devices with 4 Easy Approaches
3 Ways to Quickly Transfer Messages from iPhone to Samsung (Latest)
Android SMS Manager: How to Manage Messages on Android with 3 Practical Methods
Quick Guide: How to Back Up Android Phone in Different Ways [Easy]
How to Add Contacts on Android Phone with Easy Clicks [5 Ways]