Summary
Switching from iPhone to Android? You will want to take all your data, especially the photos. They contain all your precious memories; you wouldn't want to leave them behind.
You may want to know how to Bluetooth photos from iPhone to Android. Well, it can be tricky to go the Bluetooth way. Even though iPhones come with a Bluetooth feature, this functionality is constrained by the limitations imposed by iOS.
This article explains other easiest ways to transfer iPhone photos to Android. Let's look and see.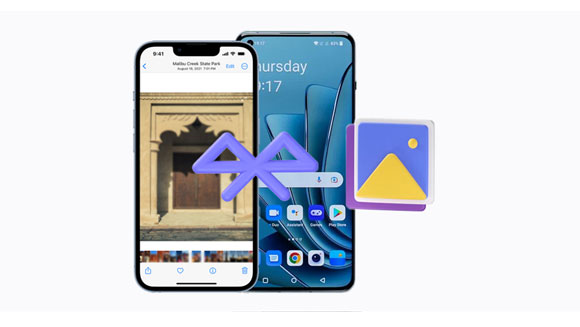 Part 1: Why iPhone Doesn't Support File Transfer Protocol (FTP) via Bluetooth?
1. Apple has its own file-sharing tools.
iPhones do not support File Transfer Protocol using Bluetooth because Apple companies prioritize other technologies and features on their devices. They have their own sharing and file transfer methods, such as iCloud Drive and AirDrop, which works well with other Apple devices.
For instance, AirDrop lets users easily share photos between Apple devices over Bluetooth and Wi-Fi. What's more, it is reliable, fast, and works well with other products from Apple. The company's overall strategy heavily relies on this aspect.
2. Bluetooth isn't reliable.
Bluetooth technology itself is not the most reliable and continent way to send large amounts of data between devices. It encounters a lot of interference and has limited coverage; this results in data loss and slow transfer speed.
Although it can be useful in some situations, for example, sending files between a computer and a mobile device, it is not a feature that most smartphone users expect or demand. With that, many device manufacturers do not prioritize Bluetooth for file transfers compared to other methods.
Part 2: How to Wirelessly Transfer iPhone Photos to Android
So, we cannot solve how to share photos from iPhone ot Android via Bluetooth, but we can utilize other wireless approaches to accomplish the photo migration. Below are some methods to transfer pictures from iPhone to Android device wirelessly.
Method 1. Use Google Drive to Transfer iPhone Photos to Android
Google Drive has made it easier to transfer files from iPhone to Android. All you need is a good internet connection to back up your iPhone photos on Google Drive before moving them to an Android device.
Here are steps to send photos from iPhone to Android using Google Drive:
Step 1: Download Google Drive, open it, and login in with your Gmail account.
Step 2: Tap "Add" and click the "Upload" button. Then choose "Images and Videos".
Step 3: Navigate through your photos and select the ones you want to upload. Then tap "Upload".
Step 4: Open Google Drive on Android and sign in with the same Google account. All your photos will now be available on Android devices.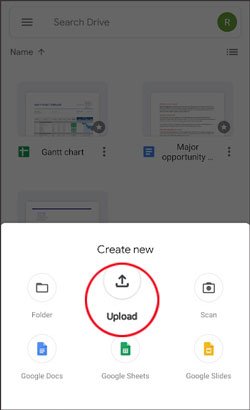 Learn more: Want to get an excellent alternative to Google Photos? Open the guide and get it.
Method 2. Use SHAREit to Transfer Photos from iPhone to Android
The SHAREit application simplifies file transfer between iPhone and Android, making it useful for all phone users. This tool can transfer apps, contacts, and media from your iPhone to Android. It is a popular application, and you can get it for free from App Store or Google Play.
Here are steps to move photos from iPhone to Android using the SHAREit app:
Step 1: Install SHAREit on both iPhone and Android devices.
Step 2: Grant the necessary permissions. Next, launch the SHAREit application on your iPhone device and tap "Send", and select the images you want to transfer.
Step 3: Run SHAREit on Android and tap "Receive". Then they will search for available devices, and you will get a QR code on your Android phone.
Step 4: Tap "Connect to Android" on your iPhone, scan the code, and click "Join" for the connection. After that, you can send the selected photos to your Android gadget.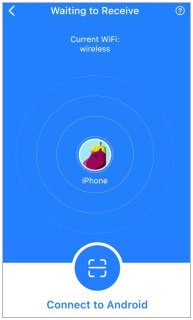 Maybe you like: [Incredibly Easy] Recover Deleted Photos on Android with 3 Effective Methods
Method 3. Use Mail to Transfer iPhone Photos to Android
The next method that allows you to easily move files from iPhone to Android is Mail. With this method, you don't need to install any application to move your videos and photos. However, you must ensure that your attachments are not more than 20MB. Otherwise, it won't upload the file.
Here are steps to follow if you want to send photos to Android from iPhone via Mail:
Step 1: Launch the "Photos" app on your iOS device. Click "Select" and select the pictures that you want to transfer.
Step 2: After selecting your photos, click the "Share" icon and choose the "Mail" option.
Step 3: Click on "Compose", enter your email in the "To" section, and click "Send".
Step 4: On your Android device, download the attachments received and save them on your phone. Then the images will be stored on your Android smartphone.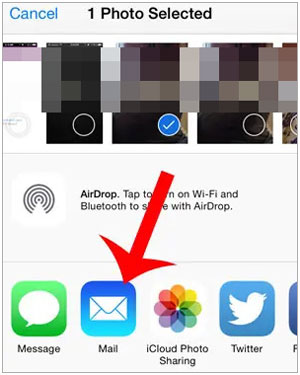 Method 4. Use iCloud to Move iPhone Photos to Android
If you use iCloud or you have saved your pictures on cloud storage. You can access your files by signing in to your account on a browser on your Android phone. Since no iCloud app is designed for Android, you can still use a browser like Google Chrome to access your account and storage.
These are the steps to move files to Android from iPhone with iCloud:
Step 1: Open the iPhone and go to the "Settings" menu. Click "[your username]", then "iCloud" > "Photos" and enable the "Sync" feature.
Step 2: Wait until the synchronization is complete. This will allow you to access photos on icloud.com.
Step 3: Now open the browser on the Android device. You can use Google Chrome. Open the icloud.com website and log in using your iCloud details. Click the "Photos" section to view synced pictures.
Step 4: To save photos on your Android phone, select them and click the three-dot menu. Choose "Download", and the pictures will be saved to the "Downloads" folder.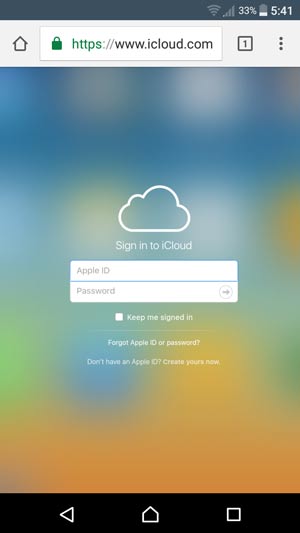 Method 5. Use Clone Phone to Transfer Pictures from iPhone to Android (OnePlus Only)
Suppose you want to move pictures from an iPhone to a OnePlus phone; you can use the OnePlus Clone Phone application. This app works the same as Smart Switch, but you require to connect the devices to Wi-Fi. Moreover, you must install the Clone Phone app on your Android phone (it may come pre-installed) and your iPhone. By the way, this app can transfer videos, photos, calendars, and contacts from iPhone to OnePlus.
Here is how to send Photos from iPhone to Android using Clone Phone:
Step 1: Install the Clone Phone app on your OnePlus phone. Click "This is the new device" and select "iPhone".
Step 2: Use your iPhone camera to scan the QR code on OnePlus. Then the app will be installed on your iPhone.
Step 3: Choose "This is the old device" and select the "Photos" category.
Step 4: Tap "Start migration" to send your pictures from iOS to Android.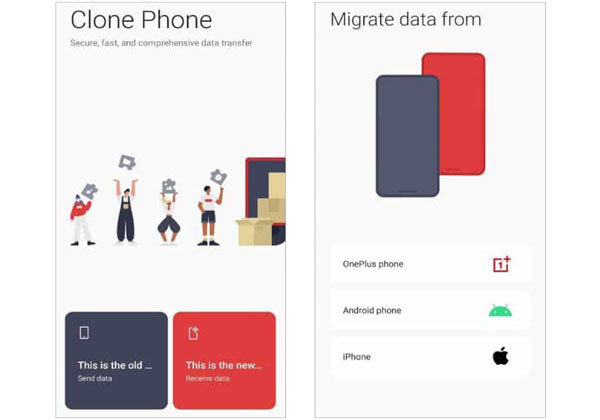 Part 3: How to Send Photos to Android from iPhone in a Few Taps [Best Alternative]
Although there is no way to Bluetooth data from iPhone to Android, there is an easy and more convenient alternative. One of the alternatives is Samsung Data Transfer. This program supports both iDevice and Android platforms making it an ideal option for transferring pictures and other files between any mobile device. Besides sending photos from iOS to Android, you can move your videos, music, contacts and more at the same time.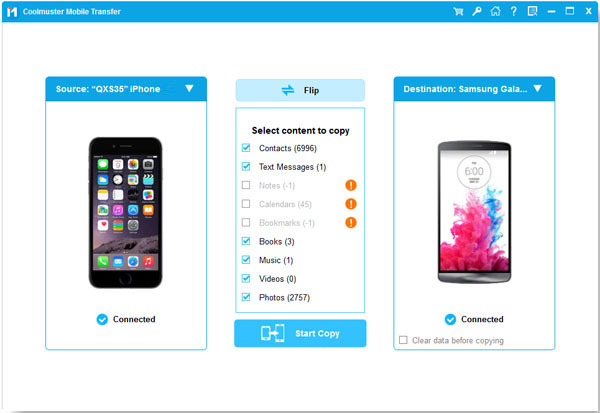 What sets this transfer software apart:
- Seamlessly copy photos and other data from iPhone to Android.
- No quality will be lost after the transfer.
- Data privacy and security protection while moving data between Android and iOS devices.
- Compatible with almost all Android and iPhone devices.
- Transfer large files in a short time.
Download this iOS to Android transfer software to replace the Bluetooth transfer.
Further reading: How to Import Photos from iPhone to HP Laptop with 7 Trustworthy Methods
Part 4: FAQs on Sending Pictures from iPhone to Android
Q1. Can I use AirDrop to transfer iPhone pictures to an Android device?
No. AirDrop is an Apple feature that only works across the Apple ecosystem. It works on iPhones, iPads, iPod touch, Macs, and Macbooks. If you attempt to use it with AirDrop, you won't see to send/receive icon on your iPhone.
Q2. Does AirDrop use Bluetooth feature?
AirDrop transfer files over Wi-Fi and Bluetooth. So, both these features must be switched on. Before using the AirDrop feature, you should be logged into Apple ID.
Conclusion
How to Bluetooth pictures from iPhone to Android? There is no way of using Bluetooth for iOS and Android devices, so you cannot Bluetooth your photos to Android. However, this article has outlined other ways to transfer your pictures more efficiently and reliably than Bluetooth.
If you want a one-stop tool, Samsung Data Transfer will be nice. It lets users transfer photos between mobile phones at lightning speeds without overwriting files or using cloud storage. You can directly get your files on your target phone/tablet.
Related Articles
Effortlessly Transfer Pictures from Alcatel Phone to Computer in 5 Simple Steps
How to Recover Deleted WhatsApp Images on Samsung | 5 Functional Approaches
[Best Guide]How to Delete Photos from Android Phone Permanently in 4 Ways
How to Transfer Photos from iPhone to SD Card Easily [5 Proven Ways]
How to Transfer Photos from Android to PC Windows 10 [Handy Guide]
How to Restore Photos from Mi Cloud? [Advanced Guide in 2023]