Summary
Face recognition is an important security feature introduced on Android to help users protect their devices from unauthorized access. It is quite useful if you want to keep your files safe.
Normally, face recognition works by authenticating some actions with your face as a biometric identifier. But, it can sometimes fail due to various reasons. Maybe the camera is bad, or the device has some problems. When that happens, you won't access the device. And trying to unlock it many times will permanently lock it. So, you will only have the option of bypassing it.
Now you are wondering how to bypass face recognition on Android. Well, it's not difficult; this guide will show you how to do that in simple steps. Let's get right into it without delay.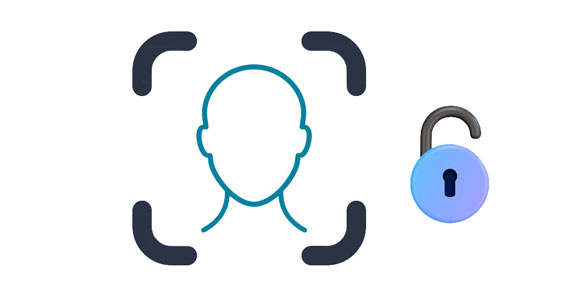 Part 1: What's Face Recognition?
Face recognition is a biometric technology that identifies or verifies people based on facial features. This method recognizes the identity of a person automatically using unique facial characteristics.
Generally, most smartphones have face recognition as a security measure to unlock devices. Face recognition uses a front-facing camera and other sensors to capture and analyze facial features. This enables the phone to verify a person's identity and grant them access.
Part 2: Can You Unlock a Phone with Face Recognition?
Yes. Unlocking a device with face recognition is possible if you have set it up on your phone. To unlock a phone using face recognition, you just set it up by registering a face within your device's settings. This entails positioning your face in front of a camera to allow the device to capture and save the facial data. After that, you can now use face recognition as an unlocking option.
To unlock your device, you just have to activate the phone screen, which will try to detect your face. If your face matches with registered data, it'll unlock the device, thus granting you access.
Even though face recognition can be a convenient option to lock a phone, it may not be the safest method compared to passwords or fingerprints. It is easier to fool some face recognition systems.
Read also: Android pattern locks can also be removed if you know the correct ways.
Part 3: How to Bypass Face Recognition on Android via Android Unlocker
To easily bypass the face recognition on your phone, we advise you to use Android Unlocker. This reliable, robust, and professional tool was designed with advanced technology to help Android users unlock their devices. With this tool, you can never go wrong when the face lock is out of control.
It's your best option to remove PINs, face locks, passwords, patterns, fingerprints, and more. Its simplicity, ease of use, and high success rates make it the most sought-after unlocker tool by most Android users. On top of that, it removes screen locks from some Samsung and LG devices without losing data.
The top features of this Screen Unlock software:
- Bypass face recognition on Android devices with a few clicks
- Not only unlock face lock, but also support unlocking PINs, patterns, passwords, and fingerprints from Android devices.
- Removes FRP lock on Samsung, Xiaomi, OPPO, Realme, and more brands of Android phones and tablets without Google accounts/PIN.
- Secure and easy to use.
- Compatible with most Android models.
Download the unlocking program.

How do I unlock face recognition on Android easily? Use these steps:
Step 1: Launch the application on the PC and proceed to "Screen Unlock", and select "Android" since you want to unlock an Android device. On the next screen, choose "Unlock Android Screen".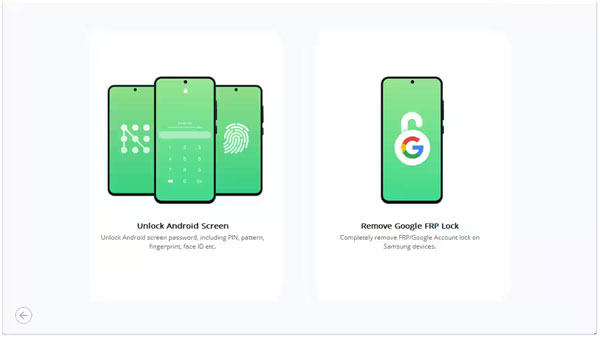 Step 2: Choose your device's brand, tap "Next", and type "000000" to confirm your operation.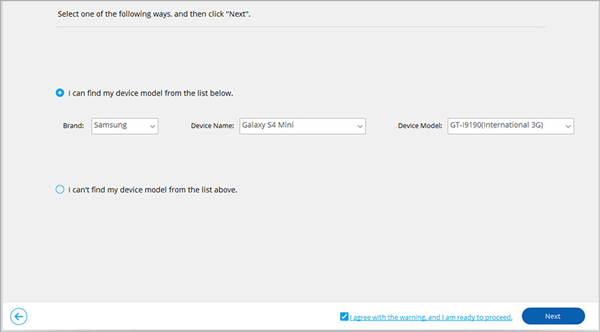 Step 3: Follow the onscreen guide to put your device into Download Mode. Then the software will unlock your phone automatically. Wait for the unlocking process to finish and press "Done".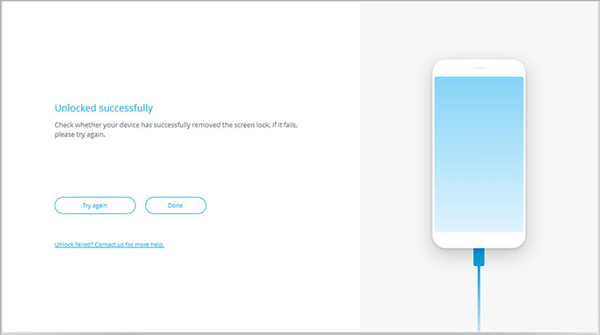 Further reading: Bypass LG FRP Smoothly with or without Computer [3 Pragmatic Methods]
Part 4: How to Remove Face Recognition from Android Using Find My Device
With Google's Find My Device, you can effortlessly lock your device, erase available data, or find its location. Find My Device usually uses the map to carry out these tasks remotely.
Most importantly, you can bypass the face lock on your Android. However, the locked device should have been signed into the Google account before it got locked. Besides, your Android should be operating on 7.1.1 or upper.
With that requirements met, you can follow these steps to remove the face lock from your Android phone:
Step 1: Head to the Find My Device website on a browser, then log in with the Gmail account. You should get a message on your device.
Step 2: Now select the option for "ERASE DEVICE". Confirm this process and tap "Erase" when a warning message appears on the screen.
Step 3: Instantly, the process to reset will start, so wait some time to finish. Once done, choose "My Google Account" instead of using the device as new.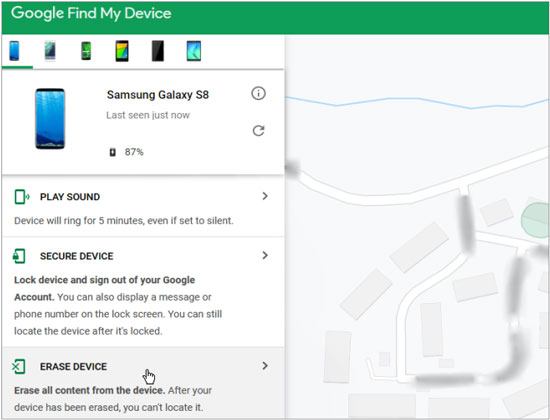 This procedure erases all your files and settings. Ensure you save your files somewhere before you begin the unlocking process.
Learn more: With this guide, you can back up and restore your Android data on a computer with ease.
Part 5: How to Remove Face Lock from an Android with Samsung's Find My Mobile Feature
Find My Mobile is Samsung's provided service that can assist in locating, managing, and securing Samsung devices remotely. This feature provides many functions to help users locate their stolen/lost Samsung devices and help protect the data.
Furthermore, if your Samsung has a face lock, you can use the Find My Mobile feature to unlock it. But you should have created an account before.
Use Find My Mobile to bypass face recognition on a Samsung Android device:
Step 1: Open the Find My Mobile website on a computer's browser. Log into your Samsung account using your email/phone number and password. Then tap "Sign in".
Step 2: Click "Unlock" from the left panel. If you have many Samsung devices linked to the same account, choose the correct one from the list.
Step 3: Enter the passcode again if prompted. This will unlock your device. You should set another passcode from the settings menu. Then use the new passcode to unlock your mobile device.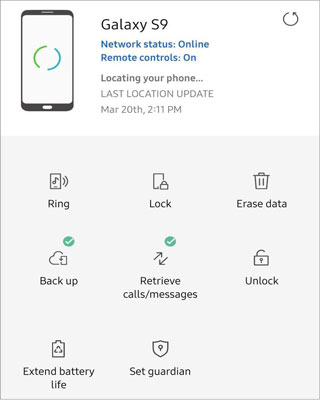 Part 6: How to Bypass Face Recognition on Android by Resetting It
Another great way to get past the face lock on Android is by conducting a factory reset. This approach will erase all files from your phone, thereby removing the lock settings on the device.
It's quite easy to remove a phone with face recognition by resetting it:
Step 1: Start by switching off the phone, then enter it into recovery mode by pressing the "Power" button and the "Volume Down" button at the same time. Release them when you see the "Recovery Mode" screen. But this varies depending on the models.
Step 2: Now choose the "Wipe data/factory reset" option using volume buttons. Click on the option using the "Power" button.
Step 3: Press "Yes - delete all user data". Now press "Power" to select the option. After the procedure finishes, power on the phone. If prompted, you need to enter your Google account and password to go on. Once done, you will unlock your phone.
Conclusion
Even though face recognition is an important default feature on Android phones, it can sometimes fail. Hopefully, you bypass the face locks on Android devices with the methods provided above. If you cannot bypass the lock in free ways, try Android Unlocker. This software can fast unlock an Android phone or tablet within minutes. Also, you can use it to remove fingerprints, passcodes, patterns, and other types of screen locks from Android.
Related Articles
Sync Android to PC in 2023: 6 Trustworthy Ways You Can Select
FAST Unlock Your Phone: How to Bypass Google Account Verification After Reset
Discover Secret: How to Recover Photos from Lost Phone Without Backup
How to Transfer Notes from Android to iPhone Securely and Easily [5 Ways]
Easy Steps: How to Restore Call History Backup from Google Drive
Top 8 Android Phone Unlocking Software to Unlock Your Android Phone (Thorough Comparison)