Summary
Since the introduction of Android 5.1, Google has designed a new, more advanced security measure that prevents people from accessing their devices if they forget their Google account information. This feature prevents Android users from getting past the verification screen after resetting their devices. You will remain on the verification screen until you enter an email associated with the device and its password.
What if you don't remember the Google account login information used? Do you know how to bypass Google account verification after reset? Keep reading to get solutions.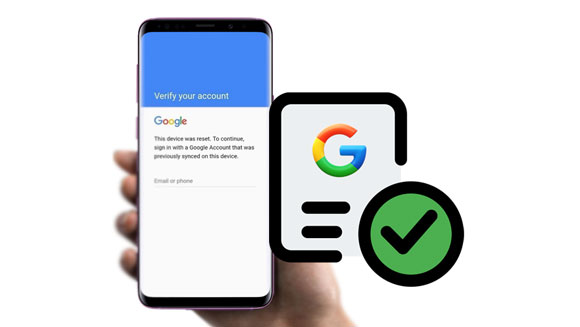 Part 1: Can You Bypass Google Account Verification After Resetting?
Yes, you can bypass a Google account verification after a reset. Several methods exist that can help you achieve that. If you can access your phone or email, you can remove the lock. Also, if you have forgotten your Google account login information, you can make use of a reliable unlocking tool to bypass Google verification. Anyway, don't worry about it, and you can get effective methods.
Part 2: How to Bypass Google Account Verification After Reset on Android
FRP lock is an effective measure to protect files from leakage or theft. But it can drive you crazy when you can't recall the Google account and its passcode. To assist you, we have various methods to bypass the Google verification after factory reset. Here are 3 solutions that can help you bypass FRP lock without a hitch.
Method 1. How to Bypass Google Verification with a Professional Tool [Fast]
Android Unlocker is a program that enables you to bypass all types of screen locks, such as PIN, Pattern, Fingerprint, Password, and many more. Additionally, it bypasses Google verification quickly. Even if you forget your Gmail account and password, it can eliminate the FRP lock on your device without any code.
Besides, it bypasses FRP locks on various Android devices, including Samsung, Xiaomi, OPPO, Realme, Redmi, and Vivo. And it will improve and support more Android devices in the future. You just have to download the tool, plug in your device, and remove the lock. The whole procedure takes a few minutes.
Key features of this Android Unlock software:
- Bypass Google lock from Android devices permanently.
- Remove the lock with simple steps and guide you with instructions.
- Support unlocking FRP locks on Samsung, Vivo, Redmi, and more.
- Unlock screen locks on most Android phones and tablets.
- No tech skills are needed.
Download the unlocking software to bypass Google verification.

How do I bypass Google account verification after reset with this software?
Step 1: Launch the Android Unlock software on your PC after you install it. From there, head to "Toolbox" and tap on "Screen Unlock". Proceed to "Android".
Step 2: Once done, choose the "Remove Google FRP Lock" option from the available options. Next, select your device's brand, choose your Android device's brand and tap "Start" to proceed.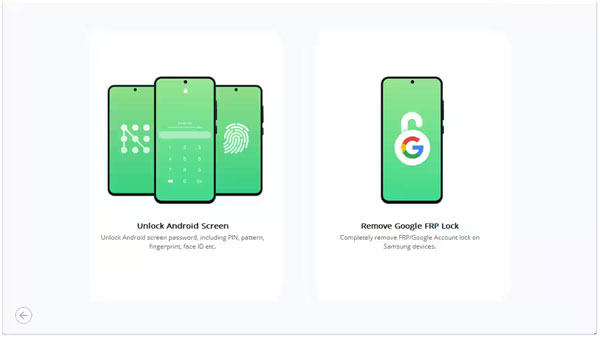 Step 3: It will download a driver for unlocking. Please turn off your phone, and connect your phone to the computer via a USB cable while pressing and holding the "Volume Up" and "Down" buttons for several seconds.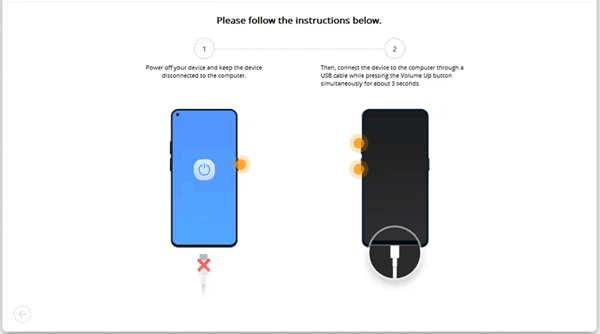 Step 4: Now, the unlocking process will start. Please wait some minutes, and click "Done" as the process is finished. The lock will be removed from your phone.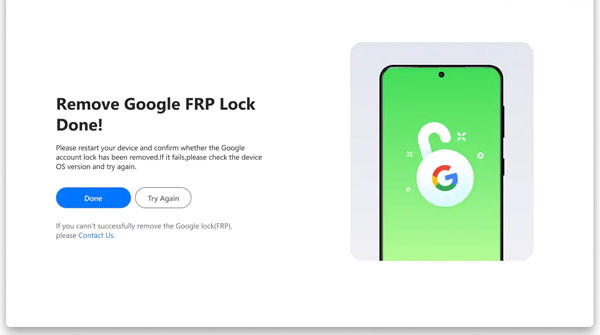 You might like: Bypass LG FRP Smoothly with or without Computer [3 Pragmatic Methods]
Method 2. How to Bypass Google Account Verification After Reset Without PC Using Google Keyboard
The first method will help you remove the Google verification lock from an Android device easily and quickly, but you can also remove the lock without a computer with just a Google Keyboard. Though complex, you can still get past the Google verification page if done correctly.
Here's how to bypass Google account verification after resetting without a PC:
Phase 1. Open Google Keyboard Settings on Your Phone
- When prompted to verify the Google account after choosing a language and linking the phone to the WiFi, click on a text field to enter your Google account.
- Click then hold the "@" key until you see the Settings button on the screen. Click on it, then choose "Google Keyboard Settings".
- Go to "Help and Feedback" by clicking on a hamburger tab in the top right corner. From the Help section, click on the "Use Google Account Keyboard" option, then long press on your screen to choose any text.
- From there, click on the "Web Search" option in the upper section, then type "Settings" in the Search bar that pops up. After that, you'll see the Settings option. Click on it, then access the app on your phone.
Phase 2. Activate the OEM Unlocking Function
- From the Settings page, head to "About phone" then to "Software information" and "Build number". Click on the Build Number 7 times to turn on "Developer options".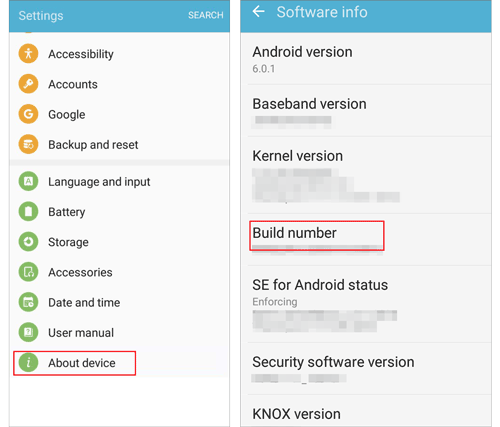 - Return to the Settings page, scroll to "Developer options", and click on it. Find "OEM unlocking" and enable it. This will deactivate device protection features on the phone.
- Click on the "Back" button two times, reboot the phone, and you can access it without being prompted for a Google account. You'll have to add a new account; follow the instructions to set it up. That's it! You have bypassed Google verification without a computer.
Learn more: When the screen on an Android phone doesn't work, how can you unlock it? Read this guide to get 9 tricks.
Method 3. How to Bypass Google Lock with Talkback on LG Devices
If you are an LG user, this approach will help you get past the Google verification page. Apart from other approaches, this is also another viable option to remove the FRP lock.
Here are steps on how to get past Google lock:
Step 1: First, connect the phone to the internet, then switch it on. When you get to the main screen, head to the "Accessibility" option. Proceed to "Vision" and then to the "Talkback" option and deactivate it. Scroll down to "Text-to-speech output" and enable it.
Step 2: Head to "Google Text-to-speech Engine", then to "Feedback" > "Terms of Service".
Step 3: You'll be taken to the "Google Search" section and look for anything that can display a trusted source on results, such as a Wikipedia page. Now long press on a link and head to more options or three dots. Click on the "Assist" option.
Step 4: This will show the search bar. Click "No Thanks" and type "Settings" in the search bar. From there, head to the "Settings" > "Apps" and "More" option. Head to the "Show system" feature, then click on the "Setup Wizard".
Step 5: While in the wizard, find "Storage", then clear the cache. Return to "Google Play Services", force close it, and click the "Disable" option. Click on the "Back" button two times, then switch off internet access. Now exit the screen and reboot the device.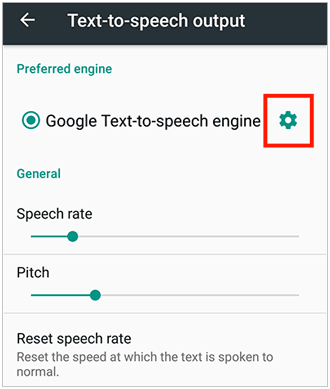 Method 4. How to Get Past Google Lock Using a SIM Card
You can also remove FRP locks without requiring an internet connection. You only need a SIM card and another phone. Here are steps on how to bypass Google lock using a SIM card:
Step 1: Take a working SIM and insert it into the locked phone. Using another phone, call the number of the SIM you inserted in the locked device.
Step 2: Now answer the call on the locked phone and save contact details by tapping on "Add a new contact".
Step 3: Next, add a string number in the contact form you've opened, then click "Save". Choose the "Google" option to create a new account.
Step 4: Once done, reboot the phone, and you will find the Google verification removed.
Read also: Can you unlock ZTE phones without losing data? Open this guide, and you will know the answer.
Extra Tip: Avoid Google Account Verification Issues by Disabling Google Account from Device
If you don't want to encounter Google verification issues, you should prevent it from happening. Normally this default feature is activated while setting up the phone with a Google account. Therefore, before resetting the device, you can remove the Google account. Here's how:
Step 1: Head to the "Settings" menu and click on "Accounts". Then hit the "Google" option.
Step 2: Locate the Google account, then choose it.
Step 3: Tap on the three-dot menu at the top and choose "Remove account".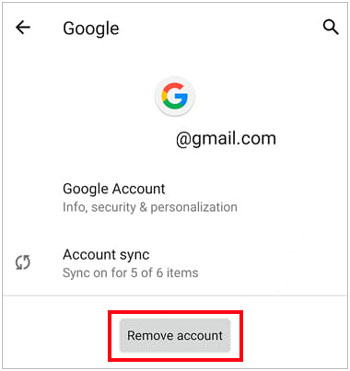 Conclusion
How do you bypass Google verification after the factory reset? The above methods will help you. You should be able to remove it whenever you get stuck on Google account verification. Android Unlocker is an effective tool to bypass Google accounts on many Android devices. With it, you can remove the lock from your device without complicated steps, and it guarantees high success rates.
Related Articles
How to Reset A Samsung Phone That Is Locked [Work for Most Samsung Phones]
How to Bypass Fingerprint Lock on Android via Simple Clicks | 3 Ways
Troubleshooting Guide: Fixes on Google Drive Not Working (Effective)
[Solved] Recover Deleted Text Messages on Google Pixel: 4 Must-Know Tips
Solved: Recover Photos after Factory Reset on Android with 6 Methods
How to Reset Huawei Phone with Ease? (4 Ways with Detailed Steps)