Summary
You had just stored those memorable photos you had taken with your family and friends on your Android device, only to realize that your device got lost or was stolen. Not only will you have lost an expensive gadget but also your precious photos. This can be very stressful.
Why not just recreate your memories from the old photo? Well, it is easier said than done. So, you will want to restore your pictures from the lost device. How to recover photos from a lost phone without backup? Is it possible? Worry not; just read this guide to find out.

Part 1: FAQs on How to Recover Photos from Lost Phone Without Backup
Q1. Can you restore photos from a stolen/lost Android phone without a backup?
Unless you sync your Android to cloud storage or save to external storage, restoring the pictures from a stolen or lost device is impossible without a backup. For a smooth photo recovery process, you should practice preventative measures like syncing your phone with Google Photos to back them up.
Q2. Do all pictures get saved to Google Photos?
Google Photos application shows all the images saved on your device and your online account. If you open the Google Photos app, it'll show all the pictures on your device, even if they aren't backed up.
Part 2: How to Recover Photos from Lost Android Phone [With a Backup]
How to recover my photos from my lost phone? Luckily, there are several ways to restore pictures from a lost Android device. However, you must have made a backup to successfully recover them. Below are some ways to get back your photos, even if your phone is lost or stolen.
Method 1. How to Recover Photos from Stolen Android Phone Using SD Card Backup
If you always back up your files to an SD card, you are lucky because you can restore pictures without requiring access to your device. But you require a computer. If your computer has an in-built SD card reader, you can slot in and read the image files. Similarly, you can use an external card reader if your PC doesn't have an SD card slot. The card readers are plugged into a USB port.
Follow these steps to restore photos from a lost Android phone using the SD card backup:
Step 1: Take your SD card, then insert it into the PC with a card reader.
Step 2: Double-click on the "This PC" tab and head to the pictures folder in the SD card.
Step 3: Choose the images to transfer, then right-click to select the "Copy" option. After that, paste them to the computer in a folder.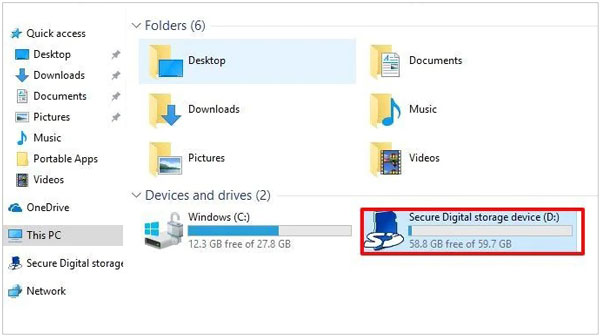 Learn more: Master these 5 ways, and easily back up and restore your Android phone/tablet.
Method 2. How to Retrieve Pics from Stolen Cell Phones via Google Photos
Google Photos is one of the used photo-sharing apps from Google. You can safely use it to keep all your photos and screenshots you capture with your Android phone. Google offers 15GB of free storage to back up your files and restore them when you want. When you take a photo using your Android phone, it is automatically saved to the app.
So, how to recover my photos from my lost phone? If you have backed up your data to Google Photos, you can restore them effortlessly. It is super easy. Just sign into your Google account, then start restoring your files.
Recover photos from your stolen cell phones using your backup on Google Photos:
Step 1: Install the Google Photos application on another smartphone, then sign into your account using the correct Email address and password. You can also log into your account on a desktop.
Step 2: After signing in, go next to your profile in the right corner at the top section. You will see an icon with many dots; tap it to show all Google apps listed.
Step 3: Check if the "Back up & sync" option is enabled on your phone. Ensure it is turned on to sync your photos successfully.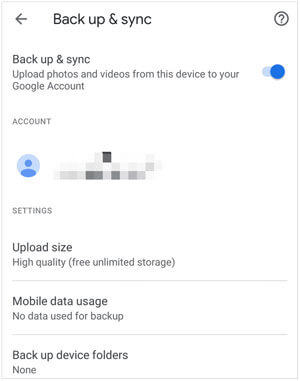 Method 3. How to Recover Photos from Stolen Cell Phone via Dropbox
Do you always keep your Android files on Dropbox? You can easily restore your pictures from Dropbox too. Provided the Photo Backup feature is activated, you are a few clicks away from getting back your pictures. It is a straightforward procedure.
Follow these steps to restore pics from the stolen cell phone using Dropbox backup:
Step 1: Open Dropbox on your Android or laptop and head to the Camera Uploads section in Dropbox or the folder you've created to save the phone pictures.
Step 2: Choose all the pictures you don't want to lose and tap on the "More" option with three horizontal dots at the upper right. From there, choose "Save to Device".
Guess you need: Transfer Your Photos from iPhone to Android Effectively
Method 4. How to Restore Pictures from Lost Phone with Microsoft OneDrive
OneDrive is also another great cloud storage platform provided by Microsoft to help users keep their files in the cloud. You can backup your files automatically and recover them whenever the need arises. Here are steps to restore photos from One Drive:
Step 1: Sign into OneDrive with the right login information. Proceed to the photo folder or where you've synced your Android photos while making a backup.
Step 2: Once done, click on all pictures/videos you would like to restore, then press the "Download" button.
Step 3: After the process finishes, you'll see all your Android pictures in the downloads folder of the PC.
Step 4: Choose all the photos you downloaded, and find a location on your computer to save them.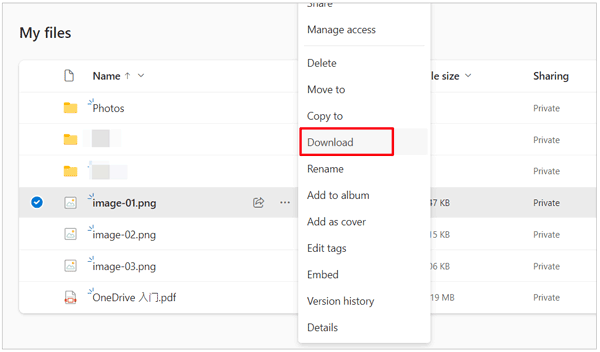 Read also: How to Transfer Photos from iPhone to Flash Drive | No Quality Damage
Part 3: How to Recover Data from Android Phone Without Backup
So, if you want to find your pictures from your Android cell phone without backup, try this photo recovery software - Samsung Data Recovery. It can scan and list deleted files one by one, and supports most Android devices. With it, you can regain your deleted photos from Android internal storage. Besides, you can use it to restore your images from external memory - SD cards.
In addition to photo recovery, it can recover deleted contacts, videos, music, documents, text messages, and more. The Deep Scan mode can find most files from your device.
Final Words
Losing your phone is heartbreaking, and the situation worsens when you don't have a backup. This article has highlighted the most effective ways to recover photos from a lost Android. If you always back up your device, restoring them will be a smooth process. If you always save your pictures on an SD card, you can conveniently get the back on a computer. Besides, there are other cloud storage services you can restore your files from.
Also, if you need to restore deleted files from an Android device, including photos and others, use Samsung Data Recovery. It supports the recovery without any backup, and you can transfer your current photos from Android to a computer for backup.
Related Articles
9 Google Photos Alternatives: Manage Photos and Videos Easily
How Can I Transfer Photos from Android to iPhone Wirelessly? [Solved]
How to Transfer Photos from Mac to Android in 5 Expeditious Ways
Easy Steps: How to Restore Call History Backup from Google Drive
How to Transfer Notes from Android to Android [Effortless Migration]
[Complete Guide] How to Recover Contacts from Lost Android Phone?