Summary
A fingerprint lock is a must on our phones as it helps protect essential data and preventing people from accessing the device. Apart from that, if you lose your phone or it gets stolen, and it has a lock screen, no person will be able to see your sensitive data. But, the problem comes when your set fingerprint lock screen isn't working no matter what you do.
Well, no need to worry anymore as this guide solves all of your lock screen worries. These solutions are very easy, and you will be able to bypass fingerprint locks on Android devices without any problem.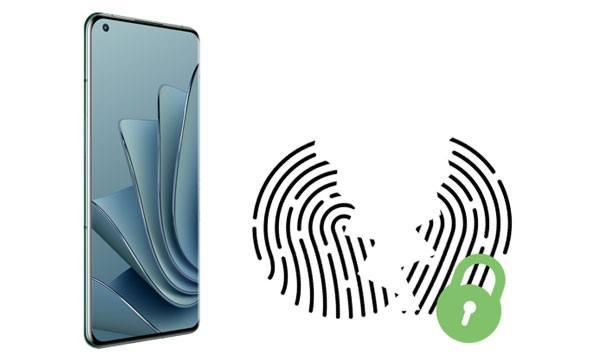 Part 1: Tips to Open an Android Phone If Fingerprint Doesn't Work
If you set a fingerprint as a lock screen on your phone and it happens to fail to work, you won't be able to use your phone anymore until you unlock it. But, the fingerprint may fail to work ultimately. So, what to do? Of course, you can't sit and relax; you have to develop a way to solve the problem. Luckily, these tips are indeed your helper if your Android phone fingerprint is not working:
Check Your Finger or the Fingerprint Hardware Module
You should ensure your finger is clean before putting it on your device's hardware. If it has dirt or is wet, the software might not detect and scan it. The fingerprint lock is very similar to the biometric lock. Many times, the fingerprint sensors will fail to work if your hands are dirty or wet. You should clean your hands properly and the fingerprint section and try unlocking again.
Restart Your Phone
Your device may have a glitch problem, or there's not enough space to run the fingerprint procedure. This might be caused by the applications that run in the background. Thus, the best and simple way to make fingerprint work appropriately is to reset your gadget. According to the researches, resetting your phone if your fingerprint lock screen isn't functioning can resolve the issue. If not, try other ways.
Update the Software
If you use the software with an older version, it might have a bug preventing the lock screen from functioning properly. Thus, it is advisable to update to the latest operating system to remove this bug. To fix the problem, you may click on the "Settings" > "System Update" > "Update Now". Once done, restart the device and unlock it again.
Reset Your Phone
This is the last option you have to go for if your fingerprint is not working on Android. But, know that all of your data will be lost. Therefore, before opting for this tip, ensure you backup your device. After doing that, navigate to "Settings" > "System" > "Reset options". After that, go to "Factory Reset", click "Erase", and confirm your passcode to reset the device.
Bonus:
Want to unlock Android pattern lock without losing data? Here are 6 solutions for your reference.
This guide will teach you to change your GPS location on Android. Click it if you need it.
Part 2: How to Bypass Fingerprint Lock on Android Effectively via Android Unlock [High Success Rate]
The best way to fix the problem of bypassing the fingerprint lock on an Android device is to use the third-party tool. Do you know why? It is because a third-party tool makes the process simpler and also easier. There are numerous Android unlocking tools in the market, but Android Screen Unlock is an ideal tool to go for.
This is the recommended software that does the process in just few clicks. It makes the unlocking procedure quite effective and, at the same time, fast. With a few clicks, you'll be able to bypass the fingerprint lock. What's more, it can unlock Samsung and LG phones without erasing data; and it is a safe tool that assists you in getting your device working like before.
Here is how to unlock fingerprint password on Android with this Android Unlock software:
Step 1. Launch the Screen Unlock Program on the Computer
Download, install, and launch the software on the computer, then tap the "Screen Unlock" tab.

Step 2. Choose the Device's Information for Unlocking It
- Connect your Android phone to the computer via a data cable, and click the "Android Screen Unlock" option.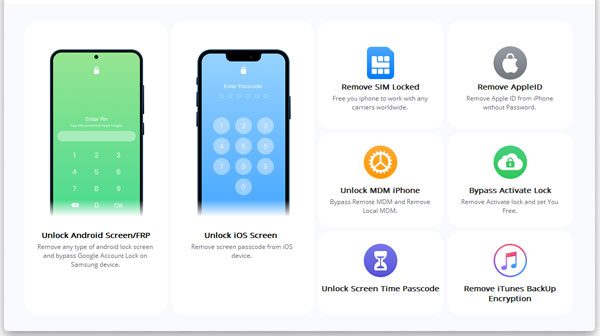 - Then choose the correct model of your phone to remove the fingerprint lock.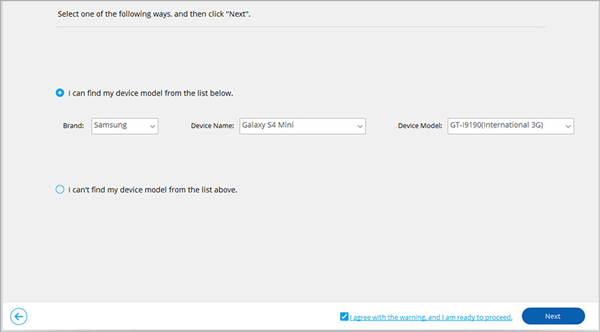 Step 3. Unlock the Fingerprint of the Android Phone
Enter the Recovery or Download mode, then wait for the process to finish. Next, tap the "Remove Now" to bypass the fingerprint lock on Android.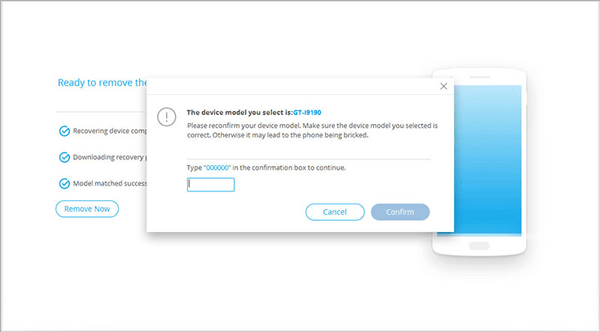 Read also: How can you recover your photos from a locked Android phone? Don't fret. This guide will help you out.
Part 3: How to Unlock Fingerprint Password on Android with Hard Reset?
Another great way to bypass the fingerprint lock screen for the Android phone is to hard reset your Android device. Hard reset is also known as factory reset. This is a method used to recover your Android phone to its original state by deleting all the data stored in it, such as images, videos, messages, and also screen lock format.
Unlock the phone with fingerprint for Android via hard reset:
Step 1: Switch off the Android device and long-press the power and volume buttons simultaneously till the screen changes to black.
Step 2: As soon as the Android bootloader menu is displayed, select the "Recovery Mode" by using the power button to confirm. When you require to switch options, press the volume down or up buttons.
Step 3: Select the "Wipe data/factory reset" option from the Recovery menu.
Step 4: Wait for some time for the procedure to finish and reboot your device. After booting, you'll be able to use the phone without a fingerprint lock.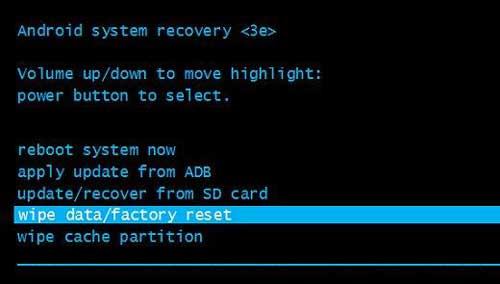 Further reading: If you are an OPPO user and intend to unlock your OPPO phone without a password, please take a look at this guide.
Part 4: How to Break into a Fingerprint Phone Remotely with Google Find My Device
For all Android gadgets, there's an option known as Find My Device, which can assist one in erasing the gadget using Google Account. Actually, this works if you have Google Account which you've logged in to. If you have an Android phone that runs an operating system of 7.0 and lower, then Find My Device is your ideal trick to break the fingerprint lock.
By the way, the procedure requires a computer or laptop, or you can install the Find My Device app on another mobile phone.
To break into the fingerprint device remotely with Google Find My Device, do the following:
Step 1: Open the Find My Device web on your computer, and log into your Google Account.
Step 2: Choose your locked Android phone, and tap the "ERASE DEVICE" option.
Step 3: Enter your Google account again for confirmation. Then hit the "Erase" icon to erase the fingerprint lock from your Android phone.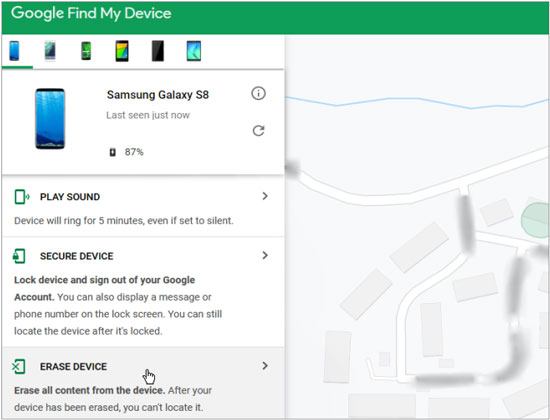 You might need: It is important to back up your Android phone before rooting, which is an effective protection for your data.
Part 5: How to Edit or Stop Using Fingerprints on Android Phone
It is quite easy to disable your fingerprint scanner on your phone and come up with an extension to smart lock features. You do this by following the operating system's guidelines offered by your manufacturer. Once you initiate the feature, you'll be needed to set a new lock you wish to use.
To edit or stop using fingerprints on an Android phone, you can follow this guide:
Step 1: Go to Settings, and tap the "Biometrics and security" > "Fingerprints".
Step 2: It will ask you to enter your passcode. After entering the fingerprint settings, you can delete your current fingerprints, and add new fingerprints to your Android phone.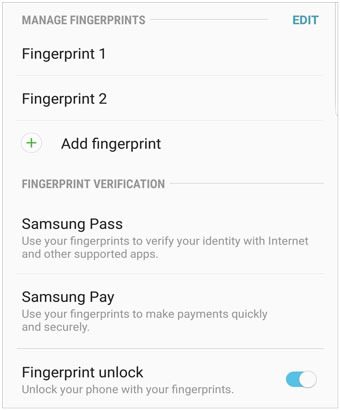 Closing Thoughts
Bypassing any lock placed on an Android device seems unattainable. But, to be honest, it is quite tricky, but you can achieve that in a few minutes in great ways. Furthermore, the Screen Unlock software for Android can deftly unlock all types of locks on Android devices, including fingerprint, passcode, pin, and more. Anyway, the ways highlighted above will help you bypass fingerprint lock on Android devices swiftly.
Related Articles
How to Transfer Photos from Mac to Android in 5 Expeditious Ways
Transfer Music from/to Computer - Samsung: 4 Helpful Methods to Make It Easy
[2 Ways]How to Edit Samsung Phone Contacts on PC/Mac
Easily Unlock Tablet without Password Using 5 Proven Solutions
How to Transfer Photos from Android Phone to USB Flash Drive with 3 Practical Ways
6 Ways to Transfer Videos from PC to Android Seamlessly