Summary
"I'm locked out of my tablet and forgot the password, OMG! What should I do? How do I unlock my Android tablet without the password? I need an unlocked tablet."
Forgot the password of your Android tablet? That sounds terrible, but actually it is not. You can unlock a tablet without a password now. This article will tell you 5 unlocking ways for Android tablets, so that you will freely access your tablet soon. No matter which locking mode you set on your tablet, these solutions are effective in unlocking.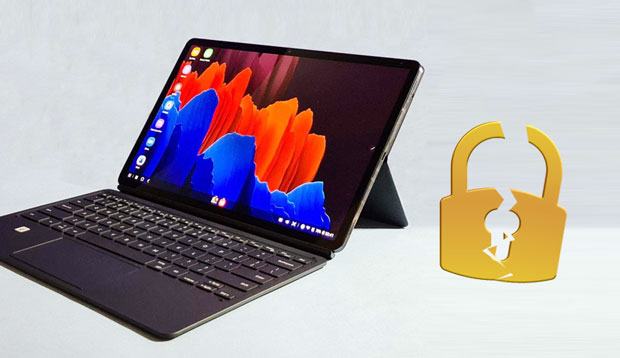 Part 1: How to Unlock Tablet without Password via Android Unlock
Android Unlock is a desktop application to help you unlock a tablet when you forget the tablet password. It can remove multiple types of locking, including password, fingerprint, PIN, and pattern. There is no skill in operation, so that you can unlock a tablet without a password via simple clicks.
What's more, this software can unlock most Samsung and LG phones and tablets without erasing data. That is, you won't lose data after unlocking it. How amazing it is!
Key features and advantages of this Android unlock software:
- Fast unlock a tablet when you forget the password.
- Effectively remove 4 locking modes on Android devices, such as fingerprint, PIN, passcode, and pattern.
- Bypass Samsung and LG mobile devices without deleting data.
- Support almost all Android tablets and smartphones, like Samsung Galaxy Tab S8 Ultra/S8+/S8/S7/S6/A8/A7/A, Xiaomi Pad 5 Pro/Pad 5/Pad 4/Pad 2, Redmi Pad, LG Ultra Tab, G Pad 5 10.1, LG W41 Pro/W41/W31/W11/K92/K62, Sony, ZTE, Honor, Google, OnePlus, etc.
Download the unlocking software for free below.

Here's how to unlock an Android tablet with a computer using this program:
Step 1. Install the Software
Download and install the software on your PC, and open it on the desktop. Link your Android tablet to the computer via a USB cable, and enable the USB debugging mode on the tablet.
Step 2. Select the Model of Your Tablet
Choose the "Screen Unlock" > "Unlock Android Screen" option, and select the model of your tablet. Then tap the "Next" icon.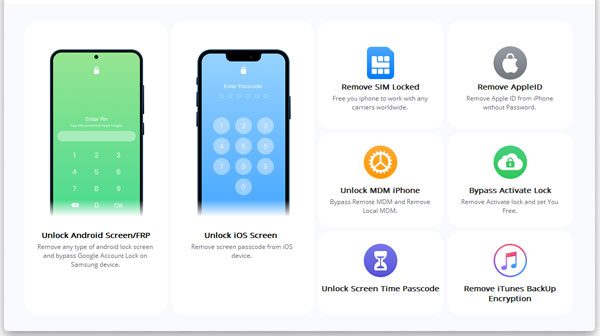 Step 3. Unlock the Android Tablet
- Follow the guide to enter the Download Mode, and the software will begin to download the recovery package.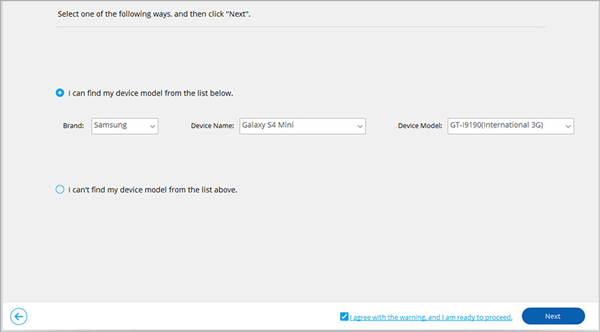 - Once done, click the "Remove Now" button and confirm your operation by typing "000000" to unlock the tablet.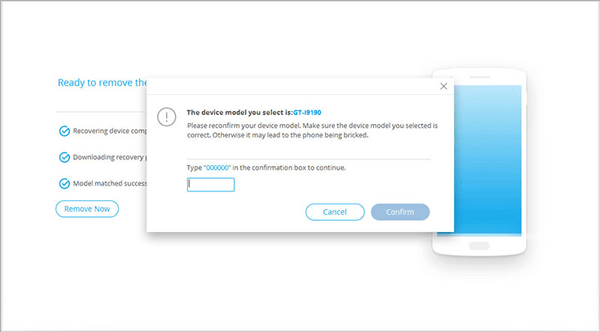 See also: If you want to bypass the LG lock screen without resetting fast, you can follow this guide.
Part 2: How to Unlock a Tablet When You Forgot the Password via Factory Reset
Performing a factory reset is also useful to open a locked Android tablet. In this way, you can reset your tablet directly. However, you will lose all data after the factory reset. By the way, please charge your pad if it is low-battery before resetting it.
How to get into a locked tablet via factory reset:
Step 1. Turn Off the Tablet
Press the Power button for a while, and tap the "Power off" icon to turn the tablet off.
Step 2. Enter Recovery Mode
Press and hold the Power and Volume Up buttons at the same time, and the Recovery Mode will appear on the screen.
Step 3. Factory Reset the Tablet for Unlocking
- Use the Volume buttons to choose the "Wipe data/factory reset" option, and hit the Power button for confirmation. Then choose the "Factory data reset" > "Reboot system now" option.
- Wait for the process patiently. After that, you can get into your tablet without the password.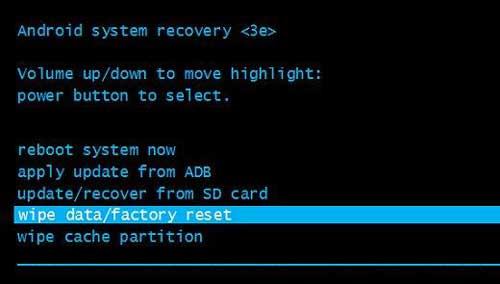 Read also: Lost data from your Samsung tablet? Don't fret. You can recover deleted data from the tablet with or without backup.
Part 3: How to Unlock a Tablet via Find My Mobile (Samsung Tablets Only)
Find My Mobile is another practical tool to remove the lock screen when you forget the passcode on an Android tablet. However, it is available for Samsung tablets only. Furthermore, if you haven't enabled the Remote unlock feature, you can't remove the lock in this way.
Here's what to do if you forgot your Android tablet password:
Step 1. Go to Find My Mobile
Please visit Find My Mobile on your computer, and sign in to your Samsung account used on the locked tablet.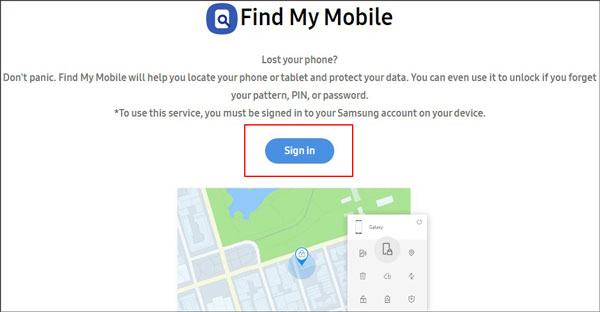 Step 2. Unlock the Tablet Using Your Samsung Account
- Choose your tablet on the list, and click the "Unlock" icon twice. Then enter your Samsung account and password again. Tap the "Next" icon, and it will remove your lock.
- Then, you can swipe the screen to access the tablet.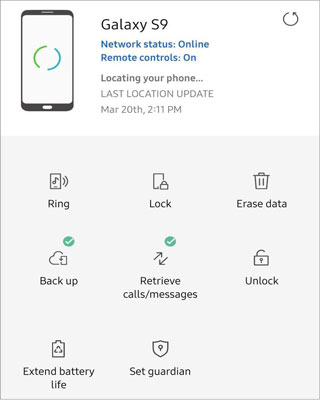 Further reading: This is a detailed guide to help you back up and restore an Android device via 5 practical methods. Let's check it out.
Part 4: How to Unlock Android Tablet with Computer Using Google Find My Device
Google Find My Device can locate and erase data on Android devices, so that you can eliminate the password although your tablet is locked up. By the way, if you haven't attached your Google account to your locked device, it cannot work. Also, make sure the network is available, and Location feature is enabled on the tablet.
How to unlock an Android tablet without PIN via Google Find My Device:
Step 1. Go to Find My Device
Launch the Find My Device website on a computer, log in to the Google account you signed in on your Android tablet, and tap the "Next" icon.
Step 2. Erase the Lock on Your Tablet
Click the "ERASE DEVICE" mark twice, and input your account again. Finally, choose the "Erase" option to start unlocking your tablet.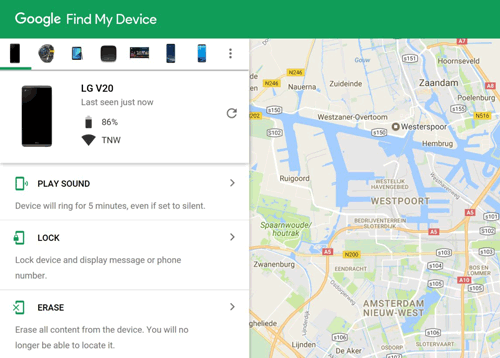 Maybe you need: Get an effective Samsung cleaner app to free up space in 1 click.
Part 5: How to Open My Tablet If I Forgot the Password via Forgot Password Feature (Android 4.4 or Older)
The Forgot Password feature is supported on those old Android tablets running Android OS 4.4 and lower, which will not wipe your tablet data. Plus, you can create your new password to unlock the tablet without hassle.
How to open my tablet if I forgot the password via the Forgot Password function:
Step 1. Enter Wrong Password
Turn on the tablet, and enter a random password several times. Then you will see the "Forgot password/pattern" button on the screen. Please tap on it.
Step 2. Enter Your Gmail Address
Please enter your Gmail account and password that you signed in on the tablet. Next, tap the "Sign in" icon.
Step 3. Unlock Your Android Tablet with New Password
Navigate to your Gmail on another device, and open the email about resetting the password. Then click the link to set a new passcode. After that, you can access the tablet with this new passcode.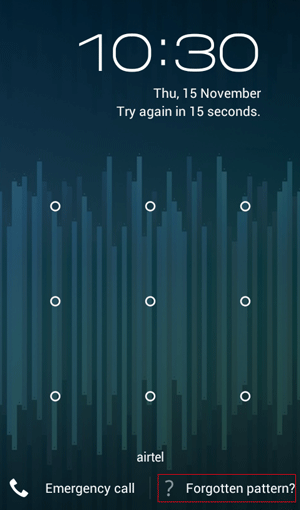 Final Words
It is easy to unlock a tablet via these approaches, especially if you use the Android Unlock software. This software can remove different types of locks without limitation. Anyway, if you don't want to lose your files due to unlocking, please regularly back up your tablet. Then, you can restore the backup files to your device even though they are erased.
Related Articles
How to Back Up and Restore Contacts on Android Phone/Tablet [4 Methods]
How to Transfer Data from Old Tablet to New Tablet without Effort (Everything)
How to Transfer Photos from Samsung Phone to Tablet? - 3 Easy Ways
How to Transfer Files from PC to Samsung Tablet in 4 Nimble Ways [Modern]
How to Unlock Phone with Broken Screen for Android Users | 6 Effective Solutions
Android Music Sync Approaches: Sync Music Between PC and Android with Ease