Summary
Google uses a security feature known as Factory Reset Protection (FRP) to protect Android devices. After successfully resetting your Huawei device, Google will ask you to sign in on your Google account that was signed into the device before. This security feature is vital since it avoids misuse of your device in case it is lost or stolen. The phone user is also prone to problems when he/she needs to remember the Google account password of the account that was signed in to the Huawei phone before Factory resetting the device. Due to that, we have provided you with the useful methods on how to bypass Google account on Huawei without PC.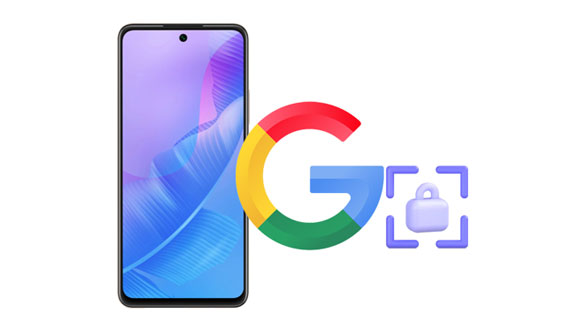 Part 1: Why Does FRP Lock Your Huawei Device?
Factory Reset Protection was introduced on Android 5.1. This security feature was introduced to secure smartphone data in case of theft or the device is lost. Factory reset protection secures your device's data since someone has to remove the FRP to access your device even after factory resetting it.
It is a great security feature though it is a challenge if you forget your Google account credentials. The factory reset protection is activated automatically once you log in to your Google account. You must verify your Google account first to unlock your device.
Part 2: How Do I Bypass Google Verification without a Computer on Huawei Using Safe Mode?
Have you forgotten your Huawei phone Google Account credentials, and are you looking for a way out? One of the most reliable ways of unlocking the Google FRP lock is through the safe mode. You will have to factory reset your Android phone and reboot it in safe mode. It is prudent to back up your data before using this method because it will erase all the data on your phone.
How do I remove a Google account from my Huawei through safe mode? Here's the guide:
Step 1. Turn Off the Huawei
Press the "Volume Up" and "Power" buttons after turning off the device for 15 seconds.
Step 2. Enter the Recovery Menu
You will now enter the recovery menu. The menu has different options that you can choose from. You can navigate the options using the "Volume Up" button to scroll upward and the "Volume Down" button to scroll downwards. To choose the option you want to proceed with, select it using the "Power" button.
Step 3. Factory Reset
Using the "Volume Up" button, navigate to the "Wipe data/factory reset" option and press the "Power" button to select and confirm. Wait for a while until the hard-resetting process is over. Select "Safe mode" and press the power button to confirm the action.
Step 4: Reset All the Device's Settings
You need to launch the "Settings" application, tap on the "System", tap on the "Reset" button, and finally tap on the button named "Reset all settings".
For some Huawei device models, you will have to Launch the "Settings" application, then tap on the "Advanced settings" > "Backup & reset", and finally tap on the "Reset all settings" button.
Step 5. Restart the Device
The final step is to restart the Huawei device after successfully bypassing FRP on your device. You can see the "Reboot" option on your Huawei phone screen. Choose it and wait for a while until your phone restarts.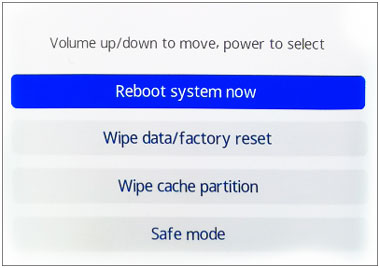 Read also: Can you recover your lost contacts from a Huawei phone? If you have trouble with it, you can open this guide to get solutions.
Part 3: How Do I Bypass Google Verification after Resetting Huawei via QuickShortcutMaker?
QuickShortcutMaker APK is an application that helps you create shortcuts on your Android phones. This application allows you to access all your devices application's settings remotely. The other good news concerning QuickShortcutMaker is that it can be used to Bypass Huawei FRP locks. Yes, it is an excellent tool for bypassing FRP lock on Huawei devices that run Android 5.0 and the latest.
Here's how to bypass Google account on Huawei with this Huawei FRP bypass APK:
Step 1. Download and Install the Tool on Your Computer
Connect the Huawei phone to a Wi-Fi network, open a browser on your phone and download the QuickShortcutMaker application. To install the application, navigate to the download folder, tap on the APK and select the "Install" option.
Step 2. Choose Google Account Manager
Open the application and use the "Search bar" to search for Google Account Manager. Afterward, select the "Google Account Manager" option and type your Password and Email.
Step 3. Bypass the FRP Lock on Huawei
A new page with the three-dot icon on the right corner will appear. Tap it, select "Browser Sign in", and sign in using your correct Google ID and password. You will automatically bypass the Google FRP lock once you successfully add a new Google account.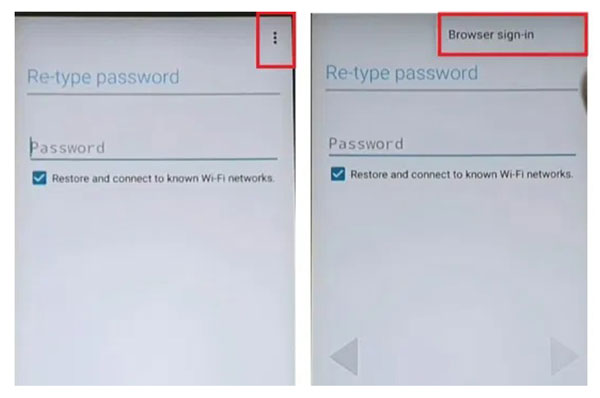 Further reading: Transfer Data from Huawei to OnePlus Efficiently [Including Most File Types]
Bonus Tip: How to Unlock Huawei Phone without Google Account?
Wonder how to unlock a Huawei phone without Google account? You mean Huawei screen lock? If so, you can use this Android Unlock software. It can remove different types of screen locks on Android devices, like PINs, fingerprints, patterns, etc. Even though you forget yout passcode, you can remove your lock from your phone with simple clicks. Furthermore, it can remove Google FRP lock from most Samsung devices, and will support more mobile devices in the future.
By the way, this software can remove the screen lock from some Samsung and LG phones without erasing data, but it cannot support all phone models at present.

Use this unlocking tool to bypass the Huawei screen lock:
Step 1. Launch Android Unlock
- Download, install and then open Android Unlock on your computer. Select the "Screen Unlock" option.
- Then use a USB cable to connect your Huawei device to the computer and select the option named "Unlock Android Screen/FRP".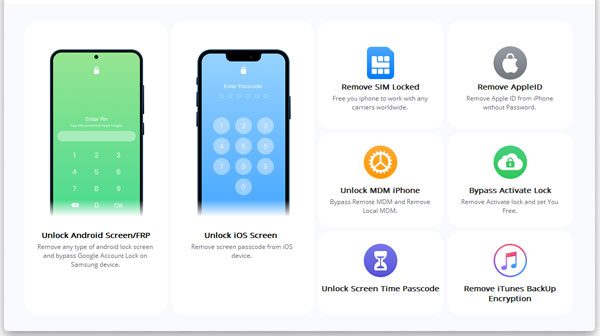 Step 2. Choose Your Huawei Model
- Tap "100% Remove Screen Lock", and select your phone's info on the interface. Then click "Next".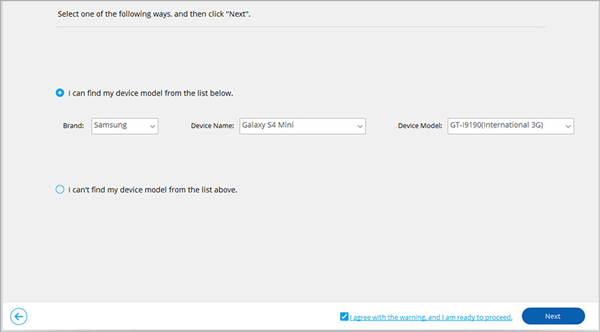 - Follow the pictures on the interface to get your device to Download mode, so it can start downloading the recovery package.
Step 3. Bypass Huawei Screen Lock
Click on the "Remove Now" mark once you complete downloading the recovery package, and then type "000000" to confirm your action. This will remove the screen lock without deleting any data on your phone.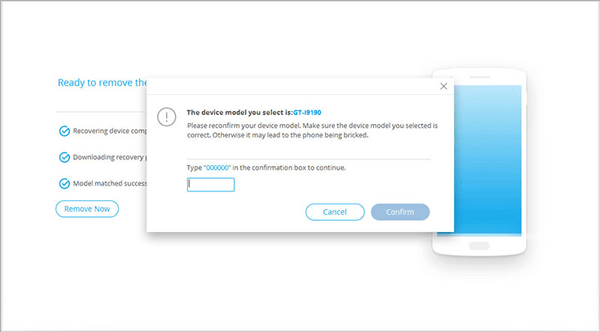 You might need: How to Unlock Huawei Phone without Resetting | 7 Hassle-free Unlocking Tools
FAQs on FRP
Q1: Is it Possible To Use an Emergency Call To Bypass Your Google Account?
No, it is not advisable to use the emergency call feature to bypass Google Account on a Huawei device. Some devices allow you to replace your Google account with an emergency number. However, it does not work with the latest operating systems.
Q2: Is It Possible To Bypass Google Account Using Windows Command Prompt?
In fact, it is viable but really complicated. There may be better ways to bypass a Huawei FRP lock than the Windows command prompt.
Conclusion
Now you have known 2 practical methods to bypass Google account on Huawei with or without a PC. So, what is the best FRP bypass tool in your mind? If you have other more useful unlocking solutions, share them in the comments area with us. And please do forget Android Unlock whenever you forget your screen passcode. It can unlock Android devices without any difficult operation.
Related Articles
Huawei Mock Location - How to Fast and Safely Fake GPS on Huawei in 5 Ways
How to Transfer WhatsApp from iPhone to Huawei with 3 Viable Solutions
How to Transfer Data from Sony to Huawei with 4 Pragmatic Approaches
How to Print Out Text Messages for Court from Your Android Phone and iPhone
How to Move Files to SD Card on Android Rapidly (Latest Tutorial)
Forgot Pattern Lock on Android? 6 Simple Solutions Are Ready