Summary
ZTE is undoubtedly the world's leading Android phone maker, and ZTE phones are easy and safe to use. But if you lock your ZTE phone screen and forget the password, it will not be easy to access. So is this a big issue for you? Whether your answer is yes or no, we have shared solutions on how to unlock a ZTE phone pattern without losing data.
By the way, we hope that you have backed up your important data on your locked ZTE phone, because not all methods can remove the lock without wiping data.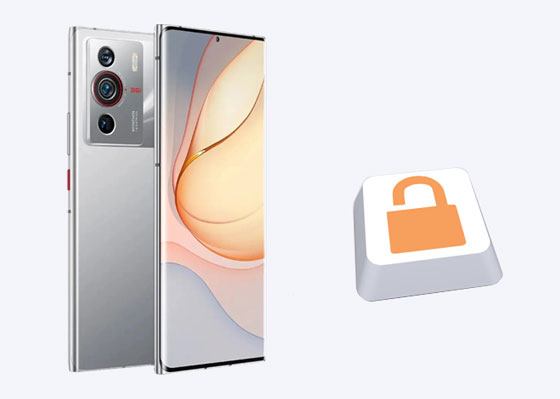 Part 1: How to Unlock ZTE Phone Pattern without Losing Data via Google Security Questions
Have you added security questions to your Google account logged in on your ZTE phone? If yes, you can unlock the ZTE phone forgot PIN without losing data. But please make sure you haven't forgotten the correct answers.
Here's how to remove the ZTE phone pattern/PIN by answering Google Security Questions:
Step 1: Enter a wrong pattern or PIN to your locked ZTE phone 3 to 5 times.
Step 2: Tap the "Forgot pattern/password" feature on the screen, and choose the "Answer question" option.
Step 3: Type your answers one by one, and follow the on-screen guide to complete the process. Then you will unlock your ZTE device.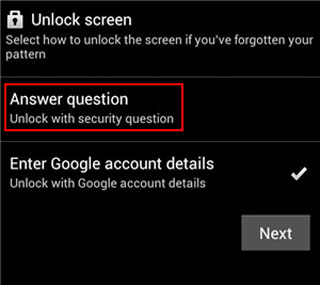 Bonus: You can transfer photos and videos from your ZTE phone to your computer without effort, because you can use these helpful transfer tools.
Part 2: How to Remove ZTE Password via Factory Reset
ZTE phones also have the factory reset feature, and it can wipe all settings and data from your mobile phone, including your screen lock setting. Even though you forgot the PIN, it can work without restrictions.
Here's how to get into a ZTE phone without the password by performing the factory reset:
Step 1: Power off your ZTE smartphone. Wait for a while, and press the "Power" and "Volume Down" keys for a few seconds till the ZTE logo shows up.
Step 2: Use the Volume keys to highlight the "Wipe data/factory reset" option, and confirm it by pressing the Power key.
Step 3: Choose the "Factory data reset" option, and the factory reset will start.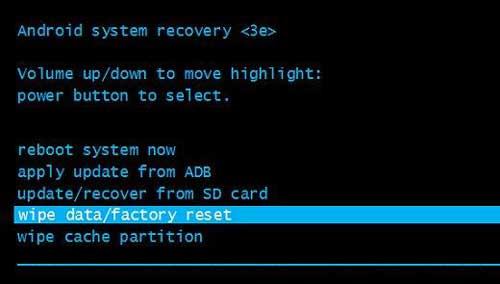 Read also: Your contacts and messages on your ZTE phone can be transferred to a computer without hassle.
Part 3: How to Remove Screen Lock on ZTE Phone Using Forgot Pattern Feature
Old Android OS 4.4 and lower have the "Forgot pattern" feature, which is used to unlock a phone when you forgot the PIN/pattern. Furthermore, as long as you have logged in to your Google account on your phone and remember the account password, you can access your phone without losing data. However, unfortunately, this way is invalid on upper Android OSes.
Guide on how to unlock ZTE phone password with the Forgot Pattern feature:
Step 1: Input a pattern to your locked ZTE cell phone multiple times.
Step 2: Tap the "Forgot pattern" icon at the bottom, and type your Google address and password on the screen.
Step 3: Once done, you can set a new PIN or pattern, and unlock your ZTE phone with this new password.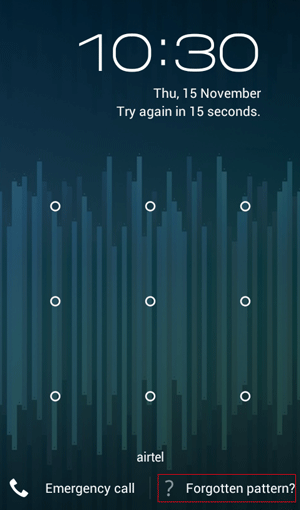 Further reading: Want to bypass the fingerprint lock on Android? Let's check these 3 ways.
Part 4: How to Get into a ZTE Phone without Password via ADB
Using ADB (Android Debug Bridge) is also effective for passing the pattern lock on ZTE, but it only works on some Android phones. If you cannot unlock your device in this way, you can skip to another way.
Tutorial on how to remove the password from a ZTE phone via ADB:
Step 1: Download and install Android SDK Manager from ADB official website, and connect your ZTE phone to the computer via a data cable.
Step 2: Open a command prompt on your PC, and type "adb shell rm/data/system/gesture.key" to the prompt. Then tap the "Enter" key.
Step 3: Restart your ZTE device, and check if you can access it.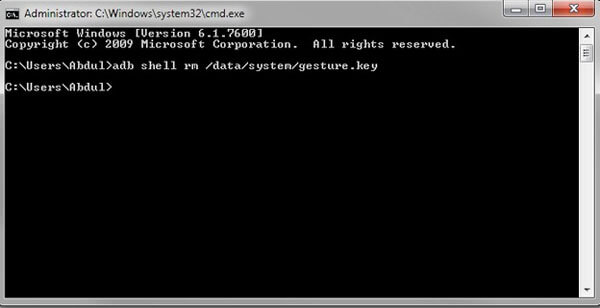 Read more: If you want to back up your SIM card data to your computer, please don't miss this article.
Part 5: How to Get into a Locked ZTE Phone with Android Screen Unlock (Fast)
What if you cannot unlock your ZTE phone with the previous methods? Don't panic. You can utilize this Android Screen Unlock program. It can remove PIN, fingerprint, password, and pattern locks from Android phones even though you forget your password. Plus, you needn't use any account during the unlocking process.
Furthermore, the software supports most Android phones, such as ZTE, Samsung, LG, HTC, Sony, and more. If your ZTE phone model is not on the list, you can use the advanced mode to remove the lock screen.
Download this software below.

Here's how to remove the ZTE password via this program:
Step 1: Install the software on your PC, and click the "Screen Unlock" > "Unlock Android Screen" tab.
Step 2: Use a USB cable to link your ZTE phone to the PC, and select the brand, name, and model of your mobile phone on the interface. Then tap the "Next" icon.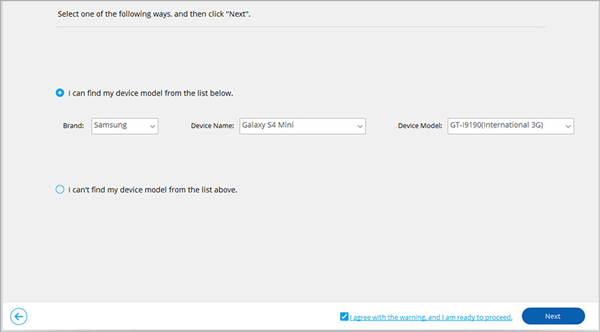 Step 3: Get the locked phone into the Download Mode, and then the software will download the recovery package. You can now tap "Remove Now" to begin the unlocking procedure.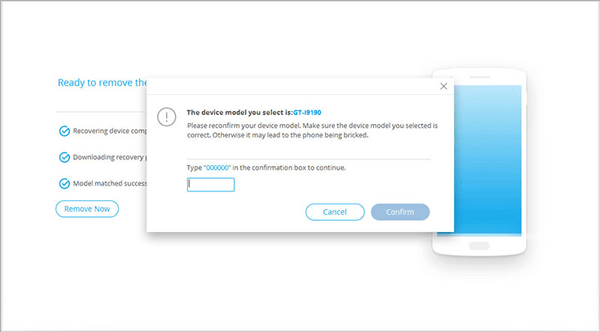 See also: How to back up ZTE phone data without hassle? Actually, you can handily back up and restore ZTE data with this guide.
Bonus: What is the ZTE master unlock code? This code is for unlocking a ZTE phone to use networks. When your network on the phone is locked, you will need it.
Conclusion
So, if your friends ask you how to unlock a ZTE phone without losing data, you can give them these practical suggestions. But we still want to remind you that not all methods can remove the lock without wiping data. For example, the Android Screen Unlock program can fast remove a lock, but it will remove your data simultaneously. If you don't want to lose your important files, you need to back them up in time.
Related Articles
How to Back Up Android Phone before Rooting With Ease | Check the Full Guide
How to Transfer Files from PC to Samsung Tablet in 4 Nimble Ways [Modern]
How to Unlock Samsung Tablet without Losing Data [Updated & Solved]
OPPO A3s Pattern Unlock Solutions - Excellent Tools to Remove Lock
Vivo to Vivo Data Transfer - Fast Transfer Data to Another Vivo Phone
Transfer Music from/to Computer - Samsung: 4 Helpful Methods to Make It Easy