Summary
Google Pixel devices are entering a new era with their pristine and daring state of art design. Most of them were excellent devices with minimal flaws. Their newest release series is great but problematic for some users. Recently, users have complained that their Pixel 7/7 Pro display becomes unresponsive with a black screen display, making it impossible to operate. And that's why we are here. We will walk you through solutions to fix Google Pixel unresponsive black screen.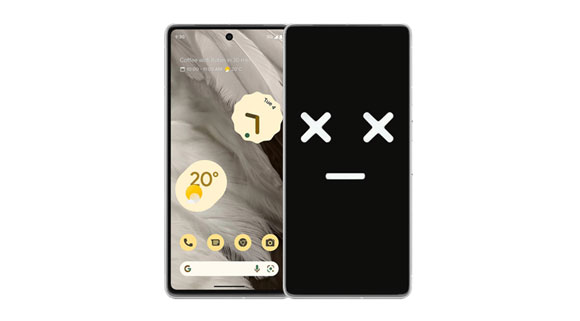 Part 1: Why Is My Google Phone Screen Black
You may encounter a black screen on a Google Pixel phone for several reasons. Below are some of the problems:
A faulty operating system: There may be something wrong with your phone's operating system. Usually, this problem occurs when the OS isn't compatible with the phone. It hinders your device from powering on.
A faulty device: There's also a possibility that your Google Pixel device is defective. Maybe you dropped the device recently, or you've performed physical repair. The screen cable may be disconnected from the motherboard.
Dirty sensors: A phone has sensors at the top, and if they get dirty, your device will think it is outside, thus lowering the brightness.
Low battery: Also, there is a chance your Pixel device has a low battery, which is causing the unresponsive black screen problem.
Faulty third-party apps: Also, recently installed applications might be the culprit behind unresponsive black screens. They may have bugs that make your device not turn on.
These are some reasons why your Google Pixel has an unresponsive black screen. With these causes, fixing this issue will be a piece of cake. The next section discusses these possible fixes. Continue reading to learn more.
See more: Please back up your Pixel phone first before proceeding, which will keep your data from loss.
Part 2: Practical Ways to Resolve Google Pixel UnresBlack Screen of Death
Below are other fixes you should try out when you face an unresponsive black screen on your Google Pixel device:
Way 1. Check If the Buttons Are Jammed
First, check if the buttons on your device are not caked with dirt or debris. After that, try freeing them by pressing a button several times quickly. The button you press should be free to press and release with every press. If they are okay, try restarting your device.
Way 2. Perform a Force Restart
If your Pixel 7 pro screen went black, you should do a simple force restart. It is a simple yet efficient fix that resolves unresponsive black screen issues. Often black screen problems happen due to firmware crashes. The force restart process works well with devices with non-removable batteries.
When Pixel is black screen but vibrates, you can force restart it:
Step 1: Long press the "Power" key of your device for about 30 seconds.
Step 2: When the Logo shows on the screen, release the "Power" button. After that, the black screen problem will be resolved.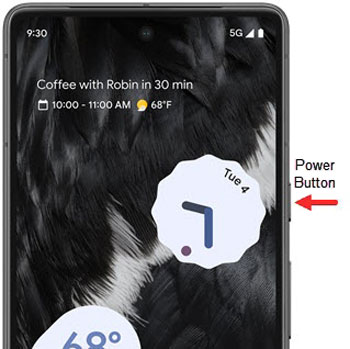 Further reading: Switching from iPhone to Pixel: 3 Methods to Transfer Data from iPhone to Pixel
Way 3. Charge the Phone and Force Reboot It
An obvious fix, but sometimes we're just too impatient or forget to charge the phone at night. Your device's battery may be very low, so you cannot turn it on. You must charge your Google Pixel device for about 30 minutes before force restarting it. Here are the steps:
Step 1: Connect the Google Pixel device to its charger, then plug it into a working electric socket.
Step 2: Leave it to charge for some time.
Step 3: Now, press the "Power" button for a few seconds until you see the Logo on your phone's screen. After it boots, let go of the "Power" button.
Way 4. Boot Into Safe Mode and Remove Faulty Third-Party Apps
The unresponsive screen on Google Pixel devices can result from applications installed recently from Play Store. If the application isn't compatible with your current operating system, your device will not operate properly. Therefore, you should enter the device into Safe Mode to know if it's the third-party application causing this issue.
If the problem doesn't occur in Safe Mode, be sure that the downloaded app is to blame. Booting the device to Safe Mode and removing the app causing the problem is simple. However, when done, you should restart the device to get out of the Safe Mode.
Here are the steps:
Step 1: Boot your device into Safe Mode by holding the "Power" key, and after a few seconds, press the "Volume Down" button as well. Keep holding it until you see the "Safe Mode" on the screen.
Step 2: If the screen becomes responsive in Safe Mode, uninstall recent applications one at a time.
Step 3: After removing the apps, restart the device to normal mode and see if the screen will remain responsive.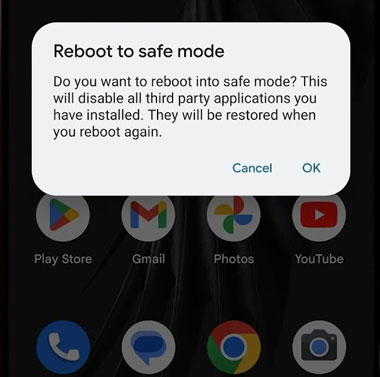 Maybe you need: When a Samsung phone is overheating, follow this guide to fix it.
Way 5. Factory Reset the Device
Factory reset is another solution to resolve this issue since it'll completely wipe your device clean, including all personal files, and reinstall the operating system. Since factory resetting deletes your files, ensure you've made a backup before you proceed.
Step 1: Long press the "Power" and "Volume Down" keys until the "Fastboot Mode" shows.
Step 2: Use the "Volume" keys to scroll through the menu to "Recovery Mode" and use the "Power" key to choose it.
Step 3: Press the "Power" and "Volume Up" keys at the same time but do not hold them down.
Step 4: Use the "Volume Down" key to head to the "Wipe data/factory reset" option and press the Power key to choose the option. Click "Yes" when asked to confirm. When done, restore your backup from the Google account.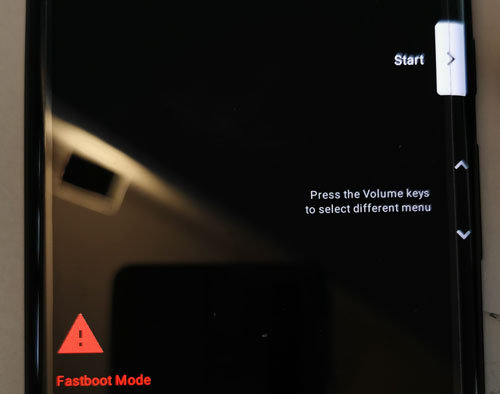 Learn more: It's easy to get out of Recovery Mode on Android devices as long as you master the correct steps.
Way 6. Contact an Authorized Repair Store
If your device was dropped recently, it will likely have a damaged hardware component that can make the screen black and unresponsive. Therefore, you can contact the nearest authorized repair store. If your device's warranty isn't void, you can get help without paying anything.
Part 3: Fast Way to Fix Google Pixel Back Screen of Death
When your device's screen becomes black and unresponsive, you will find it hard to reset it. Besides, you can't address the issue by resetting the device in such a situation. Therefore, it will be ideal to use a professional repair tool - Android System Repair. This tool can fix the black screen of death on Google Pixel devices without complex steps.
No matter the system, Android Repair can repair the device with multiple clicks on a computer. Apart from just fixing the black screen on Pixel devices, Android Repair can effectively fix Android blue screen, app crashing, being stuck in the boot loop, bricked devices, and more. It is widely compatible with different Android devices.
Download this system repair software.

Steps to fix Google Pixel unresponsive black screen issue using Android Repair:
Step 1: Download, install and launch the Android Repair tool on your PC. Connect your Google Pixel device and choose the "System Repair" option from the screen. Next, select the "Android" option from the screen and press "Start".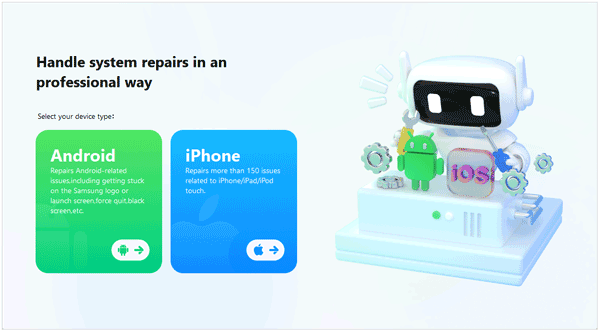 Step 2: Now, choose your device's name, model, carrier, and country. After that, get your Pixel device into Download Mode according to the guide on the interface.
Step 3: After booting to Download Mode successfully, the firmware will download instantly. Type "000000" in the space provided to confirm the procedure.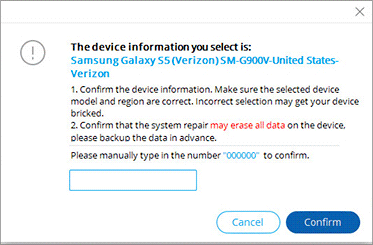 Step 4: Now, the repairing procedure will be initiated, and when it completes, click "Done", and your Google Pixel back screen issue will be fixed. You can now use your device normally.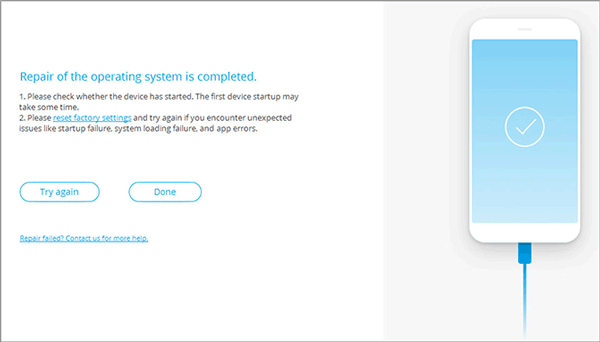 Conclusion
The focal point of a mobile phone is the screen, especially in this era where most devices come with touch displays. A minor glitch on the screen can bring several setbacks. Even though Google Pixel is an impressive device in the market nowadays that impresses many with specs and features, it isn't perfect. As a user, you may encounter black screen issues that can be troublesome, especially if you've important files on the device.
Luckily, there are several efficient ways to fix the Google Pixel screen not working issue, and this post has outlined only the best tips to deal with this issue. However, it is advisable to use Android repair as it is good at fixing Android system issues. Its ease of use and high success rates make it popular in the industry. If you face an unresponsive black screen problem on your Google Pixel device, it is your best bet to fix it in a jiffy.
Related Articles
Fast Transfer Photos from Google Pixel to Computer | Top 4 Ways
[Solved] Recover Deleted Text Messages on Google Pixel: 4 Must-Know Tips
How to Transfer Files from Pixel to PC with 4 Ways? (Newest Guide)
Breezily Transfer Data from Pixel to Pixel in 2 Ways [Transfer Everything]
How to Add Music to Google Pixel without Effort | 4 Reliable Methods
Android Phone Keeps Turning Off? Get Solutions to Repair the Phone