Summary:
Does your current Android device have insufficient storage because of the high-definition pictures saved on its memory? If so, the best way to free up your Android space and keep these pictures is to use a removable SD card. You just need to move pictures to SD card on Android. It is that simple! By swapping your storage solutions, you will be left with enough space to save more memories.
A removable SD card will make it very easy to transfer your pictures between devices. It is very easy to transfer your documents and photos to the SD card with your Android phone, Mac, or Windows PC. Wondering how to move photos to SD card on Android?
With most phones having a slot for a removable SD card, moving photos has become very easy. This applies to all smartphones other than iPads and iPhones. Suppose you have bought and installed an SD card on your smartphone but are not sure how you can move your photos, worry not. This article will make it easy for you to transfer content from your internal memory to your newly-installed memory card.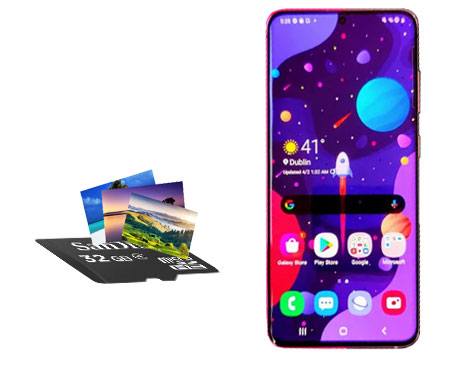 Part 1. Why May You Need to Move Files to SD Card on Android?
Here are some of the main reasons why it may be necessary to transfer your data to a removable memory card on your Android:
1. To free up space
Sometimes, the internal storage of your Android phone may get filled up owing to the large size of the high-definition videos and images stored on it, leaving no room for saving new files. This is where a removable memory card comes in to save you. Exporting your photos to the SD card creates free space for saving new content, which goes a long way to eliminate any worry about lack of storage space any time you wish to take a new photo.
2. To Secure your files
Saving your videos and photos on your SD card makes them securely saved on top of making them easily accessible. Besides, the SD card acts as backup storage for your files, which means that they will remain safe in case your device gets damaged.
3. To help you move your files between devices easily
With a removable memory card, moving your files between two Android phones or between your Android phone and a Mac or PC is very efficient.
4. To improve your phone's speed
Keeping bulky videos and images in your internal storage weighs down your phone, slowing it down. Therefore, when you move your files from your internal memory to a removable SD card, the speed and general performance of your phone may improve.
Read Also:
4 Effective Ways to Back Up SD Card on Android [Best Guide]
Back Up and Restore Text Messages on Android [5 Proven Methods]
Part 2. How to Move Pictures to SD Card on Android via Settings
Some Android phones allow you to transfer your images from the internal storage to a removable SD card through Settings. If your phone has this option in its Settings, you can follow the following steps:
Step 1. Open your Settings app and select the "Storage and Memory" feature. Here, you will be able to see all the files saved on your device.
Step 2. Tap on the "Images" option on the next screen to view all your pictures stored on the device.
Step 3. On the next screen, you will see all your photos. Select those that you wish to transfer, hit the "3-dots" icon, and select the "Copy To" option. Next, select the memory card as their destination, and they will be successfully moved there.
Read Also:
How to Recover Deleted Photos from SD Card on Android Phone with or without Backup
Safely Transfer Files from Android SD Card to PC without Trouble [5 Ways]
Part 3. How to Move Photos to SD Card on Android via My File Application
Accumulation of updates, apps, photos, and other files on your smartphone consumes space, which slows down your phone. A great way to create free space and speed up your Android phone is to move your files to your removable SD card. The steps shown below will help you move files to SD card Android using the "My File" application:
Step 1: Launch your "My Files" application. Select the Internal Storage option (or tap on any option under Categories) and scroll through to the folders or files that you want to transfer.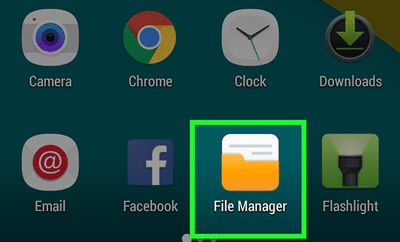 Step 2. Open the folder where your desired files are stored and tap on the "3-dot" icon in the upper right corner.
Step 3. Select the "Edit" option, choose all your desired files one by one, or just tap on the "All" option in the top-left corner. Hit on the 3-dot icon on the top right side again and select the "Move" option.
Step 4. Select the "SD card" option. After that, select your desired destination folder for your files, or tap on "Create Folder" if you want to save them in a new folder.
Step 5. Finally, complete the process by tapping on the "Done" button.
Part 4. How to Transfer Photos to SD Card on Android with Amaze File Manager
Another way to move your photos from your internal storage to your microSD card is by using your File Manager application. You most likely have used one or two file manager apps if you have used Android phones for some time. If not so, do not worry because the following section is going to suggest one for you and guide you through how to use it:
Step 1. Open your Google Play, download and install the "Amaze File Manager" APK on your Android phone.
Step 2. Open your newly installed app and tap on the icon with 3 horizontal lines. On the menu, select "Pictures". You will now see the photos that are saved on your phone.
Step 3. Once you see these photos in their folders, select those that you wish to move to SD card. Next, tap on the "3-dots" icon and select the "Copy" option.
Step 4. Next, go back to the app's home page and select the "SD Card Storage" option. Navigate to the desired destination folder for your files, open it, and hit the paste symbol.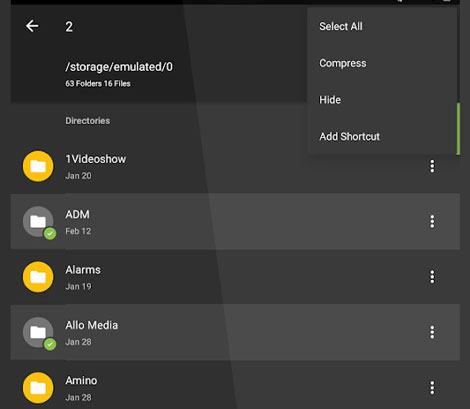 Your photos will be successfully transferred to the SD card. Once the process is completed, you can now exit the app at your own leisure. That is how to move photos to SD card using file manager. These steps apply to all other file manager apps.
Part 5. How to Move Pictures to SD Card on Android Using A Professional Tool
As above, there are several ways of transferring Android devices' data to an SD card. However, these methods have different efficient levels in terms of rate of data transfer and reliability. As a result, it is prudent to employ the best technology to improve the process. Android File Transfer is a professional data transfer application that makes data transfer between Android devices and computer, Android to SD card flawless.
Android File Transfer is primarily designed using the latest data management technologies. The application lets users transfer a myriad of data types, such as messages, photos, call logs, documents, movies, contacts, applications, music, and more. After thorough testing, the application has been proven to be 100% secure as it employs the read-only operation to avoid overwriting existing devices' data.
This outstanding Android data transfer application can manage more than one device simultaneously. It is trusted by millions of users across the globe and has also received numerous positive reviews from satisfied clients. Below are some features that make the Android File Transfer application a go-to option:
Main Features of Android File Transfer:
- Provide a great way of transferring data from an Android device to an SD card, between Android devices and computers.
- Allow users to back up, import, and export data such as call logs, music, SMS, contacts, photos, books, videos, and more.
- Support various data management tasks such as transferring, editing, adding, and deleting using a computer.
- Allow users to send, forward, copy and resend text messages from a computer.
- Install and uninstall Android phones' applications.
- Can be used on a wide range of Android devices such as LG, ZTE, Sony, Motorola, HTC, Samsung, Dell, Huawei, and more.
Below is how to transfer photos from Android to SD card using the Android File Transfer application:
Step 1. Download, install, and launch the software on your computer. After that, select the "Android Assistant" option from the available modules and connect the SD card to your computer.
Step 2.Use a USB cord to link the Android phone to the computer and enable its debugging mode. After a successful connection, the application will detect your Android phone, install the required drivers into your computer, and install its Android app version on your Android phone.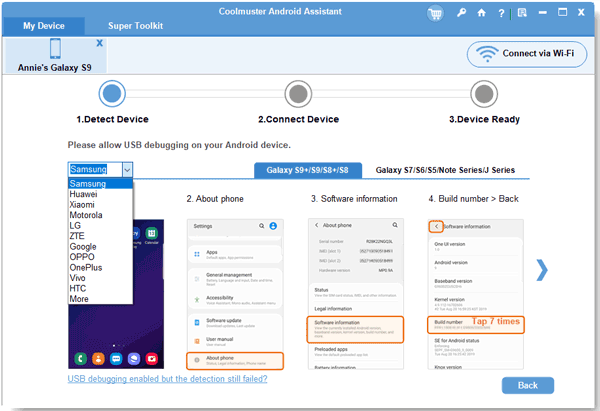 Step 3. A new interface showing all your Android device's data categorized according to data type will appear.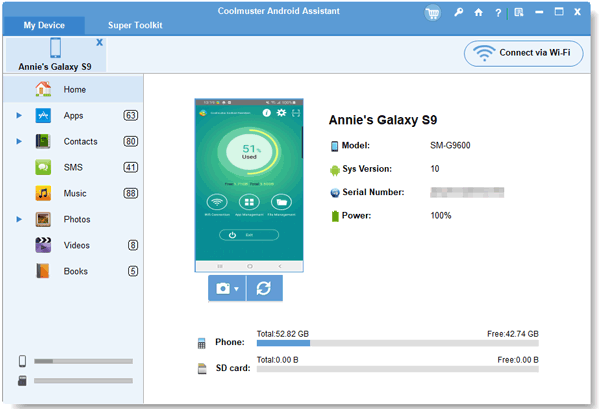 Step 4. Hit on the "Photos" folder, select your photos of interest, click the "Export" button, select your SD card, and save the photos there.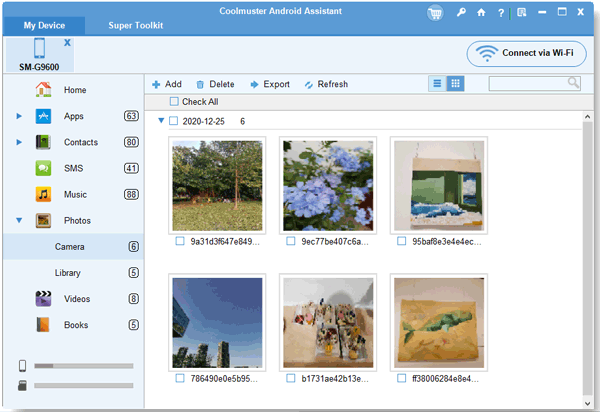 Words in the End:
This article has guided you on how to move pics from internal storage to SD card using various methods. Among the methods discussed above, we recommend you save the photos transfer time by using Android File Transfer. It is a professional Android data transfer application that transfers data at a super speed, is easily usable, and secure.
Related Articles:
How to Transfer Android Apps to SD Card? 3 Efficient Ways
Desire the Best SD Card Manager? Here You are
The Best Way of SD Card Recovery for Android (Recommended)
How to Find Android Recycle Bin and Recover Deleted Files Easily
How to Sync Android to iCloud?
How to Transfer Photos from SD Card to Computer Successfully - 5 Proven Tips