Summary
Photos hold our precious memories as they capture those moments we never want to forget. But, there is a time when they may disappear from your Google account, leaving you in a state of panic. Whether it is due to a lack of backup, accidental deletion, or unforeseen scenarios, losing pictures from your old Gmail accounts might be distressing.
However, you should not worry anymore. This article provides easy-to-follow steps and techniques to recover photos from old Google account. Without further ado, let us delve deeper into the methods that will guide you in recovering lost pictures either with a backup or without.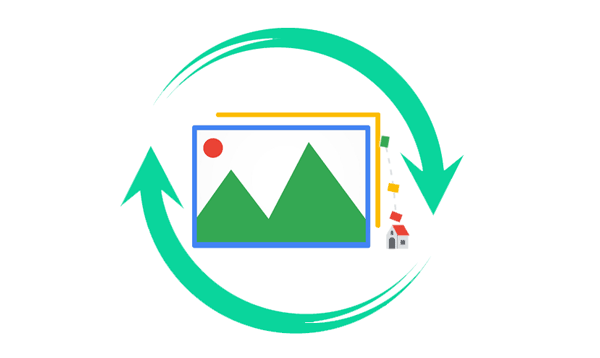 Part 1. Can You Recover Photos from Google Account?
It is indeed possible to restore photos from a Gmail account. If you delete a photo from a Google account, it will remain in the Trash folder for 60 days, after which it gets deleted permanently. To restore the deleted photos, open the Trash folder, choose the image, and press the Restore icon.
If a 60-day limit has elapsed, you can still retrieve the deleted images by contacting Google support. Depending on your deletion circumstances, Google support may help you recover the missing photos.
Remember, removing a picture from the Gmail account will delete it from all devices already synced with the account. Thus, it is necessary to backup the photos to a safe place before deleting them.
Bonus:
Quick and Easy: How to Transfer Photos from Android to Computer
Where Are Contacts Stored on Android? Find and Export Contacts Easily
Part 2. How to Get Pictures from Gmail Account in the Trash Folder
Like other devices, the Google Photos app does not permanently delete your pictures from your account until you decide to delete them. Instead, they're transferred to a Trash album in the app. This means, you still have the chance to find the deleted pictures in this album and then retrieve them.
Check out the steps below to recover photos from an old Gmail account via Google Photos' Trash folder:
Step 1. Open the Google Photos application on the phone. Click the "Menu" button at the bottom.
Step 2. On the next screen, click on the "Trash" folder to access the deleted data.
Step 3. Locate the Trash folder and click the picture you want to recover.
Step 4. Lastly, choose the "restore" option to restore the deleted pictures from your Google account.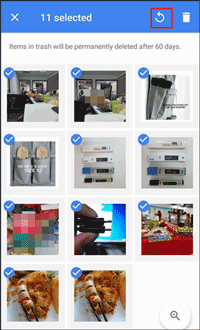 Read Also:
How to Retrieve Deleted Photos on Samsung Galaxy in Ease
[Proven] How to Back Up Android Contacts to Mac with 3 Fast Ways
Part 3. How to Recover Google Photos via Google Photos Website
Another good option for restoring your Google photos is establishing a connection and then syncing the old Google account with your mobile phone on a web browser. This way, you can regain access to the photos and sync them to your phone again.
Check the steps below to start recovering your photos from your old Gmail account:
Step 1. Launch a web browser, then proceed to the Google Photos site. Tap on your profile button at the upper right section of the page.
Step 2. Select "Add another account", log into your old Google account using the right credentials, and click the "Photos" button.
Step 3. Again, press on your profile tab at the top and choose your old Google account from the available options.
Step 4. Scroll through the pictures you wish to restore, then tap the "tick" button to choose them.
Step 5. Click on the three-dotted menus at the upper right corner, then choose "Download". All selected pictures will be downloaded to Google Photos on your Android.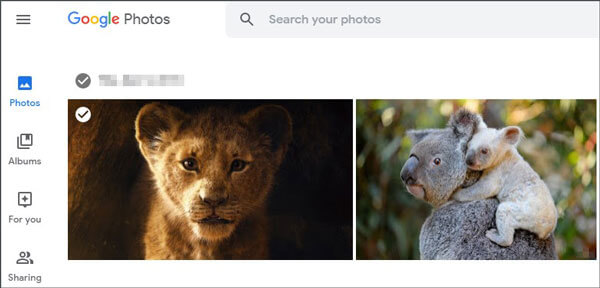 Part 4. How to Restore Photos from Gmail Account via Undo Feature
Anytime you delete any file from your device, there is an 'Undo' notification that pops up for a few seconds and then disappears. Google has also enforced this 'Undo' feature for Android users who deleted their files unknowingly. This means that you can use it to restore the deleted photo from your account storage.
When you remove a photo from your storage, you'll see a notification at the bottom of the screen, alerting you that your file was deleted. Thus, you can click on this 'Undo' notification, which will instantly return the deleted image from the Trash folder to its original location.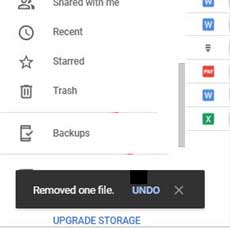 Remember, this notification will appear for a short while. Therefore, it will likely be gone if you removed the picture hours ago.
Part 5. Recover Photos from Gmail Account via Google Support
If it's already been 60 days after you deleted your photos from your Gmail account, it can be tricky to recover them. However, you may seek help from the Google support team. Note that Google ensures the safety of your files; in some cases, you may restore them up to 21 days after being permanently deleted. (How to delete photos from Android phone permanently?)
If your reason for recovering the lost pictures is legitimate, you can contact Google's support team and ask them for help. If the request is satisfactory, they'll retrieve the photos from your account.
Here's how to contact the Google Support team and get assistance in recovering your Google photos:
Step 1. Head to support.google.com/drive/ and scroll down to the "Need more help" option.
Step 2. Tap on the "Contact Us" option and state your problem.
Step 3. From there, tap the "Next" tab. Go to the next step if you can't find the solution in the provided resources.
Step 4. Select the "Email" option and complete the form provided, then submit it to contact Google Support. You will receive assistance with your problem.
Bonus: How to Recover Deleted Photos without Google Backup
Android Data Recovery is the ideal solution for restoring deleted photos on Android devices. It presents a smart solution with its Quick and Deep Scan Modes, enabling you to conduct an extensive scan and preview of the lost pictures and other data stored on the internal memory and the SD card. If you can't locate the photos from your old Gmail account and have no backup, Android Data Recovery is the tool to try without delay. You don't need a backup to recover those lost photos on your phone.
Why Android Data Recovery is a top-rated photo recovery tool:
- Easily and quickly retrieve photos from Android devices without a Google backup.
- Recovers photos from Android's internal storage and an SD card.
- Offers preview option before photo restoration.
- Selectively restore your lost photos.
- It can restore various files on Android devices, such as photos, movies, videos, music, messages, call logs, contacts, etc.
- High success rates in data recovery and offers a quick scanning process.
- Compatible with 6000+ Android (Phones and tablets), including top brands like Samsung, Huawei, LG, Xiaomi, Motorola, Sony, Oppo, OnePlus, Google, ZTE, etc.
- No quality loss during the recovery, and very safe to use.
Steps to restore photos without Google Backup easily:
Step 1. After downloading and installing Android Data Recovery, open it. From the Toolbox, you'll see the "Android Recovery" module. Click on it to access the tool.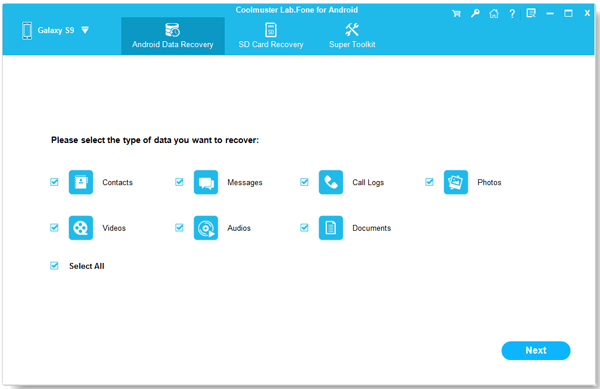 Step 2. Use a USB cable to plug the Android phone into the PC, and turn on the USB debugging. From the interface, you'll see all files displayed. Click the "Next" button to continue.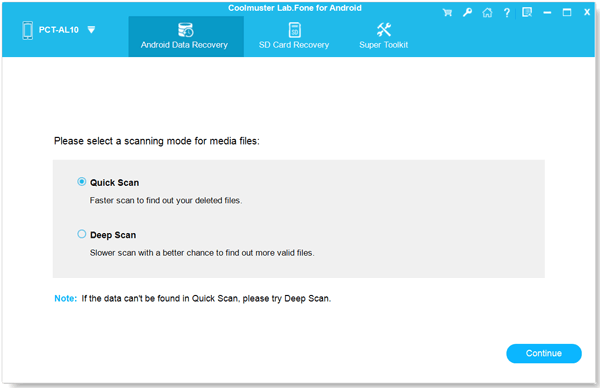 Step 3. Click on the "Photos" option, then choose Scan mode. You can select Quick or Deep Scan to scan your photos.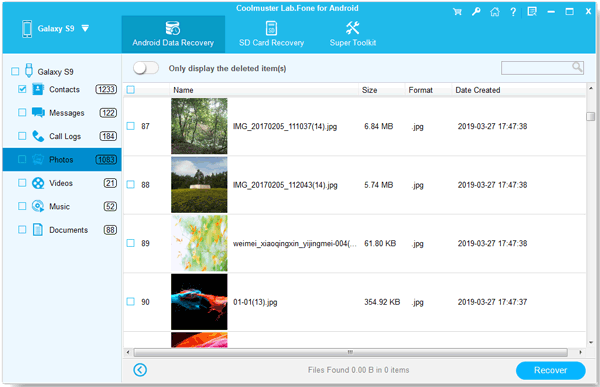 Step 4. After scanning the pictures, they will appear on the screen. Tap on the "Photos" folder to open the items. Preview as you select the particular photos to restore. Tap the "Recover" button, and all the pictures will be saved on your PC.
Wrap Up
Most of us like keeping our files in the cloud for easier access, even when on the move. But, several circumstances can lead to data loss, especially photos. If you have been wondering how to recover photos from your old Google account, you can now put your worries at bay. This article has elaborated on different ways to do Gmail photos recovery. These methods will likely come to your aid. Furthermore, if you do not have a Google Backup, restoring permanently deleted pictures with a third-party tool like Android Data Recovery is wise.
Related Articles
4 Proven Ways on How to Transfer Photos from Computer to Android (Step-by-step)
Transfer Photos from Android to Mac Wirelessly [6 Fabulous Methods]
How to Transfer Photos from iPhone to Huawei in 5 Effective Ways?
[5 Ways] How to Transfer Photos between Samsung and Computer
4 Methods to Import VCF to Android Expertly: Get Contacts Onto New Phone
How to Transfer Photos from Sony Xperia to Computer? (4 Easy Ways)