Summary
Google Maps is one of the best tools to find your way around. You can effortlessly set a default route to your workplace or home. Besides, you will also be updated on any potential traffic issues that may arise as you travel. However, when it comes to changing location in Google Maps, it can be quite tricky. But fret not, as we will show you how to change work and home location on Google Maps.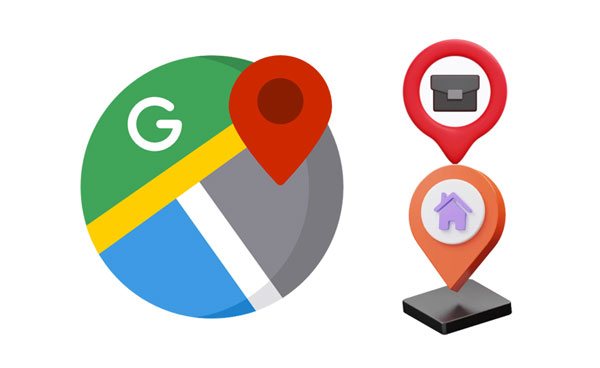 Part 1: Why Add Work or Home Locations on Google Maps?
Adding your home and work locations to Google Maps can be immensely beneficial in various ways. First, you will be able to know where your home or workplace is with those pins on the map, which is especially helpful when exploring an unfamiliar area and you want to get back quickly. Besides, you can calculate the estimated arrival time and get other helpful directions.
In addition, adding these locations grants you access to various helpful features. For instance, with Google Maps, you can stay up-to-date by getting traffic updates along your route to prepare for unforeseen surprises like slowdowns or delays. Additionally, the navigation tools make it simple to obtain directions from one place to another and set reminders when you reach a particular location.
Furthermore, adding your home and work locations on Google Maps will provide you with a personalized experience. With these markers in place, you'll gain access to relevant recommendations about the area around you, like nearby restaurants or stores. Additionally, this app grants users useful weather forecasts and updates on local events.
Part 2: How to Set Work/Home Location on Google Maps
Firstly, before changing your work or home address in Google Maps, ensure you have one already set. To set an address in Google Maps, you need go to saved locations and choose the right label. To help you further, follow the below steps on setting home/work address on iPhone or Android and on the computer:
Set Work or Home Address on Android or iPhone:
Step 1: Open Google Maps application on your phone, click "Saved" located at the top of the app's page and press "Labelled".
Step 2: Click "Work" or "Home", depending on the address you wish to set. Now, enter your address in search bar; you can select the address when it shows on the screen. Also, you can click "Choose on the Map" and put the pin on that location.
Step 3: Lastly, confirm the location on the screen and click "Done".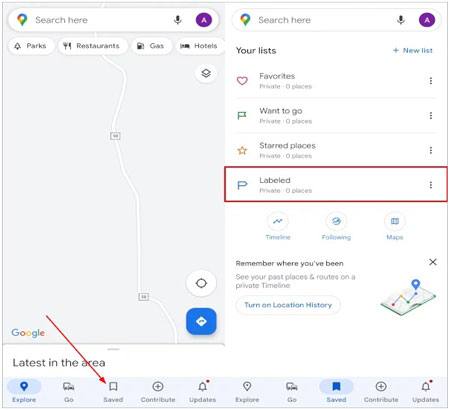 Set Work or Home Address on a Computer:
Step 1: Go to the Google Maps website in a browser on the computer, then log into your Google account. Tap on the hamburger symbol button in the top left corner, then choose "Your places" from the menu.
Step 2: Now tap on the "Labelled" option and choose "Home" or "Work", but it depends on the one you wish.
Step 3: Now enter your work or home address in the search bar. Tap "Save" after choosing an address.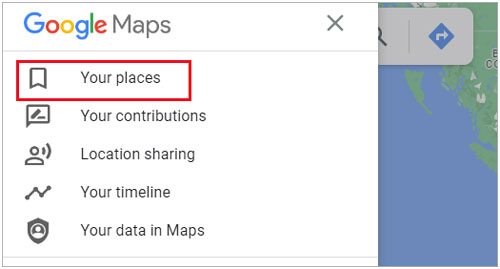 Read also: How to Stop Parents from Tracking Your Phone? Solve It Effortlessly
Part 3: How to Change Work and Home Locations on Google Maps
After setting your address in Google Maps, how can you change home or work location on Google Maps? Read on to learn the effective methods in the following.
3.1 How to Change Home Location on Google Maps Android
Whether you're moving to a new home or relocating for work, you need to change your address. Thankfully, Google Maps makes this process incredibly simple. You can easily update your home location on Google Maps with a few tweaks to reflect a new address.
Below are steps to change home location Google Maps on Android:
Step 1: The first thing to do is launch the app on an Android device. Click on the "Saved" option, and head to "Labelled" below the option for "Your Lists".
Step 2: Tap on the "Home" option and the three-dot icon, and look for the "Edit home" option.
Step 3: Drag the pin to the home location and click "Save".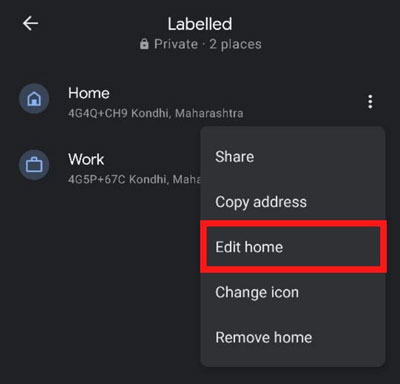 You might need: Looking for the best app to fake GPS on your mobile device? If so, you can refer to these options.
3.2 How to Change Google Maps Default Location on Desktop
If you prefer to change your location on a computer rather than a phone, it's still possible. As you know, changing work location is helpful and important to give you accurate and timely results. To change work location Google Maps, do this:
Step 1: Start by opening Google Maps on any browser. Make sure you're signed into your Google account.
Step 2: Tap on "Search" box at the top left corner, then type in "Work" in the box and hit "Enter". When done, hit "Edit".
Step 3: Add your new address and click "Save".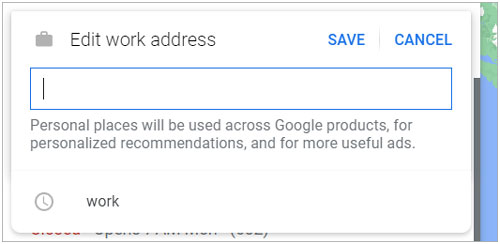 Read more: FGL Pro Pokemon Go Guide: Use FGL Pro to Fake Pokemon Go & Alternative
3.3 How to Change Work or Home Location on Google Maps in Professional Way
How do I change my home location on Google Maps? There is a magic way - using Location Changer. This is an ultimate GPS changer that is specially made to fake GPS locations on both Android and iOS devices. Thus, you can change your virtual location completely even though you don't move one step.
It is an incredibly simple and user-friendly tool that lets you quickly and accurately set up a new virtual location. With its joystick feature, you can easily simulate your GPS movement and move along customized routes.
Also, the app works well on location-based applications like AR games and social media platforms. It's very easy to use as well. You just have to choose a location or enter the coordinates of the desired location on the map and move to the place.
Key features of this virtual location changer:
- Allow you to change your home/work location in 1 click.
- Fake your GPS location on Instagram, Zenly, and other platforms without anyone knowing.
- Enable you to create your own routes for AR games.
- Locate to new positions by zooming in or out and entering the names or coordinates.
- Simulate GPS movement with a joystick.
- Works on Android and iOS devices.
Download this software to change your location on Google Maps easily.
How to change business location on Google Maps with this program:
Step 1: Launch the tool on the computer after installing it. Choose "Get Started" to start the process. Connect the device to the computer with a USB cable and grant permissions.
Step 2: Select your device, and tap "OK" on the interface. Then select the "Gaming" or "Social" mode.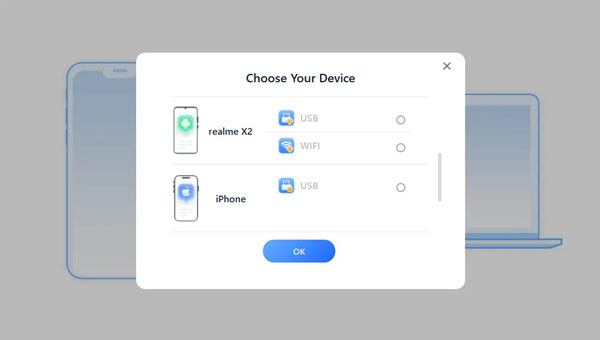 Step 3: Look for the "Teleport Mode" icon from the top right corner of the screen. Now choose your desired location or enter the address or coordinates. Once done, click on the "Move" option from the pop-up window. After doing that, your location on Google Maps will be changed instantly.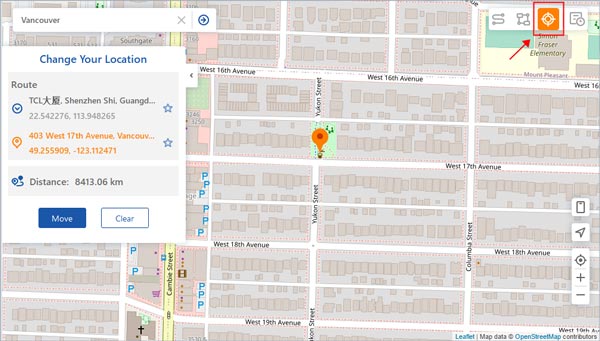 Guess you like: How to Spoof Pokemon Go on Android | Fake GPS Easily [Ultimate]
Part 3. Hot FAQs on Changing Location
Q1. Should I turn on location when using Google Maps?
Before you use Google Maps, it is mandatory to turn on location services on your device. Without GPS, Google Maps cannot work and pinpoint the exact coordinates of your location.
Q2. How can I delete my address in my phone's Google Maps?
To delete your home or work address, open Google Maps and choose "Saved." Click on the "Labelled" option just below "Your Lists". Once done, click on the 3 dots menu, "More", and choose "Home" or "Work". Now click on "Remove Home" or "Remove Work" to remove the home or work address.
Bonus: Why Google Maps Fail to Change Your Address
If you tried changing your work or home address, but you weren't able, it could be due to some reasons mentioned below:
1. You didn't sign into your Google account.
Usually, Google Maps associates address with Google accounts. This shows that you should log into your account first before trying to change your location. Without logging in, it is impossible to access the saved locations, and thus making any changes will undoubtedly fail. Confirm that you have entered a valid email associated with your account to avoid problems when attempting to save the new address.
2. The internet isn't good.
A good internet connection is absolutely essential when changing locations. If you don't have a stable connection, you won't be able to edit location addresses. So, to ensure everything goes smoothly, test the strength of your Wi-Fi signal and check how much cellular data you have left if you're using it instead.
3. Google Maps isn't up to date.
If the Google Maps application isn't up to date, it's likely to cause problems. Therefore, verifying that your Google Maps app is updated is critical. If not, update it from Apple Store or Google Play store. With an updated version of the application, you can be confident that no issues arise.
4. There are glitches in the app.
If you've tried all the solutions but aren't lucky to save your home or work address, it could be a minor glitch in the app. These types of issues occur from time to time. Try restarting the device or reinstalling the app.
Conclusion
Sometimes, we don't have any choice but to change our addresses, for instance, when we relocate or change jobs. But this shouldn't be a big deal now as we have shown you how to change home or work location in simpler ways. We recommend Location Changer as the helpful tool for changing GPS location on iOS and Android since it is simple to use and has powerful features that make location changing a breeze.
Related Articles
How to Stop Someone from Spying on My Cell Phone? [Complete Guide]
How to Change Weather Location on iPad in Trouble-free Ways [Settlled]
How to Transfer Photos from Mac to Android in 5 Expeditious Ways
[2 Ways]How to Edit Samsung Phone Contacts on PC/Mac
How to Restore WhatsApp Backup from Google Drive to iPhone with Ease
9 Google Photos Alternatives: Manage Photos and Videos Easily