Summary
Losing your photos can be a painful ordeal, especially the ones that remind you of memorable moments. The current trends in technology have seen everyone depending on their smart devices to store their files. However, smartphones face data losses caused by unintended deletion, malware attacks, device failure, etc.
As a result, Samsung introduced Samsung Cloud to back up their users' data. This move enabled its users to store and sync their photos for easier retrieval in case of data loss. Unfortunately, Samsung Cloud stopped supporting its Gallery Sync and Drive Storage features on November 30, 2021 and gave its users a grace period to remove all their data from its service. This article will guide you through how to retrieve photos from Samsung Cloud. Let's dive into it.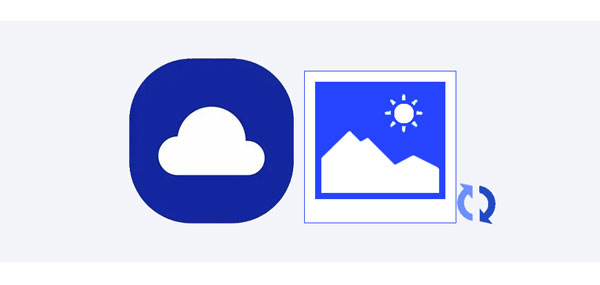 Part 1: How to Access the Samsung Cloud
The Samsung Cloud has been a game changer in the storage sector for some time. Regrettably, Samsung declared the closure of the service, leaving users wondering how to download all photos from Samsung Cloud. Below is how you can access Samsung Cloud using your Mobile and personal computer:
1.1 How to Access Samsung Cloud Backup on Mobile Phone
Below is how to access your Samsung Cloud Backup using a Mobile phone:
Step 1: Open the "Settings" application. Tap your user name on the screen and hit the "Samsung Cloud" button.
Step 2: You now have access to the options below:
Sync - You can select the settings and data you wish to sync automatically.
Back up data - You can back up your device's data to access it later.
Restore - You can also download your previous backup to your Samsung device.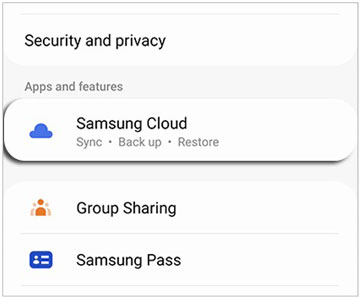 1.2 How to Access Samsung Cloud Backup on a Computer
Follow the guide below to access your Samsung Cloud backup on your computer:
Step 1: Launch your web browser (Chrome browser is recommended). Then key in the address "support.samsungcloud.com" on the Chrome browser's URL and click the "Enter" button.
Step 2: Hit the "Sign in" button, key in your Samsung account's login credentials, and hit on the "Next" button. Once signed into Samsung Cloud, you can access your Samsung device's backed-up data.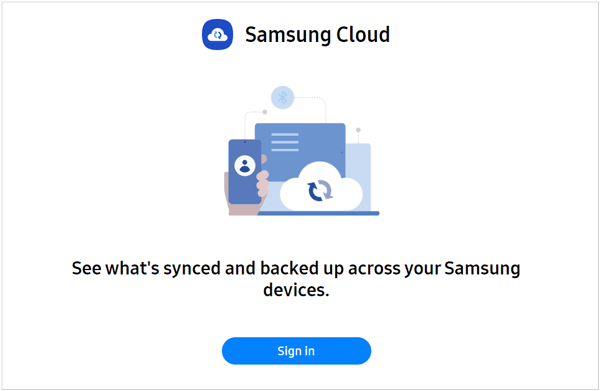 See more: Is it work to Bluetooth photos from Android to iPhone? Read this guide and get the answer.
Part 2: How to Retrieve Photos from Samsung Cloud
You can employ various techniques to retrieve photos from your Samsung Cloud account. Below are some ways of retrieving photos from Samsung Cloud:
Method 1. How to Retrieve Photos from Samsung Cloud on Your Samsung Device via Settings
As we all know, Samsung Cloud could back up photos on Samsung devices automatically. However, it stopped this service on November 30, 2021, and you were allowed to retrieve your photos and videos before September 30, 2021. Thus, you cannot get your photos back from Samsung Cloud now. Even if you log in to your Samsung Cloud, you cannot see your pictures because they are gone.
Besides, the "Gallery Sync" feature was inaccessible on any Samsung device. Samsung now recommends its users to back up photos and videos with OneDrive. If you have moved your photos from Samsung Cloud to OneDrive before September 30, 2021, you can now restore them without hassle.
Here's how to get photos from the cloud on Samsung:
Step 1: Please download this app on your Samsung phone, and sign in with the account that you backed up your photos.
Step 2: Now, you can save the photos you want to your local storage.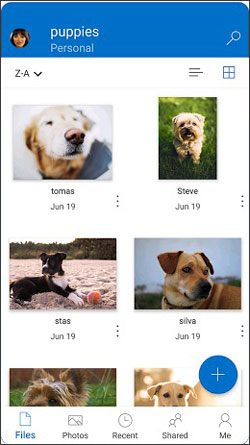 Learn more: Transfer Photos from Android to PC Windows 10/11 [Handy Guide]
Method 2. How to Retrieve Photos from Samsung Cloud Using the Samsung Gallery App for PC
Even though you cannot access Samsung Cloud from the Samsung Gallery app, you can access OneDrive directly. That means you can recover your photos from your backup on OneDrive instead of Samsung Cloud.
Here's the guide:
Step 1: Download and install OneDrive on your Samsung device. Then log in with your Samsung account.
Step 2: Go to the Gallery app, and click "Menu" > "Settings". Then turn on "Sync with OneDrive".
Step 3: It will sync your OneDrive photos to your Samsung Gallery app, and your Samsung photos will be synced to OneDrive as well.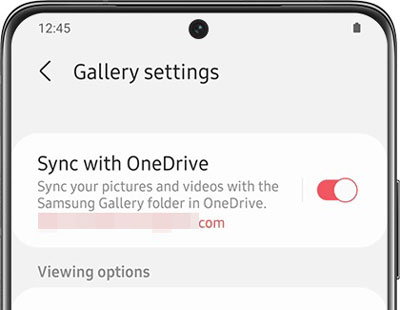 By the way, you can restore your deleted photos from OneDrive's recycle bin. OneDrive will keep your deleted photos for 30 days.
Method 3. How to Get Photos from Cloud Samsung via PC Browser
So can you get your photos from Samsung Cloud via your computer? You can't, either. Samsung Cloud won't sync photos, music or videos anymore. If you want to sync and restore your media files, maybe OneDrive is your helper.
Steps on restoring your Samsung photos on a PC:
Step 1: Open the browser on your computer, and search for "OneDrive".
Step 2: Sign in with your account. Then you can view and download your backup photos.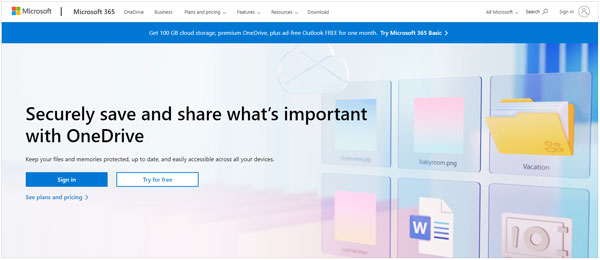 Bonus: How to Recover Deleted Photos from Samsung Using a Professional Tool
The best way of recovering your deleted pictures from a Samsung device without backup is to use a professional tool - Samsung Data Recovery. It is a powerful data recovery application that helps recover various data types on Android, such as photos, messages, call logs, videos, documents, etc. Furthermore, it works for many Android phones and tablets, like Samsung Galaxy S23 Ultra/S23/S22/S21/Z Fold4/Z Flip4/Z Fold3/Z Flip3/Tab S8 Ultra/Tab S8+/Tab S8/Tab A8, OPPO, Sony, Honor, Xiaomi, Google, Motorola, and more.
Besides, this recovery software supports SD card recovery, including photos, documents, music, and videos. You can easily. You can easily preview and select the files you need on the interface, and then restore them to your computer.
Download Samsung Data Recovery.
Below is how to recover your deleted Samsung photos using this potent program:
Step 1: Start the process by downloading, installing, and launching the application on your computer. Click the "Android Recovery" option, link your Samsung phone to the computer using a USB cord, and enable its debugging mode.
Step 2: After a successful connection, the application will detect your Samsung device automatically and install the required device drivers into your computer. Then display data types on the interface. Please select "Photos" and click "Next".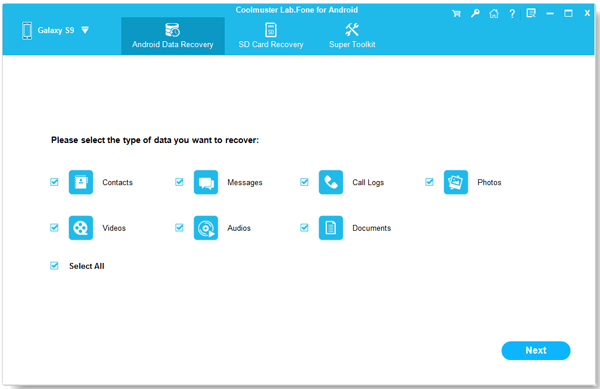 Step 3: Select the scanning mode as "Quick Scan" or "Deep Scan", and click "Continue". It will remind you to root your device if it is not rooted. Also, you can skip it, but the software cannot start a complete scanning of your deleted files.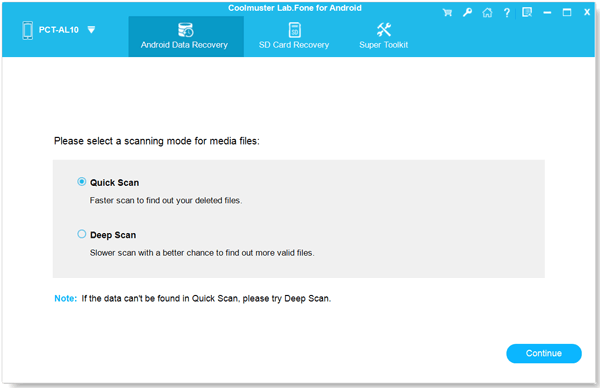 Step 4: A screen displaying all the available photos will appear. Select and preview the photos you want to recover and hit the "Recover" button to retrieve your photos.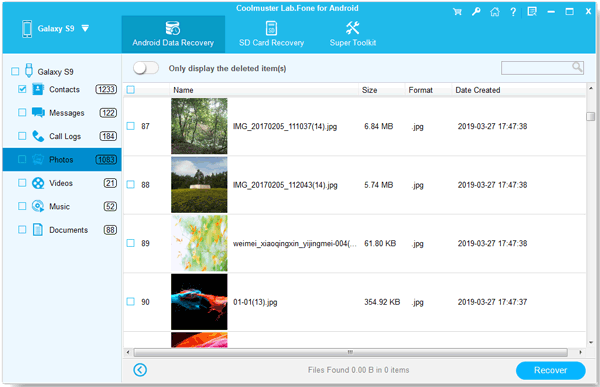 Conclusion
This article has guided you through how to restore pictures from Samsung Cloud. As mentioned above, Samsung Cloud cannot back up or sync photos anymore, but you can replace it with OneDrive. Moreover, you can recover your deleted photos with this Samsung Data Recovery software. It can scan your deleted data even if you don't have a backup.
Related Articles
How to Transfer Photos from iPad to iPad Quickly? (Easy & Safe)
How to Transfer Samsung Notes to iPhone in 5 Simple Ways?
Unlock Samsung A12: Simple Steps for Instant Access [5 Ways]
Samsung Tablet Won't Turn On? Repair It via 7 Wise Approaches
Deftly Transfer Data from Samsung to Sony Xperia Like A Pro [4 Dependable Ways]
Fixed: Why Samsung Cloud Backup Failed? And How to Fix It without Hassle?