Summary
If you are always on the go, most probably you are using SD cards on a daily basis. These tiny but mighty flash memories have become as useful as the internal storage of a mobile phone. They can store data and move any data type you want as they add additional storage space on Android devices. Unluckily, they can get corrupt. If an SD card gets corrupt, you will see an error on your phone. You will see an 'SD card can't be detected' error message. In this case, you must diagnose the problem and apply some fixes to resolve the issue.
Here, we'll provide applicable fixes to an SD card corrupted on Android. Read along to learn the tricks to make your SD card work again.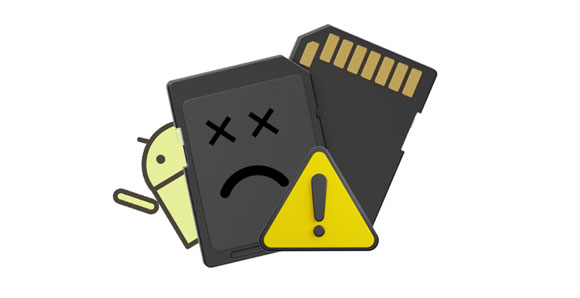 Part 1: Why Does SD Get Corrupted?
An Android SD card can get corrupted for several reasons that range from mishandling and virus attacks to incompatibility issues.
Virus attack: Android devices are susceptible to cyber threats, so virus infections will easily cause your SD card to get corrupted. If malware or virus infects a microSD card, the infection can destroy the memory, thus making it unable to display files.
Mishandling of the SD card: If you do not handle your SD card properly, for instance, by removing it safely from your phone, it can also get corrupted.
Incompatibility issues: If the SD card is incompatible with the phone, you will encounter SD errors.
Reading errors: You will also see a corruption message when you remove the SD from the phone during file transfer.
Moreover, you'll also see this message if the SD card is used on many Android devices. It's usually associated with reading problems and data writing.
If your microSD on Android is corrupted, you will notice these symptoms:
- The process of accessing any file becomes sluggish.
- The SD card appears empty.
- Many requests to reinsert the SD.
- Your phone cannot detect the card.
Note that SD cards are highly prone to corruption, formatting, physical damage, etc., and can easily cause data loss on Android devices.
Part 2: How to Fix Corrupted SD Card on Android
Checking for errors on Android SD cards is necessary and useful. Now, you can follow the solutions to check and fix corrupted SD cards on Android with or without a computer.
Solution 1. Check If the SD Is Unlocked
Many micro SD cards have a physical switch that you can use to turn on or off. If it is locked, error messages will pop up. Just slide the switch to the off position to enable the write access to an SD.
Thus, before inserting an SD into your Android device, inspect it to be sure it is not locked.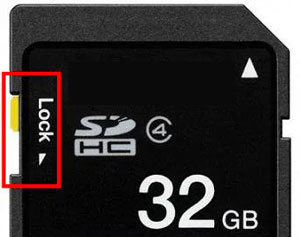 See more: Want recovery software for micro SD cards? Go through this guide to get some help.
Solution 2. Connect the SD to Another Android Device
When an Android SD card is corrupted, there's a high chance that compatibility issues are to blame. If your SD card is not showing up on your phone, try using another Android device. It might not be compatible with your device. Try connecting the microSD to another Android phone and check if the issue is fixed.
Solution 3. Change Your SD Card to FAT32
If the issue persists, try changing the file system to FAT32. this process will delete all data on the SD card since you have to format the memory card to fix the corruption issue. Thus, ensure you back up important files beforehand.
Follow the steps when the Android SD card is damaged:
Step 1: Plug in the Android device to PC using USB. Also, you can connect SD directly to a computer using an SD card reader. After that, press the "Windows" and "X" keys on the computer and choose "Disk Management".
Step 2: Locate your SD from the "Volume" section. Right-click on it and choose "Format".
Step 3: Now, change your SD card's name by typing the name in "Volume label". Next, in the "File system" section, change the settings to "FAT32". Check in the box for "Perform a quick format", then tap "OK".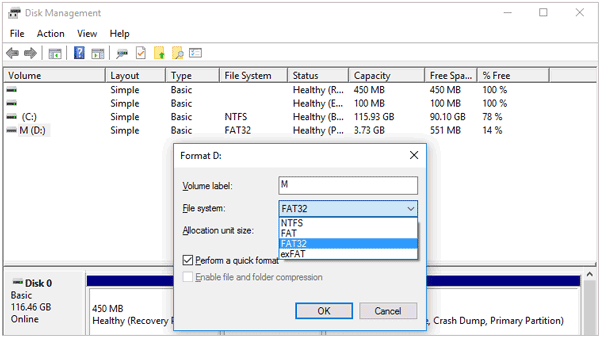 Learn more: You can transfer your files from your SD card to a computer for backup. Even though the card is corrupted, you won't lose your data.
Solution 4. Clean SD and Its Port
If your phone says the SD card is damaged, please clean your SD and its port to avoid connection problems. Wipe the microSD with a clean, dry cloth. Use an air gun to clean the port to remove dirt and dust. After cleaning it properly, reinsert the card into the phone.
Solution 5. Connect the SD to the Phone via a USB Adapter
If your phone says the SD card is damaged, the problem is probably with the port. You should try connecting the corrupted micro SD card with a USB Adapter to the device through its USB port. If you can now access the content of the SD card, then the SD port is damaged.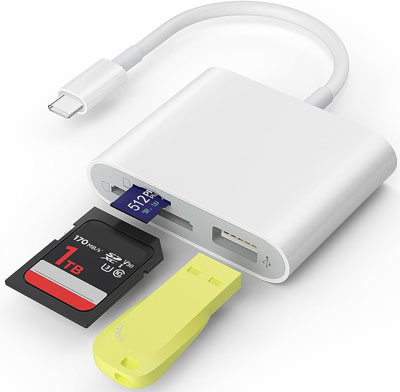 Solution 6. Repair Your SD with CHKDSK
Another possible fix for a corrupted SD card is to repair it using CHKDSK cmd. This will help identify the corruption problems on your SD file and repair any sections on the memory card. It lets you repair an Android SD and restore data without formatting your card.
Fix the issue with an SD card using CHKDSK:
Step 1: Connect your Android device to the PC with a cable. Then head to the "Search" bar and key in "cmd". A "Command Prompt" window will be launched instantly. Hit "Enter" on the keyboard to access the "cmd.exe" menu.
Step 2: Key in this command "chkdsk [sd card drive letter]: /r" and press "Enter". Wait as the PC checks and repairs the corrupted SD file system on the phone.
Step 3: You will see that Windows has corrected the error message if you can access the files on SD.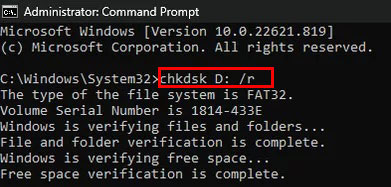 Solution 7. Update Android
Another SD card corrupted Android fix without a computer is to update the Android system. A software update can fix various problems related to accessing data stored on the microSDs.
To update an Android, follow these steps:
Step 1: First, connect it to Wi-Fi, then open "Settings" and choose "About phone".
Step 2: Click "Updates"; if an update is available, you'll see the "Update" button. Click on it.
Step 3: Click "Install now", and the phone will restart.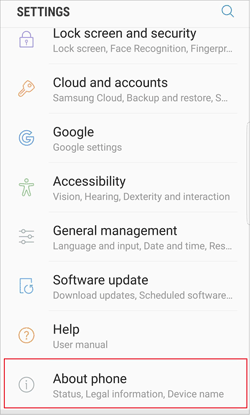 Guess you need: How to Transfer Android Apps to SD Card? 3 Efficient Ways
Solution 8. Format SD Card
If your Android phone can read the SD, you should format it. This fix is known to resolve many problems, including corrupted cards. Since this is a formatting process, all files will be lost. Ensure you save the data to another device. After that, you can follow the steps below to format an SD card:
Step 1: Head to the settings on the Android device and find the "Storage" or "Memory" tab.
Step 2: You'll see the option to format the SD card. If not, click on the three-dot menu at the top right to show this option.
Step 3: Choose the "Format SD" option and tap "OK" to erase your SD card.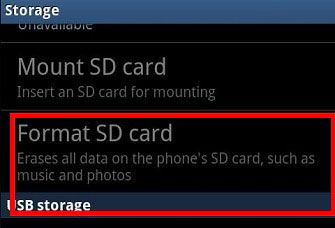 Read also: Is your Android device with insufficient storage space? If so, you can move your photos to an SD card to free up storage without deleting files.
Part 3: How to Recover Data from Android SD Card
When deleting important files from your Android SD card, you can ask Samsung Data Recovery for help. This recovery software is a versatile SD recovery tool that can restore existing and deleted data from SD cards to your computer. Also, you can view and select the files you want before the recovery.
With its SD Card Recovery mode, the data recovery process will be a cakewalk. This mode restores videos, music, photos, and documents from an SD card and saves them onto a computer in high-quality and original formats. What's more, you don't need to root your card or Android phone, which is safe for privacy.
Aside from memory cards, it can also recover files from the phone's internal memory and SIM cards. It combines usability with excellent data recovery algorithms to meet the needs of average and professional users alike.
Download this SD card recovery program.
Steps to recover data from an SD card:
Step 1: Run the program on the computer and click on the "SD Card Recovery" option at the top. Put your SD into the SD card reader and insert it into your computer.
Step 2: Tap "Next". Tick the card to scan from the list provided. Tap "Next" after that to begin scanning.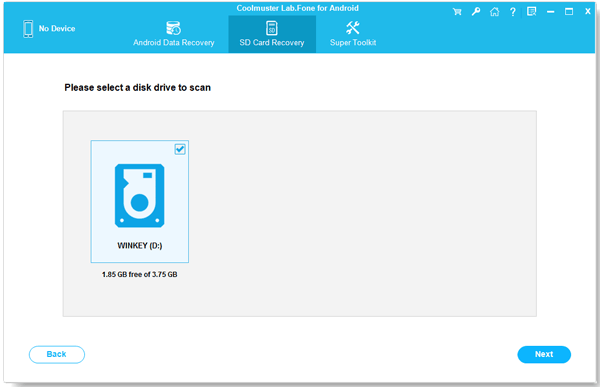 Step 3: After scanning, all recoverable data will be shown on the screen. Preview and choose what you wish to restore. Tap the "Recover" icon to save the files to your PC.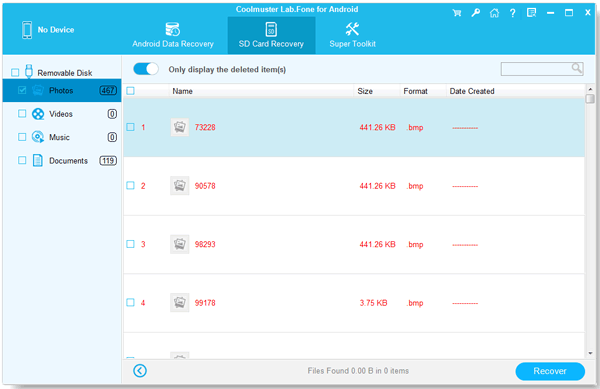 Conclusion
Repairing a corrupted Android SD card can be challenging but it is possible. If the SD card has no signs of physical damage, these solutions should help rectify the corruption error and render it readable again. But, if it has physical damage, you can contact your local vendor for help. All in all, a corrupt SD can lead to data loss, so regular backups are still crucial.
Besides, if you lose your useful files from an SD card, consider this SD card recovery - Samsung Data Recovery. It can recover deleted files and extract existing data from your corrupted memory card.
Related Articles
4 Helpful Methods to Recover Photos from old Google Account
Desire the Best SD Card Manager? Here You are
How to Recover Data from Water Damaged Samsung Phone | Useful Tips and Ways
How to Transfer Photos from iPhone to Flash Drive | No Quality Damage
Tutorial on Switching SIM Card from Android to iPhone Seamlessly
How to Recover Deleted Videos from SD Card [Necessary Tips]