Summary
"Can I use Smart Switch from Samsung to iPhone? I bought a new iPhone and want to get my Samsung data onto the new device. I found the app supports iOS devices in its introduction, so I want to give it a shot."
Ever heard of Samsung Smart Switch? It is an app that allows Samsung and other mobile device users to transfer data between devices. Of course, you may wonder if this is the case with iPhone devices and want to know if there is a Smart Switch for iPhone. This article will discuss Samsung Smart Switch iPhone and everything there is to know.
So can you use Smart Switch from Samsung to iPhone? This guide has discussed it below, and you will get the key. Also, you can choose another equivalent of Samsung Smart Switch for iPhone in this article.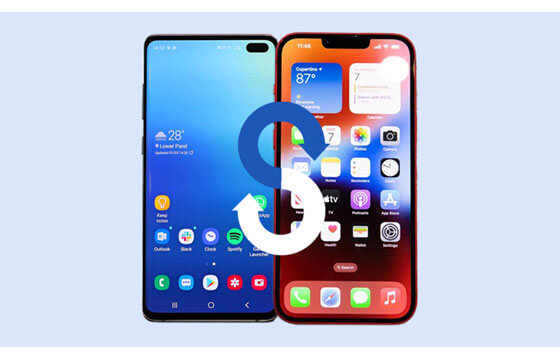 Part 1: Does Smart Switch Work With iPhone?
Yes, Smart Switch can work with iPhone and other iOS devices when you transfer data from iOS to Samsung. But can Smart Switch transfer from Samsung to iPhone? Unluckily, no, Smart Switch from Android to iPhone isn't feasible. Therefore, you cannot use Samsung Smart to transfer files from Samsung to an iPhone.
Smart Switch is Samsung's designed app mainly for Samsung devices to offer a way to get files on your Samsung device easily. This has really helped those switching from iOS or Android to Samsung devices. In short, the receiving device must always be a Samsung.
See more: Samsung Smart Switch Alternative: 6 Equivalents Worth Pursuing
Part 2: Important Things on Smart Switch for iPhone
Key Features of Smart Switch
- Support the transfer between mobile devices without a computer.
- Wireless and wired transfer options are available.
- Provide easy setup and migration.
- Support direct data import from iCloud backups or iTunes backups.
- Allows users to restore previously backed up data to their Samsung devices.
- Support data transfer from various platforms.
What File Types Smart Switch Support
What data types can Samsung Smart Switch transfer? Let's check it out.
- Contacts: Smart Switch can transfer contact information such as names, phone numbers, email addresses, and other relevant details.
- Messages: It supports the transfer of SMS text messages, MMS messages, and even iMessages.
- Photos: It can transfer image files, including JPEG, PNG, and GIF formats, preserving the original quality.
- Videos: It supports the transfer of video files in formats like MP4, AVI, MKV, and more.
- Music: It can transfer audio files, including MP3, AAC, FLAC, and other common formats.
- Documents: It supports the transfer of various document formats, such as PDF, Word documents (DOC, DOCX), Excel spreadsheets (XLS, XLSX), PowerPoint presentations (PPT, PPTX), and more.
- Calendars: Smart Switch can transfer calendar events and appointments.
- Call Logs: It supports the transfer of call history, including incoming, outgoing, and missed calls.
- Apps: Smart Switch can transfer installed apps from the old device to the new Samsung device, including app data and settings, if supported by the app.
- Device Settings: It can transfer certain device settings, such as Wi-Fi networks, wallpaper, display settings, and more.
- iCloud and iTunes Backups: When migrating from an iPhone, Smart Switch can directly import data from iCloud backups or iTunes backups, including various file types and data categories.
What Devices Are Compatible With Samsung Smart Switch
On the one hand, Smart Switch supports a wide range of mobile devices.
- Samsung Galaxy Devices: Smart Switch is specifically designed for Samsung Galaxy smartphones and tablets. It supports both older and newer models, including the Galaxy S series, Galaxy Note series, Galaxy A series, Galaxy J series, Galaxy Tab series, and more.
- iPhones and iPads: It has a dedicated feature called "Smart Switch Mobile" that allows data transfer from iPhones and iPads running iOS 9.0 or later. Users can transfer data from an iPhone to a new Samsung device using Smart Switch Mobile.
- Other Mobile Devices: Also, other mobile devices are compatible with Smart Switch, including Windows phones, Android phones, BlackBerry devices.
On the other hand, to download the app on a computer, you must meet these specifications:
- On Windows PC:
It should have Windows OS XP/Vista/7/8/10/11.
Your computer should have at least 1GB RAM and a free HDD of 200MB.
It should be a Core i5 with at least 3.0 GHz
- On Mac:
Your computer should have Mac OS X 10.5 and above.
RAM of 1 GB with 200 MB free space on HDD.
1.8 GHz or higher.
How to Use Smart Switch to Transfer Data from iPhone to Samsung
As we know, we cannot transfer data from Samsung to iPhone with Smart Switch, but if you need to move iOS data to Samsung, you can follow the guide below.
Step 1: Download Smart Switch Mobile on your iPhone, and open it on your Samsung phone.
Step 2: Please click "Send data" > "iPhone/iPad" > "Wireless" on your iOS device. Next, choose "Receive data" > "Galaxy/Android" > "Wireless" on Samsung. Make sure both devices are linked to the same Wi-Fi.
Step 3: Once connected, please select the content you want to transfer, and hit the "Transfer" icon to start the process.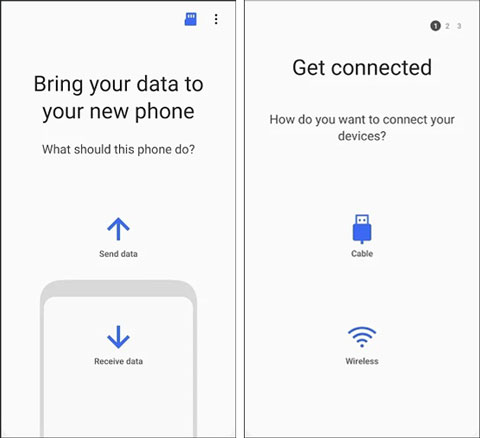 Read also: Can you transfer music from Samsung to iOS? Of course you can. Follow this guide here, and you can easily make it.
Part 3: Smart Switch App for iPhone - Android to iOS Transfer [Useful Alternative]
There is no doubt that Smart Switch is an ideal tool designed by Samsung to help phone users. But, if you've decided to buy a new iPhone and dispose of your old Samsung, then transferring files from your Samsung to a new iPhone using Smart Switch won't be possible. So, you should consider using a reliable alternative application such as this Android to iOS Transfer - Samsung Data Transfer.
This software is the most sought-after desktop application that can provide seamless data transfer between mobile devices. You can easily and smoothly move your contacts, books and other documents from Samsung to iPhone.
Additionally, you can use this tool to share files between Android devices, iOS devices, and iOS to Android. It supports many Androids and iOS devices like iPhone 14 Pro Max/14 Pro/14/13/12/11/X/8/7, Samsung, LG, Sony, OnePlus, Motorola, HTC, Vivo, etc.
Top features of this Smart Switch iPhone app:
- Support the seamless transfer from Samsung to iPhone.
- One-click data transfer without tech skills needed.
- Allow you to transfer data freely between Android and iOS devices.
- Transfer your files without info leakage.
Download this software below.
Steps to transfer files from a Samsung device to an iPhone:
Step 1: Install the tool on your computer, launch it, and select "Mobile Transfer".
Step 2: Link the two phones to PC with USB cords. Enable USB debugging on Android and press "Trust" on iPhone. The software will detect your devices. Ensure the Samsung device is in "Source" and iPhone is in "Destination".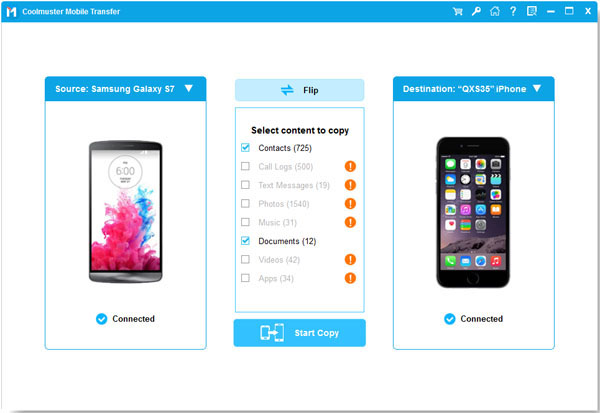 Step 3: Choose the files to be transferred to the iPhone from Samsung from the center of the interface. Then press "Start Copy" to start the transfer procedure.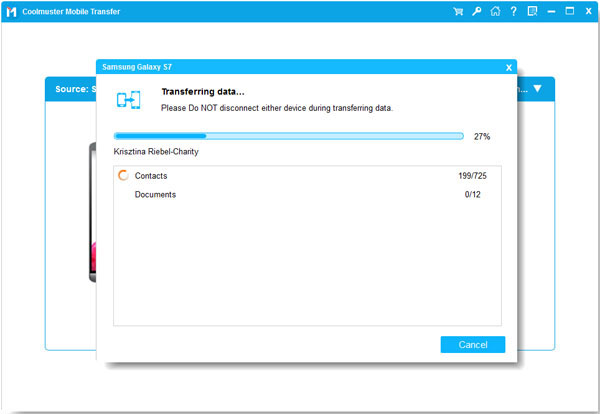 Further reading: How to Transfer WhatsApp from iPhone to Samsung with 4 Ideal Methods
Part 4: FAQs on Smart Switch iOS
Q1. Can you use Smart Switch from Samsung to iPhone?
After reading through this guide, you have known Smart Switch cannot transfer data to a non-Samsung device, right? If you still need to transfer your data, please use the alternative - Samsung Data Transfer, mentioned in Part 3.
Yes. If you upgrade from an older Samsung device, iPhone/iPad, or another Android or Windows phone to Samsung, the Smart Switch app offers a seamless data transfer from your old iPhone device to a new Samsung.
Q2. How long does it take to transfer files via Smart Switch?
Smart Switch transfers almost all types of files to a Samsung device. It barely takes 2 minutes to copy 1GB of files from one device to another. But the more data you transfer, the more time it takes.
Conclusion
At this point, you know that it is not possible to transfer Samsung data to an iPhone via Smart Switch. You can only use this app when copying content to a Samsung phone/tablet, even though it is a great option for all Samsung users. In this case, you can try the helpful alternative - Samsung Data Transfer, since it doesn't have restrictions on the platform and operating system.
Related Articles
Samsung Smart Switch Stuck at 99% Problem: How to Fix? (Proven Tips)
3 Ways to Quickly Transfer Messages from iPhone to Samsung (Latest)
How to Transfer Data from iPhone to iPhone - A Beginner's Guide
Sync Apps from iPhone to iPad in 3 Practical Ways [Proven Guide]
Seamless iPhone Switch: Quick Guide on How to Switch iPhones
6 Most Recommended Samsung Kies Alternative Are Here (with Helpful Tips)