Summary
Finally, decided to switch from Android to Nokia. Chances are that you will want to copy some important files to the new phone. Nokia devices are known for their long battery life. Maybe this is why they are a go-to option for those who want to take a break from the Android ecosystem.
When moving from one phone to another, there is a need to transfer files, too, which saves you the hassle of starting from scratch. The first on the list is probably contacts. However, many will feel puzzled and wonder how to transfer contacts from Android to Nokia, especially if it is an older version. You cannot back up contacts to the cloud with these devices. Despite that, there are still workarounds to move contacts from an Android to a Nokia phone. In this guide, you will learn 3 methods to copy contacts from Android to Nokia. So, read on.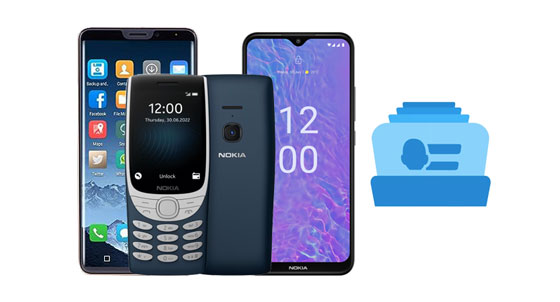 Part 1: How to Copy Contacts from Android to Nokia using a SIM Card
One simple way to migrate Android contacts to a Nokia phone is through a SIM card. This is an uncomplicated process. All it takes is to copy all contacts on your Android to a SIM card and insert it into your Nokia device. From there, you can now save the contacts to your preferred location.
To do that, follow these simple steps:
Step 1: Head to your Android phone and find the "Contacts" app. Then click the "Menu" icon to choose "Manage contacts" > "Import or export contacts".
Step 2: Tap "Export" and choose "SIM card". Then the device will save your Android contacts to your SIM.
Step 3: Remove the SIM card from Android and insert it into the Nokia phone. Then power on the phone, go to "Contacts", and choose "Move" > "From SIM1 to phone" > "All".
Step 4: Your Android contacts will be moved from the SIM card to your Nokia phone.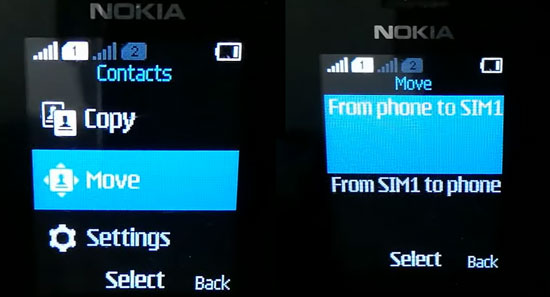 See more: Solved: Transfer Contacts to SIM Card on Android Phone
Part 2: How to Move Contacts from Android to Nokia via Bluetooth
Apart from using a SIM card, you can also migrate contacts to Nokia from Android using Bluetooth. It is also a simple option that is less complicated. Even if you have a featured Nokia phone, the transfer process will still be smooth and flawless. But, it is tiresome to copy one contact at a time.
Follow the steps below to copy contacts from Android directly to Nokia using Bluetooth:
Step 1: Scroll down the home screen on your Android phone and enable "Bluetooth". Next, unlock your Nokia phone, and choose "Settings" > "Connectivity" > "Bluetooth". Then turn the feature on.
Step 2: Choose "Phone visibility" > "Always visible", then go back to last screen, and choose "Devices found". Then the Nokia device will start searching.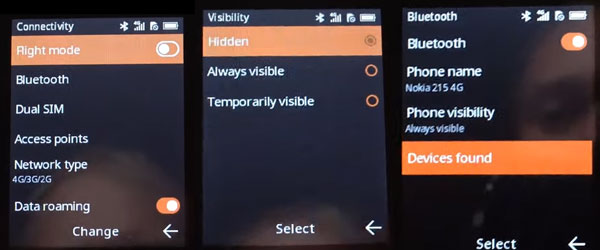 Step 3: Once your Android device is listed on the screen, please choose it and tap "Pair". Besides, click "Pair" on your Android phone.
Step 4: Go to the "Contacts" app on Nokia, and click "+ New contact" > "Settings" > "Sync Android via Bluetooth". Then it will synchronize your Android contacts. Once it displays "All your contacts have been synced with your phone", you can press "OK" and check your contacts.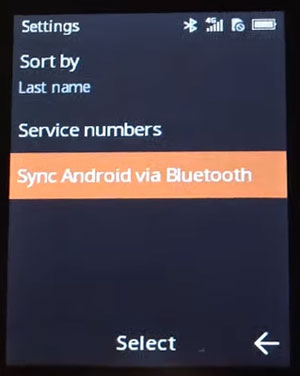 Part 3: How to Transfer Contacts from Android to Nokia Using PhoneCopy App
If you want a reliable and versatile app to back up contacts and sync them to your new phone, the PhoneCopy application is the right tool. This tool can back up, sync, or restore data. Supports contacts, videos, SMS, photos, etc. After you do the initial setup, the tool handles the rest.
Here's the guide:
Step 1: Install PhoneCopy app on Android. Launch it and click "register" to create an account or click "sign on" to enter your account.
Step 2: Click "Authorize access" and "ALLOW" to allow the app to access your contacts.
Step 3: Select the contacts you want to back up to PhoneCopy.com. Then you can deny other access permissions. Once done, click "Synchronize".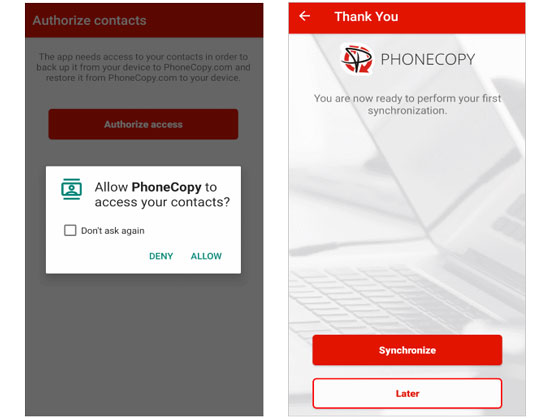 Step 4: Power on your Nokia phone, and navigate to "Settings" > "Configuration" > "Personal config." > "Add new" > "Synchronization" > "Account name" to input "PhoneCopy".
Step 5: Choose "Server address" to enter "http://www.phonecopy.com/sync". Next, fill in your username and password, and click "Contacts datab." > "Database addr." to enter "contacts".
Step 6: Click "Back" four times, and choose "Sync & backup" > "Sync w.server" > "Sync settings". Then click "Yes" on the popup, select "SIM1" or "SIM2" > "Account" > "PhoneCopy". It will show "Changes saved" on the screen.
Step 7: Click "Back" twice. On the "Sync settings" screen, choose "Synchronized data", and check "Contacts". Then click "Done". Finally, click "Back" and choose "Server sync". Now, the contacts will be synced to your Nokia phone.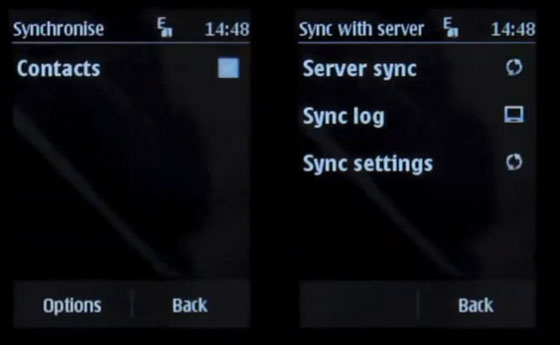 Further reading: Wondering methods to back up contacts in Outlook? Then you can check the detailed guide.
Part 4: How to Import Contacts from Android to Nokia via Mobile Data Transfer
If your Nokia device is an smartphone running Android OS 4.0 or upper, like Nokia C210, G310, C300, C110, etc., that will be extremely easy to import contacts from an Android phone to the Nokia phone. With this phone transfer tool - Samsung Data Transfer, you can copy all contacts to the destination device in 1 click. Besides, you can transfer your SMS, photos, videos, apps, music, and more at the same time.
Actually, this software also supports iOS devices, like iPhone 15/14/13/12/11. Thus, you can transfer your contacts from Android to iOS and vice versa.
Key features:
- Copy all contacts at once.
- Support most Android and iOS devices, including Nokia Android phones.
- Move call logs, text messages, and other media files between mobile devices with ease.
- Stable and swift process.
Download this contact transfer software.
Import contacts from Android to Nokia via this program:
Step 1: Open the software on the PC after downloading it. Connect both phones to the computer via USB.
Step 2: Ensure USB debugging on your phones. The device you are copying files from should be the "Source" device.
Step 3: From the interface, select the "Contacts" option. Tap "Start Copy" and wait for the transfer process to finish.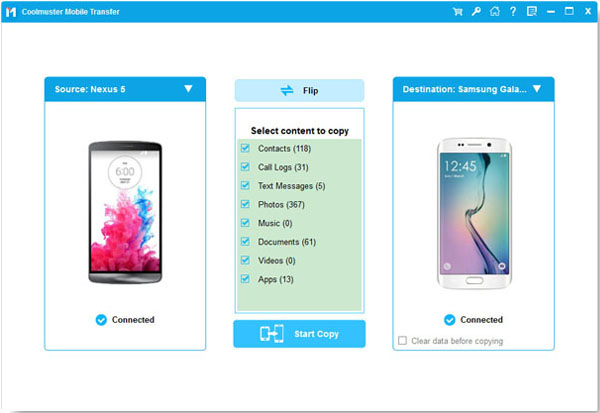 Conclusion
These are a few simple ways to copy your Android contacts to Nokia phones. As you can see, it is not a complicated task. Whether it is a Nokia feature phone or a smartphone, you will find a way to copy contacts. You can save the contacts to a SIM card, then insert them into the Nokia phone, share contacts via Bluetooth, or use the PhoneCopy app and Samsung Data Transfer. This software makes contact transmission much easier because it can copy all phone numbers and other contact info at once.
Related Articles
How to Recover Deleted WhatsApp Contacts Android in 3 Valid Ways
How to Sync Contacts from iPhone to iPad Seamlessly? 5 Fixes Here!
Send Text to Multiple Contacts without Group Message on Android? (Solved & Simple)
[Proven] How to Back Up Android Contacts to Mac with 3 Fast Ways
Retrieve Contacts from SIM Card with 3 Useful Methods
Best Ways to Recover Deleted Contacts from Android Phone in 2023