Summary
We live in an interconnected world where switching from one device to another or upgrading has become the norm. However, with the joyous experience of acquiring a new smartphone comes the need to transfer files from the old device to a new one, such as your notes. There are many note-taking apps for Android. Though you will find the app already on your device, not all devices have the same Notes app. So, the transfer method may vary.
All in all, you can successfully move your notes, regardless of the app you use to make notes. This article has proven ways to share notes. Keep reading to know how to transfer notes from Android to Android.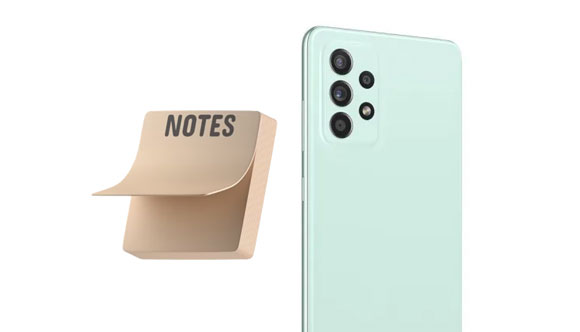 Part 1: Why Transfer Notes from Android to Android
You may want to transfer notes from one Android to another for various reasons. Below are the most common reasons:
Upgrading to a new phone: When switching to a new Android device, you will want to transfer the notes from the old phone to a new one. This will ensure easier access to all your essential information and seamlessly continue accessing the notes on the other phone.
Sync notes across devices: If you use multiple Android devices, you may want to synchronize the notes between them. Moving these notes ensures you can easily access and edit from any device, thus ensuring an up-to-date and consistent experience.
To back up your notes: Having a backup of your data is a good idea. Transferring notes to your other Android allows you to create a copy to access in case of data loss, device failure, or accidental deletion.
Share with others: Sometimes, the purpose of transferring notes is to share them with another person with an Android device. Transferring notes will be a better way to share info, collaborate, or allow another person to access your notes.
With that said, numerous ways exist to transfer notes between Android. You may use cloud storage services, syncing applications, or export/import features. But it depends on your note-taking app and the options available.
Part 2: How Do I Transfer My Notes from Android to New Android? (4 Ways)
How do I share notes between two Android phones? Below are the easiest ways that you can follow.
2.1 How to Transfer Notes to Another Phone with Samsung Cloud?
With billions of people now using Samsung, the need to transfer notes between Samsung is also on the rise. Samsung Cloud is a handy cloud storage service that allows Samsung users to back up their data. You can back up your Samsung Notes, reminders, calendar, gallery, Samsung Pass, contacts, etc.
Guide on transferring notes from one Samsung phone to another using Samsung Cloud:
Step 1: On your old Samsung device, navigate to the settings and click "Accounts & backup".
Step 2: Tap "Samsung Cloud" and activate synchronization for Samsung Notes. All Samsung notes will be synchronized to Samsung Cloud, allowing you to restore them anytime.
Step 3: On your new Samsung device, open the play store. Then download and install Samsung Notes. Once the installation is complete, launch the application and Go to Settings. You will find numerous options.
Step 4: Click "Import data from" from the option listed and tap "Samsung account".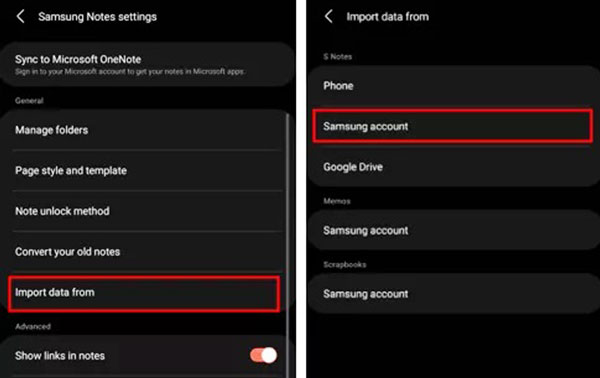 All your Samsung Notes backed up from your old phone will be restored on your new device. To prevent any mishandling of data, go to your device settings and ensure that sync with Samsung Cloud is activated.
Maybe you need: Transfer Notes from Android to iPhone Securely and Easily [5 Ways]
2.2 How to Migrate Notes via Smart Switch?
Smart Switch allows users to transfer files between devices wirelessly. One requirement is that you should install this application on both devices. This application can be downloaded from Galaxy Store, and it is available for free. It is quick to transfer data using this app, making it convenient and easy to use.
Notes: The target device should be Samsung.
Here are steps to transfer Samsung notes between devices using the Smart Switch app:
Step 1: Download the application on both Samsung devices. The one receiving the data and the one sending the data.
Step 2: make sure that both devices are close to each other to allow a stable wireless connection. To establish the connection, grant permission to Smart Switch. Then click "Send data" on your old phone and "Receive data" on your new device.
Step 3: Click "Wireless" on your old Samsung phone. Then choose the device on the receiving phone, and click "Wireless". After the connection to establishes, enable access to send data.
Step 4: Choose the files you want to send on your new phone. You can choose Samsung Notes since it's the data we want to transfer. Tap on "Next". The transferring procedure will start. The time taken to transfer the data will depend on the size of the data. Tap on "Go to the Home Screen" when the transferring process is complete.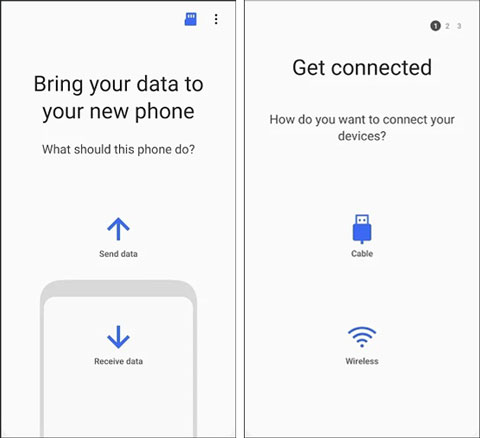 Learn more: If you intend to back up your notes on Samsung, utilize these approaches.
2.3 How Do I Transfer My Notes from Android to New Android via Google Sync?
Google Sync lets you transfer your notes while offering convenient access to stored data on multiple devices. Android phones require a Google account to access specific features and facilitate streamlined data storage. When you activate Google Sync on your Android phone, all your important data, including your notes, will be backed up to a Google account. You can easily access this data from another Android device.
Here are steps to transfer notes from one Android device to another via Google Sync:
Step 1: Open Android device Settings and click "Accounts". Tap on "Google" and then choose the "Account sync" option. Make sure you enable the "Keep Notes" feature.
Step 2: After configuring automatic synchronization on your old Android device. Now go to the other Android phone and the "Settings" menu.
Step 3: Click on "Accounts and backup". Now click on the "Add accounts" option. Log in to the Gmail account using the credentials you used on your old device.
Step 4: Ensure you have enabled sync on "Notes". Then the notes will be synchronized to this new Android device.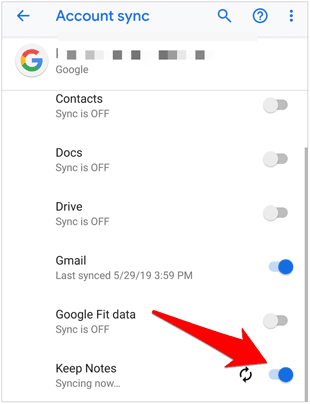 2.4 How Do I Share Notes Between Two Android Phones via Email?
This simple method involves using the "Share via email" feature on your Android device. It is a great technique to transfer notes between two Android devices.
Below is the guide:
Step 1: Launch the Notes application on your old phone. Choose the notes you wish to transfer to your new Android device.
Step 2: Click the "Share" icon and select "As email". A new email page will open.
Step 3: Enter your Email in the "To" field. Then click "Send".
Step 4: On your new Android device, log in to your email account to access the transferred notes. To access the notes on your new Android device, simply sign in to your email account.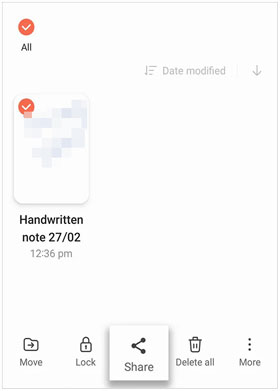 Read also: [Updated] How to Transfer Music from iTunes to Android with Ease
Extra Tips: Transfer Data Between Android Easily with Android Data Transfer
Suppose you have other files you want to transfer to another Android; you can use Samsung Data Transfer. With this app, you can seamlessly transfer various files ranging from apps to music, photos, contacts, documents, SMS, videos, and call logs. What's more, it supports not only Samsung devices but also LG, ZTE, Sony, Motorola, Google, OPPO, Xiaomi, etc.
Besides, it also supports the transfer of files from Android to iOS. The transfer process isn't time-consuming. All it takes is a click to share files across Android devices. It doesn't matter the size of the files to be shared; the transfer app doesn't have file size restrictions.
Conclusion
Most of us like making notes on our Android devices. They help us keep track of our ideas and serve as a reminder. They are important as they help us carry out tasks according to schedule. It's a reminder of things that should be done. With the methods stipulated above, you will transfer your notes without any difficulty.
Besides, if you want to transfer other data from your old Android to another Android or an iOS device, Samsung Data Transfer is the best software. It provides a convenient way to share files between all devices with just a click.
Related Articles
Wirelessly Share Moments: How to Bluetooth Photos from iPhone to Android
Seamless Transfer: How to Transfer Ringtones from Android to Android
Elevate Your Mobile Journey by Switching from Android to iPhone
Smoothly Transfer Files from Mac to Android: Simplify Your Data Exchange
Restore Android Phone from Backup via Practical Approaches [Easy Guide]
12 Great Apps to Transfer Data from Android to Android [One-stop Transfer]