Summary
Have you stored some files on your Mac computer and would like to access them on an Android device? Mac and Android devices run on different platforms. As such, moving files between these devices can be daunting. Fortunately, there are ways you can transfer files from Mac to Android.
This article will provide you with a detailed guide on Mac to Android file transfer. Let us dive into the functional methods.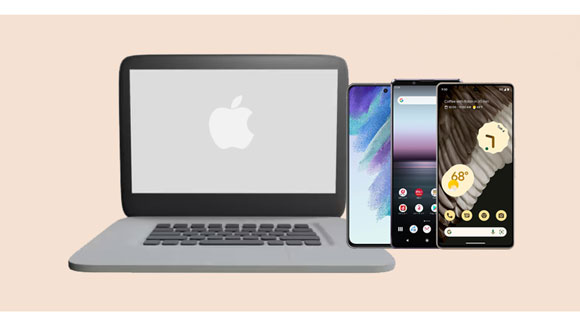 Method 1. How to Transfer Data from MacBook to Android via an Expert-level Tool
Looking for how to transfer from MacBook to an Android device? There are several techniques for moving files from a Mac computer to an Android device, and one of the most reliable methods is using a professional Mac Android File Transfer program - Samsung Messages Backup.
Please do not be deceived by its name, since it can transfer various file types, messages as well as photos, contacts, music, user apps, videos, and so on. It is designed using the latest technology that enables it to transfer various data from a computer to an Android device and vice versa. Thus, you can also use it to move data from Android to Mac without hassle.
This peerless data transfer application is 100% secure due to its read-only feature. Besides, it works natively with almost all Android phone models, including Samsung, Sony, HTC, Motorola, Huawei, LG, ZTE, Dell, etc. Additionally, the application can manage more than one Android device concurrently.
Below are the features that make it a go-to option:
- Require a few clicks only to transfer data from a Mac computer to an Android device.
- The data transmission from Android to Mac is also supported.
- Allow users to import and export various data types like SMS, contacts, images, photos, videos, documents, call logs, etc., between devices.
- A user can manage Android files on a computer with ease, like adding, deleting, editing, etc.
- Allow users to uninstall and install Android phone apps on computers.
- Mac and Windows versions are accessible.
Download this file transfer software.
It's simple to transfer files from MacBook to Android:
Step 1: Click the download link for the Mac version to download and install the transfer software on your computer. Then launch it, and hit on the "Android Assistant" button from the available options.
Step 2: Use a USB cord to link your Android mobile device to the Mac computer. Unlock the device and enable the "USB debugging" mode to create a connection between the devices.
Step 3: A screen showing data categorized into folders will be displayed after a connection is established. Click on the folder that contains your data of interest.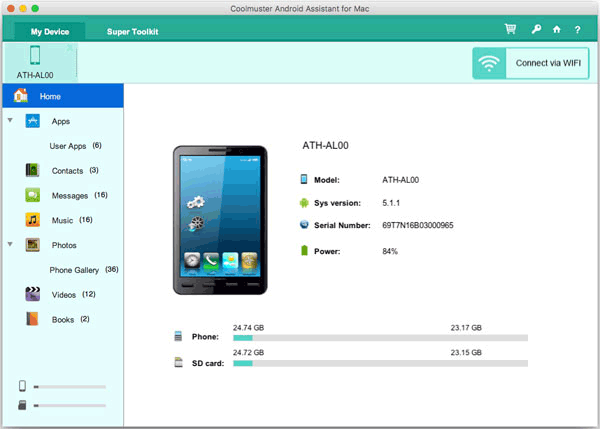 Step 4: Now import files from your Mac computer to your Android device by hitting the "Import" button. Select the data items you want to transfer to your Android phone. Finally, wait for your files to be transferred.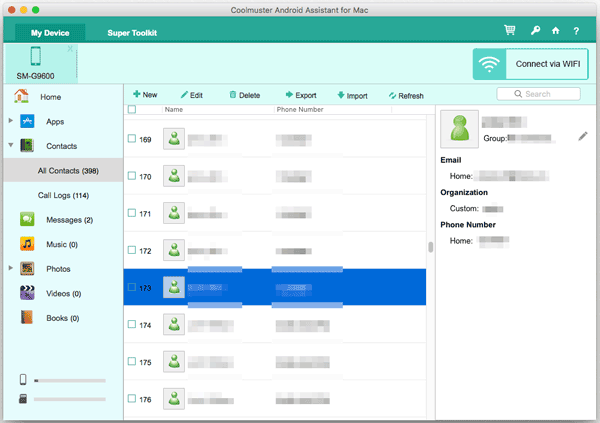 See more: Transfer Photos from Mac to Android in 5 Expeditious Ways
Method 2. How to Carry Out File Transfer from Mac to Android Using SHAREit
This method may not be familiar to you if you do not frequently transfer data between devices. SHAREit is a data transfer application that is 200 times faster than Bluetooth. This data transfer application supports the movement of different file types, such as videos, music, photos, apps, and more. The best thing about SHAREit is that it is available on all platforms, e.g., Windows, iOS, macOS, and Android.
The process of MacBook file transfer to Android using SHAREit is as simple as shown beneath:
Step 1: Begin the process by downloading the SHAREit application on your Android and Mac devices. Ensure the Bluetooth feature is enabled on both devices and the gadgets are connected to the same Wi-Fi connection.
Step 2: Open the application on both devices and click the "Send" button on your Mac computer. Choose the file you wish to send from your Mac computer and hit the "Send" button.
Step 3: Press the "Receive" button on your Android device. The application will search for nearby devices ready to share data. Tap your device's name, and the Android Mac file transfer process will begin.
Read also: What if you plan to back up WhatsApp data from Android to Mac? Don't worry. You can follow this guide.
Method 3. How to Transfer Files from Mac to Android Using Google Drive
Google Drive is a powerful cloud storage application allowing users to sync their files between different devices. You do not require a USB cable to transfer files.
Below are the steps for moving files from Mac to Android using Google Drive:
Step 1: Open your preferred browser, then head to the Google Drive site.
Step 2: Log into your account with the correct credentials. Then tap the "New" icon at the top and choose the "File upload" option from the drop-down list.
Step 3: Choose those files you wish to migrate from Mac, then hit the "Open" button. After uploading the file, you can now access it on Android using the Google Drive app.
Step 4: Install the Google Drive application on the Android phone. Open it and log into the same account you used on Mac to upload the files. Find the uploaded file and click on it. Now download it on the Android phone with a "Download" button.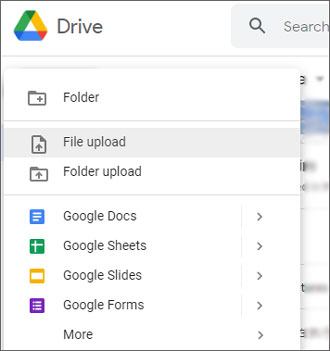 Further reading: Huawei to Mac Transfer with 5 Authoritative Solutions (Solved)
Method 4. How to Share Files from Mac to Android via Bluetooth
Bluetooth is also a handy way to migrate your files from a Mac to Android. Since the speed of file transfer is very slow, it is advisable to use this method if you are moving files of smaller sizes. Transferring long videos may take forever to finish, so it would be better if you only transfer smaller files like pictures.
Here's how to do file transfer from Mac to Android using Bluetooth:
Step 1: Turn on Bluetooth on the Android and Mac. On Mac, please head to the "Apple" menu > "System Preferences" > "Bluetooth" to enable Bluetooth. On Android, scroll down the screen to turn it on.
Step 2: On the Mac, start searching for the available devices to pair with. Choose your Android and pair the two devices with a matching PIN.
Step 3: On Mac, head to "Applications" and "Utilities", then choose "Bluetooth File". Choose the file to send and hit "Send".
Step 4: Tap on the paired Android you want to send the files to, then hit "Send" again.
Step 5: Press "Accept" on the Android phone to receive the files from your Mac.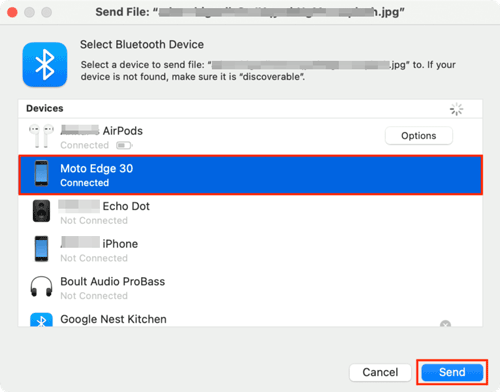 Method 5. How to Transfer File Macbook to Android with Android File Transfer
We know transferring files between devices with USB is a traditional way. It works efficiently for local storage and doesn't need internet access. But, you must use Android File Transfer for Mac application which helps combat the incompatibility issue. Besides, it is a free application you should download on Mac and share your files between Android and Mac.
Here are the steps:
Step 1: Launch the Android file transfer app after installing it on Mac. Link the Android device to Mac with a USB. The app should start automatically. If not, you can open it manually.
Step 2: On an Android phone, set USB mode to "MTP/File Transfer". You'll see the window showing the files on Android device storage.
Step 3: Start copying data from Mac to Android by dragging and dropping them to the chosen folder on the Android File Transfer window.
Method 6. How to Transfer Files from Mac to Android via Send Anywhere
This is a cross-platform tool to share files easily and securely across different devices without limitations on the type and size of the file. Send Anywhere has become a popular data transfer tool thanks to its intuitive user interface and robust features.
Here are the steps to use Send Anywhere for Mac and Android file transfer:
Step 1: On Mac, open a browser and head to Send Anywhere website.
Step 2: Tap the "Select Files" tab, then select the data you wish to transfer.
Step 3: After selecting the files, tap on the "Send" button, and the app will generate a code with 6 digits to enter into your Android phone.
Step 4: Open the app on the Android device and enter the code. Your files will be shared with Android easily.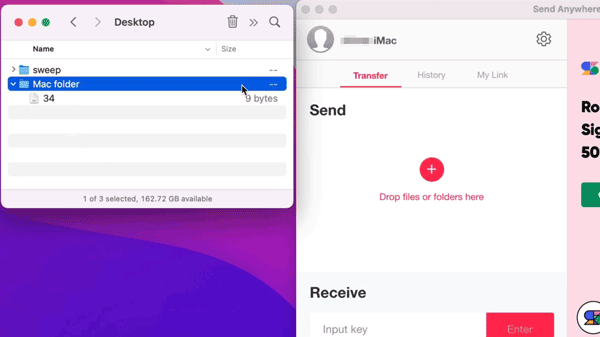 Share Files in no Time
With the above methods, transferring files from a Mac computer to an Android should be easy. We have discussed the best ways to get files off your Mac computer to your Android and easily access it on the go. Since Android is very portable compared to Mac computers, you can access your files anywhere and at any time.
When you weigh the pros and cons of these transfer methods, you will find some cannot transfer all your files while others are very slow. So, to avoid most faults, Samsung Messages Backup is a popular option, with no size limits, and can transfer almost all files from a Mac to Android.
Related Articles
[Proven] How to Back Up Android Contacts to Mac with 3 Fast Ways
Bridge the Gap Between Android and Mac: 4 Easy Methods for Device Connection
Android File Transfer Alternatives: Can't Miss the 5 Best Apps for Mac
Elevate Your Mobile Journey by Switching from Android to iPhone
Clean Junk Files on Android with 5 Hassle-free Methods [Newest Guide]
6 Ways to Transfer Files from Android to PC via Wi-Fi [Full Guide]