Summary
Who wouldn't want to upgrade their phone? We all like to experience the new features of a new smartphone. That's why we are always anticipating the release of the iPhone series. But your new iPhone will not be fully functional unless you transfer data from the old device. This saves you the hassle of starting from scratch.
Apart from transferring photos, contacts, etc., you will need to transfer passwords. After all, you need to log into your accounts to access some of your information. Do you have to write down all the passwords and start typing in the new device manually? Of course not. Even though transferring passwords to another iPhone is a bit complex, it is still achievable.
So, This article explains the smartest methods on how to transfer passwords to a new iPhone. Ultimately, you will have a method that suits your needs best.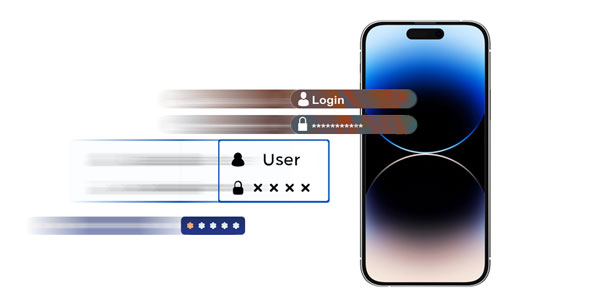 Method 1. How to Transfer Passwords to New iPhone with iCloud Keychain
iCloud Keychain is Apple's password management service for creating, accessing, and saving complex passwords. With iCloud Keychain, you can securely keep important information like credit card passwords and numbers, account names, etc., on an iOS device.
Passwords are private data and are very important. That's why iCloud will protect these files carefully and will not read them. And when you need to access your passwords in iCloud, you can easily download them on your iOS devices. It will be very simple to get the passwords saved in iCloud Keychain on your new iPhone:
Here are the steps to transfer iPhone passwords to a new iPhone through iCloud Keychain:
Step 1: On the old iPhone, locate the Settings app and click on it. Proceed to choose "[Your Name]" at the top.
Step 2: Click on the "iCloud" option, scroll to "Passwords & Keychain", and click on it.
Step 3: Toggle on the slider next to iCloud Keychain, then enter the Apple ID information when prompted. Wait as the passwords upload to iCloud. Later, activate the new device and connect to the internet.
Step 4: Enable the "Sync this iPhone" feature on your new iPhone. Wait for some minutes, and all passwords will be downloaded.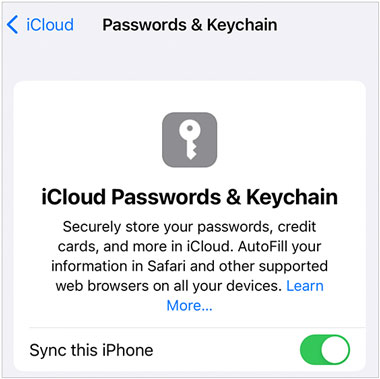 Method 2. How to Transfer Saved Passwords to New iPhone Using iTunes
Since iTunes is often used to back up and transfer data, it is also a good option to get passwords on a new iPhone. It helps in transferring files from iPhone to a PC. Besides iCloud Keychain, iTunes can also make the transfer of passwords from iPhone to iPhone possible, though a bit complicated and time-consuming.
Here's how to transfer passwords to a new iPhone 12/13/14 through iTunes:
Step 1: Install the latest version of iTunes on your PC if the current version is outdated or your computer doesn't have it. Link the old iPhone to the PC with a USB.
Step 2: Open iTunes, then head to the "Summary" tab. Proceed to "Backups" and click the "Encrypt local backup" option to create a password. Press "Back Up Now" and wait a few minutes before disconnecting the device.
Step 3: Now connect your new iPhone to your computer. Tap on the iPhone icon and enter the passcode. Now tap "Restore Backup", choose the backup you want. Then iTunes will restore your passwords and other files to the new iOS device.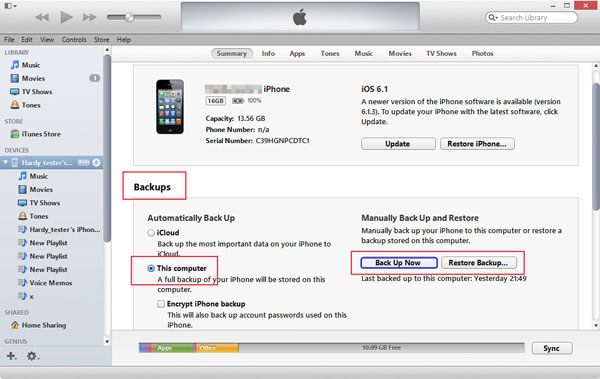 Read also: What can you do if you fail to transfer your contacts to a new iPhone? Read through this guide to fix it.
Method 3. How to Move Saved Passwords to New iPhone with AirDrop
AirDrop is another smart feature to move those passwords from one iPhone to another. Since AirDropping pictures from one iPhone to another is a doable task, you can as well send passwords to the new iPhone through AirDrop. However, ensure the distance between the devices is at most 30 feet, and both devices should be operating on iOS 11 and up. Also, Bluetooth and Wi-Fi should be enabled.
Here are steps to get passwords on a new iPhone with AirDrop:
Step 1: Bring both iPhones closer and enable Bluetooth and Wi-Fi on both of them.
Step 2: Turn on AirDrop on both iPhones. To do this, head to the "Settings" page, search for "AirDrop", and switch it on. You can also find AirDrop from "Control Center".
Step 3: On the old iPhone, open the Settings page and click on "Passwords and Accounts". Tap on "Website and App Passwords" and choose the passwords to move to the other iPhone.
Step 4: Once you choose an account, all the details will be displayed. Long-press on the "Password" section and the "Copy" option will appear. Copy and share the password selected. Click on AirDrop from the share options, choose your phone, and access the incoming files on the new iPhone.
AirDrop allows you to share only one file at a time. So if you have a bunch of passwords to share to another iPhone, it can be time-consuming.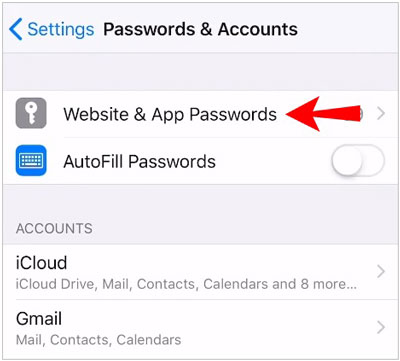 Further reading: Fast Transfer Messages to New iPhone in 4 Ways [Worked Out]
Method 4. How to Get Passwords on New iPhone with Third-Party Password Manager
A third-party password manager can also help share passwords from one iPhone to another. Dashlane is one of the simplest password transfer apps that is easier to set up and use.
Here is how to transfer iPhone passwords to a new iPhone using the Dashlane app:
Step 1: Download the Dashlane application on both iPhones from Apple Store.
Step 2: Open the app and create an account.
Step 3: After that, open the device's Settings app and choose "Passwords" and "Password Options". Now enable "AutoFill Passwords". Choose the "Dashlane" option and ensure Keychain is disabled. All passwords will be auto-filled in the device.
Step 4: Finally, export the Dashlane passwords and access them on your new iPhone.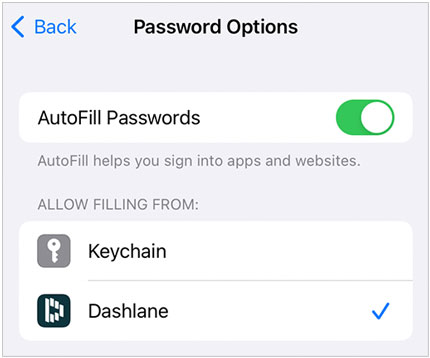 Learn more: So, how can you change your Apple ID without losing data? Check it out and get the methods.
Bonus: How to Transfer Data Between iPhone Devices in 1 Click
The methods mentioned above can copy passwords to your new iPhone. But what if you need to share other types of files quickly? If so, you can try Samsung Data Transfer, a skillfully crafted program to share data between iOS devices. With it, you can copy your contacts, bookmarks, books, notes, and calendars from one iPhone to another with ease.
It's not limited to just iOS but also between Android devices and iOS to Android & vice versa. You can transfer music, photos, videos, and more from your iOS device to an Android phone or tablet anytime. Since it has a user-friendly interface, anyone can use it easily. It supports the latest iPhone 14, earlier devices like iPhone 13/12/11/X, and most Android devices running Android 4.0 or upper.
Download this transfer software.
How to copy data to a new iPhone in 1 click:
Step 1: Run the program on your computer, then click "Mobile Transfer". Connect both iPhones to computer using lightning cables. Click on "Trust" to trust the computer.
Step 2: Make sure the new iPhone is on the "Destination" side. To change them, tap on "Flip".
Step 3: Choose the data types to transfer, and tap "Start Copy".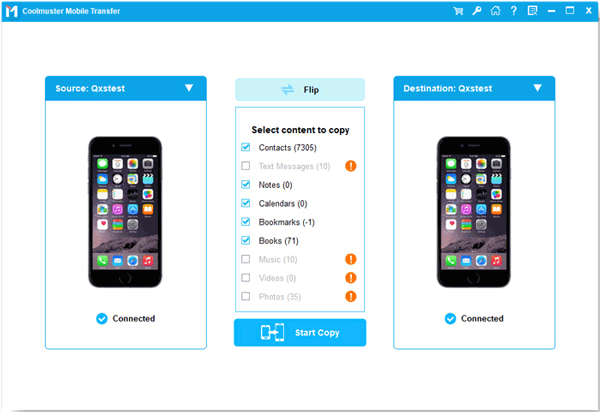 Wrapping Up
When acquiring a new iPhone, there is always that excitement of unboxing that sleek device and setting it up to meet your needs. But transferring passwords from an old iPhone to a new one can be tedious. Thankfully, the methods mentioned here will make this task a breeze.
Additionally, if you want to transfer other data from one iPhone to another, Samsung Data Transfer can help. In fact, it is a comprehensive tool that is compatible with most iOS and Android devices and can transfer your files smoothly without hiccups.
Related Articles
How to Transfer Data from Android to iPhone 13 (Support the Latest iOS)
How to Import Photos from iPhone to HP Laptop with 7 Trustworthy Methods
Deftly Back Up WhatsApp from Samsung to iPhone with 3 Solutions [Effective]
How to Transfer Music from iPhone to iPod without a Hitch? Try 5 Methods Here
[6 Useful Ways] How to Unlock Android Phone Password without Factory Reset
Wonder How to Not Transfer Photos to New iPhone? Solutions Are Here