Summary
Did you get your hands on a new iPhone? Lucky you. The experience of having a new smartphone, and an Apple product for that matter is thrilling. However, with all the excitement of having a new smartphone, transferring files is unavoidable.
Sometimes, for one reason or another, you may not want to include photos in the transfer. Maybe you wish to manage the storage on your new gadget or just want to selectively move your files. No matter the reason, practical methods exist to help you do so.
This article shows how to not transfer photos to a new iPhone with detailed methods. So, keep reading.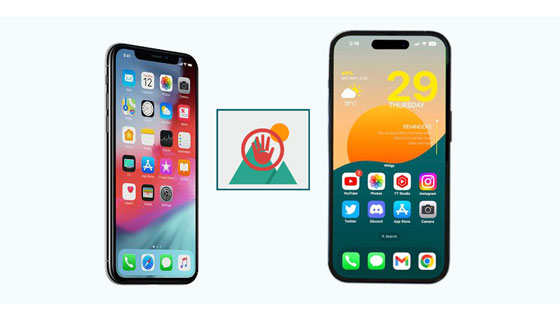 Part 1: Can I Choose Not to Transfer Photos to New iPhone?
"I don't want to transfer photos to my new iPhone. Can I transfer data but except my photos?" Yes. You can freely choose not to transfer pictures to your new iPhone and only transfer other files. This is important when you want to save space or you just want to leave the photos in the old device. Ideally, preventing the transfer of photos during restoration is a simple task. And there are easier tricks to do that. You can make a few tweaks on your old iPhone's settings and make sure all the pictures remain intact on the old iPhone.
However, make sure you back up the iPhone to prevent data loss. Even though you can decide not to move pictures from your old iPhone to a new one, you better take measures to ensure they are safely stored just in case you need them in the future. Thus, You can back up your photos to local storage on your computer and easily access them when in need.
Part 2: How to Transfer Everything Except Photos to New iPhone via iPhone Transfer?
How can I transfer all data except photos to a different iPhone? Transferring all files except pictures to the new iPhone isn't a challenging task if you have an excellent file transfer tool like Samsung Data Transfer at your disposal.
This iPhone transfer software uses a start art technology to provide smooth data management tasks like data transfer, backup, and file restoration. This tool enables you to migrate data from iOS to iOS selectively. Therefore, if you wish to transfer files from an old iPhone to a new iPhone without including photos perfectly, this is the tool to use.
You can transfer ebooks, calendars, bookmarks, contacts, etc. You just need to choose the files to transfer and instantly move them to your new iPhone.
Moreover, it provides you with a secure environment to transfer your data. The tool is read-only and very clean. Your files are free from threats during the transfer process.
Key features of this transfer program:
- Fast transfer contacts, bookmarks, calendars, eBooks, and notes from iPhone to iPhone.
- 1 click data transfer between two devices.
- iPhone to Android transfer and Android to Android transfer are supported.
- Support all mainstream iPhones, iPad, iPod touch devices as well as most Android phones and tablets.
- Smooth transfer process without data loss.
Download this data transfer tool.
Steps to transfer data without photos to a new iPhone in 1 click:
Step 1: Install and launch the software on the computer, and you'll see the toolbox on the primary interface. From the toolbox, choose "Mobile Transfer".
Step 2: Connect both iPhones to the computer with lightning cables. Click "Trust" on both devices, and when the connection is established between the device, you'll see the phones displayed on the interface.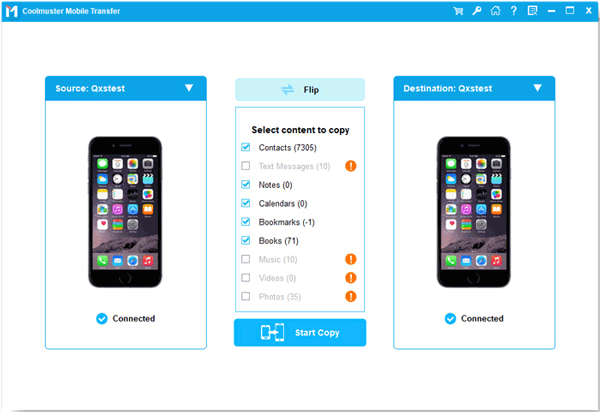 Step 3: Choose all files you wish to transfer from the "Source" iPhone. After that, tap the "Start Copy" tab to start the transfer procedure.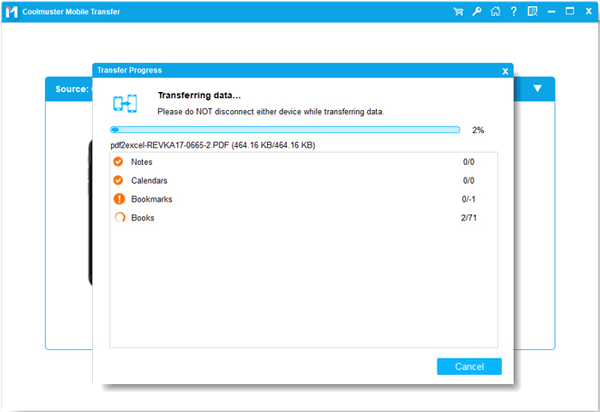 Read also: How Can I Transfer Photos from Android to iPhone Wirelessly?
Part 3: How Do I Stop My Photos from Transferring to My New iPhone via iCloud Backup?
iCloud is a powerful cloud service made by Apple to help users manage their files. You can store and sync your files effortlessly across devices. It lets you disable iCloud Photos, manage pictures on your iPhone, create a backup, and set up a new iPhone through the iCloud backup.
Check the steps to migrate files to the new iPhone except pictures using iCloud backup:
Step 1: Create a backup by disabling the "iCloud Photos" option. To do this, head to "Settings" and click on "[your name]" at the top. Then click on "iCloud" and turn off the "Photos" option.
Step 2: From there, head to "iCloud Backup" and click "Back Up Now" to start the backup procedure.
Step 3: Turn on your new iPhone and set it up. You'll reach the "Apps & Data" screen, where you should select "Restore from iCloud Backup". Then your backup data but no photos will be restored to your new iPhone.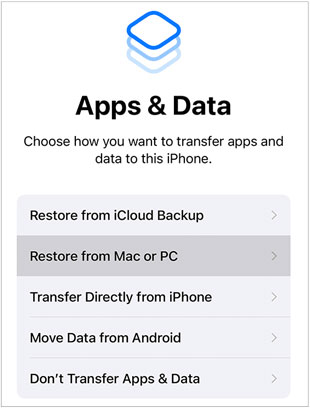 Further reading: Follow this guide, and move photos from an iPhone to an SD card with ease.
Part 4: How to Not Transfer Photos to New iPhone Using iCloud Sync?
Besides iCloud Backup, you can use iCloud Sync to synchronize your data to a new iPhone. If you don't want to transfer your photos, switch off the Photos option.
Prevent your pictures from migrating to your new iPhone by following the steps below:
Step 1: Click on the "Settings" app on the old iPhone to access the settings page. Proceed to "[your name]" at the top and proceed to "iCloud". Now, choose "Photos", and turn off the "Sync this iPhone" icon.
Step 2: On the new iPhone, finish the setup procedure. Now open the "Settings" application, and go to "iCloud".
Step 3: Finally, tap "Show All", and then select and enable the file types you want. You'll get the data except for your photos from iCloud.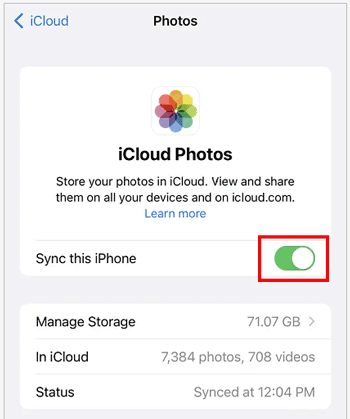 Maybe you need: It is simple to transfer phone numbers to a new iPhone. Let's check it out.
Part 5: How Can I Transfer All Data Except Photos to a Different iPhone via iTunes?
With iTunes, you can easily transfer all other files except photos.
It is an uncomplicated process if you follow these steps:
Step 1: Connect your old iPhone to the PC with a lighting cable.
Step 2: Launch iTunes on the computer, then locate the iPhone you just connected by tapping on its icon. From the left panel, uncheck the "Sync Photos" option.
Step 3: Continue to sync your old iPhone, and after that, conduct a backup. When the backup has been completed, disconnect the old iPhone, then plug in the new one into the computer with a USB.
Step 4: When the new iPhone shows in iTunes, locate the "Summary" tab and click on it. Next, select the option to restore the iPhone. Choose the backup created prior and start the restoration process.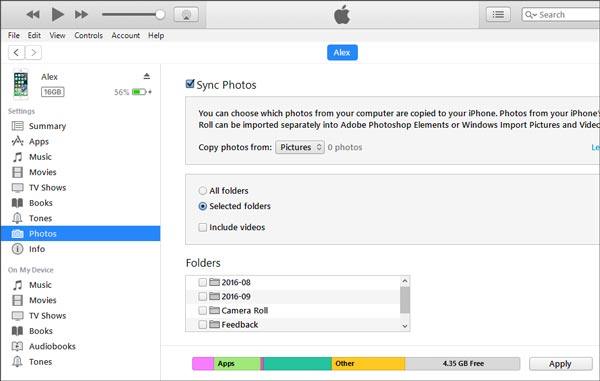 Part 6: How to Transfer All Files Except Photos to My New iPhone Using Quick Start?
You can prevent photos from transferring photos between an old and new iPhone by deleting the photos from the old iPhone first and then transferring files with Quick Start. But both iPhones should be operating on iOS 12.4 and later versions.
Here's transfer all files except photos to a new iPhone via Quick Start:
Step 1: Please delete photos on the source phone. Open the "Photos" app on the old iPhone and choose the "Delete All" button at the top right corner.
Step 2: Bring both iPhones closer, connect them to a good internet connection and turn on Bluetooth.
Step 3: Set up the new iPhone and follow the on-screen instructions to get to the Quick Start screen. On an old device, press "Continue" from the popup window.
Step 4: Capture the image on the new iPhone using your old iPhone's camera. Activate the new device after that. Hit "Continue" when prompted to transfer files from another iPhone. Once done, wait for the process to finish.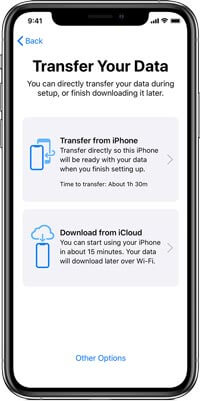 Conclusion
If you've been wondering how to not transfer pictures to a new iPhone, you now have the answer. We have provided a handful of ways to do that and as long as you have a backup of the old iPhone, you do not have to panic about losing those precious memories.
You can transfer all files to your new iPhone successfully, excluding the photos. These methods are easy to implement; only a few tweaks are needed to effortlessly migrate all other files from an old iPhone to a new one. iCloud, iTunes, and a third-party tool like Samsung Data Transfer will help you achieve your goal. With this software, you can directly select file types before transferring data.
Related Articles
[100% Useful] How to Fix Move to iOS Low Battery Problem
Retrieve Photos from Samsung Cloud? Must-Know Info [Latest]
How to Transfer Samsung Notes to iPhone in 5 Simple Ways?
Discover How Long to Transfer iPhone to iPhone [Contain Useful Methods]
Seamless Migration: How to Transfer Data from One Apple ID to Another
How to Send Videos from iPhone to iPhone with These Expert Tips