Summary
As you browse the internet, Android usually keeps some temp files that help with browsing. These files help in faster browsing when you return to the previously visited website by storing your web history. Besides, these files save your login credentials and settings so that you do not have to re-login or re-set it every time you visit a site.
The only problem is that these files will start adding up and take up a lot of storage space. To make more room, you need to clear these temporary files, also known as cache, from the internet browser. But how can you clear temp files on Android? Continue reading to know.
Part 1: What Are Temporary Files on My Phone?
These are files that normally run in your Android device's background. They help record the specific pages you visited on sites. When you open the application on an Android phone, temp files are created to store the data from that app.
With time, these files build up, taking up more storage space and preventing your device from working as it should. Cleaning these junk files is what you should do to enable your phone to run smoothly again.
Part 2: How to Remove Temp Files From Android Phone via Android Assistant
Since temp files take up much storage space on an Android phone, you need to clear it up to free up storage. But, it can be a challenge to clear the cache from an Android phone, as one wrong move might lead to data loss. Luckily, you can use a handy app like Android Assistant App.
As one of the best Android cleaners, it allows you to delete all junk files from your Android phone in 1 click. The program is convenient to use, and it scans your files automatically to find any unwanted file that needs to be deleted. It also gives you confidence that you have full control over your user apps on the phone. With its multiple practical features, this is the tool you can't go wrong with.
What the Android manager app can do:
- Scan and delete temp files and other junk data from your Android phone.
- Release your phone's memory in 1 click, which speeds up its operation.
- Allow you to access and manage your Android files directly.
- Manage your files stored on your SD card.
- Show the available, used and cleanable memory in your Android phone
- You can connect your device wirelessly to your computer.
- Support the Android OSes ranging from Android OS 4.0 to the latest.
Download this temporary file cleaner on your Android phone.

Here are the steps to clear unused files on an Android device in 1 click:
Step 1: Download and install the app on an Android device, and launch it.
Step 2: Click on the circle icon from the middle part of the screen. It will then immediately scan temp files and other unnecessary data from Android. Tap the "Clean" icon to eliminate them.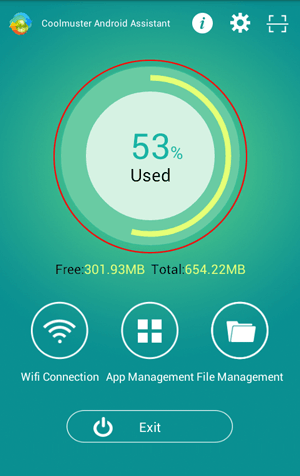 Step 3: To remove unwanted files from the internal storage, click on the "File Management" option and choose the file you want. Then select and remove the files directly.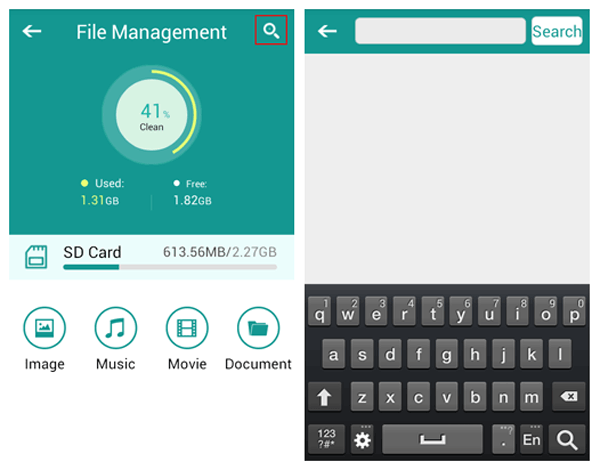 Read also:
How to Clear Cache, History, Or Cookies on Samsung? - Two Free Methods
Android Storage Manager: 6 Useful Storage Managers to Free Up Android Space
Part 3: How to Clear Unwanted Files From Android Device via the Settings App
You can also decide to erase any unnecessary files marked "cache" on your Android device using the Settings Application. Doing this will create enough storage space for the app's music and other files on your phone.
Here's how to delete temp files from a Samsung phone via the Settings app:
Step 1: Open an app for "Settings" on your phone and scroll to "Apps/App Management" > "Storage".
Step 2: Click on the apps to show a complete list of all apps available, and look for the specific app you wish to erase temp files from.
Step 3: Click on it to lead you to the "App info" page, and tap on the "Clear cache" > "Clear Data" icon to delete temporary data from the app.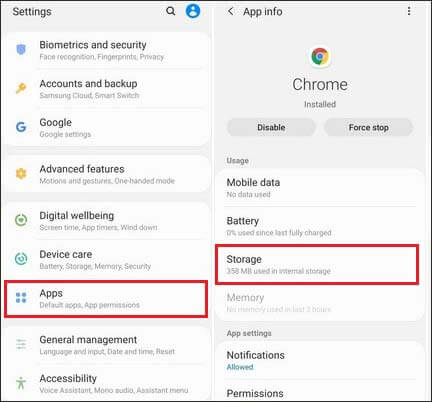 Further reading: If you want to permanently erase your Android data, you can utilize these 8 Android data erasers.
Part 4: How to Remove Unwanted Files From Internal Storage Using Files by Google
Files by Google is a good tool that helps you manage your phone's files and storage and clean junk files found on Android devices. This app is free for Android users and easy to use.
Here are the steps to clear temp files on an Android mobile phone via this app:
Step 1: Install then start the Files by Google app on your device, and click on the "Clean" button from the bottom left.
Step 2: Go to the "Junk Files" tab and click on "Confirm". Then click on the "See Junk Files" icon.
Step 3: Choose the temporary app data to be deleted, press "Clean", and repeat to confirm.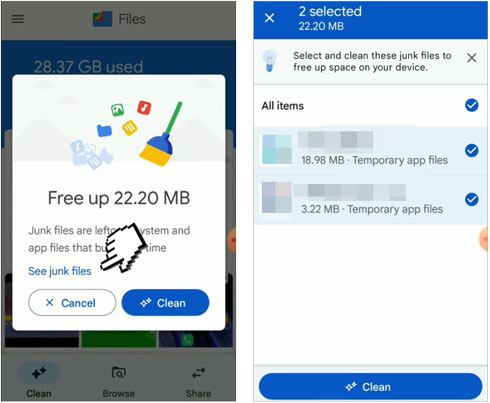 You might like: How to fast get out of Android recovery mode? In this case, you can read this guide.
Part 5: How to Remove Temp Files on Android Using Browser's Menu
Usually, as you browse the internet with your device, temporary files are always stored up. For instance, if you always use Google Chrome regularly, you will find a lot of temporary files from the browser that add up with time.
To clean unused files, do this:
Step 1: On the Android device, open the Chrome application, proceed to the menu icon, and select the option for "Settings".
Step 2: Go to the section for "Privacy" and select "Clear browsing data". You'll see an interface, so tick all files you wish to delete and click the option for "Clear data".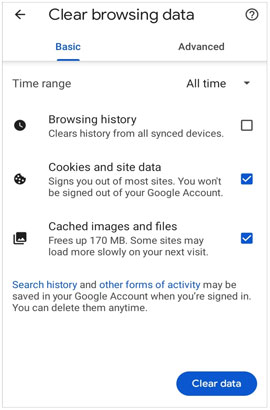 Part 6: How to Delete Temp Files From Android Phone Using the CCleaner App
CCleaner is a tool designed to clean up unnecessary files, boost speed, and free up disk space on an Android device. It's one of the best Android cleaning apps you do not want to miss.
Here's how to use CCleaner to delete unwanted files in Android:
Step 1: Download and install the app on an Android phone from Google Play Store. Open the app, and click the "QUICK CLEAN" icon like a circle at the top.
Step 2: Give the app access to scan your phone data. Then click "Scan for junk".
Step 3: After scanning, please tap "SEE RESULTS" to check the junk files. At last, tap "FINISH CLEANING".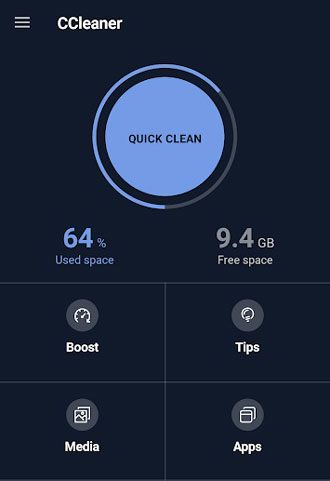 Conclusion
So, there you have it. These are the most effective and efficient ways to delete temporary files on an Android phone. The Android Assistant app is an efficient tool to clear cache files from Android. With this program, there is no need to go through the hard work of clearing temp files manually. It's all done in 1 click. Try the app now and get rid of annoying junk files on your phone!
Related Articles
Repair Android Boot loop Step by Step [Ultimate Guideline]
How to Remove Duplicate Songs from Android Phone [Tips and Methods]
How to Recover Deleted PDF Files from WhatsApp on Android and iOS Devices
12 Great Apps to Transfer Data from Android to Android [One-stop Transfer]
Control Android from PC Conveniently | 7 Powerful Tools
How to Unlock Samsung Tablet without Losing Data [Updated & Solved]