Summary
WhatsApp is the best platform for chatting, whether it is for business or just day-to-day communication. We not only send text messages via WhatsApp but also express ourselves using stickers. Stickers make a conversation colorful and enchanting. You can use in-built stickers or use customized stickers added to WhatsApp. With stickers, you can convey your message in an attractive way.
If WhatsApp is your safe haven, then it is common to have multiple customized stickers you use regularly. So, you may want to transfer WhatsApp stickers to a new phone. But how can you make it?
Luckily, there are various techniques to transfer WhatsApp stickers to new phone seamlessly. Here, you will learn the methods on WhatsApp sticker transfer without a hassle. So, follow this step-by-step guide till the end, and you can choose the best approach that suits you.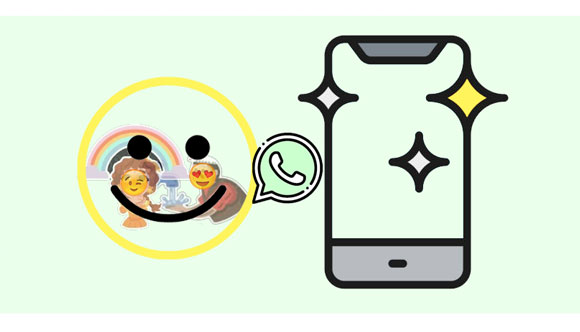 Method 1. Transfer WhatsApp Stickers to New Phone via Copy-n-Paste Approach
This is the most direct way to move your WhatsApp stickers to a new phone. If both devices are Android, you can easily move the stickers between them. However, if the devices are not Android, this method will not work.
Here's how to transfer WhatsApp stickers to a new Android phone through copy & paste:
Step 1: Open your computer, then connect both Android devices to the computer with USB cables and choose the correct file transfer option on the devices.
Step 2: Click on your old phone from "This PC" from File Explorer. Find the "Media" folder and open it. Scroll down and find the "WhatsApp" folder and tap on it.
Step 3: In the WhatsApp folder, find the media folder, then open it. Now look for the "WhatsApp Stickers" folder, right-click, and choose "Copy".
Step 4: After copying this folder, return to This PC section, then open your new Android. Find the "WhatsApp Stickers" folder and paste the copied WhatsApp Stickers into it.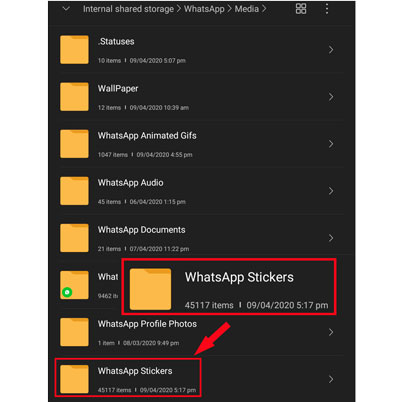 With that, you can access WhatsApp stickers on the new phone. However, this method works only for Android devices. If you're an iOS user, you can't use this method.
See more: Retrieve Deleted WhatsApp Messages on Android (4 Updated Solutions)
Method 2. Share Stickers from WhatsApp to New Phone by Sending to Friend
This is also one simpler way to move stickers from an old device to a new one. Here, you should find a friend to whom you will send the stickers first; then, they can send them to your new device. The best part is that this method applies to both iOS and Android devices.
Here are the steps:
Step 1: Click on the WhatsApp app on your phone to open it. Scroll through the contacts to find a friend to whom you can send stickers.
Step 2: Choose the stickers you want to send to them.
Step 3: Install WhatsApp on the new device from Play Store or Apple App Store, depending on your phone.
Step 4: After installing, open the application, sign into it, and ask the friend you had sent the stickers to send them on your new device.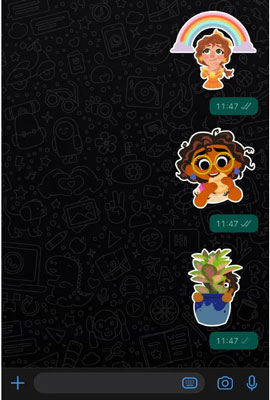 This method is time-consuming and is not the right way to transfer many stickers.
Read also: Is it easy to restore deleted videos from WhatsApp? Maybe it isn't, but you can use these effective methods to regain your WhatsApp videos.
Method 3. Whatsapp Sticker Transfer to New Phone via Backup & Restore
How do I transfer my WhatsApp stickers to another phone? Don't worry about that. Just like chats, stickers can be saved on any account and restored. There are many backup options such as Google Drive backups, local backups, iTunes, and iCloud backups that could come in handy to save and restore your stickers.
3.1 Google Drive
To be able to send WhatsApp stickers to your new Android phone, it is ideal that you create the backup with Google Drive and then, later on, restore it to a new phone. It is pretty simple. Here's how:
Step 1: Launch the WhatsApp app, then have to "Settings". You'll see a list of options; click on "Chats".
Step 2: On new page, you'll find various options. Scroll down on the screen, then click "Chat Backup", the second last option on the list.
Step 3: Click on the "BACK UP" option, and all your chats, including Stickers and GIFs, will be saved to Google Drive.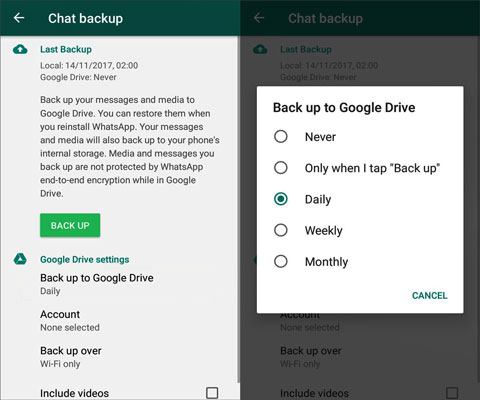 Step 4: Once done, unlock your new Android phone. If you have already installed WhatsApp, you should reinstall it.
Step 5: Connect your new phone to the Google account you made the backup with. Now log into WhatsApp with the same number. Enter the number and finish the verification procedure.
Step 6: When you get to the data restoration window, click "Restore". When you do that, WhatsApp will recognize the backup in Google Drive and start the restoration. The WhatsApp stickers on old devices will show on new ones once you finish the process.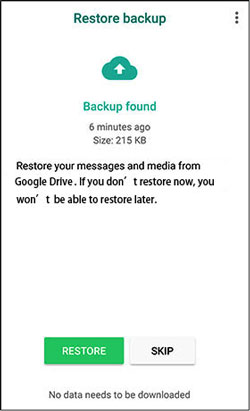 Read more: Back up your WhatsApp chats from Android to a PC. Then you can restore the data without any risk.
3.2 iCloud
Instead of Google Drive, you can also use iCloud. However, the devices should be iPhones. Apple is known to be a closed system, and a better way you can back up your WhatsApp on an iPhone is with iCloud, then restore it to your new iPhone.
You can use the steps below to move your WhatsApp stickers to an iPhone using iCloud:
Step 1: Start by turning on the iCloud Backup option for WhatsApp. Then, open your iPhone's WhatsApp app and click "Settings" at the top.
Step 2: Select the "Chat Backup" option, then hit "Back Up Now".
Step 3: Open your new device, then set it up with the Apple ID used on your old iPhone. Install the WhatsApp app and sign into the app with your number.
Step 4: WhatsApp will detect a backup in your iCloud automatically, click "Restore" to restore your WhatsApp chats, including stickers, to your new phone.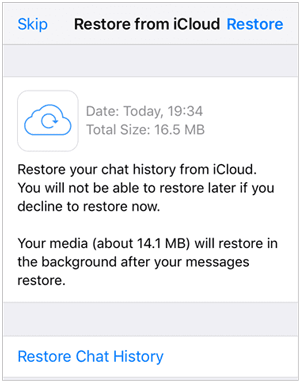 Method 4. Move WhatsApp Stickers Using Move to iOS
Move to iOS is an efficient app to transfer various files between mobile phones. So, you could use it to transfer your WhatsApp stickers from an Android to iPhone. But you have to reset your new iPhone beforehand. Here's how to transfer stickers from WhatsApp to a new phone:
Step 1: Download the Move to iOS application on your old device from Play Store.
Step 2: Reset the iPhone and choose to restore your data from an Android during the setup process.
Step 3: Now connect the devices to the same network, and follow create a password to proceed. Then choose "Move Data from Android" > "Continue" to get a code.
Step 4: Enter the code to your old phone, and choose "WhatsApp" from the list. Tap "Start" and wait for the process to finish.
Method 5. Transfer WhatsApp Stickers from Android to iPhone in 1 Click
The abovementioned methods have limitations and can sometimes not perfectly transfer your stickers to new devices. Therefore, try using a reliable app like WhatsApp Transfer to migrate the WhatsApp stickers to your new device. With it, you can selectively move WhatsApp history between iOS and Android, including the stickers.
Besides, you can back up your WhatsApp files, export the chats, and do much more. Thousands of phones are supported with this tool. It takes a few minutes to move your stickers to your iPhone.
Key features of this WhatsApp Transfer software:
- Smoothly Transfer WhatsApp stickers from Android to iPhone and vice versa.
- Copy WhatsApp messages and attachments between phones with ease.
- Back up and restore your WhatsApp & WhatsApp Business.
- Allow you to view your backup WhatsApp data on your computer.
- Back up WeChat/Viber/LINE/Kik chat history.
Download this WhatsApp chat transfer software.
Here's how to transfer WhatsApp stickers to new phone:
Step 1: Launch the software on the PC and connect your devices. Choose "WhatsApp Transfer" from the Toolbox. On a new window, head to "WhatsApp". Next, choose "Transfer WhatsApp messages".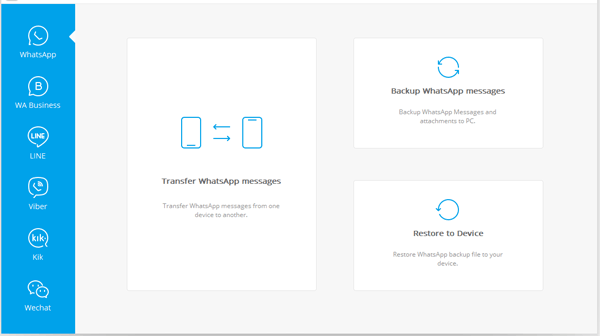 Step 2: Make sure your old phone is in the "Source" position, and your new phone is in the "Destination" position. If they are not, you can "Flip" to change them. Once done, tap "Transfer".
Step 3: On the prompt to keep existing WhatsApp files, checkmark the right option and hit "Next".
Step 4: The process will begin, and you can view it on the next page. Check the progress and wait till the screen shows the process completed.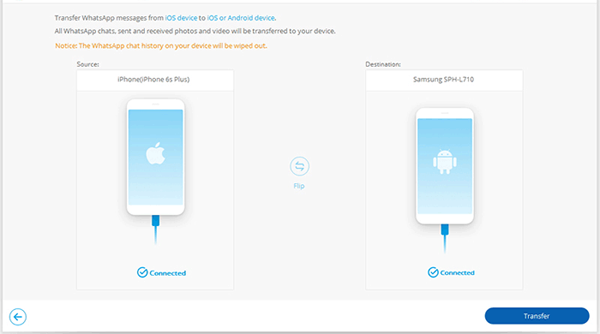 FAQs on How to Transfer WhatsApp Stickers

Q1. Can I backup WhatsApp stickers?
Yes. You can easily back up your WhatsApp stickers. There is a built-in method for backing up WhatsApp, which also backs up the stickers.
Q2. Where are WhatsApp Stickers Stored?
The WhatsApp stickers are stored in the internal storage of your Android in the WhatsApp stickers folder. You can get to the folder by navigating to the internal storage of the device and looking for "WhatsApp" and "WhatsApp media". You will find the WhatsApp stickers folder here.
Conclusion
Hopefully, you can now do WhatsApp sticker transfer to your new phone with ease. If you use a free solution provided by WhatsApp, the procedure could be tedious and lengthy. If you do not have the technical know-how or don't want to waste much time with long processes, you can rely on WhatsApp Transfer. It will move all your stickers without loss.
Related Articles
[New Guide] How to Restore WhatsApp Backup from iCloud to Android
How to Access WhatsApp Backup Seamlessly | Support Android and iOS
Recover Snapchat Photos on Android in 4 Effortless Ways (Detailed)
How Do I Recover Deleted Facebook Messenger Messages on Android? (Solved)
Why Is Move to iOS Unable to Migrate? How Can You Fix It? [Solved]
How to Transfer Text Messages from iPhone to Computer - 5 Flexible Ways