Summary
Our generation is heavily reliant on mobile devices. On average, people check their mobile devices 58 times per day. So, it is natural to freak out when the mobile device doesn't turn on. Imagine you wake up one morning to check for messages on your device, only to find it turned off. Of course, the first thing you will do is to long press Power button to switch it on, but it doesn't turn on.
Before you start freaking out or thinking of getting a new device, there are a few simple things to try to fix Android phone won't turn on issue. In today's article, you will learn all these practical solutions.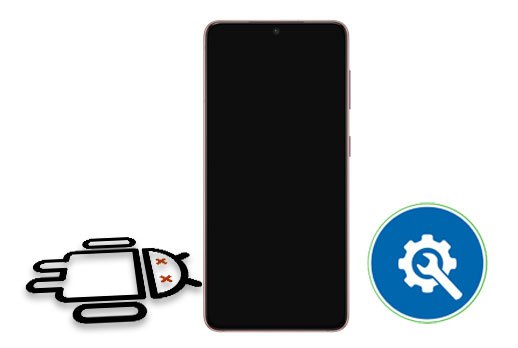 Part 1. Why Isn't My Phone Turning on?
The worst nightmare any Android phone or tablet owner will ever face is their device fails not to turn on. The causes of this problem may differ with the model of the device, but in general, your device failing to turn on problem results from:
- A dead battery.
- The power button is not working.
- Damaged screen.
- Frozen in sleep or Power off mode.
- Errors in the operating system after an update.
- Corrupt third-party apps.
- Water damaged. (How to Recover Data from Water Damaged Android Phone?)
- Dust or lint in the Power button.
Read Also:
4 Ways on How to Fix Black Screen on Android Phone (High Success Rate)
How to Flash a Dead Android Phone Swiftly and Safely (Ultimate Guide)
Part 2. How to Fix An Android Phone Won't Turn on
Below are some awesome fixes for Android won't turn on problem. Check them out:
Fix 1. Charge the Device and Try Turning It On
As said, your device will not turn on if the battery is drained completely. You will see an 'empty battery' sign on the display when the battery is almost dead. However, if the battery is drained completely, your device will not respond when you press Power button.
To solve this issue, connect the device to a wall charger, then leave it to charge. Give it 30 minutes to charge first, and switch it on later by pressing Power key. If the issue was due to a drained battery charge, it should start normally.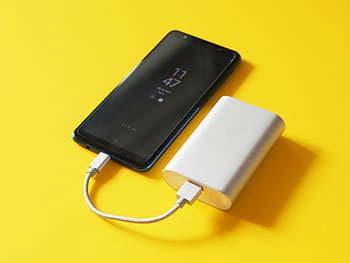 Fix 2. Restart the Device
If your Android is not turning on completely, try restarting it. Normally, restarting a mobile phone refreshes the device's internal memory, giving it a fresh start. Though this fix is often overlooked, it could be what you just need to return the device to its normal working condition.
Here's how to fix a phone that is not turning on by restarting it:
Step 1. Press the Power key until you see Power off menu on the screen.
Step 2. Tap on the "Restart" option to reboot the device.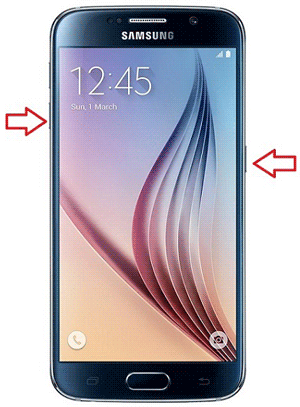 Fix 3. Boot Android in Safe Mode and Disable Corrupt Apps
Android not turning on problem could also result from bad apps. Booting the device into Safe mode is an ideal fix to turn off faulty third-party apps you downloaded recently. Here's how to do it:
Step 1. Press Power key for 10 seconds to reboot the device.
Step 2. When the device boots up, hold the Volume Down key and only release it when you see the Safe Mode screen.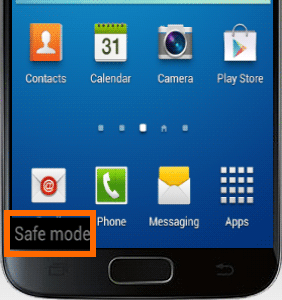 Step 3. Check for bad apps and disable them. Once done, exit Safe Mode. Remove recently installed apps.
Fix 4. Check if the Screen is Broken
If your device's screen is not working, you may think it is not turned on. Screen issues occur when you drop the device.
To tell if the device is on but the screen is not working, hold Power key for about 20 seconds or hold the Volume Down+Power button for about 10 seconds on Samsung to ensure the device is switched on. This forces the device to reboot. Now take another mobile phone and try calling the device that won't turn on. If the phone vibrates or rings, you'll know that the screen is not working. However, this may not be very useful if you usually set the device on silent mode. (How to Get Pictures Off A Broken Phone?)
Fix 5. Connect Your Android to PC to Troubleshoot
Still facing the 'phone not turning' on issue? Try connecting the phone to a computer to troubleshoot the issue. Here are steps on how to fix a phone that wont turn on all the way:
Step 1. Plug your Android to the PC with a USB. Make sure you are using its original charger.
Step 2. Next, wait for a few minutes. If the battery icon shows up, your device is switched off and charging. However, if a red light appears, it shows that the device's battery is discharged. When you see the red light flashing, there is not enough charge to power it on.
Step 3. Leave it to charge for about 30 minutes. Now, press Power button to restart the device by clicking "Restart".
Fix 6. Factory Reset Your Android
If everything else fails, try factory resetting your device. You should reboot the device to Recovery Mode and perform the factory reset. However, remember that all your files and settings will be erased. So, a backup is required. If you usually backup your files, you can proceed with the following steps:
Step 1. Boot the Android phone into recovery mode. To do this, hold the Volume Down and Power buttons together. Keep on holding the buttons until you see the logo on the screen. This procedure of booting Android to recovery mode varies depending on the models. (How to get out of Android recovery mode?)
Step 2. Scroll down to the "factory Reset/Wipe Data" option with the Volume Down key. Use the power key to choose it.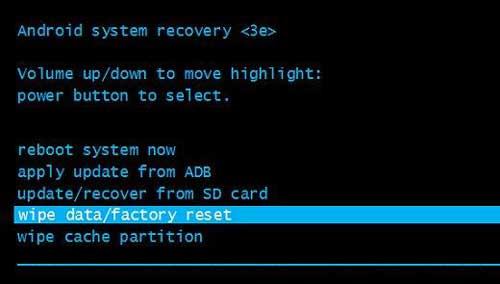 Step 3. When done, use the "Power" button and select the "Reboot System Now" option.
Fix 7. Fix Android Phone Won't Turn On Issue Using Android Repair
If all solutions mentioned above aren't helping with the issue, it's time you switch to a first-rated Android repair tool that can fix the Android won't turn on issue permanently. Android Repair is extremely good at repairing Android system problems. It can fix almost all Android system-related issues in mere minutes. Whether your device won't turn, stuck in a boot loop, bricked, or apps crashing, this is the tool to look out for. It fixes all these issues without hiccups.
Top Highlights of Android Repair:
* Fix Android system-related problems, such as Android won't turn on, stuck in boot loop, etc., in a click.
* No special skills are needed.
* Clean and simple interface.
* Quick to repair system issues in Android.
* Highest rates of success.

How to use Android Repair to fix Android phone won't turn on problem? Check the steps below:
Step 1. After installing the software on the computer, run it to open the primary interface. Link the Android device to PC with USB and choose "System Repair" and "Android". Then hit "Start".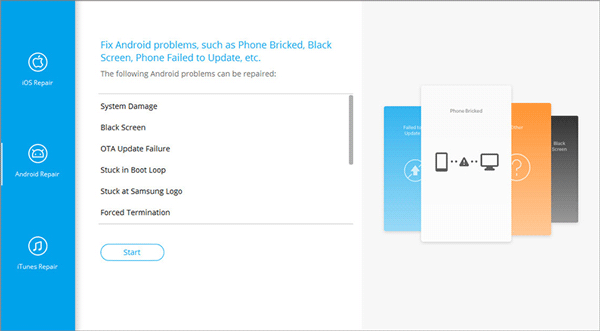 Step 2. From the screen, choose the Name, Model, Country, and Carrier of your phone and boot the phone in Download Mode.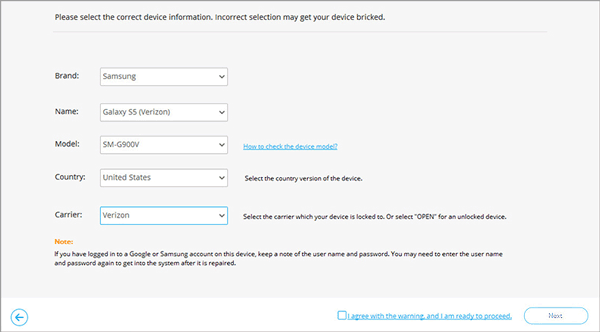 Step 3. When done, the firmware will immediately start downloading. Enter "000000" in the blank space to confirm the process.
Step 4. Your Android device will start repairing. Wait patiently for the process to finish and click "Done".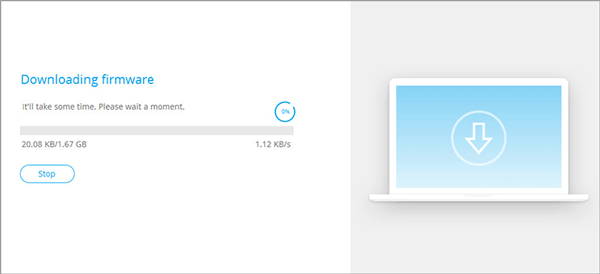 Read Also:
[Fixed!] What If Fail to Connect Android to PC
Back Up and Restore Text Messages on Android [5 Proven Methods]
Part 3. How to Recover Data from Phone that Won't Turn on
Is your device not turning on? It can be worrisome, especially if you did not back up the data. You may be wondering how to get files off a phone that wont turn on. Well, it is no easy feat, especially if the device isn't turning on completely. But, with a powerful software like Broken Android Data Extraction, recovering data from your Android is only a few clicks away. With this top-notch tool, you will successfully retrieve your Android files without any problem.
So, if your Samsung isn't turning on and you are worried about losing your most precious files, don't be. This software gives you the power to rescue files on your device. It scans your device and extracts all files to the PC with a click. However, it only supports Samsung devices.
Main Highlights of Broken Android Data Extraction:
* Extract files from a Samsung device that won't turn on.
* Recover files from the device's internal storage and external SD cards.
* Retrieves messages, audio, videos, call history, photos, contacts, and WhatsApp/WhatsApp attachments.
* Repairs frozen, crashed, broken Samsung phone to normal.
* Works on most Samsung devices like Galaxy X/Galaxy Note and more.
* Preview data before extracting it to the computer.

How to recover data from a phone that won't turn on? Here are the steps:
Step 1. Open the program after installing it on the computer. Choose the "Start" option to get to the fixing feature. Plug in your Android device to the PC with a USB.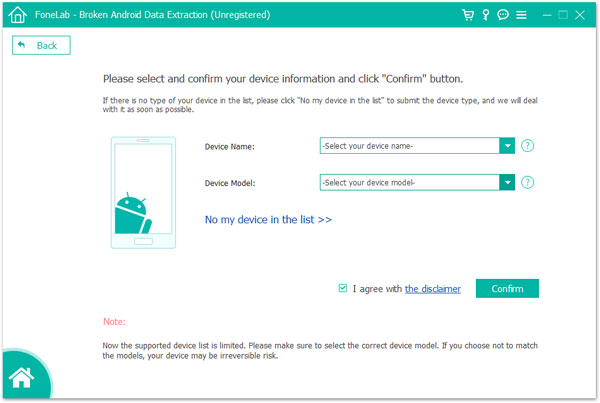 Step 2. Choose the Name and Model of your Samsung device and hit "Confirm". Follow the on-screen instructions to boot the phone to download mode, then hit "Start" and wait for the tool to fix the device.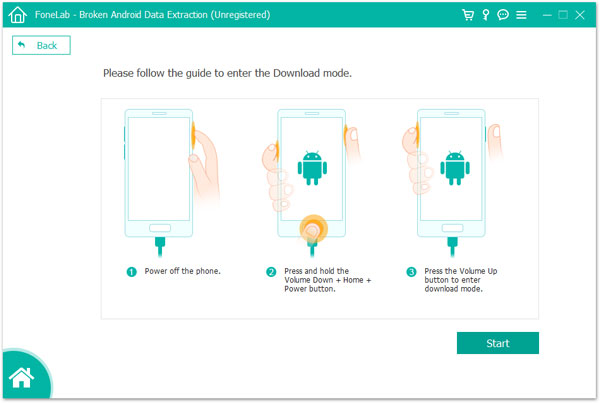 Step 3. Once done, the software will scan the files on the device and display them on the screen. Choose the files to restore and tap the "Recover" button to extract the files from a Samsung device that won't turn on.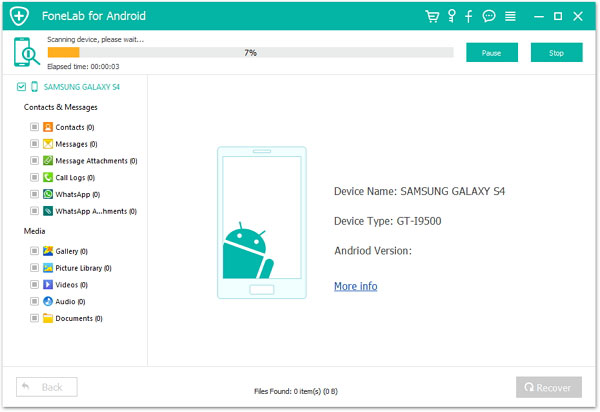 The Bottom Line
That's it! Now you know how to solve the Android won't turn on problem. Hopefully, you will be able to fix this problem without any difficulty. However, if everything fails, it will likely be a hardware problem. Maybe you dropped the phone, or it got hit by other things, thus damaging its internals.
We recommend using Android Repair to fix the Android won't turn on problem in one click. However, if you want to restore files from an Android device that won't turn on, Broken Android Data Extraction is your best bet.
Related Articles:
How to Fix White Screen on Android Phone: Key Tips You Need to Know
Android Phone Keeps Turning Off? Get Solutions to Repair the Phone
How to Fix Samsung Black Screen in Minutes?
How Do I Fix the Blue Screen of Death on My Android Phone? 5 Ways for You
My Text Messages Disappeared on My Android - Find the Cause and Fix It
Why Does Android Crash? How Can You Fix the Issue? [Solutions Ready]