Summary
After buying an iPhone, one of the first things to do is transfer files from the old device to your new device through iCloud backup while setting it up. This way, you will easily start using your new gadget. But, things will not always work as expected. Most people have complained that their apps didn't transfer to new iPhones, which has led us to craft this guide to solve this issue. You'll understand why apps may fail to transfer to iPhone and the possible fixes. Keep reading to learn more.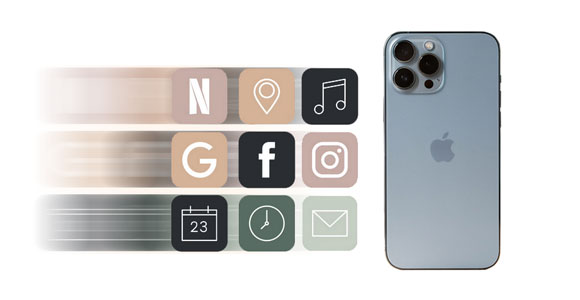 Part 1: Reasons for Apps Not Transferring to New iPhone
It's imperative to know the underlying cause for apps not transferring to the new iPhone because not all apps can transfer to a new iPhone. So, why didn't my apps transfer to my new iPhone? The following are the most common causes for apps not transferring to a new iPhone:
Unstable network connection: Ensure you are connected to stable WiFi during the transfer. Your devices should be connected to a strong network to restore the backup. You can't restore any backup with mobile internet.
Unmatching Apple IDs: Data transfer cannot successfully occur if you use different Apple IDs on both devices. Ensure the phones are signed into the same Apple IDs.
The apps aren't in App Store: When the purchased applications are not in App Store or are refunded, they will not be moved to the new device. Besides, some third-party applications must be re-downloaded from the provider.
Part 2: Apps Didn't Transfer to New iPhone? 9 Fixes
Now that you have an idea of what might be the cause for your apps not to transfer, here are solutions to resolve the problem:
Fix 1. Enter the Correct Passcode to Transfer Purchased Applications
To transfer the purchased apps to an iPhone from your iCloud backup, you should enter the correct password to successfully transfer the apps. So, ensure you do that to allow the apps to be copied.
Fix 2. Check If the Devices Are Using the Same Apple ID
Also, check if both iPhones are signed into the same Apple ID. Since one major cause of apps not transferring is using different Apple IDs on devices, you should ensure they use similar Apple IDs. Here are the steps:
Step 1: Open Settings on iPhones and tap on "[Your Name]" at the top.
Step 2: If the Apple ID is different, log out from Apple ID on the new device by scrolling down to the bottom and clicking "Sign Out".
Step 3: Sign into the new iPhone with the Apple ID logged into the old device.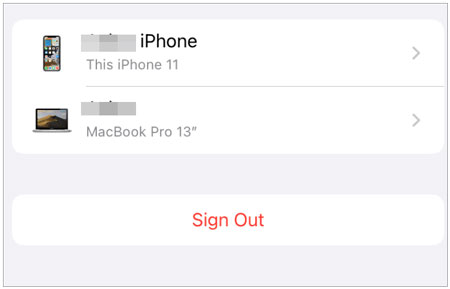 Learn more: App Share via Bluetooth - How to Send Apps via Bluetooth Without Effort
Fix 3. Try Restoring from iCloud Backup Again
If your apps aren't transferring to a new iPhone, you should try restoring the new device from iCloud Backups again. Here are the steps:
Step 1: Turn on your iPhone, and it will display a "Hello" screen. Follow the instructions on the screen until you reach the "Apps & Data" screen. When there, select the "Restore from iCloud Backup" option.
Step 2: Next, choose a backup. Check the date and size of the backups and choose the appropriate to start the backup procedure.
Step 3: Finally, log in with Apple ID if prompted to restore the apps and purchases. Ensure your device remains connected to Wi-Fi while waiting for the progress bar to complete.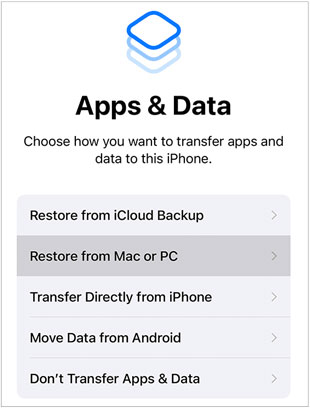 Fix 4. Check Background Transfer
At times, it may see that the transfer procedure is completed, but your device is still downloading the files in the background. Therefore, you must check if the process is still running in the background. Below are the steps:
Step 1: Tap on the Settings app on your iPhone on both devices. Click on "[Your Name]" at the top. Locate "iCloud" on the next screen, then hit the "iCloud Backup" button.
Step 2: If you see this message: "This iPhone is currently being restored and will automatically back up when it is done", it means the restoration is still on in the background.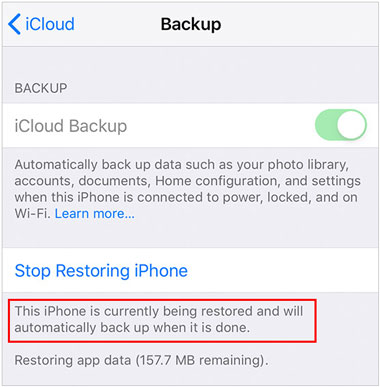 Fix 5. Check the Network Connection
You must ensure your internet is strong. Visit any browser, then search any webpage to confirm your device is connected to an internet connection. For clarity, reset your device's network settings using the following steps:
Step 1: Launch the "Settings" application on your iPhone.
Step 2: Navigate to the "General" tab and continue to the "Transfer or Reset iPhone" screen.
Step 3: On the "Reset" screen, tap "Reset Network Settings". Key in your passcode to continue. This process won't erase files on your device except for your Bluetooth and Wi-Fi passcode.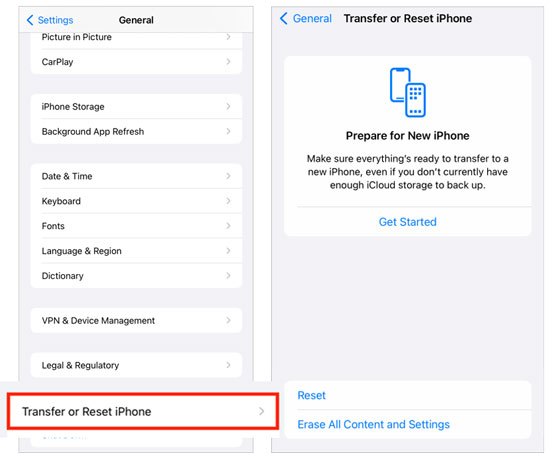 Maybe you like: Can you sync apps between iPhone and iPad? Read this guide to get 3 methods.
Fix 6. Sign Out of iCloud and Back In
The app restoration problem may result from an iCloud syncing issue, which prevents apps from transferring to your new iPhone. To resolve that, log out and then back in your iCloud account via the Settings app.
Fix 7. Restart Your iPhone
Restarting your device is an easy and practical method of fixing any software issue. It is a simple but effective technique to help your apps transfer to the new iPhone. Check the steps below:
Step 1: Press the "Power" button on your iPhone. Keep holding until you see the display changing.
Step 2: When the power-off slider shows up, drag it to turn off your iPhone.
Step 3: Once your device turns off, wait for some time before pressing the "Power" key to restart the device.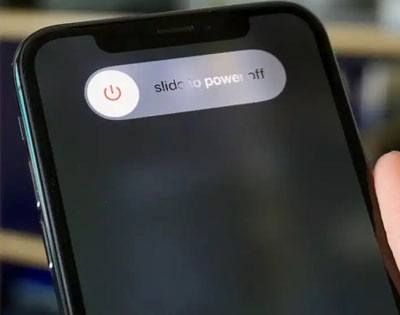 Fix 8. Update iPhone to Latest Version
Updating the iPhone may help solve apps that haven't transferred to the new iPhone issue. The newest iOS versions can help solve the undetected bug, improving your device's reliability. Below are steps to update an iPhone:
Step 1: Launch the Settings app on the new iPhone and choose "General".
Step 2: Head to the "Software Update" option in the upper section of the screen.
Step 3: Click on "Download and Install", then enter the password to confirm the procedure. If you want to use mobile data to update the iOS, please go to "Cellular" > "Cellular Data Options" > "Data Mode" > "Allow More Data on 5G". After that, transfer your apps again.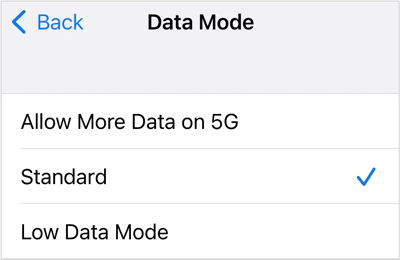 Read also: Uninstall Apps on Android Phone from Computer [Easiest]
Extra Tips: Transfer Other Data from iPhone to iPhone Without Effort
Apart from transferring apps, you may also want to transfer files to your new iPhone. You need professional software like Samsung Data Transfer that can easily transfer files between iPhones. In this way, you can copy all data at once, and the new data will not replace your current data on the target device. Moreover, it can help transfer photos, videos, music, contacts, and more from your iPhone to an Android device.
Main features of this data transfer software:
- Transfer data between iPhones in simple clicks.
- Share contacts, bookmarks, eBooks, etc., from between iOS devices.
- Support most iPhone generations, including the latest series.
- Safe to use with no data loss and quality loss.
Download the software to transfer iPhone data.
How to transfer files between iPhones via this software:
Step 1: Install and open this software on a computer. Choose "Mobile Transfer" and connect iPhones to PC via USB cables. Tap "Trust" when prompted.
Step 2: The old iPhone should be in the "Source" position. If not, switch them by clicking on the "Flip" tab.
Step 3: Select the files to transfer from the interface and hit "Start Copy".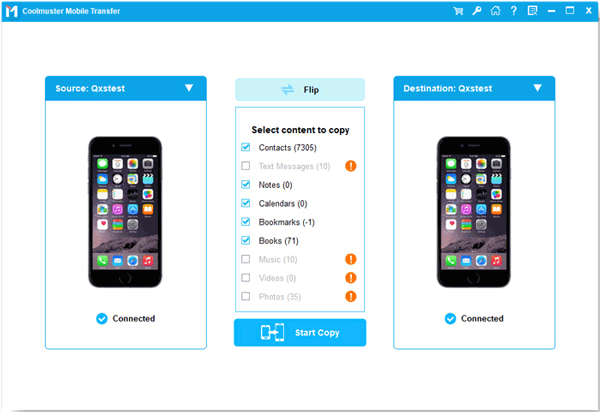 Conclusion
When some apps didn't transfer to a new iPhone, you can try these solutions to fix it. Transferring applications between phones is no easy feat. But the ways mentioned above are effective and will help troubleshoot the issue quickly.
In case you want to transfer other types of files between iPhones, Samsung Data Transfer is here for you. It is easier to use and transfer files without limitations.
Related Articles
Fixed: Fast Solve It If Contacts Didn't Transfer to New iPhone
How to Transfer Phone Number to New iPhone | 5 Practical Methods
Solved: Transfer Data from Broken iPhone to New iPhone | 4 Solutions
Tutorial on Switching SIM Card from Android to iPhone Seamlessly
Ultimate Manual: How to Sync iPhone to iPhone Like a Pro
Print Out Text Messages for Court from Your Android Phone and iPhone