Summary
There are more than 5 billion active mobile devices globally, meaning more than 50% of the population owns a cellphone. While many use desktops or laptops, the majority of people conduct their activities on mobile devices. Thus, it isn't surprising that the attackers may target cell phones for SIM cloning.
You may also clone a SIM card when switching phones. Of course, you will be interested in how sim card cloning works and how to do it, especially if you can't insert a SIM in your phone directly. Luckily, there are various methods to do this, as we'll show you here.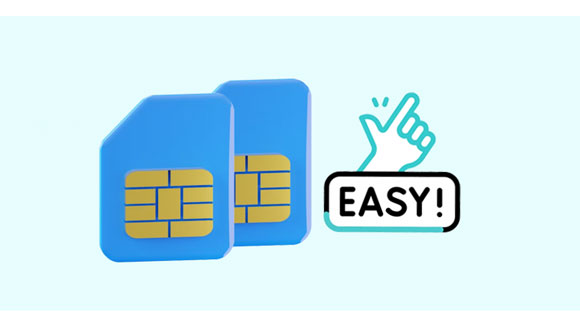 Part 1: What's SIM Card Cloning?
SIM card cloning is a process of using a working SIM and making it duplicate by copying all the details of an existing SIM onto an empty one. You take a SIM then, place it into a card reader, then hook it up to a cloning tool. The tool then takes all the important data of a SIM card and copies it to a blank SIM. If you do it correctly, the cloned card will trick the mobile network, which enables a hacker to use the SIM to make calls and send or receive text messages.
Part 2: Can You Clone a SIM Card?
You can easily duplicate SIM cards if you get a particular SIM card, SIM reader, and a cloning tool. Though most SIM manufacturers are trying to combat this process, their efforts haven't been fruitful. Many SIM cards are being cloned every day.
SIM cloning isn't that difficult and only requires you to use a few tech skills. But with this guide, you shouldn't have any difficulty cloning SIM card.
Read also: When switching to a new Android phone, most people will bring their contacts to the new phones. Read these 5 ways, and transfer contacts at once.
Part 3: How to Clone a SIM Card?
Whether you want to switch from Android to iPhone or vice versa or between Androids and iPhones, one thing remains, you will require the files available on your SIM. Since technological advancement, cloning SIM cards is as easy as pie. The simpler way to do that is by using apps or tools. Below are ways to do sim card duplication.
1. Using SIM Cloning Tool
A SIM cloning tool is a better way to copy SIM cards. MOBILedit Forensic is a safe tool to help clone SIM cards with ease and can be used for any OS. So, no matter the device you use, this tool will perfectly clone your SIM and you can use it on any device.
Normally, MOBILedit Forensic views information hidden or deleted on the phone. Phones save very important information that can be used as evidence for criminal cases. So, companies worldwide can still use this approach to catch criminals. In most cases, the devices have the essential proof professionals need to find the right person who committed a crime, and still, the info can be used in court. This information includes contacts, photos, messages, call history, videos, voice recordings, etc. Check the steps below to know how you can clone SIM card with SIM cloning software:
Step 1: Install the tool on the computer. Remove your SIM from the phone.
Step 2: Now, insert your SIM into SIM Card Clone Device, then link it to PC.
Step 3: Launch the tool from the toolbar. Doing this will open up a SIM card clone window so you can start cloning your SIM card.
Step 4: Click on the "Read SIM" button to read all the content available on the original SIM. Instantly, all files will be read; then, you may choose the ones you want to duplicate.
Step 5: Insert a writable SIM into the device and activate it. Tap on the "Write SIM" option, then wait for the copying process to finish.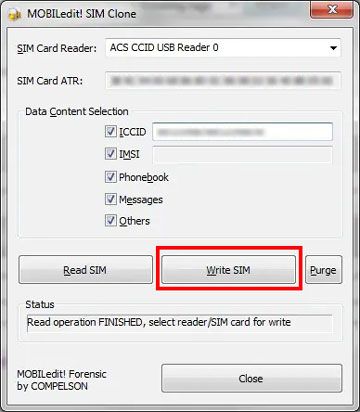 2. Using IMSI and Ki Number
Another method you can clone your SIM is by using the IMSI and KI numbers. Usually, a SIM doesn't have phone numbers inside. Instead, it contains an ID number which assists in identifying it in the device operator. The ID number in the SIM card is IMSI, International Mobile Subscriber Identity. It's important since it'll help your cloned SIM card to operate well.
Also, another data to get from the original SIM is KI, an Authentication Key. As for this, it will help authenticate the SIM as a subscriber to the operator. With this authentication, the operator will make sure IMSI and any other SIM info is correct and part of the valid card to be able to clone SIM. Here are the steps to clone SIM:
Step 1: Switch off the phone and remove the battery from it. Also, remove the SIM card, then copy the IMSI number on the SIM card.
Step 2: Insert a SIM reader in your SIM slot on the phone. You can buy a SIM card reader online.
Step 3: Now connect the SIM card reader to the SIM, then connect it to the PC to allow the KI number to copy the contents. After the procedure completes, your new SIM card will be duplicated.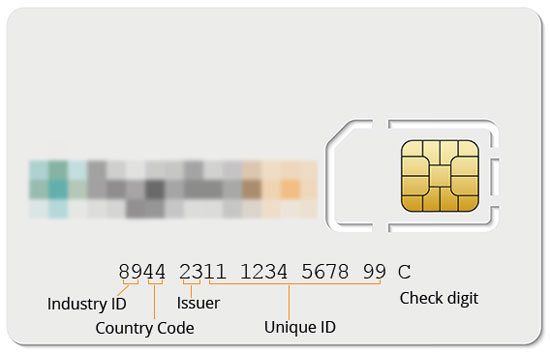 3. Using a Phone Number
If the cloning tool or IMSI and KI numbers seem tricky to use, you can try using only a phone number. Let's show you how to clone a sim card with only phone number:
Step 1: Start by switching off your phone. Remove the SIM card.
Step 2: Write the IMSI number that's on your SIM card somewhere.
Step 3: Insert your SIM into the card reader and connect it to the computer.
Step 4: Wait as the content is being copied. After doing that, your SIM card data will be duplicated.
Further reading: What about transferring your contacts from Android internal storage to SIM? Luckily, there are easy fixes. Let's read the guide.
Part 4: Best Tool to Clone SIM Data Between Mobile Devices
If you are switching, you shouldn't worry about transferring data between your mobile devices. The best tool to help clone data between devices, even if they operate on different operating systems, is Samsung Data Transfer. The tool supports transferring data like contacts and SMS, even if they are stored on your SIM card.
You can copy the data between iPhone/iPad/iPod touch and Android phone/tablet, like Samsung, LG, ZTE, OPPO, Google, and more. No data will be changed, overwritten, or damaged unless you want it to. It doesn't matter whether your device is Android or iOS, you can use this tool conveniently. Moreover, you can use it to transfer your media data like videos, photos, music, documents, and more at the same time.
Key features of this SIM data transfer tool:
- Fast copy SIM card data like contacts and SMS from one phone to another.
- Transfer the files from internal and external memory on your mobile device to another without hassle.
- Allow you to select data types freely before copying.
- Support Wi-Fi and USB connections between Android devices.
- Compatible with most Android OS and iOS generations.
Download this data transfer tool to copy your SIM card.
Here's how to transfer SIM card data in 1 click:
Step 1: Launch the tool on your PC after installing it. Select "Mobile Transfer".
Step 2: Link the phones to the PC using USB cables. Ensure the software detects them. Make sure they're in the correct positions. You can click on "Flip" to switch them.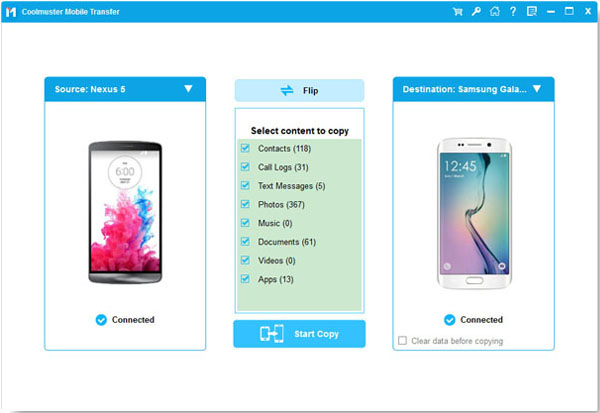 Step 3: Choose all the files you want to transfer from the source phone, such as "Contacts" and "Text Messages". Tick all the files and click on the "Start Copy" button to begin cloning your files.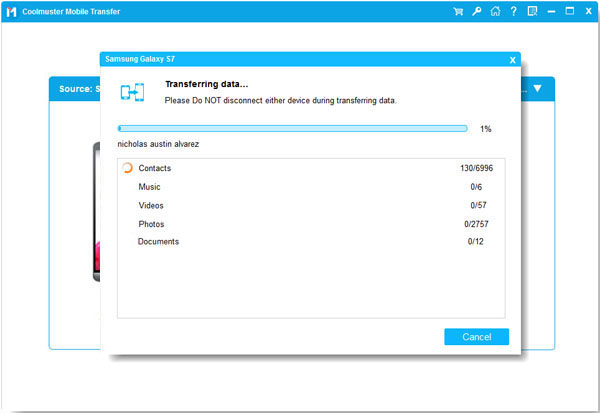 You might also need: Guide: How to Transfer Contacts from One Apple ID to Another with Ease
Part 5: FAQs on SIM Cloning
Q1. How can I prevent SIM cloning?
After the SIM card gets cloned, all your information will become vulnerable to identity theft and fraud. A better way to avoid it is to manage the SIM card. Do not give it to another person or let it out of sight. Since cloning a SIM card needs you to have it at hand.
Before trying the SIM cloning process, understand the procedure and its potential risks. This decision will depend on the risk you're willing to take.
Q2. Can I clone a SIM card remotely?
Yes. You can clone your SIM remotely by using OTA communication to remove the encryption. You can clone your SIM remotely if you don't have it.
Q3. Can I do SIM cloning without the SIM?
No. It isn't possible to clone SIM without having the SIM card. You must attach them with cloning software for the process to be successful.
Conclusion
Several techniques will help you clone a SIM card. You may find some methods tricky to use if you are not tech-savvy. But they will help you copy a SIM card without much hassle. But if you only want to clone your contacts and messages on your SIM card, you can try Samsung Data Transfer. This software can copy your data to another mobile device without effort.
Related Articles
Effortlessly Transfer SIM Card Data to Computer without Data Loss
How to Wipe a SIM Card with Android Completely? 3 Tips You Need to Know
How to Retrieve Contacts from SIM Card with 3 Useful Methods
Send Text to Multiple Contacts without Group Message on Android (Solved & Simple)
Clone Android Phone with 7 Dedicated Tools: Move Data Fast
How to Clone an iPhone without Effort [Ultimate Guide with 5 Methods]