Summary
Do you wonder how to unlock the Samsung phone pattern because you can't remember it? Do not fret, as this happens to almost everyone, so you're not alone. It's a common problem that many people have been through but can't figure out how to solve. It's no doubt that forgetting your phone's pattern is one of the most annoying scenarios you will ever encounter. You won't be able to access your phone, leaving you stranded on what to do next.
Let's say you want to talk to a person urgently and you can't access your phone at that time. This is very frustrating. But no more frustrations due to failure to remember your phone's pattern. We've got you covered in this guide since we'll take you through the proven ways to unlock the Samsung phone pattern in minutes. So, stay tuned!
Before starting, you should export your data first to the computer. This prevents any data loss. You wouldn't want that, right?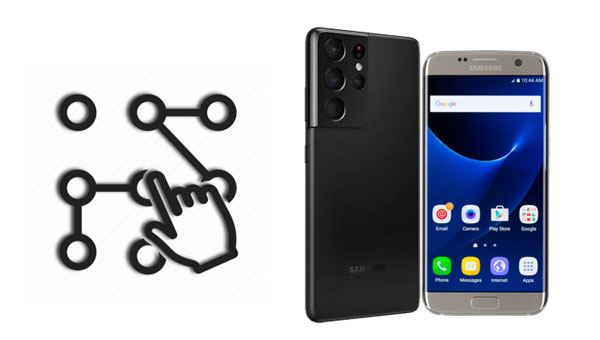 Way 1. How to Get Past Samsung Pattern Lock via Samsung Find My Mobile
Samsung has provided the unlocking services for Samsung users, which allows you to remove the pattern lock in Samsung via Samsung Find My Mobile. If you have signed in with your Samsung account and enabled the Find My Mobile feature on your Samsung phone before it is locked, you might easily bypass the screen lock in this way.
Here is how to unlock the Samsung phone pattern with Google Find My Mobile:
Step 1: Open the "Samsung Find My Mobile" site on the computer. Then sign in with your Samsung account used on the locked Samsung phone.
Step 2: Tap "Unlock" twice on the Find My Mobile page, then log in using your Samsung account and tap the "Next" button to continue. Then you'll bypass the Android lock screen successfully.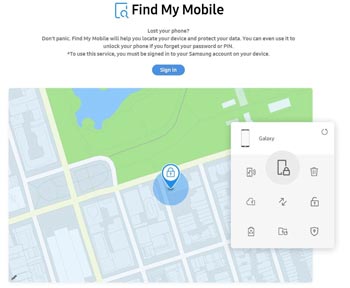 Way 2. How to Unlock Samsung Phone Pattern with Android Unlock
Do you know that there is an amazing way you can unlock your Samsung gadget's pattern with just a few clicks and without losing data? Of course there is. No one wishes to lose their favourite data since it may contain very important information from work or personal data. This Android Screen Unlock is the tool that can do that effectively.
This is one of the easiest tools that is highly recommended for anyone who wishes to unlock a pattern on a Samsung gadget and on an LG phone. Also, you can unlock other Android phones without passwords, fingerprints, pins, and passcodes. The best thing about this tool is that any novice individual can use it effortlessly.
Download this unlocking software for free.

Here is how to unlock the Samsung phone pattern with this pattern lock resetting tool:
Step 1. Launch Unlocking Software
Firstly, install and launch the software on the computer and choose the "Screen Unlock" > "Unlock Android Screen" feature. Then connect your locked Samsung device to the PC via a USB cable.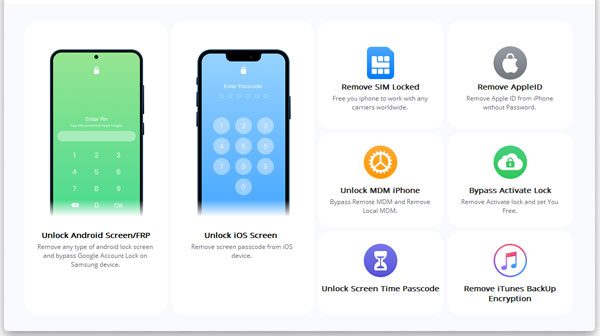 Step 2. Choose the Information of Your Samsung Phone
Choose the brand, device name and model of your Samsung device, and tap the "Next" icon. Then follow the guide to enter the Download Mode, and the software will download the recovery package.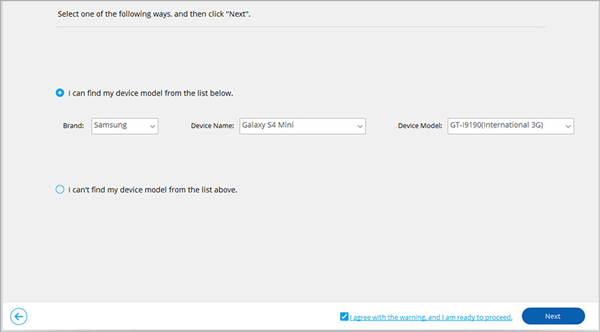 Step 3. Get Past the Samsung Pattern Lock
After that, click the "Remove Now" button to eliminate the pattern lock on your Samsung phone.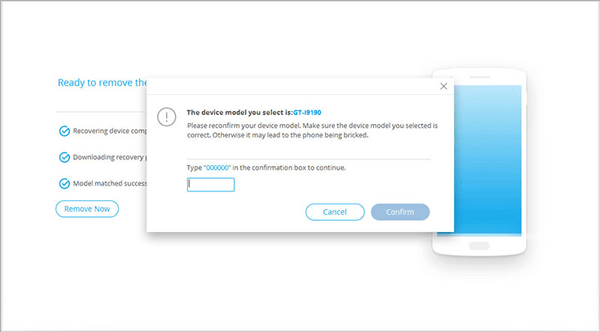 Read also:
How can you quickly bypass the LG lock screen without resetting on your computer? Please follow this full guide.
This full guide can help you unlock Sony Xperia screen, SIM lock and bootloader. Let's read it.
Way 3. How to Break Pattern Lock in Samsung with Google Account
You can also use Google Account to unlock patterns on your device if you are uncomfortable with the third-party tool. Each Android gadget is connected with a Google Account which is essential to activate the device. Therefore, the Samsung phone is attached to the Google account, and you may use it for unlocking the pattern you forgot.
But, this technique can work for some old Samsung phones only, since the Android devices run Android 5.0 and upper do not support this feature.
Here is how to unlock the Samsung pattern via a Google account:
Step 1: To start, enter the wrong pattern on your locked Samsung phone several times, and click the "Forgot pattern" icon on the screen.
Step 2: After doing that, type your Gmail account and password for unlocking.
Step 3: Next, you will receive a reset code in your email from Google. You may use it to reset the device's pattern lock. Set an easier pattern you will remember easily.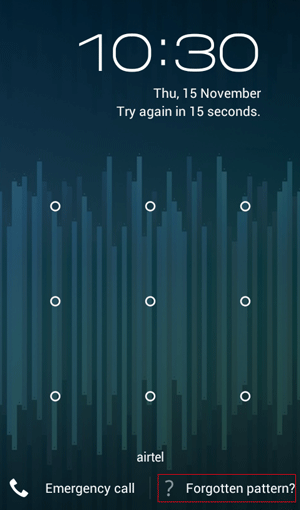 Further reading: Want to move Samsung data to Realme with original quality? Let's get 4 practical approaches.
Way 4. How to Unlock Samsung Screen Lock Pattern with Smart Lock
Smart Lock is a wonderfully made security feature found in the latest Android Smartphones. What makes the Smart Lock a cool feature in Android devices is that it allows your phone to unlock automatically if the phone is enabled with a Bluetooth device such as a Bluetooth headset or a smartwatch. So, you do not always need to unlock your phone with a pattern. This sounds great.
Here is a step by step guide to achieving that:
Step 1: On your phone, open the "Settings" app and click on the "Lock screen" option. After that, click the "Smart Lock" button.
Step 2: Then choose one type you want on the screen. It's as easy as that! After that, your Samsung phone will keep unlocked when you are in the suitable situation.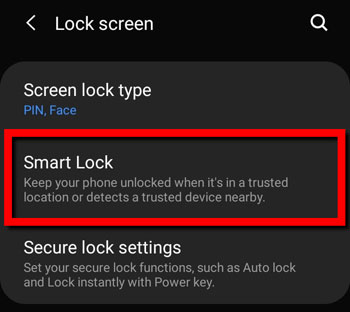 Notes: You need to unlock your Samsung phone first if you want to enable this Smart Lock feature.
Way 5. How to Remove Pattern Lock in Samsung with ADB
You can also use the ADB to remove your Samsung's screen pattern lock. This technique can be tricky to understand, but here are the steps to go about it:
Step 1: Connect the handset to your computer via a data cable.
Step 2: Open the Command prompt found in the ADB directory. Type "adb shell rm /data/system/gesture.key" and click "Enter".
Step 3: Restart your phone, and you'll find the lock screen gone. That is it!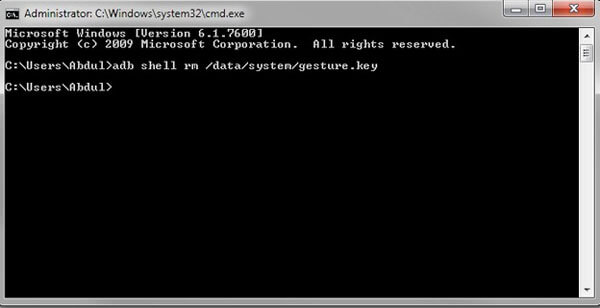 Maybe you want: When your Android phone keeps turning off, you can fix it on your own with these reliable tips.
Way 6. How to Crack Samsung Pattern Lock via Factory Reset
You can also factory reset your Samsung device to remove its pattern. But, it's least recommended because it'll erase your gadget's existing data and also settings. After the factory reset, you'll have to activate your gadget as new. Exporting your data first is highly recommended before trying this method.
Here is how to use Factory Reset to unlock the pattern on your Samsung device:
Step 1: Turn off your locked phone, and make sure your phone is in recovery mode by long-pressing the "Power" and "Volume Up" buttons simultaneously.
Step 2: Then, you will get many options displayed on the phone's screen. Use the "Volume Up" and "Down" keys and the "Power" button to select the "Wipe data/factory reset" option to crack the pattern lock.
Step 3: After that, click "Confirm" to do the factory reset on the phone. Your phone will then reboot after some time and erase everything, including the pattern lock.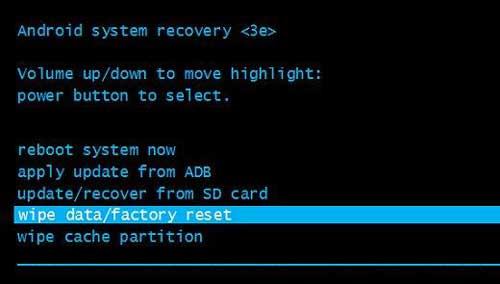 Bonus: Take a look at this article to see how to unlock Samsung tablets without data loss.
Way 7. How to Bypass Samsung Forgot Pattern with Safe Mode
This is an effective and simple solution to use when unlocking pattern on your Samsung gadget. Nevertheless, this technique only works for third-party apps. Suppose you're using the native lock feature on your phone. After you've restarted your device in Safe Mode, you may easily bypass the pattern lock without any hassle.
Here are the steps to unlock the Samsung phone's patter with Safe Mode:
Step 1: Just press the "Power" icon on your Samsung phone and choose the "Power off" button.
Step 2: After powering off your phone completely, power it on. When you see the Samsung logo, press the "Volume Down" key.
Step 3: Your phone will be in Safe Mode, and you can see the "Safe mode" icon at the bottom left. Next, the third-party lock screen will be disabled automatically. You can then navigate to the "Settings" > "Apps" option on your device to remove your third-party app.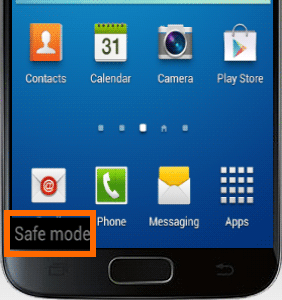 Way 8. How to Unlock Pattern Lock in Samsung via Android Device Manager
Android Device Manager, its new name is Google Find My Device. It is also a good way to unlock a pattern lock on a Samsung device. To use this feature, you must turn on the Android Device Manager on your Samsung phone. However, it will erase all your data on the locked Samsung phone.
Follow these steps to unlock the pattern lock screen:
Step 1: Go to the Find My Device site on the browser and sign in with the Google account you have set on your Samsung phone.
Step 2: Choose your device to unlock.
Step 3: Click on the "Erase" option and type your Google account again to remove the pattern lock.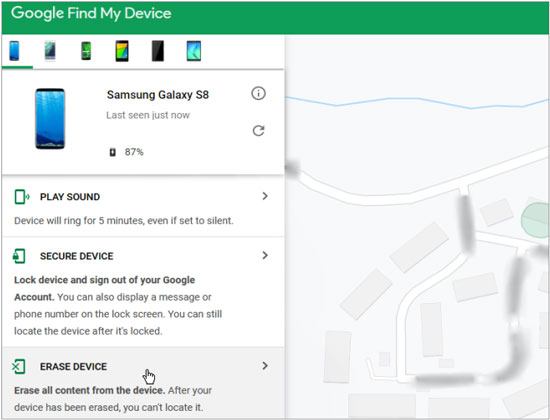 Wrap Up
This brings us to the end of this guide. As you can see, it is clear that forgetting the Samsung pattern lock is a common issue that many android users face daily. Fortunately, we've helped you know the best ways to unlock the Samsung phone pattern easily. Both ways discussed above will give you a painless time as you unlock your device.
So, no more worrying about forgotten pattern lock on your Samsung phone. Everything is here for you. The best thing is that you don't need to have any knowledge. Everything is simple and very clear. Furthermore, with this Android Screen Unlock software, you can remove the pattern lock on Samsung without losing data. Thus, you can unlock your Samsung phone and keep your data simultaneously.
Related Articles
Solved: Where is Samsung Galaxy Recycle Bin and How to Recover Deleted Files?
[Proven] 4 Helpful Tips on Samsung Kies for Windows 10
Fixed: Why Samsung Cloud Backup Failed? And How to Fix It without Hassle?
How to Transfer Files from PC to Samsung Tablet in 4 Nimble Ways [Modern]
Transfer iPhone to Samsung S20 with 5 Hassle-free Methods [Easy and Safe]
Deftly Transfer Data from Samsung to Sony Xperia Like A Pro [4 Dependable Ways]