Summary
Got hands on the latest iPhone model? As expected, the first thing you will want to do is explore all features. Aside from that, you should also import data from the old device to the new one. However, the iPhone stuck on preparing to transfer issues is quite common, and most users have been complaining about it.
If you are in the same situation, don't sweat it. We will address this problem by stating solutions and alternative ways to copy data between iPhone devices.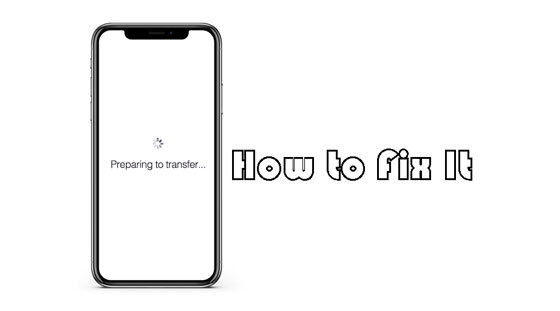 Part 1: Reasons Why iPhone is Stuck on Preparing to Transfer
Your iPhone may get stuck on preparing to transfer due to various reasons. For instance, your iPhones may not be in sync, there are software bugs in the device, etc. Below are a couple of reasons why you may encounter this problem:
Wi-Fi networks: If the two iPhones are not connected to the same Wi-Fi network, you may encounter issues during data transfer.
Data size: If your data size is huge, it may seem as though the iPhone is stuck during the transfer.
Software issues: There may be software issues within your device, such as glitches that are preventing QuickStart from working efficiently.
Devices are not closer: Your iPhone may also be stuck preparing to transfer if the other device is far away. You should keep the iPhones closer while the data transfer is underway. If not, your new iPhone won't recognize the data transfer that is happening.
Outdated iOS version: New devices come with the latest iOS version, while the older the old iPhones require manual updates. If your iPhone seems to be stuck on preparing to transfer, check for the version it is running on and update if possible.
See more: 10 Helpful Solutions to Fix Move to iOS Stuck on 1 Minute
Part 2: Troubleshooting Tips for iPhone Stuck on Preparing to Transfer Issue
In this part, we will discuss some steps to troubleshoot the preparing to transfer problem on iPhone. Keep scrolling to learn these sure tricks to resolve this problem.
Fix 1. Check the iOS Version on Both iPhones
First, you need to check the version your old iPhone is operating on. The Quick Start service only works on devices running on iOS 12.4 and up. If any of your devices are operating on a version below 12.4, this service won't work. To check the iPhone versions, click on the Settings app and scroll down to General. From there, click on the Software Update option.
You can also update the phone to the latest version. To do that:
Step 1: Click on the "Settings" application and choose "General".
Step 2: Tap on the "Software Update" option and tap on "Download and Install" to get the latest iOS.
Step 3: Click "Install Now" and wait for the process.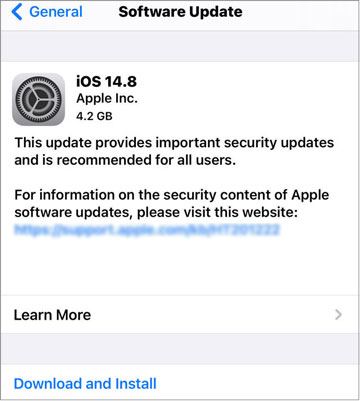 If the "Download and Install" isn't available, it implies that your device is operating on the latest system.
Fix 2. Use Same Network
Another possible cause for the new iPhone preparing to transfer error is that the devices are connected to different networks. Data transfer can only occur when both devices are connected to the same networks. Besides, the internet should be strong and stable. If one device has weak internet and another has a strong Wi-Fi network, there will be unavoidable delays during the transfer.
This could, in turn, lead to stuck transfer issues. Therefore, it is ideal to check if both phones are connected to the same network.
Step 1: Tap on the "Settings" application to open the menu and choose "Wi-Fi".
Step 2: Check if the phones are connected to the same Wi-Fi. If they're different, disconnect them and then connect to a similar network. After that, check if the issue is resolved.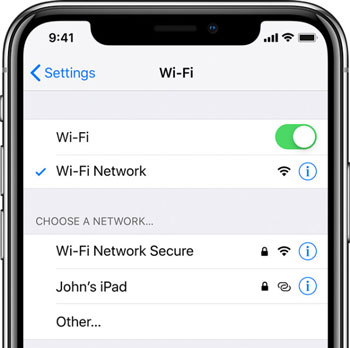 Learn more: How can you cope with it when an iPhone fails to send pictures to an Android phone? You can now stop fretting about it.
Fix 3. Bring the Devices Closer to Each Other
Usually, data transfer will be successful if the devices are in close proximity. If they are far from each other, you will likely encounter the iOS devices is stuck on preparing problem. The closer the device, the faster the transfer.
Otherwise, the devices will get preoccupied with the location of the files instead of transferring them. So, it is ideal you place the devices next to each other.
Fix 4. Reset Network Settings
Your device may have a minor bug that causes this error. To resolve this, you should reset network settings. When you perform a reset, your iOS is scanned and finds pesky bugs that might get in the way during the data transfer.
Step 1: Just head to your phone's "Settings", find "General", and tap on "Transfer or Reset iPhone" > "Reset".
Step 2: Finally, hit the "Reset Network Settings" option and confirm to reset the network settings on your device.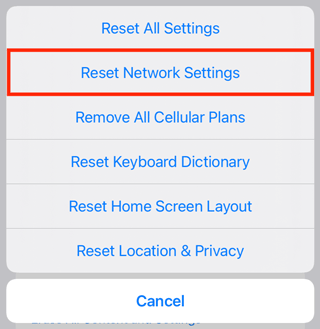 Fix 5. Check Storage
It is obvious you will need enough space on your new iPhone to copy data. If your new iPhone is stuck on preparing to transfer, perhaps there is not enough space. So, check the space available on your new iPhone.
Step 1: To do that, navigate to "Settings" > "General", and click on "iPhone Storage" to see the available storage space. You'll see a bar and a grey area on it showing the amount of free space available.
Step 2: If the storage isn't sufficient, consider deleting the unnecessary apps and other files from your iPhone.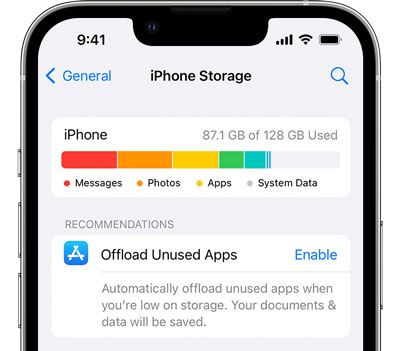 Maybe you need: Tutorial: Transfer SIM Card to New iPhone with Ease
Fix 6. Restart the Device
At times, a restart may help in eliminating the stuck transfer problem, especially if this error originates from the system or software glitches. A simple restart might be the solution you are looking for. The restarting process varies depending on the iPhone model.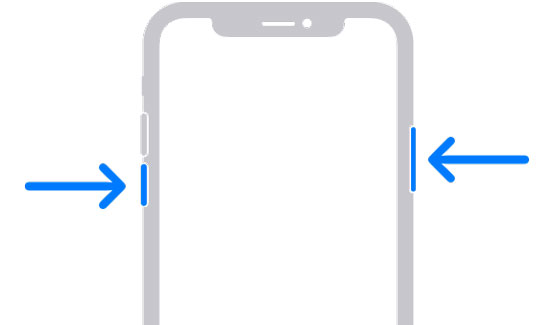 Fix 7. Turn Off the Low Power Mode
Low power mode helps to reduce battery usage. Even though it raises the battery life, it can still lower the performance of your device. If the low power mode is enabled, consider turning it off.
Step 1: To turn off Low power mode on the iPhone, head to "Settings" > "Battery".
Step 2: Locate "Low Power Mode" from the options listed and toggle off the slider next to this option.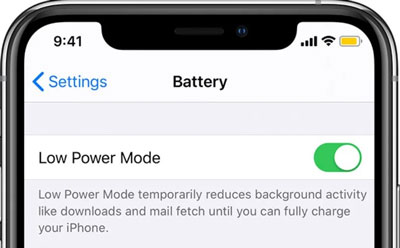 Part 3: Alternative Ways to Transfer Data Between iPhones
iPhone 14 stuck on preparing to transfer issues can be awful, especially when you want to access your data on the new device quickly. Luckily, there are still other ways to transfer data between iPhone devices without depending on the Quick Start feature.
Way 1. Transfer Files Between iPhone Devices in 1 Click
Quick Start is a great feature that enables users to transfer data between iPhones, but when it goes wrong or you have finished the setup on your iPhone, you can choose another efficient tool - Samsung Data Transfer. This competent data transmission software allows phone-to-phone transfer, including Android and iOS devices. Thus, even if your iPhone 13/14 is stuck on the preparing to transfer process, you can move data at once with this software.
This transfer tool can copy contacts, calendars, books, bookmarks and notes between iPhones, iPads and iPod touch devices. Furthermore, it supports iOS 5.0 to upper. When there is a new iOS, it will be updated to latest to support the new generation devices.
Here are the key features of this iPhone data transfer tool:
- 1 click data transfer from iPhone to iPhone.
- List files by category so that you can select what you want easily.
- Android to Android transfer, iPhone to Android and vice versa are supported.
- No ad or data loss.
Download this software to transfer data to your iPhone.
Use this software to move data between iPhones:
Step 1: Launch the program on your computer after downloading and installing it.
Step 2: Take USB cables, link both iPhones to the computer, and click on "Trust" on both phones. The older device should be "Source", and the new iPhone as "Destination". You can change their positions by clicking on the "Flip" tab.
Step 3: Choose the files you wish to copy by ticking the boxes next to the data type. Press the "Start Copy" icon, and all the files selected will be transferred to your new iPhone without delay.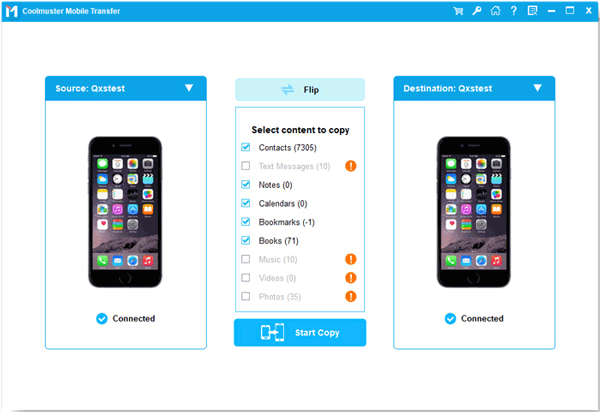 Way 2. Transfer Data from iPhone to iPhone via iCloud
If you've enabled iCloud on your device, all settings and other files on an iPhone will be synced to iCloud automatically. When you set up the new iPhone, you'll choose the option to transfer the iCloud backup to the new device.
Here are the steps:
Step 1: Make sure the devices are connected to a stable network, and open the Settings app on your old phone.
Step 2: Click on "[Your Name]" at the top of your phone's screen. Choose "iCloud", then press on the "iCloud Backup" tab. Next, click on "Back Up Now" option to back up your files.
Step 3: Power on the new iPhone and set it up following the instructions on the screen till you reach the "Apps & Data" window. Now, click on the "Restore from iCloud Backup" option.
Step 4: Log into your new device using the same Apple ID used on your old phone. After that, choose the correct backup you created recently and click on "Restore".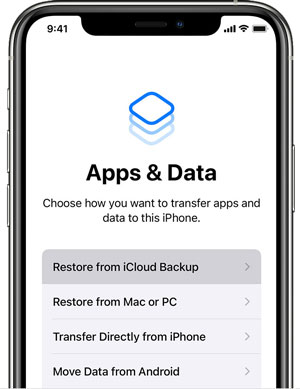 Part 4: FAQs on iPhone Preparing to Transfer Issue
Q1. How long should preparing to transfer take?
The time it takes to transfer data from iPhone to iPhone varies depending on Wi-Fi speed and the size of the file. If you have a newer iPhone 14, it may take 10-20 minutes to copy a 64GB of data. However, for iPhone 8 models, the transfer may take an hour or so.
Therefore, if you are copying data from an older iPhone model to a newer model, you have to wait for a while. Newer models are super fast in data transfer and are high-tech, but since all the data is coming from an older model, the process may be delayed. So, you need to wait patiently.
Q2. Is there a way to shorten the time to transfer data to a new iPhone?
The amount of time needed to transfer data between iPhones depends on various factors. However, you can shorten it by erasing unwanted files on your iPhone, disabling iCloud Backup during the transfer, etc.
Conclusion
Switching iPhones has become quite prevalent. Similarly, transferring data between iPhones is quite important for us. However, the transmission stuck issue is a hindrance to seamless data transfer. If you ever encounter an iPhone stuck on preparing to transfer error, this guide is right here to give you a helping hand.
In addition, you can use alternative ways to transfer data between iPhones. Samsung Data Transfer stands out as a practical iPhone-to-iPhone transfer tool. To steer clear of stuck transfer errors from the word go, download the tool and copy data to your new iPhone without any flaws.
Related Articles
Transfer Notes from iPhone to Android with Easy Steps [Proven]
[Guide 2023] How to Transfer Songs from iPhone to iPhone Using Airdrop
Elevate Your Mobile Journey by Switching from Android to iPhone
Messages Didn't Transfer to New iPhone | Work It Out via 9 Tricks
How to Transfer Photos from iPhone to Flash Drive | No Quality Damage
How to Clone an iPhone without Effort [Ultimate Guide with 5 Methods]