Summary
iPhone is, without a doubt, the most recognized smartphone by the public. When switching devices, it is necessary to move some important data like photos. However, at times, things don't go as expected, and you may find your photos didn't transfer to a new iPhone. Actually, it is a common issue, according to reports from users. But that shouldn't give you sleepless nights, as there are solutions to help you fix this annoying issue.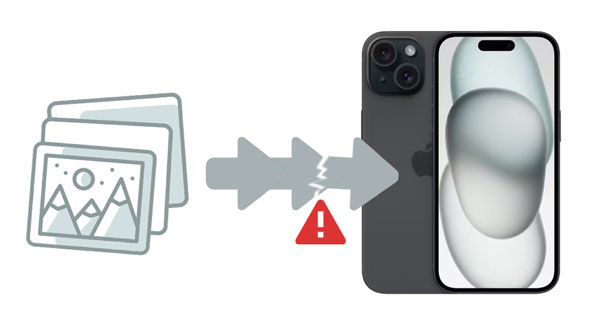 Part 1: FAQs on Photos Failing to Transfer to New iPhone
Q1. Why didn't my photos transfer to my new iPhone?
Your photos may not transfer to a new iPhone due to the following:
You are logged into a different Apple ID on the new device. If the new iPhone does not use the same Apple ID as the old one, your pictures will not sync to the new iPhone.
Perhaps the iCloud photos did not upload and sync; thus, there will be no pictures to transfer to the new iPhone.
The new iPhone doesn't have enough space, which makes it impossible to transfer more pictures into it.
Weak internet connection.
Software problems. If the system you are using is outdated or isn't compatible with the new iPhone, your pictures won't be transferred.
Q2. Does iPhone transfer all photos at once?
Yes. You may transfer the pictures from the old iPhone to the new one via iCloud backup. As long as you backed up photos in your old iPhone by enabling the iCloud Photo feature, you can get your pictures on the new device easily.
Part 2: Effective Fixes - Photos Didn't Transfer to New iPhone
Here, we will introduce quick fixes when photos didn't transfer to a new iPhone. Check the below:
Fix 1. Verify the iCloud Account
One major reason why your photos may fail to transfer to a new iPhone is because of a wrong iCloud account. If you had set up the new iPhone with an incorrect iCloud account different from the one the old iPhone is logged into, you may run into unsuccessful data transfers.
Using a different iCloud account means you can't get the pictures you had earlier backed up in your old phone. That is why verifying the iCloud account before starting the restoration process is essential.
Below are steps to check your iCloud account:
Step 1: Click on the "Settings" application to open it. Click on the "[your name]" option at the top.
Step 2: You will see your Apple ID and match it with the one logged into your old iPhone.
Step 3: If they don't match, log out of the new account on the new iPhone and log in with the correct iCloud account you have on the old iPhone.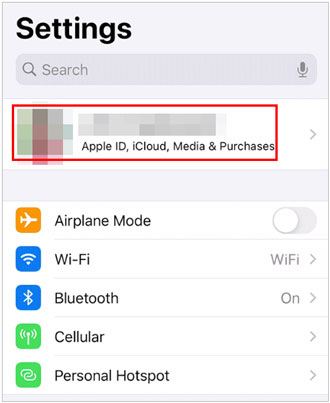 This should resolve the problem and ensure your photos are transferred without a hitch. If not, proceed to the next fix.
Maybe you need: What if you don't want to sync your photos to your new iPhone? Is there any useful way? Let's check it out.
Fix 2. Check Storage Space
Wondering why photos didn't transfer to new iPhone 15/14/13? Perhaps there is not enough storage on your phone. In that case, all of your photos will not be moved as there is no space to hold them. The data transfer process will be successful if there is adequate space in your new iPhone. For a seamless transfer, it is best to ensure there's enough storage on your phone to hold all the photos you had backed up.
Here are steps to check the storage space on your old iPhone:
Step 1: Head to "Settings", then select "General".
Step 2: Click on "iPhone Storage". You will see the amount of space your pictures are occupying.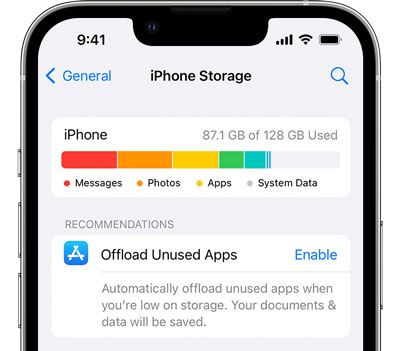 If the pictures are occupying too much space, we advise you to enable the option for "Optimize iPhone Storage".
Further reading: Want to move your SIM card to a new iPhone? You can follow this practical guide.
Fix 3. Enable iCloud Photo Library
"Even after ensuring there was sufficient space on the phone, my pictures didn't transfer to my new iPhone." Have you ever encountered this situation? Try checking if the iCloud Photo option is turned on. You may be using the correct iCloud account, but the iCloud backup containing the photos isn't enabled. Eventually, no pictures will be restored.
Therefore, enable iCloud Photos on your iPhone and try transferring your photos over to your new iPhone and see if they will be moved successfully.
To enable iCloud Photos, follow these simple steps:
Step 1: Head to "Settings" on your iPhone and click on "[your name]".
Step 2: Tap on the "iCloud" option and "Photos" or "Photos & Camera". Now toggle on the "iCloud Photo Library" icon.
Step 3: You should enable the "Download and Keep Originals" option.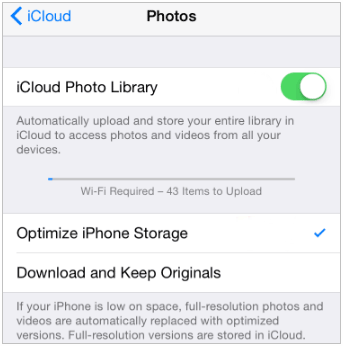 Fix 4. Back Up Your Old iPhone Device Again
If the new iPhone doesn't have enough storage for restoration, you should back up your old iPhone again. But, you only need to back up the most important files. Do not back up apps you hardly use so as to ensure the backup can be restored to your new iPhone fully.
Step 1: Navigate to the "Settings" page on the old iPhone, then click on your profile at the top.
Step 2: Choose "iCloud", and when you reach the iCloud page, drag the slider next to the apps to the off position.
Step 3: Proceed to the iCloud page, then click "iCloud Backup". From there, click on the switch beside "Back Up This iPhone", then click on "Back Up Now", and your pictures will be saved to iCloud.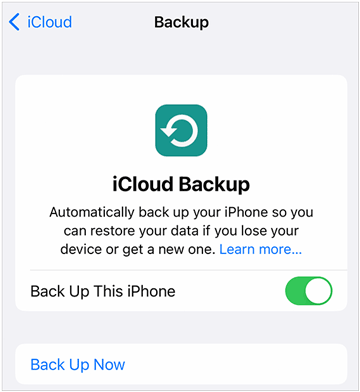 Afterward, you may now restore your new iPhone.
Fix 5. Use a Stable Internet
If your internet connection isn't stable, data transfer will surely bring transfer glitches during the process. As such, the transfer will not finish, or some photos will be missing. Thus, to resolve this problem, you need to use a stable Wi-Fi network.
Fix 6. Reset Network Settings
The network could also be the culprit as to why not all photos were transferred to the new iPhone 15/14/13/12. While many ignore this, a poor network is likely the reason why users struggle with data restoration procedures. Before migrating the files to your new iPhone, reliable internet is needed.
With slow internet, the file transfer may be interrupted many times, which could lead to the unsuccessful transfer of pictures on your new iPhone. Therefore, you should change to s good network and restore process.
Here are steps to reset the Network Settings on iPhone:
Step 1: Head to "Settings" and tap on "General".
Step 2: Tap on the "Transfer or Reset iPhone" option.
Step 3: Tap "Reset" and "Reset Network Settings". After that, transfer your photos again.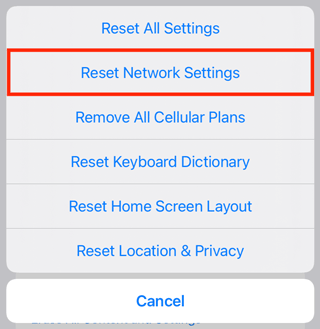 Read also: Troubleshooting iPhone Stuck on Preparing to Transfer (New Guide)
Part 3: Transfer Photos from Phone to New iPhone Fast
How can you transfer all your pictures to your new iPhone 15 or iPhone 14? In fact, you can use this Phone Data Transfer software. This tool can display all images on the interface so that you can view and select the pictures you want directly. This program not only transfers photos but also copies music, videos, contacts and more between iOS devices.
Plus, if you want to back up your photos from your iPhone to a computer, this transfer program can make it. It supports iOS and Android devices with its strong compatibility. Copying mobile data to another phone is a piece of cake.
Key features of this transfer software:
- Fast move photos from an old phone to a new iPhone.
- Transfer music, videos, messages, photos, and contacts from iPhone to computer for backup.
- Copy data from Android to iOS and vice versa with ease.
- Freely manage your data by deleting, merging, previewing, etc.
- Support most generations of iPhones, iPads, and Android devices.
Download the software on your computer.
How to copy your photos from one phone to a new iPhone:
Step 1: Download and install the software on your computer. Then, run the tool, and link both phones to the computer via USB cables.
Step 2: The tool will recognize the devices and show their information on the interface. Please tap on the dropdown list to choose the source device.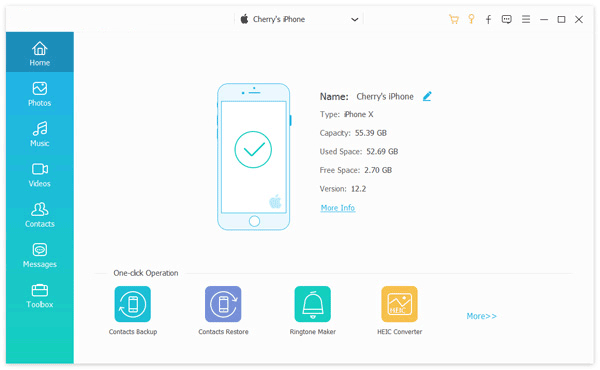 Step 3: All files in the phone will show in categories on the primary interface. Tap on "Photos" from the left panel and check the detailed information on the right.
Step 4: Hit the "Export to Device" button after selecting all the photos you want. Then choose your new iPhone. The software will copy your selected pictures to this smartphone.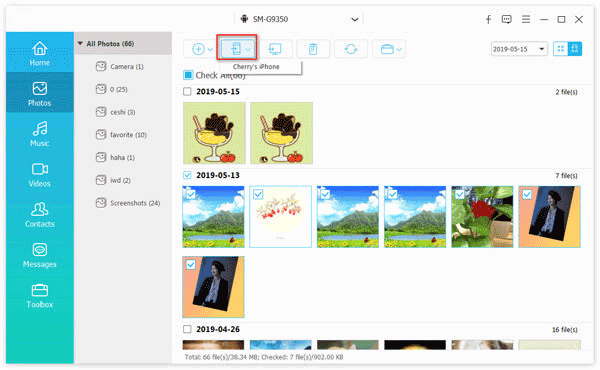 Conclusion
There is no doubt you may get frustrated when you can't transfer those precious memories you have been safely keeping on your old device to a new iPhone. However, we have extensively discussed this issue in detail with fixes to solve it like a pro without stress, regardless of the iPhone model. In addition, you can use Phone Data Transfer to move your photos to the new iPhone without trouble. Ultimately, you won't have any problem when you encounter an iPhone didn't transfer all photos issue.
Related Articles
Apps Didn't Transfer to New iPhone? Fix the Issue in 9 Pragmatic Ways
How to Transfer Notes from Android to iPhone Securely and Easily [5 Ways]
How to Transfer Files from iPhone to Android via Bluetooth - 6 Alternative Ways
How to Transfer Photos from iPhone to SD Card Easily [5 Proven Ways]
Back Up WhatsApp from iPhone to PC with 4 Easy Approaches [Updated]
How Do I Sync My iPhone to My iPad with 5 Reliable Methods?