Summary
Losing a mobile phone is unbearable because it contains all your important information like contacts, photos, documents, etc. All your contacts will be gone just like that. Honestly, it can be a stressful moment you never want to encounter ever again. Due to this, many have been asking how to recover contacts from lost Android phone. This article outlines methods to help restore back contacts from a lost or stolen Android device. Additional tips are also here on how to prevent such a scenario. Let's jump right in!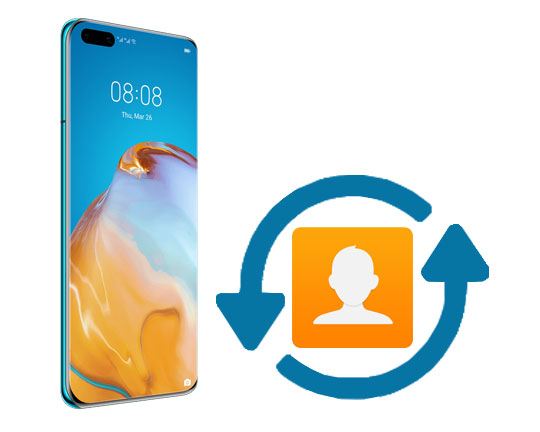 Part 1. How to Recover Contacts from Lost Android Phone with Google Account
If the lost Android phone was attached to a Google account, it is easy to recover the Android contacts. However, you must have turned on the Backup and Restore option earlier on this phone. Here are steps to follow to retrieve contacts from lost Android phone:
Step 1: On your new Android phone, go to Settings and click "Google".
Step 2: Click the "Setup & Restore" option and then "Restore Contacts" option.
Step 3: Choose a Google account that has been attached to the lost Android.
Step 4: Choose to deactivate "SIM Card" or "Device Store" if you don't want your contacts to be restored on them.
Step 5: Click the "Restore" button to complete restoring your contacts.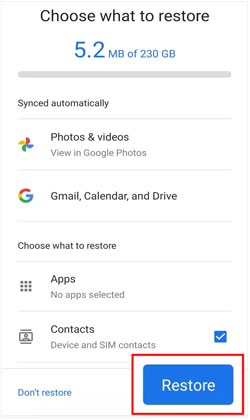 If you didn't enable the Backup and Restore feature on your lost Android phone before it got lost, then it will be impossible to recover your contacts. That's why if you don't want to experience such an incident in the future, turn on Backup and Restore now. Following are the steps to turn on backup on your Android phone.
Step 1: Go to "Setting" on your phone.
Step 2: Click "System" and then click "Backup".
Step 3: Turn on the "Back up to Google Drive" option.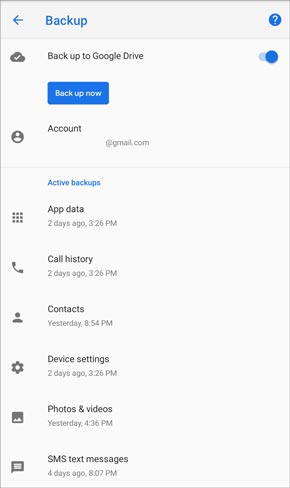 Bonus:
How to Transfer Contacts from Android to Android in 2023? [Solved]
Where Are Contacts Stored on Android? Find and Export Contacts Easily
Part 2. How to Restore Contacts from Lost Android with Samsung Cloud
If you are a Samsung user and have enabled Samsung Cloud, then you may use Samsung Cloud to restore Samsung contacts when the device is lost. Follow the following steps to recover contacts from lost phone from Samsung Cloud:
Step 1: Make sure your Samsung cloud account is linked to your Android device. Go to "settings".
Step 2: Scroll down and click "Cloud and accounts" or "Accounts," depending on the type of phone. Click "Samsung account". Enter credentials to sign in if you haven't signed in.
Step 3: Locate "Cloud and backup" or "Backup and restore" on the Samsung account settings. Search for items like "Restore data" or "Restore". Select "Address book" or "Contacts" to restore your contacts.
Step 4: If required, sign in to your Google account. Select the desired backup file from Google Drive. Then follow the instructions shown on the screen to finalize the restoration process.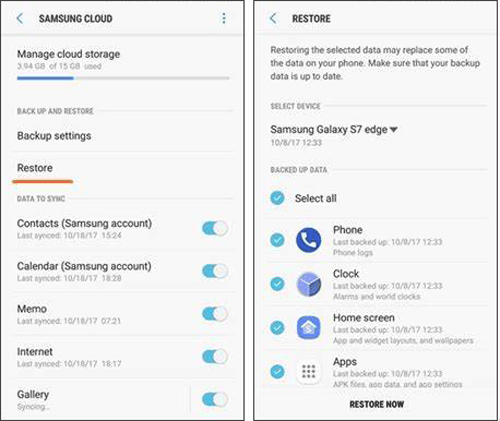 Remember, the menu and options may differ slightly depending on the Samsung software version you are using and the device model.
Read Also:
How to Retrieve Contacts from Phone with Broken Screen in 4 Ways Effortlessly
[Proven] How to Back Up Android Contacts to Mac with 3 Fast Ways
Part 3. How to Restore Lost Contacts from Android with Android Data Recovery
Though Android and iPhone have synchronization or backup functions, many people forget to back up their contacts. If something unexpected happens to your phone, you will end up losing everything, including your contacts. However, you can easily get back those deleted phone numbers with reliable and secure Android Data Recovery software, Samsung Data Recovery.
As long as new data do not overwrite the deleted contacts, this software can assist you in recovering deleted contacts. It is an easy-to-use and secure Android data recovery tool that can recover contacts from a SIM card or Android internal memory without backup. In addition to that, the software also supports recovering other data types such as messages, documents, photos, music, and videos. With only a few clicks, your deleted contacts will be recovered successfully.
Samsung Data Recovery functions perfectly with all Android brands. No matter whether you lost contacts on Google Pixel, Samsung, Motorola, LG, or HTC phone, this tool can recover your contact easily.
Key Highlights of Samsung Data Recovery:
- Recover deleted contacts from Android phone with a high success rate.
- Recover deleted files such as contacts, SMS, videos, audios, documents, call history and more from internal memory card and SD card.
- The restored contacts, call logs, and SMS can be saved to PC in XML or HTML format. This helps you to manage them easily.
- Allows you to preview lost contacts before you recover them allowing you to select the ones you require.
- Retains all information on contact lists, including phone number, name, address, job title, etc.
- Supports most brands of Android phone, like Samsung, HTC, Motorola, Nokia, OPPO, Xiaomi, Vivo and so on.
How to use this Android Data Recovery to recover lost contacts from Android phone:
Step 1: Download and install Android Data Recovery on your PC. From the toolbox, enter the "Android Recovery" module.
Step 2: Connect your phone to the computer using a USB cable. To allow your Android phone to be recognized by the program, follow the onscreen prompts. Once it is connected, hit "Next" to start scanning. You can choose the data scan mode you want.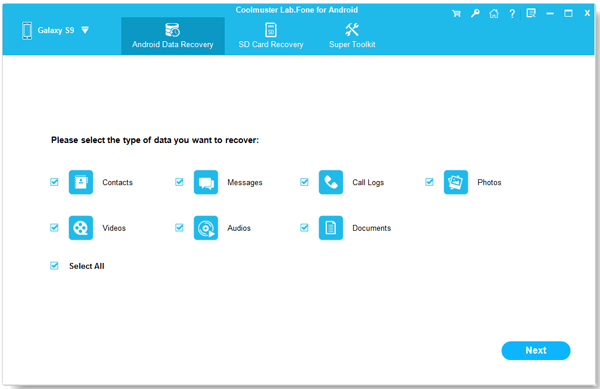 Step 3: To restore lost contacts, hit the "Contacts" tab and choose the contacts you want to restore. Click the "Recover" button to get your phone numbers back.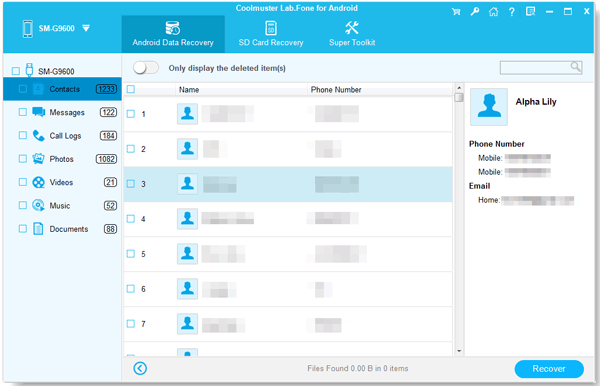 A Video Tutorial - How to Recover Deleted Contacts from Android?
If you still have problems, you can watch the video tutorial of Android Contacts Recovery.
Bonus: Backup Your Android Contacts Now to Avoid Data Loss
Prevention is better than cure. That's why it is important to back up your Android contacts to avoid frustrations later on. You don't need to back up your phone contacts manually daily on Google Contact Sync. All it takes is a one-time setup and enjoying peace of mind. What's more, you can visit contacts.google.com and access your contacts easily, even if you don't have your phone with you.
Steps to Activate Google Contact Sync on Your Phone:
Step 1: Open your phone settings.
Step 2: Click "Account Services".
Step 3: Select Google Contact sync
Step 4: Click "Also sync device contacts"
Step 5: Turn on "Automatically back up and sync device contacts''. Select your primary Google account.
To ensure that your Google Contacts syncs automatically:
Step 1: Go to your device setting and select "Accounts".
Step 2: Select your Google account and tap "Account Sync".
Step 3: Make sure that contacts are turned on.
However, contacts on your SIM are not backed up on Google automatically. But you can move them to a Google account using the import/export function.
Wrap Up
And that's it! We have revealed some incredible simple methods to help recover contacts from a lost Android phone. In just a few steps, you will get your contacts back. In case you deleted contacts from your Android, we recommend using Samsung Data Recovery to get it back. Its advanced scanning technology makes restoring any deleted contact on the device easier.
Related Articles
How to Transfer Contacts from Android to Computer in 2023? [3 Easy Ways]
How to Remove Duplicate Contacts in Android Smoothly | 5 Ways [Updated]
How to Import CSV Contacts to Android Phones [Fabulous Tips]
How to Edit Android Phone Contacts on Computer
4 Methods to Import VCF to Android Expertly: Get Contacts Onto New Phone
How to Transfer Contacts from Android to Outlook via 3 Essential Ways