Summary
If you forget to save or back up your PDF files when clearing WhatsApp chat history, you will surely lose your documents. But it doesn't mean that there is no way to regain them. You can learn how to recover deleted PDF files from WhatsApp in this article.
What's more, it has provided 5 methods to recover deleted files from WhatsApp. Whether your device is Android or iOS, you can pick a corresponding way here to recover your PDF files.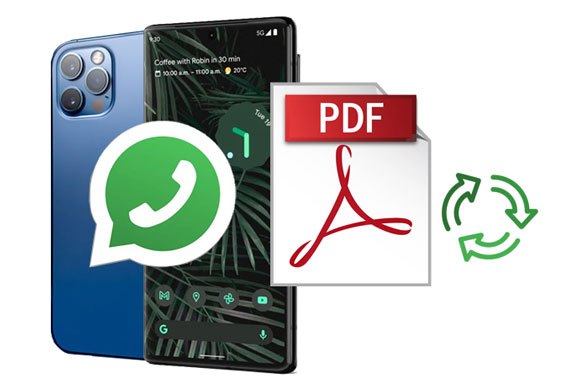 Part 1: How to Recover Deleted PDF Files from WhatsApp on Android
Android users come here! In this part, you can get 3 effective methods to get deleted files from WhatsApp on Android devices. Hope you will succeed in recovering your documents.
1.1 How to Recover Deleted PDF Files from WhatsApp via WhatsApp File Recovery
Using a professional WhatsApp file recovery program can maximize the odds of success in recovering deleted documents from WhatsApp. So, why not try this WhatsApp File Recovery software? With it, you can recover your WhatsApp files from Android phones or tablets without backup. Furthermore, you can recover your deleted files from Android internal storage and your SD card, such as contacts, SMS, photos, documents, and more.
Key features of this Android file recovery software:
- Retrieve lost WhatsApp data from Android devices, including documents, texts, images, attachments, etc.
- Support multiple document formats, like PDF, DOC, DOCX, HTML, ZIP, EXCEL, and so on.
- Support most Android devices, such as Samsung Galaxy phones and tablets, ZTE, OnePlus, Sony, HTC, OPPO, LG, Vivo, etc.
- Allow you to back up your existing and deleted files from your Android device to your computer.
Download the recovery program here.

Here's how to recover deleted documents from WhatsApp on Android via this software:
Step 1. Install the Data Recovery Software
After downloading it, please correctly install it on your PC, and launch it.
Step 2. Connect Your Android Device to PC
Use a USB cable to connect your Android device to the PC, and enable the USB debugging on the mobile device. After that, please choose the "WhatsApp" and "WhatsApp Attachments" options, and tap the "Next" icon.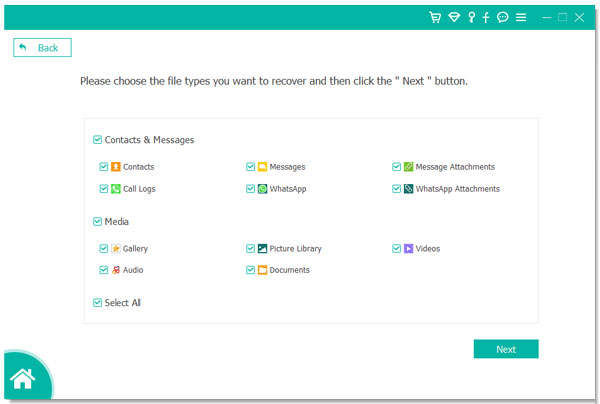 Step 3. Recover Deleted Files from WhatsApp on Android
The software will scan out your deleted and existing WhatsApp files from your Android device. Please select the documents you want to recover, and tap the "Recover" button to save them on your computer.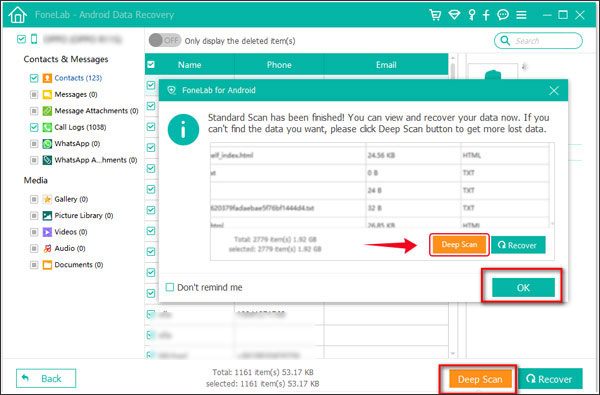 Tips: If there are no target PDF files on the interface, you can click the "Deep Scan" icon, and follow the prompts to root your device. Then you will find more deleted files from WhatsApp.
See more: How can you directly transfer WhatsApp messages between Android devices? This guide will tell you the way.
1.2 How to Get Deleted PDF from WhatsApp via Local WhatsApp Database
Another way is to check the local WhatsApp folder on your Android phone or tablet. As you know, WhatsApp will automatically save files to your phone if you have enabled the "Media auto-download" feature.
Guide on how to get deleted PDFs from WhatsApp via the local WhatsApp Database:
Step 1: Navigate to the File Manager on your Android phone, and choose the "WhatsApp" folder.
Step 2: Opt for "Databases" and check if there is your PDF file.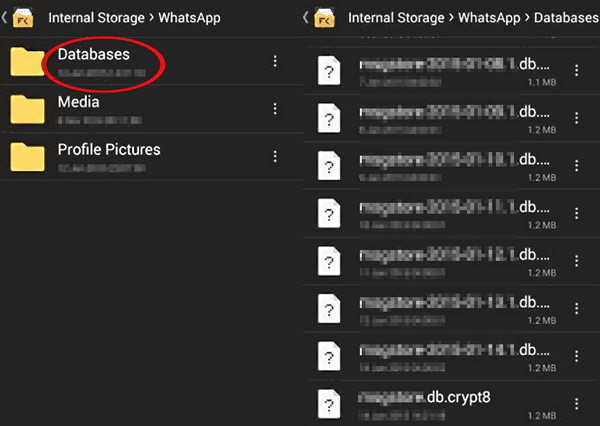 Note: If you cannot find your document in the "Databases" folder, you can open the "Media" folder and search for your file.
1.3 How to Download Deleted PDF from WhatsApp via Google Drive Backup
The third way is to download your deleted PDF files from WhatsApp using your Google Drive backup data. But please make sure you back up your WhatsApp data before deleting PDF files. Otherwise, you cannot restore the documents in this way.
Steps on how to retrieve deleted files from WhatsApp via Google Drive backup:
Step 1: Go to Google Drive to confirm that there is a WhatsApp backup file in your Google account.
Step 2: Uninstall WhatsApp on your Android gadget, and then reinstall it.
Step 3: Log in with the same phone number. When you see the "Restore backup" screen, please tap the "RESTORE" > "NEXT" icon to import the WhatsApp files to your device.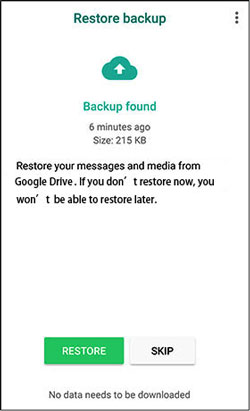 Bonus: Want to recover deleted documents on your Android phone? Then you can use these practical methods.
Part 2: How to Retrieve Deleted Files from WhatsApp on iOS
If you are an iOS user, you can retrieve your deleted WhatsApp documents on your iOS device in two ways. Let's get started.
2.1 How to Restore Deleted Files from WhatsApp via iTunes Backup
Many iOS users are accustomed to using iTunes to back up their data on iPhones/iPads. If you also complete the backup of your iOS device with iTunes, you can now restore the backup data to your device. Then you will regain your WhatsApp PDF files and other chat history data. But one thing you have to note: the restored data will overwrite your existing data on your iDevice.
Here's how to restore deleted files from WhatsApp via iTunes backup:
Step 1: Run iTunes on your computer, and connect your iPhone to the computer via a data cable.
Step 2: Once connected, click the iPhone icon at the top left, and choose the "Summary" option.
Step 3: Tap the "Restore Backup" icon to get the backup data onto your iPhone. Then your WhatsApp files will be back.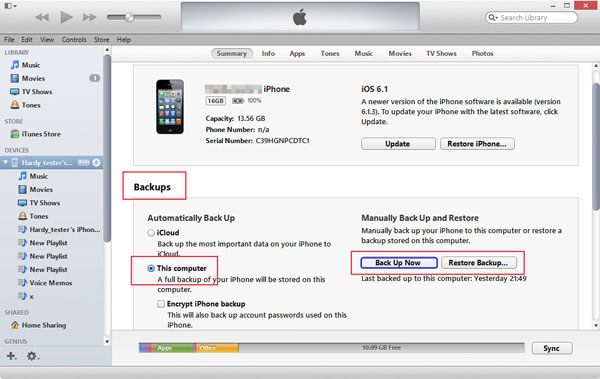 2.2 How to Recover Deleted Documents from WhatsApp via iCloud Backup
Have you backed up your WhatsApp chat history to your iCloud account? If yes, you can easily recover your deleted documents from WhatsApp with the iCloud backup. By the way, you cannot restore specific files only, so all the WhatsApp chat data will be restored at the same time.
Here's how to restore deleted documents and other data from WhatsApp on iOS via iCloud backup:
Step 1: Reinstall WhatsApp on your iOS device.
Step 2: Open WhatsApp, and enter your phone number. Then follow the on-screen instructions to go on.
Step 3: Then tap the "Restore Chat History" icon to start the recovery. After that, you will get your documents.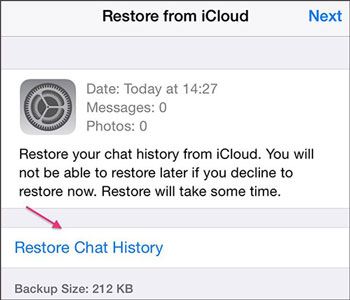 Read also: Is it possible to recover your deleted contacts on Samsung? Yes, you can follow this guide to recover them without trouble.
Bonus: Where to Find PDF Files on Android and iOS Devices
As mentioned above, you can find PDF files on Android by opening the File Manager and WhatsApp folder. Then you can find the documents in the Media or Databases folder. But it is different on iOS devices. Previously, there was no file manager on iDevices. Thus, you can only open WhatsApp, locate the PDF file, and open it with iBooks or other PDF readers.
But it is easier to find documents on iOS devices, because there is a Files app available to install. As long as you install it on your iPhone/iPad/iPod touch, you can view and access your documents with its Browse feature.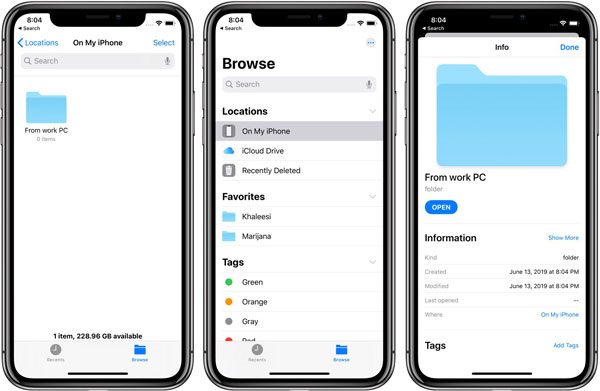 Conclusion
These five methods displayed above are useful for recovering deleted PDF files from WhatsApp. But as you see, if you don't have a backup of your WhatsApp data, what you can do is to use a WhatsApp data recovery desktop app, but it is only for Android devices. Thus, please back up important files from WhatsApp, which is the most effective way to recover your documents.
Related Articles
3 Best Sony Xperia Data Recovery Solutions to Recover Your Deleted Files
3 Ways to Recover Deleted Text Messages on Motorola or Other Android Phones
Samsung SD Card Data Recovery: Recover Data from Samsung SD Card (Latest & Proven)
How to Back Up and Restore Android Phone/Tablet on Computer? (5 Ways)
Effortlessly Transfer SIM Card Data to Computer without Data Loss
How to Transfer Photos from Mac to Android in 5 Expeditious Ways