Summary
Accidentally deleted the memorable photos on Android? Don't worry, since this post will show you 5 effective tips on the best photo recovery app for Android. Check it out and you can choose one app to recover deleted photos, although you haven't backed up them.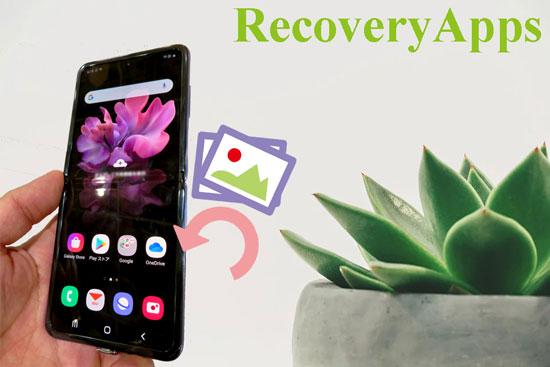 1. Best Photo Recovery App – Samsung Data Recovery
Finding the best photo recovery app in the large apps market is uneasy. But luckily, you can get the best recovery app for Android - Samsung Data Recovery in this section without spending a lot of time in searching. This software can fast dig almost all your deleted photos on Android and recover them effectively.
Main hallmarks and highlights of this photo recovery for Android:
- It can not only recover deleted photos on Android, but also contacts, call logs, text messages, and documents.
- Transfer the deleted files and existing data from Android internal storage to computer quickly, which contains 7 main data types from Android.
- Retrieve Android SD card effortlessly, including photos, videos, videos and documents without root.
- Two scanning modes you can choose to scan your Android data: Quick Scan and Deep Scan.
- Support to preview all the files on the interface before recovering.
Additionally, this Android photo recovery app is highly compatible with almost all the Android phones, such as Samsung Galaxy S21/S20/S10/S9, Samsung Note 10+/Note 10/Note 9, HTC U12 Life/U12+/U11/U19e, Sony Xperia 10/Xperia 5/Xperia 1/Xperia L4, Huawei Mate Xs/Mate 30 Pro/Mate 30/Mate 20 Pro/Mate 20, LG, Xiaomi, OnePlus, Vivo, Google, Oppo, and more.
Download the Android recovery app for free below.
Pros:
- One of the most efficient apps to recover deleted pictures and other files on the Android device.
- Back up your Android data to the computer as a powerful backup program.
- Retrieve data from Android internal storage and Android SD card.
- User-friendly interface to operate it easily.
- You can view every detailed file from Android on the interface clearly.
- Download, detect your Android and scan the Android data for free.
- Windows version and Mac version you can choose to download.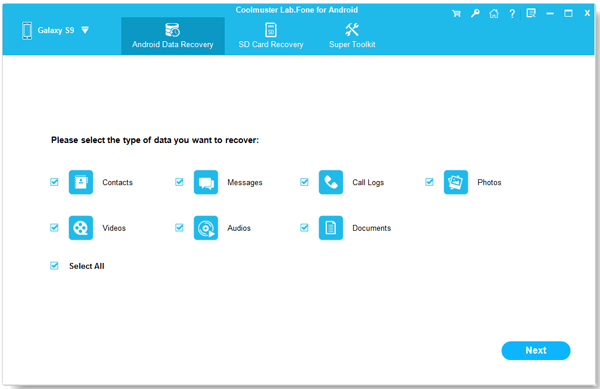 Cons:
- You can use full features after registering.
- No iOS devices are supported.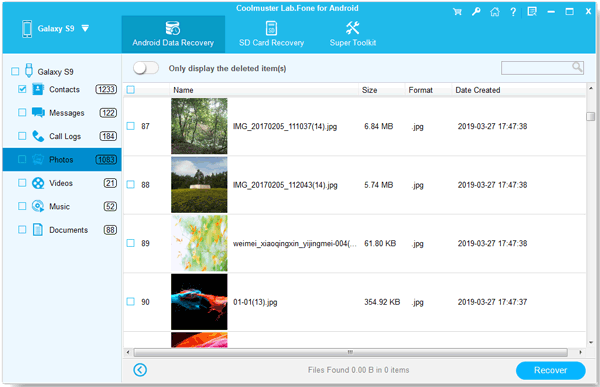 Maybe you like:
You can easily remove duplicate songs from Android devices with these methods.
Want to seamlessly copy photos from an iPhone to an HP PC? Try these 7 easy ways.
2. Useful App to Restore Deleted Photos - DiskDigger Photo Recovery
DiskDigger Photo Recovery is a powerful app to retrieve deleted photos for Android, which can scan your Android internal memory and Android memory card. When the scan is over, you can preview your photos in advance, and then choose to recover/delete them according to your requirements.
Pros:
- It can find your accidentally deleted photos on Android internal memory.
- It can recover the lost photos from the reformatted memory card.
- You can upload the photos which are recovered to Google Drive, Dropbox and so on.
- It provides you with two modes: basic scan and advanced scan.
- As the Android photo freeware, you can recover your photo with the free version.
Cons:
- It will perform a limited scan if your Android device is unrooted.
- Only the pro version can recover multiple sorts of data.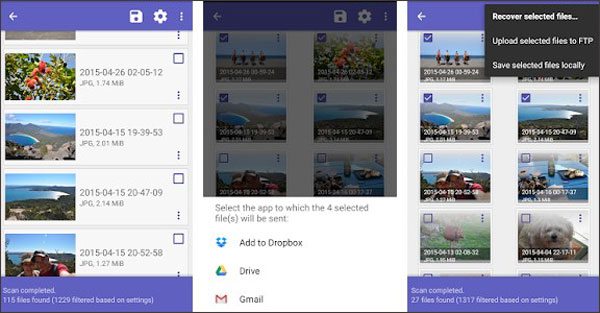 Read also:
Wonder how to recover deleted photos from SD card? Check this post out and you will get 3 practical methods.
You can share your videos between Android phones via these 7 methods. Then you will receive the videos on your target device with original quality.
3. Efficient Photo Recovery App for Android – Undeleter
Undeleter is another app to restore deleted photos on Android. It can help you scan and recover deleted files from your Android phone and Android memory card after rooted. You can recover deleted photos on Android for free with it, but you need to operate with the annoying ads at the same time.
Pros:
- Recover the photos with the different formats: JPEG, PNG, GIF, etc.
- Scan app caches for images without root.
- Support to retrieve other files on your Android phone.
- Capable of SD card and internal memory of Android.
- Provide a preview before the eventual recovery.
Cons:
- When using this app, you will see some ads on it. If you want to remove the ads, you need to buy the unlocker.
- Have the possibility that it cannot recover some photos.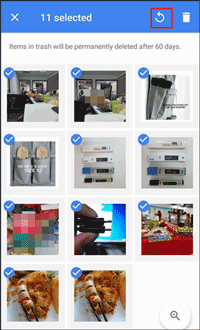 Further reading:
If you transfer photos from the Android to the Mac, you will keep your photos from losing. Here are 6 simple solutions for your inference.
Want to restore your deleted TikTok videos from your phone or computer? Then you can read this guide to get practical help.
4. Practical Photo Recovery for Android – Recuva
Recuva is a nice recover-deleted-photos Android app that you can retrieve the lost pictures breezily. As a superior file recovery, it can recover music, documents, videos, emails, and more as well. Powerfully, it can work with memory cards, USB sticks and other external hard drives.
Pros:
- Free photo recovery software for Android.
- Scan and recover the deleted photos and other files conveniently.
- Its deep scanning mode can greatly increase the chance of photo recovery.
Cons:
- The scanning process will be long if there are too many files that need scanning.
- It can't recover the deleted photos from Android internal memory.
Maybe you need: To recover deleted folder on Android, you might try many ways. Read this article, and it will tell you 3 effective approaches.
5. Powerful App to Restore Deleted Photos – DigDeep Image Recovery
DigDeep Image Recovery can restore your deleted photos on the Android internal storage and the memory card with ease. However, it is possible to lose the quality of your photos. Getting started with this photo recovery app, you will see its intuitive interface which you can easily use.
Pros:
- It can recover deleted images from your Android internal memory and the external memory like an SD card.
- Support three usual image formats: JPG, JPEG, and PNG.
- No need to root your Android device.
- Quickly and safely recover your photos.
Cons:
- Compress the photos when you retrieve them.
- Probability to make the images damaged during the recovery.
- Support to recover photos only, so it is invalid to recover music, videos, and other types of files.
Conclusion
In order to get the best photo recovery app for Android, maybe you have searched for it on the Internet for a long time. If you are reading this post, you will find it practical that it displayed the Android photo recovery apps in details, and you can make a selection among them much easier than before. Finally, To instantly recover your deleted photos from the Android device, Samsung Data Recovery is worth a try.
Related Articles
How to Transfer Photos from Google Pixel to Computer? Top 4 Ways You Need to Know
Looking for the Best Contact Recovery Software for Android? You Cannot Miss These Details
How to Recover Deleted Camera Photos from Android? (7 Proven Ways)
How to Recover Deleted Audio Files from Android Phone Effortlessly in 2023? (Latest Guide)
[Incredibly Easy] Recover Deleted Photos on Android with 3 Effective Methods
How to Recover Deleted Photos from SD Card?