Summary
Smartphones have changed our lives and how we interact with each other. Despite these advancements, voicemails remain highly important to some users and are vital now just like before. Without a doubt, this is the most efficient and easiest way to deliver voicemail messages to your relatives, coworkers, friends, etc.
However, there's always a risk of data getting deleted. Therefore if you can't bear to lose an essential voicemail, particularly one from your job or a loved one, worry not, we'll show you ways to recover deleted voicemail Android in this guide. So, let's take you through.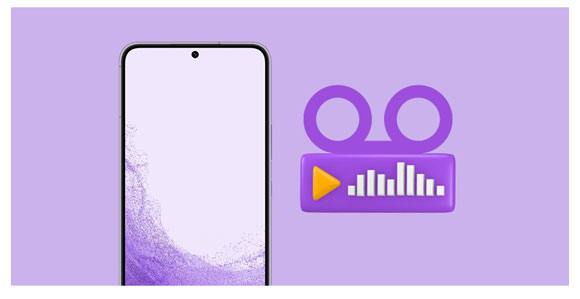 Part 1: Can you Recover Deleted Voicemails on Android?
Yes. You can recover a deleted voicemail message on an Android. After the voicemail is deleted, it's stored in the mobile's memory. Android lets users retrieve files from memory before they are deleted permanently.
After a specific period, your deleted files will be gone forever, and you won't be able to restore them from memory. But, luckily there are recovery apps available that can bring back your deleted voicemails as long as they are not gone permanently.
There are several possible reasons why your voicemail might be deleted, such as:
1. Accidental deletion.
2. Damaged device.
3. System update failure.
4. Factory resetting your phone, etc.
These are the most common factors that could lead to the loss of voicemails from Android devices. Nevertheless, you must take some steps to restore deleted Voicemail from Android. Stick to the guidelines below for an easy and successful recovery of your lost voicemails.
Part 2: How to Retrieve Deleted Voicemail on Android Phone
Different methods exist to help recover deleted voicemails on Android, some proving more effective than others. However, they all remain valuable in their ways. So let's review each approach comprehensively.
2.1 Can You Recover Deleted Voicemail on Android via Phone Application?
When you search for recovering deleted voicemail on Android on the internet, perhaps you get many pages that shows you how to recover voicemail with the Phone app of Android. But unfortunately, this way is not feasible after testing. At present, there is no "Deleted Messages" or "Deleted Voicemail" feature built-in on Android devices. All the pictures you found are iPhone's. Thus, you cannot undelete voicemail on Android with the Phone app.
By the way, you can follow these steps to undelete voicemails on an iPhone:
Step 1: Start by opening the "Phone" application on Android, then click on the three dots at the top right corner of the screen. After that, click on the "Settings" option.
Step 2: When on the following page, find "Voicemail" and click on it.
Step 3: You'll see all those voicemails you've ever deleted in the "Deleted Voicemails" section. You can manage and listen to all the voicemails as you restore them.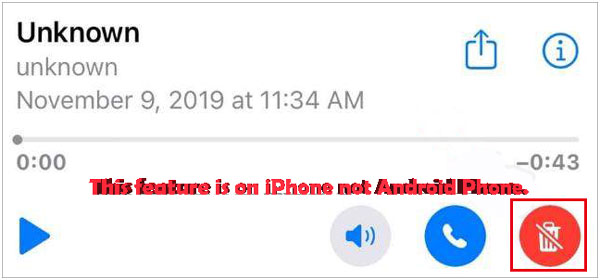 Read more: It is possible to regain your WhatsApp audio files. Don't miss this retrieval guide.
2.2 How to Retrieve Deleted Voice Messages on Android Phone via Voicemail Systems
Another effective way to recover your lost voicemails is using a voicemail system. But you will need a voicemail password, and if you do not know, you should contact your carrier to reset it. It couldn't be simpler than this when trying to retrieve deleted Verizon voicemails or any other carriers, for that matter. Here are the steps:
Step 1: Open the "Voicemail" application on the device, then dial the appropriate number; this may vary depending on the provider. Verizon users should call "*86" while AT&T, T-Mobile and Cellular One subscribers must press and hold "1".
Step 2: When prompted, key in your voicemail password. You can access saved or new messages by selecting option "1". To delete a particular voicemail, press "7".
Step 3: Select option "1" from the "Voicemail Playback" menu, and press "9" to review your deleted messages. Finally, hit "9" and save the messages.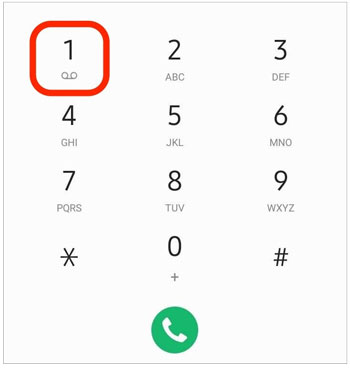 Extra Tip: How to Protect Your Voicemail on Android and iOS Devices
Why bother with the muss and fuss of recovering a deleted voicemail when you can just prevent it from happening? Here are some tips to ensure your voicemails remain safe, secure, and sound on your Android device:
1. Always Back Up Your Files. Backing up all contents of your Android is a crucial step to ensure files such as documents and even voicemails are safe and sound. Thankfully, there are multiple ways to back up information so that even if something unfortunate occurs and they get erased, you'll still restore them. It's recommended to back up the contents on Google Drive, a computer, or external devices. This will ensure that all of your files and data are secure,
2. Secure Your Voicemail Files. You can safeguard your voicemails and any other documents by setting up a password or PIN. This way, you can block access from third-party applications or users. The password should be strong such that no one can guess it. Most voicemail systems require these credentials to access messages, and adding this extra security layer is very helpful.
3. Ensure There's Always Plenty of Storage Capacity on Your Phone. Otherwise, you won't get any new voicemails. Try deleting unnecessary apps and files from your phone if you don't have sufficient storage.
Ensure that your treasured voicemails are never lost by creating a backup for the important voicemails regularly. Doing this is the only way to guarantee you will always have access to those crucial messages.
Further reading: Retrieve Deleted Voicemails from Samsung Galaxy [Helpful Tricks]
Bonus: How to Recover Deleted Android Files with Android Recovery
It can be worrisome if you encounter data loss on your Android phone. But fear not. Suppose you want a dependable way to regain lost or missing data from your Android device, Samsung Data Recovery can help. This all-in-one recovery software can bring back deleted photos, videos, call logs, messages, contacts, and more. Furthermore, it works for most Android devices, such as Samsung, OnePlus, Google, ZTE, OPPO, Sony, and more.
This amazing tool does a deep scan of the deleted files and restores them quickly. After restoring your files, you should regularly back up the important files to prevent data loss. This invaluable tool also allows you to back up and retain existing and previously lost data from your Android device to a personal computer.
Here's the steps for recovering Android files with this software:
Step 1: Run the software after installing it on the computer. Choose the "Android Recovery" option from the module. Then connect your Android device to your PC with a USB cord. From there, you must activate USB debugging and click "OK" on your phone when prompted. Once finished, a screen showing all file types supported by the tool should appear. Please select what content you want and click "Next".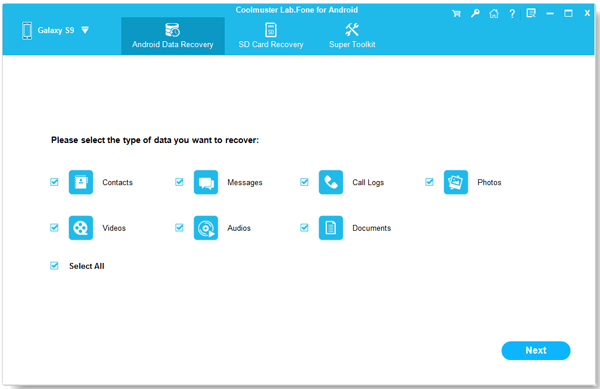 Step 2: Now, you have two mode options: Quick Scan and Deep Scan. If you want to rediscover previously deleted audio files from Android, it's advisable to go with the "Deep Scan" option.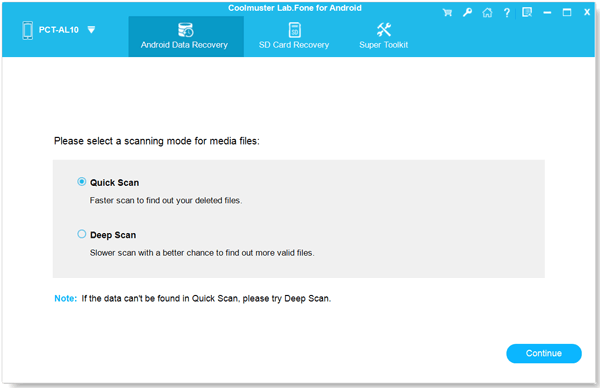 Step 3: The app will first conduct a scan to recover your lost files from your Android phone. After that is done, you can select, for example, the "Messages" tab on the left and preview. Once you have identified and chosen what you need, tap "Recover" to get back those deleted audio files saved straight onto your PC.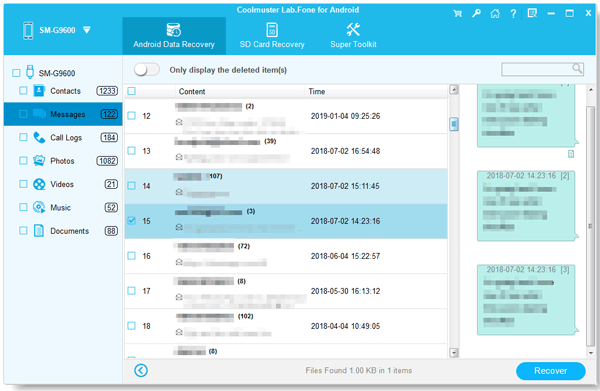 Conclusion
Voicemails are a valuable way to hear from callers who are unable to reach us through calls. However, when accidentally deleted, it can be difficult to know what was in the message without retrieving it. We have outlined great ways to recover your precious voicemails. Additionally, there is the best software to retrieve other Android files, Samsung Data Recovery, supporting recovering deleted call history, contacts, SMS, photos, and more.
Related Articles
Tricks: How to Recover Text Messages from SIM Card on Android
How to Retrieve Deleted Kik Messages on Android without Trouble
Why Does Android Crash? How Can You Fix the Issue? [Solutions Ready]
Retrieve Text Messages from Old Phone Number without Difficulty
[9 Options]Best Video Recovery App for Android: Easily Recover Android Videos
How to Transfer Videos from Android to iPad without Losing Quality