Summary
Want to change the carriers on your locked Galaxy S2? You are lucky! This article shares 4 effective solutions on how to unlock a Samsung Galaxy S2, and you will understand it's not difficult to unlock an old mobile phone. Select one way in the following, and you can save your phone with ease. Although you plan to sell your Galaxy S2, you can also get a better price after unlocking.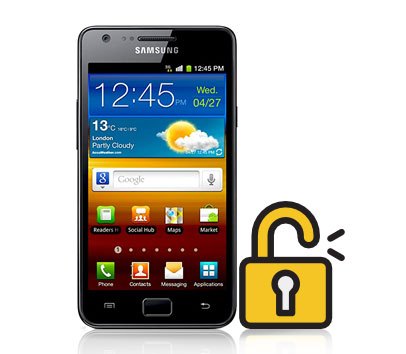 Part 1: How to Unlock a Samsung Galaxy S2 with Samsung Unlock?
This Samsung Unlock tool can help you bypass your old Galaxy S2 phone in minutes. Despite pattern, PIN, password, and fingerprints, it can remove them with simple taps. Amazingly, it can unlock the Samsung Galaxy S2 without losing data. This feature helps you a lot, right? Have a look at its key features, and you will find more surprises are waiting for you.
Key features and highlights of the Screen Unlock software:
- Support to eliminate 4 types of lock screen on Samsung.
- Bypass LG phones without wiping data.
- User-friendly interfaces will help you remove the lock easily.
- Work with many Android devices, such as Samsung Galaxy S20/S10/S9/S8/S7/S6/S5/S4/S3/S2, LG Q92 5G/Q52/Q31/Q61, Motorola Moto G 5G/Moto G9 Power/Razr 5G, OnePlus, Xiaomi, Huawei, Lenovo, and more.
Download the Samsung Unlock program for free below.

Guide on unlocking Samsung Galaxy S2 with this software:
Step 1. Download It on the PC
Please download and install the program on the Windows computer. Then launch it and choose the "Unlock" tab.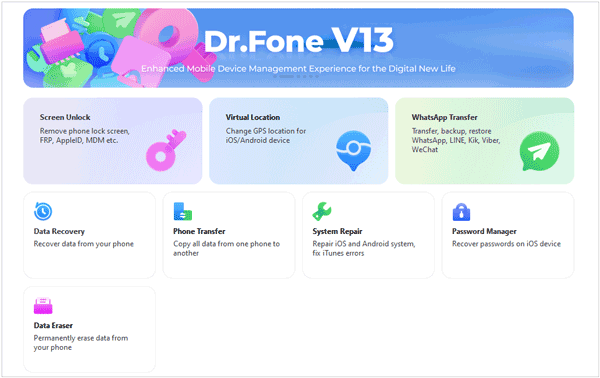 Step 2. Connect Galaxy S2 to PC
Connect the phone to the PC via a USB cable and select the device model. Once done, tap the "Next" icon and follow the on-screen guide to enter the Download Mode. It will begin downloading the recovery package.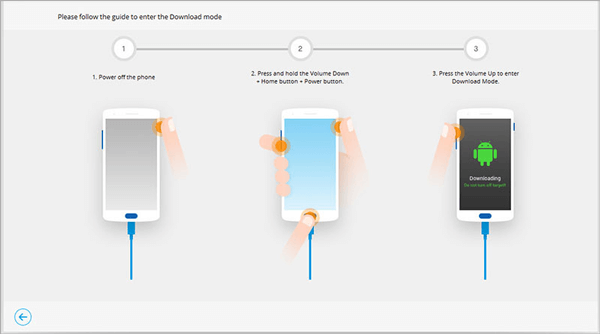 Step 3. Unlock Samsung Galaxy S2
Next, please tap the "Remove Now" button to boot the process. After finished, your phone is unlocked completely.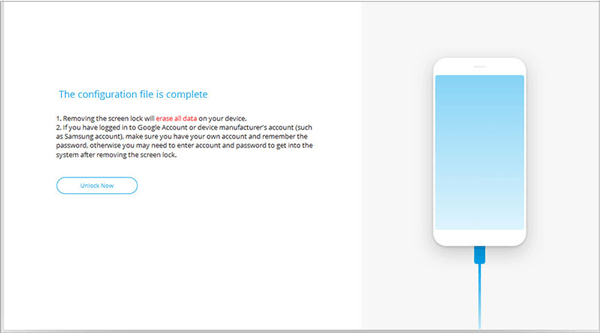 You might like: Back up your Samsung phone to the PC and you won't worry about losing data anymore.
Part 2: How to Unlock Samsung Galaxy S2 for free with Unlock Code?
Using the unlock code can unlock a Samsung Galaxy S2 as well. In this way, you need to provide your IMEI(International Mobile Equipment Identity) number of your phone. Does it sound complicated? Don't worry. You can get the detailed tutorial below to unlock your Galaxy phone.
Here's how to unlock Samsung Galaxy S2 for free with an unlock code:
Step 1. Get Your Unique IMEI Number
To get the IMEI number, please dial "*#06#" on the keypad. Write it down and you will need to use it in the next step.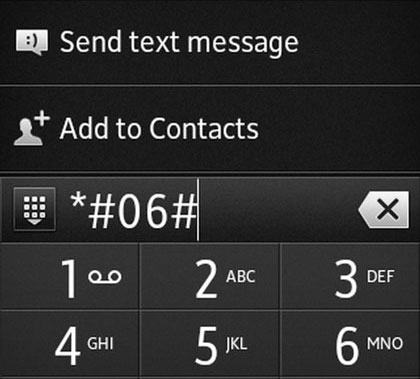 Step 2. Get Unlock Code
- If you want to obtain the unlock code from your carrier, you need to meet the requirements. First, keep a contract with them for 6 to 8 months. Second, your phone must be fully paid off for receiving the code from the carrier.
- Also, you can get the code from an online reseller. You can scour for a website that can offer the unlock code service. But be careful because there are some frauds. You can read reviews of the site. In general, the free unlock code sites are scams.
Step 3. Provide Your Phone Information
You need to provide your phone's IMEI number, phone model, network carrier, and email address. Then the website will send your code via email within 2 days.
Step 4. Insert the New SIM Card
- Turn the phone off, take out the old SIM card, and insert the new one into your Galaxy S2. Then switch it on. You're prompted to enter your unlocking code when the device tries to connect to a new network.
- Please enter the code you have received from the carrier or the online reseller onto the network coverage area. After a while, you will unlock your phone with the new network.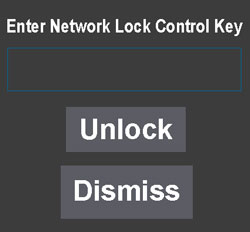 Read also: It's easy to recover deleted photos from Galaxy S7 with these 4 methods. If needed, please have a look.
Part 3: How Do I Unlock My Samsung Galaxy S2 Using Google Account?
It's beneficial to unlock old Android phones with Android OS 4.4 or lower, since you can use the "Forgot Pattern" feature on the phone. That means you can use this feature with your Google account on the Galaxy S2. However, your phone must be signed in to your Google account.
How do I unlock my Samsung Galaxy S2 via Google account:
Step 1. Enter the Unlock Pattern
Please randomly enter the unlock pattern on the lock screen five times. When it prompts you to wait for 30 seconds, please tap the "OK" option.
Step 2. Click the Forgot Pattern
As you see the "Forgot pattern" icon at the bottom, please click it and you will enter the "Account unlock" screen.
Step 3. Unlock Galaxy S2 with Your Google Account
If you have attached your phone to your Google account, please sign in with your user name and password. After that, you can enter your phone without a pattern lock.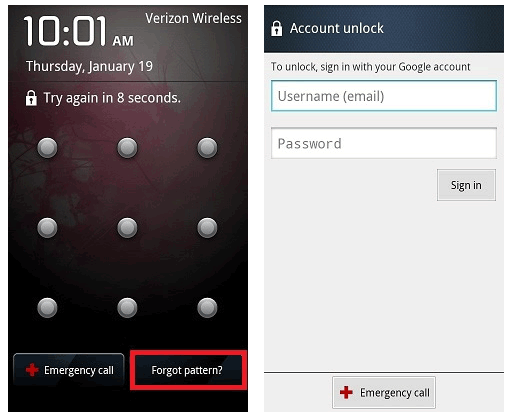 Further reading: Want to bypass the Android lock screen without the Google account? You can try these 5 ways.
Part 4: How to Unlock Samsung Galaxy 2 SIM Card with GalaxSim Unlock App?
GalaxSim Unlock app does well in unlocking Samsung Galaxy S2 and other models. You can unlock your SIM card without the unlocked code. It doesn't support LTE/4G devices yet. If you have updated your Galaxy phone OS, it cannot unlock it, either. Please note that its unlocking feature requires payment.
Steps on how to unlock Galaxy S2 with GalaxSim Unlock app:
Step 1. Install It
Install the app on your Samsung phone with the locked SIM card.
Step 2. Set It Up
Run the app and allow it to get the related data on your phone for checking your current simlock state. Then it will root and detect your Samsung S2.
Step 3. Fast Unlock Galaxy S2
Then you can back up your important files and unlock the device by tapping the "UNLOCK" button. The unlocking process will be finished a few moments later.
See also: What if you want to unlock the code on Samsung Galaxy S5? If so, please use these 5 proven ways here.
Conclusion
It is easy to unlock a Samsung Galaxy S2 with the current unlocking tools, but more importantly, you need to find a secure and practical utility. Therefore, we highly recommend you to try the Samsung Unlock program in the first part, which is the most reliable and effective unlocking tool among all mentions above. Let's download it without hesitation.
Related Articles
Wonder How to Transfer Contacts from LG to Samsung? 5 Ways You Cannot Miss
How to Transfer Music from Samsung to Samsung Rapidly (4 Approaches)
4 Easily Methods to Transfer Data from Sony to Samsung [Solved]
Samsung File Transfer for Mac - How to Transfer Samsung Files on Mac?
How to Transfer Apps from Samsung to Samsung? 7 Effective Ways for You
Samsung Tablet Data Recovery - 3 Best Ways to Recover Deleted Data on Samsung Tablet