Summary
We all use our Android devices to capture and store important information. One of the main reasons why we prefer storing data on our phones is ease of access. We can access our smartphone's data anywhere without hassle. Sometimes, your phone's screen may get broken and permanently damaged. In such cases, the phone becomes inoperable, but it is possible to achieve broken Android data recovery to retrieve your data. Refrain from fretting. There are 5 ways of extracting your data from Android devices. Let us dive into this recovery guide and regain data with ease.
Part 1: How to Recover Data from Broken Android Device (5 Ways)
Accidentally broke your smartphone's screen and wondering how to retrieve your precious data? Here are the most reliable broken Android data extraction techniques:
Method 1. How to Retrieve Data from Broken Android Phone via Android Data Extractor
You can use a phone data extractor to get your data back when the phone's screen is broken. Android Data Extractor is such an effective tool, good at fixing broken, frozen, and crashed Android phones and extracting data. Even if your phone screen turns black or broken, it can restore your data from the phone. With this tool, you can get your contacts, call logs, messages, WhatsApp data, gallery, videos, and more. Furthermore, you can preview the extracted data on the interface before saving them.
Key features of this Android data extraction tool:
- Recover data from Android devices with broken, locked, water-damaged screens, etc.
- Fix multiple Android software issues, e.g., virus attacks, black screen, etc.
- Provide customers with a 30-day money-back guarantee.
- Support various data types, including WhatsApp, call history, contacts, messages, photos, etc.
- Recover data from the Android phone's internal and external memory.
- Easily usable and safe application.
- Work for Samsung Galaxy S4/S5/S6, Note 3/4/5, and Galaxy Tab Pro 10.1.
Download this Android phone data extractor.

Recover data from a broken Android phone via this software:
Step 1: Download, install, and open the data extraction software on your Windows computer. Next, choose "Broken Android Data Extraction". Then connect the Android smartphone to the computer using a USB cord, and the software will detect the connection automatically.
Step 2: Click the "Start" button on the left side of the interface. Choose your phone model and name and hit the "Confirm" button. Follow the three prompts on the application's screen to put the device into Download Mode.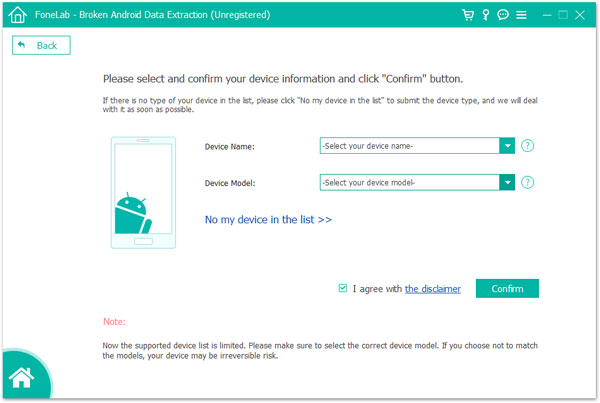 Step 3: Now click the "Start" button and wait for the software to retrieve your data. The program will begin scanning your phone's data directly from the device's internal memory. Checkmark the data you wish to extract from the broken-screen phone and hit the "Recover" button.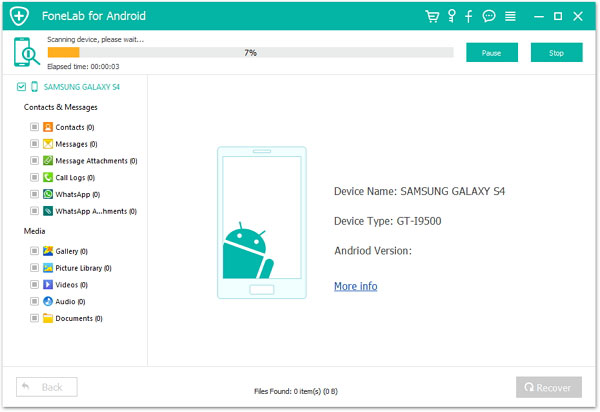 Read more: WhatsApp Backup Extractor: Top 7 Options to Extract WhatsApp Easily
Method 2. How to Recover Data from Broken Android via SD Card
Most smartphone users use SD cards to increase their devices' storage space. You can store all types of data on your Android phone's memory, including videos, music, photos, documents, etc. If you had stored most of your devices' data on the SD card, you can easily recover it by following the below simple steps:
Step 1: Power off the Android phone with a broken screen.
Step 2: Carefully remove the SD card from the device. The SD card is located next to the SIM card, behind your device's battery, or on a tray at the side of your device.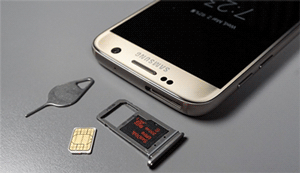 Step 3: Plug the SD card into a micro SD adaptor or another phone. Afterward, plug the micro SD adaptor into your computer's SD Card Drive or connect the phone with the SD to a computer using a USB cord.
Step 4: Navigate to your computers' drives using "File Explorer" and locate the drive containing the SD card's data. Browse the SD card files and locate the data you wish to transfer.
Step 5: Select the files you wish to recover, e.g., pictures, videos, etc., copy them, and paste them on your computer's memory location, preferably the computer's desktop.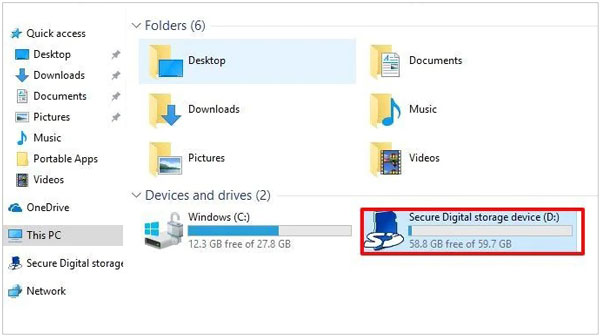 Method 3. How to Retrieve Data from Broken Android Using a USB Cord
Did you get locked out of your Android phone after its screen broke? Refrain from fretting. Using a USB cord, you can still extract and save its data on your computer. Want to know how? Follow the easy steps below:
Step 1: Link your device to the computer using a USB cord and allow the required drivers to install if it is your initial connection.
Step 2: Navigate through the computer drive using the file explorer feature or by pressing the "Window" and "E" buttons. Find your device's name, open it, and you will get all your documents, multimedia, and additional files.
Step 3: Select and copy your files from the Android phone with a broken screen and transfer them to your computer.
NB: Some Android phones will require you to unlock their screen before allowing you to create a USB connection. If you are in such a situation, try another option.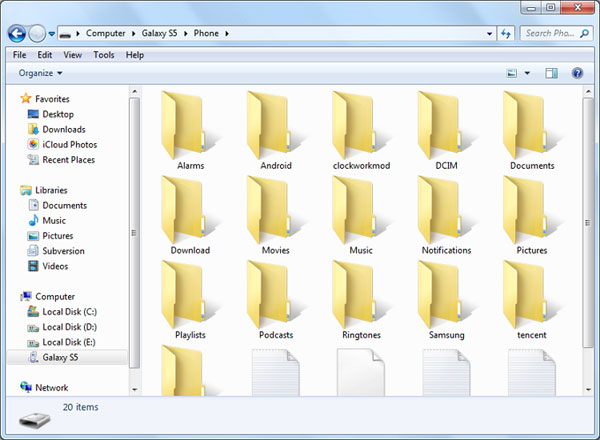 Method 4. How to Extract Data from Android Phones with Broken Screens Using a Mouse and USB Adaptor
Your Android phone screen got broken and cannot be touched? You can extract data using a mouse and an OTG cable. Did you ever imagine that you could operate an Android phone using a mouse? Thanks to technology! However, this method is quite expensive compared to other methods, as you will need to buy a special mouse and an OTG USB. Besides, you should know that not all Android devices support this method. Here is how to extract data from a broken-screen Android phone using a mouse and a USB adaptor:
Step 1: Connect a mouse to your broken phone via a USB adaptor. Then use the mouse to unlock and control your phone.
Step 2: Please go to the Settings app, and enable the cloud backup feature. Then your data will be uploaded to the cloud, like Dropbox, OneDrive, etc.
Step 3: Log in with your account on another device, and download the uploaded files directly.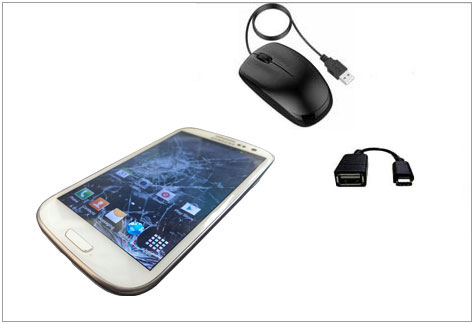 Method 5. How to Retrieve Broken Screen Android Phone's Data from Google Drive Backup
If you have backed up your phone data to Google Drive before breaking the screen, you can get your data back without a hitch because Google Drive is a cloud storage service that is platform-independent. You can use your Google Drive backup to retrieve data stored on any Android phone.
Step 1: To restore the backup data to another Android device, please turn on the mobile device, and reset it. If it is a new device that you haven't set up, you can restore the data directly.
Step 2: After that, log in with your Google account on the phone during the setup.
Step 3: Select the backup file you want on the "Choose a backup to restore" screen. Then select file types on the screen, and click "Restore".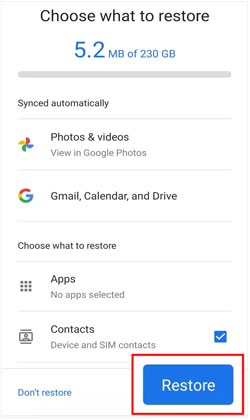 See more: Guide: How to Recover Permanently Deleted Photos from Google Photos Safely
Part 2: How to Prevent Breaking Your Smartphone's Screen
Smartphones have made our lives very convenient as they help us manage our personal and professional lives. Unfortunately, nothing is perfect in this incomplete world. Our smartphones are made of fragile screens that break easily if dropped. However, you can prevent your smartphone screens from breaking by following the tips below:
Tip 1: Protect your smartphone using a screen protector - The best way to protect your smartphone from breaking is to use an impact-resistant glass protector that is extremely durable. This protects your Android phone's screens from breaking even if dropped.
Tip 2: Protect your smartphone using a high-quality phone case - Today's first changing economy has made multitasking a way of life. As such, we find ourselves dropping our phones from time to time. Luckily, we can use high-quality phone cases to keep our smartphones safe.
Tip 3: Avoid using the phone in extreme conditions - Consider putting your device in moderate conditions. Extremely hot or cold temperatures will affect the quality of your device's screen. For example, putting your smartphone in extremely cold temperatures makes its screen more rigid and more prone to breaking.
Tip 4: Hold the phone firmly - Holding your phone firmly reduces the chances of dropping the device accidentally. Avoid holding the smartphone loosely because you may end up dropping it.
Conclusion
Using our Android devices, we carry important data, such as legal evidence, notes, videos, etc. But what will you do if you accidentally break your Android device's screen? You can use the above-discussed methods to extract data from a broken-screen Android device. Besides, you can make the data extraction process hassle-free and fun using the Android Data Extractor software. This program is easily usable, with guiding you step by step.
Related Articles
Fast Unlock Your Data: Recover Deleted Voicemail on Android Devices
Tutorial: How to Retrieve Text Messages from SIM Card on Android
Recover Deleted Photos from Private Safe on OPPO with Ease [Solved]
Android Data Recovery on Mac: A Full List with 7 Reliable Tools
Why Does Android Crash? How Can You Fix the Issue? [Solutions Ready]
Best Video Recovery App for Android: Easily Recover Android Videos