Summary
Pattern lock plays a pivotal role in our Android smartphones. It is one of the most common ways to secure our phone's data. Since its introduction, it has become a part of our lives. It's very rare to find a smartphone with no lock. Well, you can't be at ease when you have a device that doesn't have a lock. But what if you forgot the pattern lock? How to unlock the pattern lock if forgotten?
With today's busy schedules, forgetting pattern lock is very easy. But that doesn't mean you can't unlock it. In this post, we'll tell you how to unlock the Android pattern if forgotten in various ways. So, keep reading to find the perfect solution for your Android smartphone.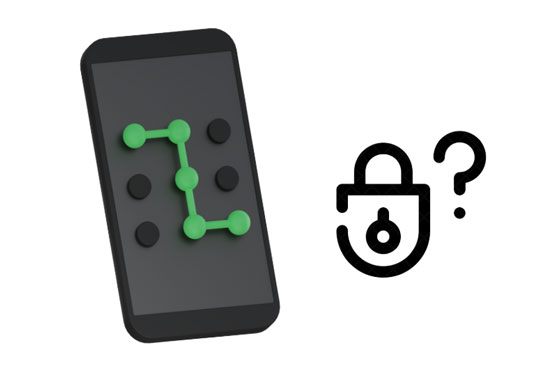 Method 1. Forgot Pattern Lock on Android? Fast Remove It with Android Screen Unlock
When you forgot your pattern lock and repeatedly entered the wrong pattern on your Android phone, your device will be locked permanently. What do you do? In such a scenario, your device will ask you to type in the Google account details. But what if you didn't register the Google account on the device? Or worse, what if you can't remember the Google account password?
This is where Android Screen Unlock comes into play. The app is very mainly made to remove Android pattern locks without data loss. It can remove four types of screen locks, including patterns, PINs, passwords, and fingerprints. In just several minutes, your device will be accessible again! Cool, right?
It doesn't matter the brand of your Android; the software is compatible with most brands and supports many Android phones and tablets. Besides, you don't have to be tech-savvy to use this tool. Simply click through the steps to bypass the screen lock. This method is the best to unlock the Android pattern lock. You can regain access to your device with less effort; you don't have to wait hours or days.
Remarkable features of this unlocking software:
- Remove the Android pattern lock without a Google account.
- Effectively remove four types of screen locks: including pattern, PIN, password, and fingerprint.
- Support most Android phones and tablets.
- It doesn't require technical skills to use.
- Unlock some Samsung and LG devices without erasing data.
Download this software to unlock your phone lock.

Now let's see how to unlock the Android phone pattern lock if forgotten via this software:
Step 1. Download the Software on Your Computer
Download the software on your computer and launch it. After that, click on the "Screen Unlock" module from its primary interface.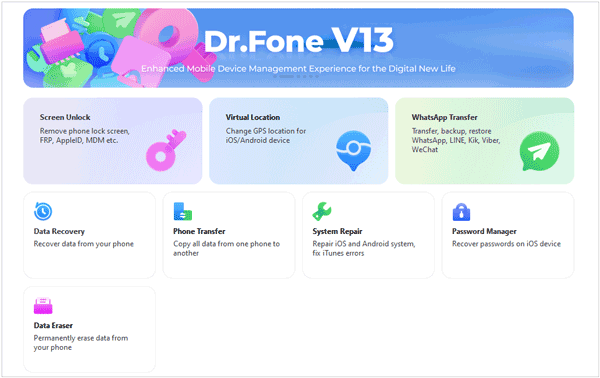 Step 2. Connect Your Android Device to the Computer
- Plug your Android into the computer via a USB cable and turn on USB debugging mode if needed. Then tap "Unlock Android Screen/FRP" and choose "100% Remove Screen Lock". If your phone is an old Sasmung or LG device, you can choose "Remove without Data Loss".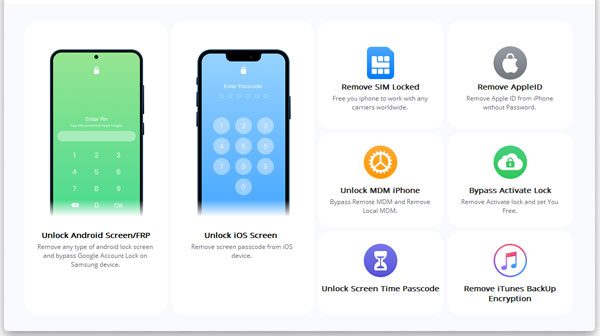 - Then choose the name, model, and other information of your Android phone and confirm them to ensure they are correct.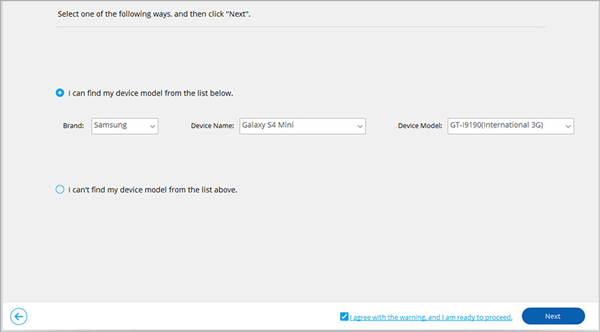 Step 3: Enter Download Mode and Remove the Pattern Lock
Please enter Download Mode according to the on-screen guide. After successfully downloading the package, the software will start removing the pattern lock. When done, the phone will restart automatically, and you'll see your device without the lock.
Bonus:
Fast Unlock Samsung Phone When You Forgot Password: 5 Useful Ways
Samsung FRP Bypass Tool - Fabulous Tips and Tricks [New]
Method 2. Forgot Android Pattern? Unlock It via Google Account
Usually, if you buy an Android device, you must set it up with a Google account to sync your data. Furthermore, setting up an Android with a Google account will allow you to use all Google services like Gmail, Maps, Drive, etc. Google account will also come in handy when you can't remember the pattern lock or when you can't access your phone. However, this feature is unavailable on devices running Android OS 5.0 and upper.
Step 1: Start by clicking on the "Forgot pattern" option on your Android screen to open it. If you can't see this option, enter the incorrect pattern as many times as possible to get that option on the screen.
Step 2: You'll be directed to a screen to choose if you wish to use a Google account or a security question to unlock the phone.
Step 3: Go with your Google account and enter Google details. You'll be asked to reset your pattern. After setting a new pattern lock, you'll now be able to access the device using the new pattern.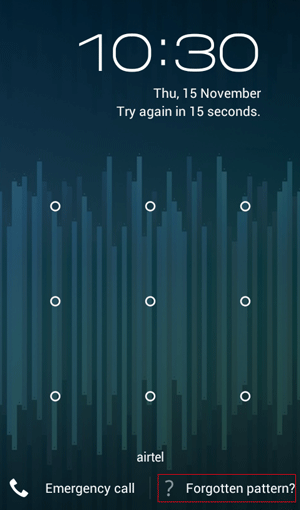 Remember, this method works only for Android 4.4 and below. If your Android runs on Android 5.0 or above, go with the below method.
Read also: With these methods, you can breezily remove the lock screen from Sony Xperia. Let's try them.
Method 3. Unlock Android Phone Pattern Lock If Forgotten Using ADB
How do you break a pattern lock when you forgot the phone pattern and the password of your Google account? In this case, you can use Android Debug Bridge. You can use this tool if you have technical knowledge since it's a little bit complicated. However, pattern lock removal via ADB requires a lot of patience as it takes time to remove the lock. Also, you have to use the Android Development kit to remove the lock.
Go with the steps below to bypass the pattern lock screen:
Step 1: Open your browser and proceed to the official site of Android Developer (https://developer.android.com/studio/command-line/adb.html) to download the ADB toolkit. Download the important packages and install them on the computer.
Step 2: Make sure USB debugging is on. If not, head to Settings, look for the "About phone" option and click on the "Build number" option 7 times to enable Developers Options on the device. Now toggle on the USB debugging feature.
Step 3: Connect the device to the computer with a USB cord. Launch Command Prompt on the computer and head to the directory where you installed the ADB.
Step 4: Input the "adb shell rm /data/system/gesture.key" command, then press the enter key. Doing this will reset the device's lock instantly. Now safely remove the phone and reboot it the normal way to access it.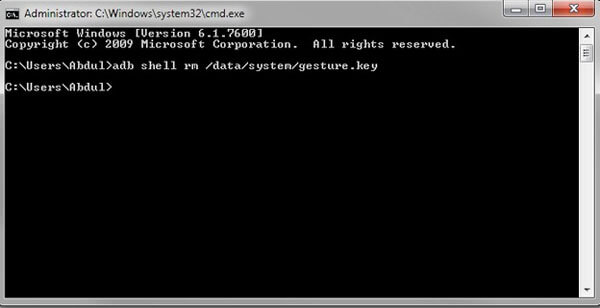 Further reading: If you want to remove your photos from your Android phone permanently, please don't miss this these effective ways.
Method 4: Unlock Pattern Lock on Android by Booting It Into Safe Mode
This is a simple, effective solution to unlocking your pattern on an Android device. But, this method will only operate for third-party lock screen applications. In short, if you are using the pattern lock on your phone from an app you installed, this method can be of great assistance. But if you're using the device's native lock, it might fail.
Here's how to unlock a phone with a pattern lock on Android:
Step 1: Press the "Power" button on the device to go to Power menu.
Step 2: Long-press "Power off", which will display a pop-up message asking you to reboot into safe mode. Click on the "OK" button to agree to the message and reboot the device in Safe Mode.
Step 3: The device will now be rebooted into Safe Mode. This will disable the third-party pattern lock automatically.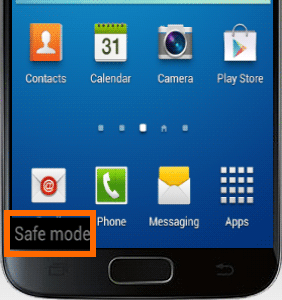 After disabling the lock and you can now access the device, head to Settings on your phone and click on "Apps" to remove the specific third-party application.
Method 5. Unlock a Phone with a Pattern Lock via Find My Mobile (For Samsung)
Want to unlock a phone lock without losing data? Find My Mobile is one of the most advanced features developed by Samsung to help find devices remotely and perform various operations on them. This free feature can help locate the phone, change the lock, wipe data, etc. However, this method will only work for Samsung devices.
To unlock the pattern lock, do this:
Step 1: Head to the Find my Mobile site using a browser and sign into your account using the right credentials.
Step 2: Choose your Samsung device from the left panel. It'll show the device by default on the map.
Step 3: To get to unlock the device section, click on the option for "Unlock" to continue. Then click on the "Unlock" tab to unlock the pattern on your Samsung phone. You'll be notified on the screen after your device has been unlocked.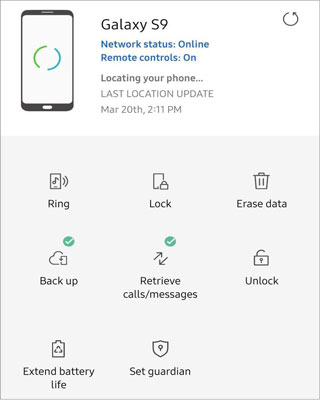 Method 6. Unlock Phone Lock via Factory Reset on Android
Factory reset is often considered one of the most effective methods to clear all information from your phone. Notably, it can fix most issues, including problems related to system software updates and other problems caused by third-party applications. So, you can use it to erase pattern lock from your Android phone, but it's not recommended as it will wipe out all of your data.
If you still want to go ahead, here are steps to unlock the pattern on Android:
Step 1: Turn off your device, and long-press the "Power" + "Volume Down" keys simultaneously until you enter the Android recovery mode.
Step 2: Use the Volume keys to go through the options. Scroll to the "Wipe data/factory reset" option and use the Power key to select it.
Step 3: Choose the "Yes" option, which depends on the phone's model, to reset the device. Once done, you can now restart the device.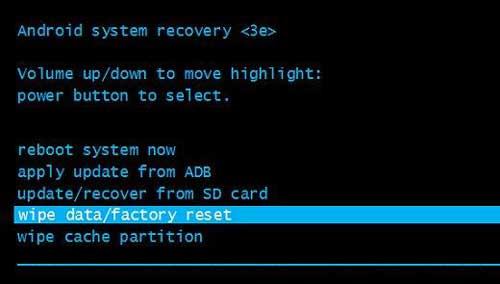 Conclusion
So, that's how to bypass the lock if you forget the pattern on your Android device. Hopefully, you will be able to remove the Android pattern lock without a hassle. The Android Screen Unlock software is reliable to unlock patterns and other types of locks on most Android devices. With it, you can remove the screen lock quickly.
Related Articles
Is Touch Screen Not Working on Samsung Phones or Tablets? Repair It Now
How to Unlock ZTE Phone Pattern without Losing Data [5 Effortless Methods]
How to Get Out of Android Recovery Mode | Ultimate Solutions
Restore Android Phone from Backup via Practical Approaches [Easy Guide]
Transfer Video from Android to Android in 7 Fast Ways [Original Quality]
How to Reset a Motorola Phone That Is Locked - 5 Useful Tricks