Summary
Getting stuck on a Gmail account verification window can be very frustrating. This happens after resetting your Samsung device, and you can't recall Google account credentials associated with the phone. Users who have encountered these unexpected scenarios understand the real pain. We understand the frustrations of being unable to get past a Google account, maybe because you purchased a secondhand device or cannot remember the login information.
Whichever the case, you should learn how to bypass a Google account on a Samsung device. This guide is all about bypassing Google account Samsung in simple and effective ways. Let's get right into it.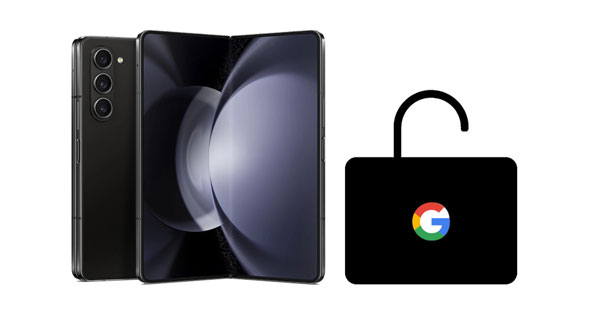 Part 1: How FRP Lock Works on Samsung Devices
FRP locks are important on Android devices. However, you should enter the correct Google account details you initially used while setting up the phone after factory resetting it. Since this feature gets activated after a factory reset, you should have the login credentials ready to get past this step.
Remember, even when you sell your phone or give it to someone, the new owner cannot remove the lock without logging in with the correct Gmail account. This means you need to contact the previous owner and ask them for Gmail login credentials.
But if you are the seller and give out your login information to someone, change it immediately, especially when the password is linked to other accounts. To avoid being locked out of your account, do not delete your Gmail account from the other device within 72 hours.
Part 2: How to Bypass Google Lock on Samsung in 4 Ways
Here, we'll go through the 4 main methods to bypass FRP lock on Samsung Android phones. These instructions will help you perform a Samsung bypass Google verification without a hitch.
Method 1. How to Bypass Google Account Verification After Reset Samsung with Google Keyboard
You can bypass your Samsung Google account using your Google keyboard. However, it is a long process with complicated steps.
Follow the steps below for FRP bypass on Samsung without a PC:
Step 1: Start by factory resetting the Samsung device and setting it up. Choose your preferred language, then connect the Samsung to a Wi-Fi connection.
Step 2: To activate the device, you must use a Gmail account. Click on the text field to show the keyboard, then long-press the "@" button to display the settings options.
Step 3: From the options, click "Keyboard Settings", click the 3 vertical dots in the top corner, and choose "Help" and "Feedback" from the list of options.
Step 4: Now, choose the option for "Use Google Keyword". Next, long-press on your phone's screen and choose text. Then click "Websearch" at the top right section of the screen.
Step 5: Tap the Settings icon and access it from there. When in the Settings menu, scroll till you reach "About phone" and click on it.
Step 6: Choose "Software information", then proceed to "Build number". Tap on it 7 times, and "Developer mode" will be activated.
Step 7: Return to your previous window and choose "Developer options". Once you are there, ensure to turn on "OEM Unlocking" by toggling the slider next to it. You can now set up the phone without any Google account information.
Maybe you like: Retrieve Photos from Samsung Cloud? Must-Know Info [Latest]
Method 2. How to Bypass Google Account on Samsung with a SIM PIN Code
Another method to bypass a Google account on Samsung without PC is by using your SIM PIN code. However, it doesn't work on all Samsung phones.
Here's how to bypass Samsung Google verifying:
Step 1: Start up a Samsung device, then connect it to an internet connection, then click on the verification screen of your Gmail account. Then click the store icon on the keyboard and choose "Go to Galaxy Store" to update the store and wait for it to finish.
Step 2: Click "Search" and locate "Samsung Internet Browser". Then update and open it. Download an app that can bypass FRP locks. Click on "Settings", then choose "Biometrics & Security". You can now choose "Other security Settings" in the security menu.
Step 3: Activate "PIN WINDOWS", and choose the "Use screen lock to unpin" option.
Step 4: Create a new PIN and start your phone again. You can now access your device without having to enter Gmail account details.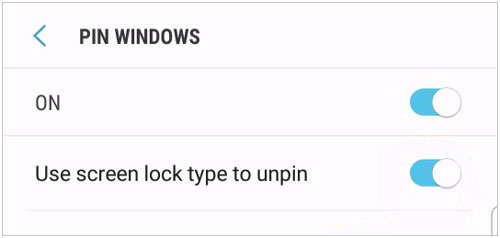 Method 3. How to Get Past Google Lock on Samsung using the SideSync App
You can also use the SideSync application to get rid of Google verification from your phone. Here, please use a computer to install the app.
Below are the steps to follow:
Step 1: Install SideSync APK and launch it on your PC, then use a USB cable to connect your phone to your PC.
Step 2: The pop-up shown below should appear on the screen. Click on "Chrome" to download the bypass app, then hit "ACCEPT & CONTINUE" > "NO, THANK YOU". Then click the "TRANSLATE" icon to go on.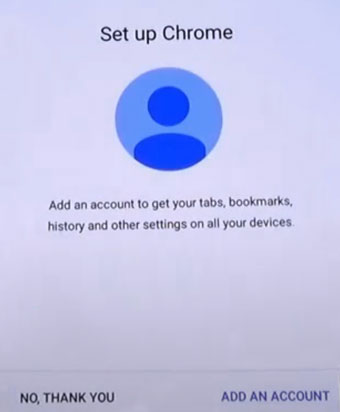 Step 3: On the URL bar, enter this: https://goo.gl/7uGVMn, and tap "Go" > "OK" to download the app on your Samsung phone.
Step 4: Click the "Back" icon to go back to the last screen, and click "OK". Next, click "AGREE". Then you will see the "SideSync Details" screen. Please click "SEARCH" to look for "ES File Explorer" and install it.
Step 5: Tap "SIGN IN" to log in with your Samsung account, or you can create one. After installing the app, open it, choose "Download" folder, tap the icon on the screen, and hit "SETTINGS".
Step 6: Enable "Unknown sources" and click "OK" > "INSTALL" > "OPEN". Then you find "Backup and reset" to reset your Samsung phone. After that, you can set up and access your device without any Google account.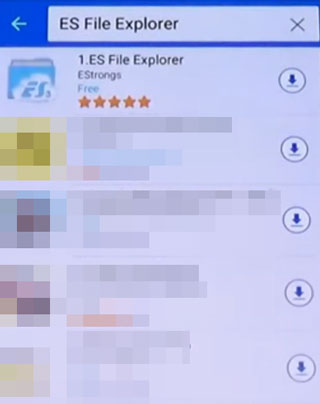 See more: Which are the most reliable FRP bypass tools for Samsung? You will need these tricks.
Method 4. How to Unlock Samsung Tablet Without Google Account [Easy]
To bypass Google verification without a hassle, you require a professional tool that can easily unlock a Samsung tablet or phone without a Google account. That is Android Unlocker. It can remove FRP locks from Samsung, Xiaomi, OPPO, Vivo, and more. Furthermore, it will guide you step by step so that there is no difficulty unlocking Google accounts. If you want to unlock your Samsung screen, this software can be helpful as well.
Key features of this Google verification bypass tool:
- Bypass FRP locks on Samsung easily; no PIN/Google Account is required.
- Support other Android brands as well, like Redmi, OPPO, Realme, etc.
- Unlock four types of lock screens on Samsung and Android devices: PINs, passwords, fingerprints, patterns, etc.
- Compatible with multiple Android OSes, from Android OS 6 to Android OS 12.
- Update supported OS regularly.
Download this Samsung FRP bypass software.

How to bypass a Google account from Samsung with simple clicks:
Step 1: Install and run the tool on your computer, and then connect the Samsung device via USB. From the toolbox, choose "Screen Unlock" to launch the program.
Step 2: Next, choose "Android" from the list of options to continue. Click on "Remove Google FRP Lock" and choose "Samsung" as your phone type.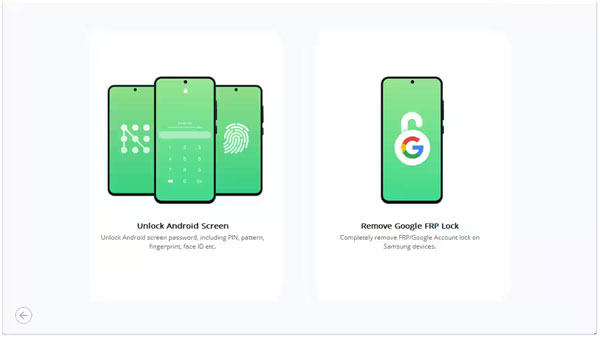 Step 3: Tap on "All Android versions (One-Click Removal)", then press the "Start" button.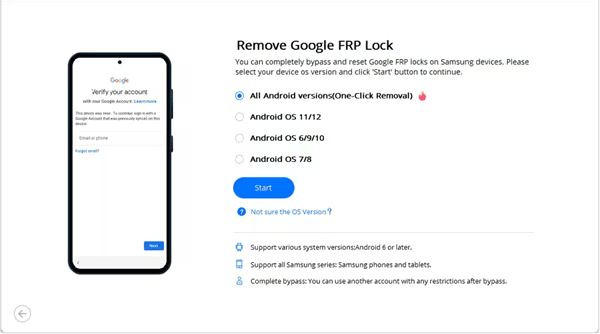 Step 4: On the next page, follow the on-screen instructions. Get to the "Emergency call" button on your Samsung device, then click on it. After that, key in "*#0*#" on the phone to access a secret menu. Tap "Next" on the PC.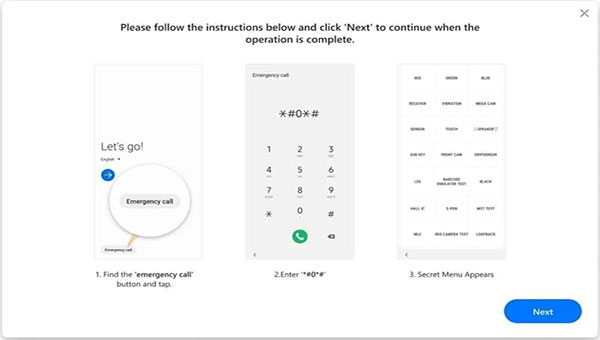 Step 5: Activate USB debugging as prompted, click "Authorized", and the FRP removal process will be initiated.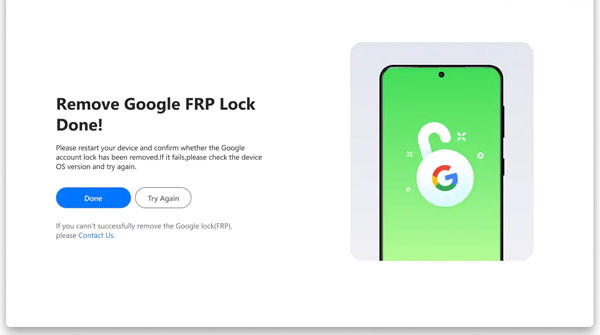 Conclusion
Though FRP lock is a significant security feature on Samsung devices, it can still land you in trouble. You must enter the correct email and password after factory resetting a Samsung device. If not, you will get stuck on the Google verification screen. However, we are always forgetful, but that doesn't mean you will get stuck on this screen forever. The world is digitized, and new ways have been introduced to help us in such cases. You don't need to sweat buckets before you can figure out how to bypass an FRP lock from your Samsung phone. This post has all the solutions you can use to remove the lock from your device.
Hopefully, Android Unlocker can bypass the FRP lock on your Samsung mobile device without any hassle. With it, you can remove locks with several easy clicks.
Related Articles
Repair Samsung Tablet Frozen Issues | A Full Tutorial with 7 Methods
Screen Mirroring on Samsung: Mirror Samsung to TV or PC
How to Transfer Contacts from Samsung to HTC Swiftly [Latest Tutorial]
Deftly Back Up WhatsApp from Samsung to iPhone with 3 Solutions [Effective]
Why Samsung Phone Hang and How to Fix It with 6 Effective Solutions
Back Up Galaxy S10/S20/S21/S22/S23 - 6 Methods on Samsung Backup and Restore