Summary
We live in an era of total reliance on digital data, where most of our vital information is stored on our digital devices. The data is extremely prone to loss attributed to factors such as data corruption by malware, accidental deletion, physical damage, etc. If this happens on your device, it can be a horrifying ordeal.
However, you can recover your lost data with a reliable Android data recovery tool such as the FonePaw Android Data Recovery application. If you want to check its performance before selecting it, read this FonePaw Android Data Recovery review. Read through to learn more.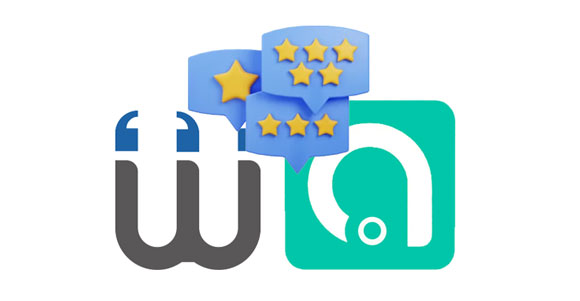 Part 1: What Is FonePaw Data Recovery? Learn About It in All Aspects
First of all, please note that FonePaw Data Recovery is different from FonePaw Android Data Recovery. Sometimes, people confuse them. The former is a piece of recovery software for computers, memory cards, USB flash drives, and other removable drives, and the latter is for many Android mobile phones and tablets. Then is FonePaw safe? Of course, FonePaw is a trustworthy brand, and the programs it contains are secure.
In this article, we'll talk about FonePaw Android Data Recovery. This software is a reliable and safe tool for recovering data from Android devices. It brings about powerful features such as the recovery of deleted files, retrieval of lost contacts, the ability to regain lost photos, etc. It supports 11+ file types, such as call logs, pictures, audio files, messages, videos, documents, WhatsApp data, etc.
Moreover, the application has an intuitive user interface that makes the user experience enjoyable and easy to operate. Is Fonepaw legit? Yes, millions of users have tested and used the application globally, and many have reviewed it positively.
1.1 Key Features of FonePaw Android Data Recovery
The FonePaw Data Recovery program has many unmatched features. Below are its main characteristics:
- Provide recovery of files inaccessible due to systems errors, accidental deletion, etc.
- Intuitive user interface with simple and clear instructions.
- Compatible with most Android devices running different Android OSes.
- Provide two data recovery modes to simplify the process.
- Provide options to preview lost data before recovering them.
- Support 6 languages, such as English, German, French, and more.
- Ability to recover various data formats.
1.2 Supported Recovery Locations
This software can recover data from 3 locations, your Android internal storage, SIM card, and SD card.
Internal memory recovery: Access the Android device's internal memory to recover data before it's lost.
SIM card recovery: Enables users to retrieve SIM card data such as contacts, messages, etc.
SD card recovery: Scans the data deleted from the SD card if there is an external memory card installed on your Android phone. But it cannot scan the SD card only.
Guess you need: Deleted SMS accidentally? Don't panic. You can recover your Android text messages by following this guide.
1.3 Scanning Modes
The FonePaw Android Data Recovery software uses different data scanning modes to scan for lost data based on the deletion level. Below are the two scanning modes:
Standard Scan: This mode is applied when users want to accomplish data recovery in quick succession or recover recently deleted files. The process takes the least time to perform the scan and recovery as the software only scans lost volumes, removable media, or specific media. Most of the data is recovered within a short time. However, this mode is not convenient if you want to recover files deleted long ago.
Deep Scan: This mode is applied when comprehensive data recovery is required and is slower than quick scans. This scanning mode improves the overall recovery success rate. This is the secondary scanning mode you should apply if the quick scan results are not favorable or comprehensive. Apply this mode when recovering deleted or lost videos, documents, images, etc., deleted long ago.
Read also: Recuva Software for Android: Useful Review and 5 Recuva Alternatives
1.4 Recover Deleted Files on Android
Does FonePaw work? Yes, it does. And you can follow the steps outlined below recover deleted files on your Android device using the FonePaw data recovery program:
Step 1. Install and Register
- Download, install, and launch the FonePaw Android Data Recovery tool on your computer. After the app launches, navigate to the three-dot icon on the top right-hand side of your application's interface, click on it, and choose "Register".
- From the window that will appear, input the email address you used when purchasing the tool and the registration code provided at the time of purchase and hit the "Register" button. Otherwise, choose the "Free Trial" option.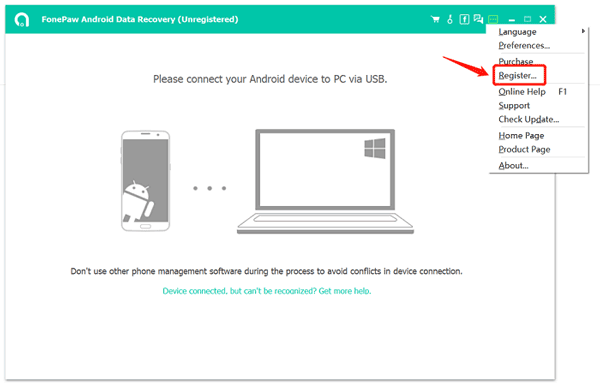 Step 2. Make a Connection
- Afterward, connect your Android phone to the computer using a USB cable and enable USB debugging on the Android device by following the on-screen prompts.
- After Enabling USB debugging successfully on your Android device, choose the file type you want to retrieve by check-marking the provided checkboxes for each file type and hit the "Next" button to proceed to the next screen.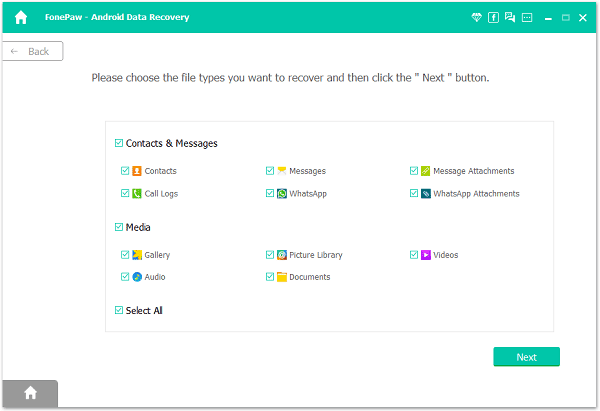 Step 3. Install the App on Android
- The FonePaw Android Data Recovery application will prompt you to install the "FonePaw" app on your Android device. Select the "Install via USB" option, turn on the "Install via USB" toggle button, and hit the "Install" button to install the app on your Android device. Once the app is installed, tap your Android device's "Allow" button.
- Then tap the "I Have Authorized" button on the application's interface. This will grant the software full privileges to access all the files on the Android device and enable the software to retrieve and recover the deleted data from your smart device.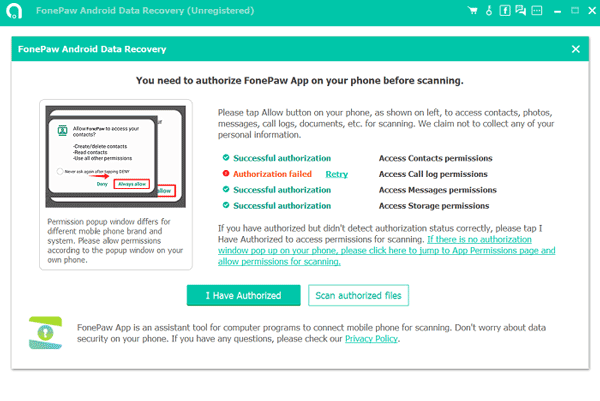 Step 4. Recover Android Data with FonePaw
- Once all the permissions have been granted, a standard scan will be started. This enables the software to find thumbnails of your device's existing and deleted files. The standard scan is more efficient and can be used without rooting your phone.
- Otherwise, you can use the deep scan mode to recover files deleted long ago. To do this, hit the "Deep Scan" button on the bottom-right-hand side of your application's interface and wait for the procedure to conclude.
- Please select the data you want to recover by checking, and click the "Recover" icon to save the data to your computer.
1.5 Pros and Cons
Below are the advantages and disadvantages of using Fonepaw Android Data Recovery:
Pros:
- Support the recovery of internal and external memory.
- Support various data types, including messages, message attachments, contacts, photos, videos, WhatsApp chats, etc.
- Support Android OS 5.0 to Android OS 12.
- Update frequently to match changing needs.
- Provide reliable lifetime support.
Cons:
- Do not recover files using their original names.
- Cannot guarantee data recovery, and fail to recover the data recently deleted at times.
- The Mac version has frequent issues.
See more: Want to know more recovery tools for Android? Here are 9 options for your reference.
Part 2: Best Alternative to FonePaw Data Recovery
From the Fonepaw review above, we notice some challenges of using the Fonepaw Android data recovery application. The application cannot simply recover data from an SD card without connecting an Android device to a computer. As a result, you may require a better Android data recovery tool.
What is the best FonePaw Data Recovery alternative? You can try this Android recovery software - Samsung Data Recovery. It lets Android users recover their deleted files from Android devices, SIM cards, and SD cards. Furthermore, it can complete the SD card recovery without using an Android phone. As long as you insert your SD card into your computer with a card reader, it can scan the data immediately.
Main features of this alternative:
- Recover deleted photos, contacts, SMS, videos, music, documents, and more from Android phones and tablets.
- Effectively recover data from SD cards without rooting.
- Have a high data success rate of data recovery.
- Allow you to choose file types before scanning, which can save you time.
- List your files one by one on the interface.
- Back up existing and deleted Android data to your computer.
- Work well for devices running Android OS 4.0 and upper, like Samsung Galaxy S23 Ultra/S23/M34/M54/F54/A24/F14/Tab A7/Tab S8 Ultra/Tab S8, Xiaomi 13 Ultra/13 Pro/13/12 Ultra/12 Pro/12/11 Ultra/11 Pro/11/10, Sony, OnePlus, ZTE, OPPO, Google, and so on.
Download this Android recovery software.
Below is how to recover deleted data on Android devices using this program:
Step 1: Installing and launching it on your computer, and select the "Android Recovery" option. Then connect your Android device to the computer via USB.
Step 2: Enable debugging mode on your Android device. Then tick off the categories you need, and tap "Next" on the interface.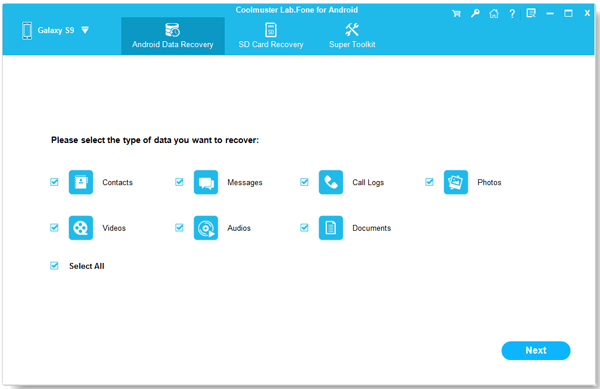 Step 3: Select a scanning mode. Then it will remind you to root your Android phone. You can skip it by tapping "Continue". But if you want a complete scanning process, click "full guide" to root your mobile device.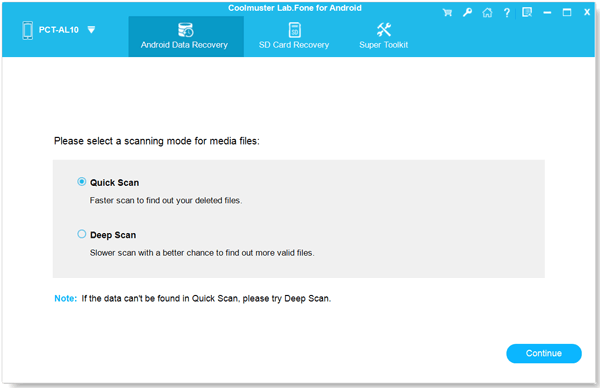 Step 4: Please check the desired files, and hit "Recover" to store them on your computer. Then the recovery is finished.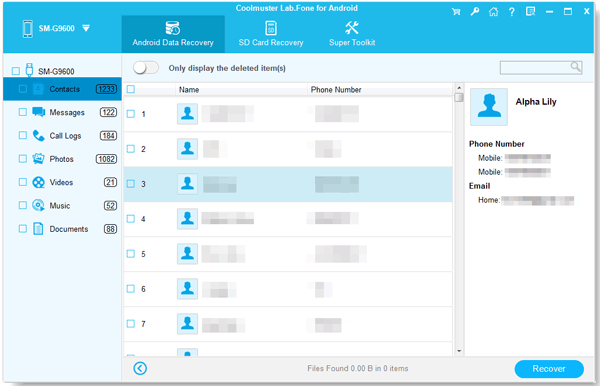 Conclusion
From the above FonePaw Android review, we can see that Fonepaw Android Data Recovery provides a useful way of recovering deleted Android data, but it has some disadvantages. To avoid facing those drawbacks, you can use Samsung Data Recovery as an alternative tool, especially when you intend to recover your data from an SD card without using an Android phone. Also, this software can find more deleted contacts and other files.
Related Articles
Jihosoft Android Phone Recovery Review: Is It Worth a Try? (Comprehensive)
Discover Secret: How to Recover Photos from Lost Phone Without Backup
Resurrection: How to Recover Samsung Notes Effortlessly
Unlock Your Data: How to Recover Deleted Voicemail on Android Devices
Android Data Recovery on Mac: A Full List with 7 Reliable Tools
How to Retrieve Deleted Kik Messages on Android without Trouble