Summary
Samsung Notes is a powerful app for Galaxy phones that allows users to create notes containing text, pictures, music, and voice notes. The app has great features that allow making notes and memos very easy. While enjoying the convenience offered by Samsung Notes, you may encounter situations where you accidentally delete or lose important notes due to water damage, a factory reset, or something unexpected. If you have no idea how to recover Samsung notes, don't worry, we will show you effective recovery methods.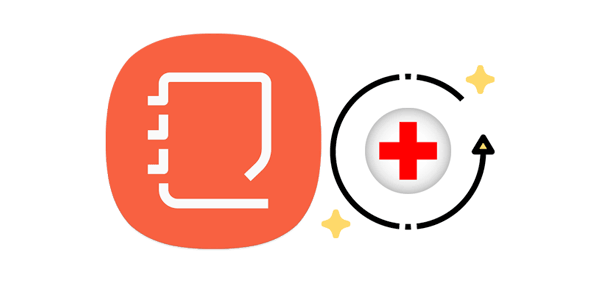 Part 1: FAQs on How to Recover Samsung Notes
Q1. Can Samsung Support help you recover notes deleted several years ago?
It depends on the time that has passed since the deletion and the number of deleted notes. However, Samsung Support can guide you on how you can recover your data.
Q2. If I uninstall Samsung Notes on my phone, will I lose everything?
Uninstalling the Samsung Notes app on your phone will not result in losing all your notes unless you haven't backed them up with a Samsung account or saved them to your phone's internal storage.
Q3. Can I recover Samsung notes without a backup?
Recovering Samsung Notes without a backup can be challenging. However, when you delete the notes, they are temporarily saved in the Samsung Notes trash folder. Check the trash folder and see whether you can find them.
Part 2: How to Restore Samsung Notes Without Backup from Trash Folder
When you delete notes on your Samsung device, they are stored in the trash for either 30 days or 15 days before being permanently deleted. This is very useful, especially if you accidentally delete your files and want to recover them instantly.
Here's how to retrieve Samsung notes from the trash folder:
Step 1: On your Samsung Phone, open the Samsung Notes application.
Step 2: Click the "Menu" icon like a hamburger, and choose the "Trash" option.
Step 3: Here, you will see deleted Samsung notes and time left before they are deleted forever.
Step 4: Pick the notes you want to recover and click "Restore". The deleted notes or memos will now be moved to the Samsung Notes app.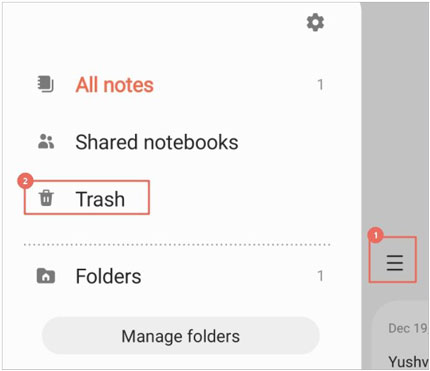 Read also: Want a tool to manage your Samsung files without difficulty? Why not try these 4 methods?
Part 3: How to Get Samsung Notes Back via Samsung Cloud
Samsung notes disappeared after you had reset your Samsung device? You can recover them using Samsung Cloud. Samsung users have the advantage of utilizing Samsung Cloud to securely back up various types of data, such as videos, photos, documents, notes, contacts, and more. This feature enables them to restore their data in case of a factory reset or accidental deletion.
The process of recovering Samsung notes is very simple. You can easily restore deleted Samsung notes as long as you have previously synchronized your phone with Samsung Cloud.
The following steps will help restore Samsung notes deleted after the update from Samsung Cloud:
Step 1: Launch the Samsung Notes app on your phone and click the "Menu" icon. From the menu, select "Gear". Please verify if you have enabled the "Sync with Samsung Cloud" feature.
Step 2: Now return to your phone's home screen and press and hold the icon for Samsung Notes. You will see a pop-up menu; select "Uninstall".
Step 3: Download and install Samsung Notes from Google Play Store. Launch the app and grant all permissions.
Step 4: To access the Samsung Notes settings page, select the "Settings" option when you see a notification asking you to enable synchronization with Samsung Cloud settings. Select "Sync with Samsung Cloud" and tap "Allow". Then activate "Samsung Notes sync".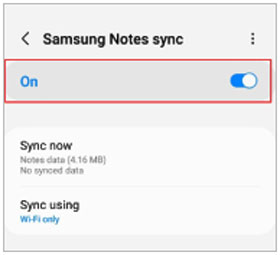 Wait for a while for Samsung Cloud to synchronize and restore your notes. Once the process is complete, you can get all the notes deleted in the Samsung Notes app.
Further reading: Read Text Messages Online for iPhone and Android [Hassle-free Guide]
Part 4: How to Recover Permanently Deleted Samsung Notes from Google Drive
Many people use Google Drive to manage their data. If you use Google Drive to back up your data, you can easily restore your deleted Samsung notes to your phone. However, you must factory reset your Samsung phone before restoring the Google Drive backup. This will delete all your data on your phone. So, it is recommended to back up your data before starting.
Restore deleted Samsung notes with your backup on Google Drive:
Step 1: Go to your phone's settings and click the "General management" option. Then click "Reset" and tap "Factory data reset".
Step 2: Set up your phone and log in using your Google account. You will be prompted to recover a backup. Select "Restore from Google Backup". Then tap "Restore".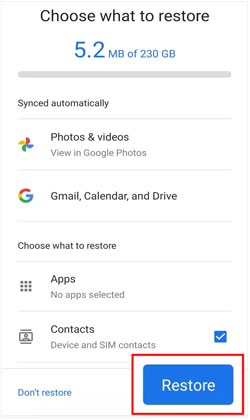 Learn more: How to Transfer Notes from Android to iPhone Securely and Easily [5 Ways]
Part 5: How to Restore Samsung Notes by Contacting Samsung Support
As stated earlier, you can seek assistance from the customer support team to aid you in recovering the deleted notes. They have specialized techniques and tools that may help you restore your Samsung Notes. While it is impossible to recover every deleted note, Samsung Support can help you determine whether the deleted notes are retrievable. Although this method can be time-consuming, it can help you recover your data.
Bonus: Use Professional Recovery Software to Recover Deleted Samsung Files
Maybe you want a comprehensive recovery program to get your deleted Samsung files back. If so, you can utilize Samsung Data Recovery. This software can recover deleted photos, documents, contacts, SMS, and more from most Android phones and tablets.
Also, it has an SD card Recovery mode, allowing you to restore your deleted files from your micro SD card without root. You can preview and select your deleted files before recovering them on the interface, which is convenient for you.
In addition, this tool is compatible with all Android tablets and phones. You can use it on most Android devices running Android OS 4.0 and above. Furthermore, it ensures the utmost security and reliable data recovery for Android devices keeping the recovered data original, unmodified, and non-damaged.
Conclusion
Recovering deleted notes from your Samsung phone is possible, and numerous methods can help recover your data. You can check your data from the Samsung Notes app recycle bin, recover it from Samsung's cloud service, or contact Samsung Support. To avoid data loss, there are actions that you can take, such as backing up your data frequently and checking what is in your recycle bin before you delete your notes permanently. Following these steps will minimize the likelihood of losing important data and recover it in case of loss.
If you accidentally deleted your other data, like contacts, text messages, and more, in your phone, we recommend you use Samsung Data Recovery. It is a reliable and legitimate data recovery tool that will enable you to recover your deleted files from internal and external storage.
Related Articles
How to Transfer Contacts from Samsung to LG with 4 Ways [You Can't Miss]
Samsung Notes Backup: Save Samsung Notes with 5 Useful Methods
How to Unlock Samsung Tablet without Losing Data [Updated & Solved]
Deftly Transfer Data from Samsung to Sony Xperia Like A Pro [4 Dependable Ways]
Fixed: Why Samsung Cloud Backup Failed? And How to Fix It without Hassle?
[Proven] 4 Helpful Tips on Samsung Kies for Windows 10/11