Summary
"I forgot my Android password! I purchased this Android phone several days ago, and I was going to turn on the lock screen this morning. But now I cannot remember it. What is my password for my phone? Is there a possibility to unlock my phone when I forgot the Android PIN?"
Screen lock helps us a lot because we want to secure personal information, important files, and other data on our Android devices. It is reliable and convenient, right? However, it would be a stumbling block to access an Android phone if you forgot Android PIN. It's like you arrive home but cannot open the door.
So, what can you do if you forget the Android PIN, pattern, passcode, etc.? Luckily, we have found 5 useful solutions. You can utilize them to find your phone's "key" to get into it without effort.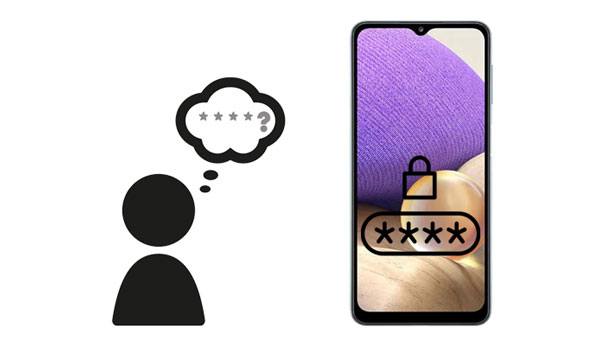 Part 1: How to Remove Lock Forgot Android PIN (Support Most Android Devices)
Old Android OSes are quietly different from new ones. For example, the latest Android 12 is surely safer than Android 11. Some old features are gone, and more powerful features are added. Anyway, the ways in this part can remove locks on most Android operating systems, although you have forgotten the Android lock screen password.
1.1 Use Android Screen Unlock When You Forgot Android PIN/Password/Pattern
Android Screen Unlock is a desktop application to help every user to unlock their Android phones even if they forget their password. There is no skill in operation, so that you can unlock your Android device with a few clicks. Powerfully, it is good at removing PIN, password, passcode, fingerprint, and pattern.
Notice, this software will bypass the lock screen by erasing all data on your Android phone unless your phone is Samsung or LG.
Highlights of this Android unlocking software:
- Remove Android locks without using a Google account.
- Fast recognize your Android device via a USB connection.
- Support many Android devices, such as Samsung Galaxy S22/S21/S20/S10/S9/S8, LG V60/V50/V40/G8/G7/G6, OnePlus, Motorola, Google, ZTE, Xiaomi, and more.
- Work for different lock types on most Android OS, including the latest Android 12.
Download this software below.

How to unlock an Android phone if you forgot PIN using this software:
Step 1. Launch the Unlocking Software
After downloading this software, please install and launch it on your PC, and click the "Screen Unlock" feature.
Step 2. Connect the Locked Phone to the PC
- Please connect your Android phone to the PC via a data cable, and click the "Unlock Android Screen" option.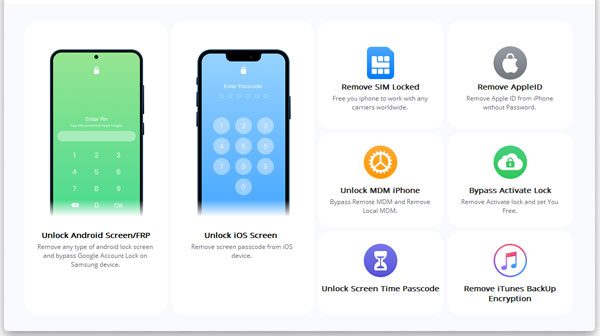 - Next, select the model of your locked phone on the list.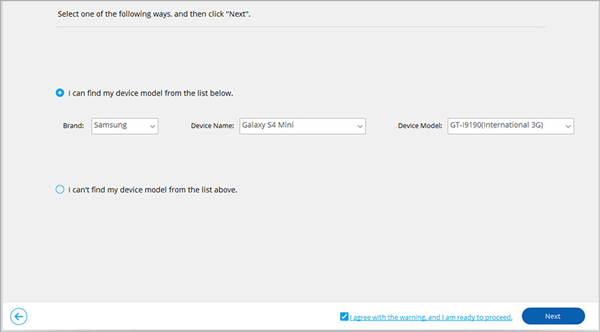 Step 3. Enter Download Mode to Unlock the Android without PIN
- Follow the guide on the interface to get your locked phone into the Download Mode.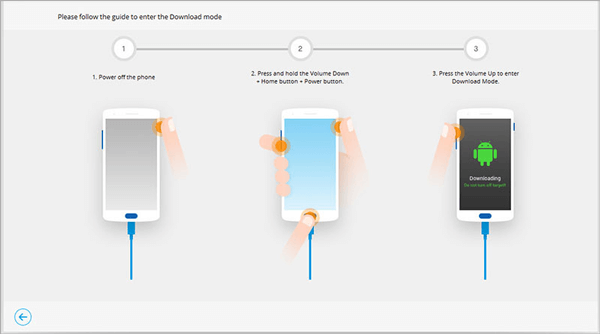 - When it displays "Ready to remove the screen lock", you can tap the "Remove Now" icon to unlock your phone.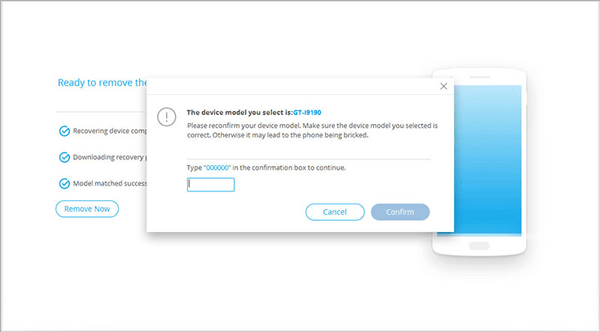 See also: You can unlock an Android tablet as easily as an Android phone.
1.2 Erase Lock Settings with Find My Device If You Forgot Lock Screen Password
Find My Device is made by Google, and it is for Android devices. You can use it to erase all settings and data from a locked and lost Android phone. But there are some conditions you have to meet.
First, please make sure you have added your Google account to your phone and turned on the My Find Device feature. Second, it requires you to connect your phone to an available network. Third, have the Location feature switched on.
Here's how to reset Android phone password via Find My Device:
Step 1. Open the Website
Please visit Find My Device on a computer, and sign in with your Google account used on the locked Android phone.
Step 2. Select Your Android Phone
If you have used this account on several devices, please select your locked device on the list. Then tap "ERASE DEVICE".
Step 3. Erase Android Lock Screen When Forgotten
It will ask you to sign in to your Google account again. To remove the password, please tap the "Erase" icon to start the procedure.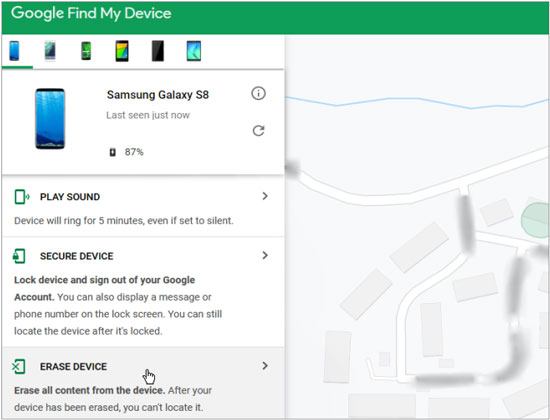 Tips: If you are a Samsung user, you can use Samsung Find My Mobile to unlock your smartphone. Besides, you can get more information to unlock a Samsung phone without a password.
1.3 Factory Reset Your Phone If You Forgot Android Passcode
If you don't mind a slightly complicated approach, you can directly factory reset your Android phone to remove the lock screen. But please note that it will also delete all information on your phone. Before starting it, please charge your phone at least 50% battery.
Guide on how to open a PIN locked phone via factory reset:
Step 1. Turn Off the Android Phone
Please press the "Power" button to switch off your locked Android handset.
Step 2. Enter the Recovery Mode
Tap and hold the "Power" and "Volume Up" buttons for a while till you see something shows up on the screen.
Step 3. Wipe the Lock Screen from Android
- Choose the "Wipe data/factory reset" option using volume keys, and hit the "Power" key for confirmation. If needed, you will need to select the "Yes" option to ensure your action. Then it will start resetting your device.
- After it is over, you will access your phone without a PIN.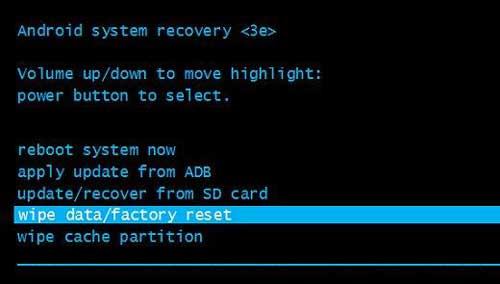 Bonus: Want to connect an Android phone to a PC using Wi-Fi? Here are 5 reliable ways for the connection.
Part 2: How to Unlock Android Phone If Forgot PIN (for Android 4.4 and Lower)
Forgot the password on your old Android phone? Alright, you can unlock those old gadgets in two easy ways. In general, the devices running Android 4.4 and lower have the "Forgot Pattern" feature, which is useful if you forget your pattern or PIN. Also, the backup PIN helps unlock a phone.
2.1 Use Backup PIN to Open a Locked Android Phone
Perhaps you have set a backup PIN on your old Android phone? If so, you can use it to unlock your phone though you didn't remember the unlocking PIN.
Here's how to unlock a PIN locked phone via the backup PIN:
Step 1. Click the Backup PIN Feature
Turn on your Android smartphone, and you will see the "BACKUP PIN" icon at the bottom of the lock screen.
Step 2. Type the Backup PIN and Reset Your Lock PIN
- Please input the backup PIN and click the "Continue" icon. Then it will prompt you to set a new PIN for your Android handset.
- Once done, you can use the new PIN to unlock your device.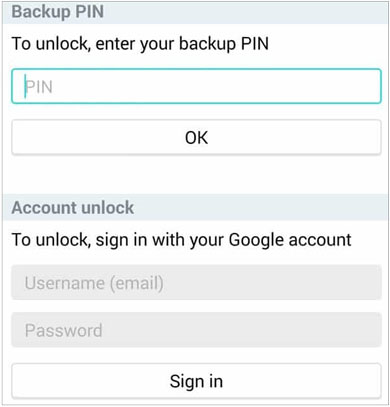 Read more: With this guide, you will find it simple to sync your Android music.
2.2 Utilize Forgot Pattern to Reset Android Phone Password
There is a "Forgot Pattern" feature on those Android phones running Android 4.4 and older. This feature can help you unlock your phone via your Gmail account, and it will not erase your data. But if you haven't signed in with your Gmail account on your cell phone, it cannot work.
Tutorial on how to change Android password when forgotten:
Step 1. Click the Forgot Pattern/Password Feature
Switch on your Android phone, and type a random pattern or password multiple times. As the "Forgot pattern/password" feature appears, please click it.
Step 2. Input Your Gmail Account and Password
Please enter your GmailS address and password, and click the "Sign In" icon.
Step 3. Change Your Password
You will receive an email to reset your phone's password. Follow the instructions to set a new passcode for your Android phone. Then you can unlock it with the new passcode.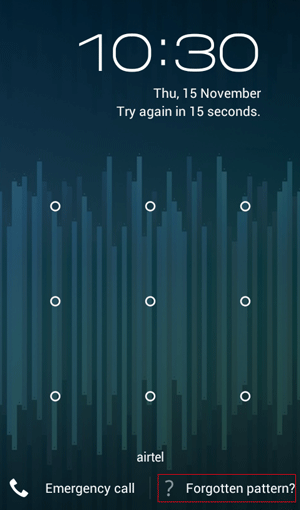 Conclusion
It's not a big deal when you forget your Android PIN. It's true. But you will lose your data on the locked phone if you haven't backed them up, because there are still some restrictions to unlock an Android phone. Of course, the Android Screen Unlock program is the most practical tool among these methods. It can remove any lock on most Android phones. You can try it after downloading it.
Related Articles
Jihosoft Android Phone Recovery Review: Is It Worth a Try? (Comprehensive)
How to Transfer Photos from Mac to Android in 5 Expeditious Ways
[Best Guide]How to Delete Photos from Android Phone Permanently in 4 Ways
Where Are Contacts Stored on Android? Find and Export Contacts Easily
How to Transfer Data from Android to iPhone 12/12 Pro/11/11 Pro Max (Easiest)
My Text Messages Disappeared on My Android - Find the Cause and Fix It