Summary
The Android operating system enables you to easily fake your GPS location through the settings just by activating the Developer Options. However, for iOS users, it's not that easy. Sometimes back, you could only enable the mock location by jailbreaking the device, which many users were against. It's widely known that jailbreaking your phone voids the warranty and can leave it vulnerable to malicious attacks. Additionally, jailbreaking is no longer as simple as before; it requires serious technical capabilities.
That's where MockGo comes into play. It is a remarkable app that enables you to spoof your location on all iOS devices without jailbreaking. You might wonder why somebody would want to fake their device's location. Well, geo-restriction is at the peak of the list. Some applications can't be fooled by VPNs only. They have additional measures, such as GPS tracking, to pinpoint your location.
Continue reading this post to learn all the ins and outs of MockGo. Discover how you can use it safely, if it's worth your time, and other key details that will help you make an informed decision.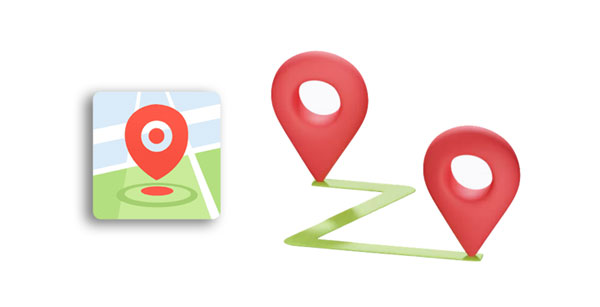 Part 1: What to Know About MockGo
1.1 What's MockGo?
MockGo, similar to Golang Mockgen, is a program that allows anyone to change their iPhone location without jailbreaking. The software lets you choose from various speeds while driving or even cycling, so you won't be in the same place you were previously.
Augmented Reality games are quickly gaining popularity, yet there's something distinctively missing from experience. You don't feel like you when playing the games, even if it is your gaming avatar. This free iPhone spoofer allows users to modify their movement with different modes, including walking speed and pause on GPS. Each of these features brings the most authentic experience, no matter the configuration you decide to choose.
MockGo is widely compatible with iOS devices, including iOS 14 and above. This means it can be used on the latest iPhones. The good thing with the MockGo app is that you can use 5 devices at once. Not to mention, importing GPX files is also easier.
1.2 Who's MockGo App For?
Gamers: If you are a game enthusiast, you may need to spoof your location to access those games restricted in your region. MockGo allows you to change your iOS location to smoothly play MockGo, Pokemon Go, and other AR games without restrictions.
Binge Watcher: Also, avid TV and movie fans will need a spoofing app like MockGo to change their location to watch their favorite TV shows and movies available in other countries.
Social Media Fans: If you're a fan of social media, Foneazy MockGo can be of great help. The app will allow you to fake your location to the location you desire and fool your friends by pretending to be in another place.
1.3 The Key Features of MockGo
Teleport Mode: MockGo's revolutionary teleport feature lets you move quickly between locations. You just have to hit the Teleport button and watch as it seamlessly creates a location to move to.
Two Spot Mode: If you set your GPS tracker to one-stop mode, you can move it around without losing track of the location. The app shows you the specific location you pinned the GPS marker.
Joystick feature: MockGo also has a joystick feature that allows easier moving to the place you want to be. All it takes is a few keystrokes on your keyboard or mouse to make it turn at any angle and travel 360 degrees. Just use the Up, Down, Right, and Left keys to move in various locations.
Allows you to control multiple devices: The application allows you to simultaneously change the GPS location of up to five devices, from your iPhone and iPad to a laptop or computer.
You can create favorite routes and locations: You can easily save your favorite frequently used spot. However, you have to know the name of that place. Simply choose one of your favorite locations on the app, mark it, and then select that same location as your current location.
The Multi-Spot Mode: MockGo app grants you access to an exciting multi-stop mode. The mode helps create and customize routes from point A to B and back again. You only have to tap the multi-stop button for this feature to work.
You can create GPX routes and save them: The app also supports exporting GPX files. You can quickly and easily import a GPX file to create your desired route. Simply map out the path of your journey, export it to the app for simulation purposes, and before you know it, you'll have real-world experience from your home.
Bonus: Do you wonder about FGL Pro? If yes, you can open this link to get more info on this app.
Part 2: Pros and Cons of MockGo
2.1 Pros of MockGo
- The app supports a maximum of 5 devices at the same time.
- You can easily export the GPX files due to the user-friendly features incorporated into it.
- Aside from just teleporting to a location, you can also use other modes for movement simulation.
- You can easily fool dating or gaming apps unless they recognize your location.
- The software developers provide 24/7 support for any inquiries. You can contact them via email or chat. You can also ask questions on the FAQs page.
- The MockGo app is budget-friendly. It costs $39.95 a year with all features. The lifetime price is $59.95.
2.2 Cons of MockGo
- Does not let you change location on Android devices, only works for iOS gadgets.
- It does not support earlier Mac operating systems. (Earlier than 10.10)
- Wi-Fi connection isn't supported; you can only use USB.
- Downloading or importing routes from Google Maps isn't possible. You can only import the GPX files.
Read also: How to Change Weather Location on iPad in Trouble-free Ways [Settled]
Part 3: Is MockGo Free?
MockGo is a free spoofer supported on most computers; you can use it on both macOS & Windows OS. Besides, those with Mac computers can install the application on their Apple devices running on macOS 10.10 or later; meanwhile, those who use PCs running on Windows 7, 8, or 10 can also access the app seamlessly.
MockGo's free version will show you how easy the app is, allowing up to several location changes. One-stop and multi-stop modes can be used once only. The teleport mode and joystick features are limited to three bearings maximum.
When you upgrade from the free version, you won't be restricted in any way. You'll unlock unlimited access to every feature and functionality available.
You can spoof up to five iOS devices and a PC or Mac by opting for one of our flexible pricing plans. Our subscription periods are catered to your requirements so that you get the best value out of each plan. Choose from an array of options such as:
The pricing plans allow you to spoof 5 iOS devices and 1 PC/Mac. Here are the pricing plans for your spoofing requirements:
$9.95 monthly plan
19.95 quarterly plan
$39.95 yearly plan
$59.95-lifetime plan
The best thing about the MockGo app is a 30-day money-back guarantee if your expectations aren't met.
Further reading: So, which is the best app to fake GPS? Maybe you will find the answer in this guide.
Part 4: How to Use MockGo to Fake Location
The experience of faking your device's location is fun. Imagine fooling your friends or family; you are somewhere else where you aren't. It's so cool. Here's how to use MockGo, the free iOS location spoofer to change location on iPhone:
Step 1. Install the MockGo App
Download the MockGo application from the official website and install it. Launch it after so that it loads. Then click on the "Start" button, and ensure you connect the phone to the PC.
Step 2. Load the Map and Switch to Teleport Mode
The map will instantly appear on the screen. Tap the first icon on the top-right switch to the teleport mode. This mode allows you to change location freely.
Step 3. Input the Address/Coordinates of Your Location
Simply enter the address/coordinates of where you want to go into the search bar on the upper left. After entering this information, a popup will appear; press on the "Move Here" tab to get to your new location. You can also confirm whether you're in a new location with Google Maps. This would help you be sure if your location was changed because the tool might fail to give correct results.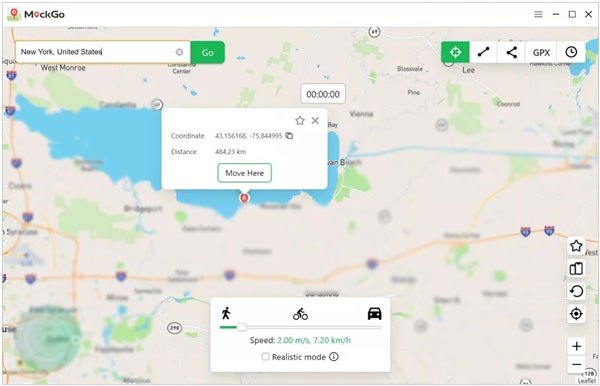 Part 5: FAQs on MockGo
Q1. Is MockGo Worth It?
The MockGo application saves you the hassle of jailbreaking the device when you want to spoof location. This app works flawlessly and offers multiple features that guarantee a smooth and enjoyable experience. Moreover, it boasts an extremely low detection rate and is guaranteed safe, making it an ideal choice when you need your real location concealed.
As for pricing, there's something for everyone; you can pay as low as $9.95 per month, and if you sign up for a one-year plan, you pay $39.95 or opt-in for their lifetime deal, which will cost you $59.95, making it worth every penny.
Q2. Is MockGo Safe?
MockGo is safe when spoofing locations on your iOS devices. It's a private virtual location service that never accesses or stores your data. Besides, it uses secure technology to keep your device's info anonymous.
See more: Best Spoofing Apps for Pokemon Go | Support Android and iOS Devices
Part 6: Best Alternative to MockGo - GPS Changer
If you're looking for the best iPhone location spoofer, GPS Changer is the perfect tool. This incredible tool works on Android and Apple devices. This iPhone location spoofer stands out due to its versatility and swiftness. You can change your location without any fuss as many times as you like, and what's more impressive is that the app instantly changes the GPS coordinates on your phone. As such, it's an ideal app that will allow you to use location-based apps like Pokemon Go efficiently.
Furthermore, the app uses GPS joystick features to simplify the location-changing process. The application's virtual movement simulation on a map makes moving around easier as you choose any location. This is a plus for gamers eager to explore new locales while gaming.
Here are the main features of this iPhone spoofer:
- It is a unique app that can change location on most iPhones.
- You can export and import GPX files to save your favorite routes for future use.
- It features a GPS joystick that allows you to control your movement with ease and flexibility.
- Change GPS on Zenly, Facebook, and other social platforms.
- Help you control the moving speed when playing AR games.
- It's compatible with various social media platforms as well as AR games.
Download this iOS location spoofer.
Here is how you can use this MockGo alternative to change your iPhone location:
Step 1. Launch the Location Spoofer
Download, install, and then launch it on the computer. Tap on the "Start" button to start the location-changing process. Now connect the iPhone to the computer using a USB cord. After that, you must click the "Trust" button to connect.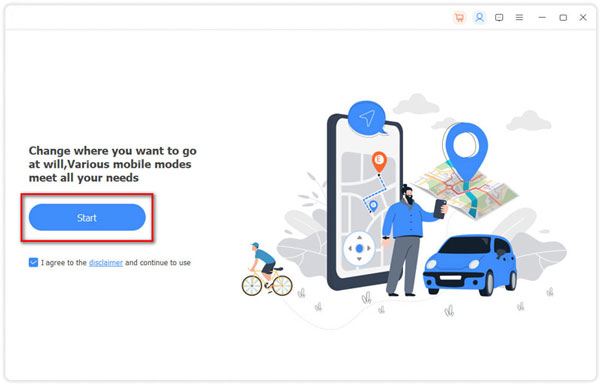 Step 2. Go to Modify Location
Please click the "Modify Location" tab on the interface, and it will load the map fast. To change your GPS on the iOS device, you need to type your destination into the bar, and click "Confirm Modify".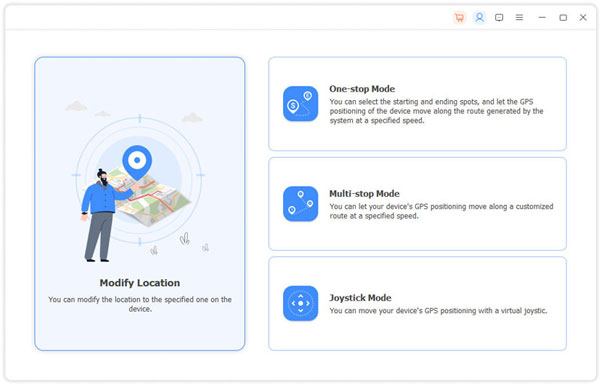 Step 3. Move to the New Location
Finally, tap the "Move to" icon to change the virtual location on your mobile phone. Then you can use the new position to play Pokemon Go.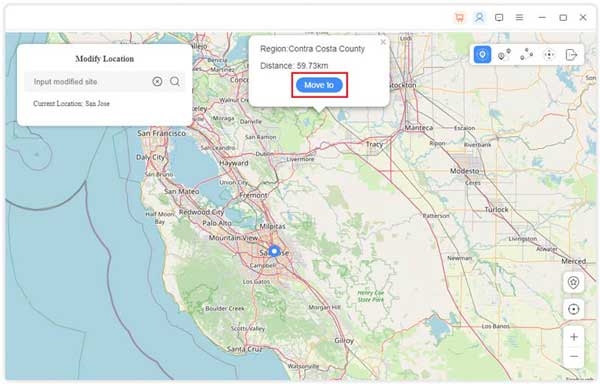 Conclusion
From this guide, we've seen how intuitive MockGo is. The only issue is that it's exclusively available to iOS phones only, and unfortunately, it doesn't support Android devices yet. The software is remarkably user-friendly, making it easy for novice and experienced PC and Mac users to access its extensive features. Its free version wonderfully showcases the program's capabilities but could be slightly less restrictive to attract many users with its incredible features.
Since MockGo isn't a very reliable tool to spoof your location. For instance, it can easily be detected, and you must confirm on Google Maps if your location has been changed not to be disappointed. Besides, those with Android devices will have to look elsewhere. Due to that, you can use the GPS Changer app, the best app to fake your location on different iOS devices. It's not only easy to use but offers more advanced features with a free trial.
Related Articles
8 Fabulous Moborobo Alternatives to Transfer and Manager Android Files
How to Fake GPS on Android without Mock Location [Vital Tips and Useful Ways]
Fake GPS Not Root on Android and No Jailbreak on iOS (Ultra Guide)
Everything About Pokemon Go Cooldown Chart [Informative Post in 2023]
SHAREit Review - Everything to Know: Price, Features Pros, Cons, Interface
Jihosoft Android Phone Recovery Review: Is It Worth a Try? (Comprehensive)