Summary
Initiated the factory reset by mistake and lost all your precious photos on your Android device? Or you just perform a factory reset to speed up the device but forgot to back up in advance? No matter how you start the factory reset, you can now recover photos after the factory reset on Android.
Here's are 6 different recovery approaches for your inference, so that you can regain your memorable pictures by following the guide.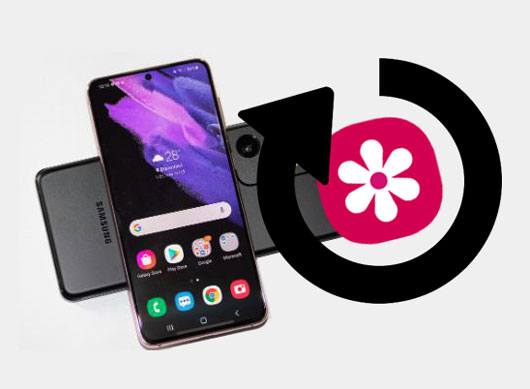 Part 1: Can You Recover Deleted Photos after a Factory Reset?
You can clean up all Android data by a factory reset, which is common to remove the junk files on the handset. However, it will also delete your useful data. If you haven't backed it up, you will lose it. At this moment, can you recover deleted photos after a factory reset? Well, you can get help from professional recovery tools, which can find almost all the deleted photos. And you'd better stop using the mobile device until you recover the photos.
Bonus: Backing up your photos can avoid losing them. Now, you can effortlessly transfer photos from Android to the computer with these 4 solutions.
Part 2: How to Recover Photos after Factory Reset on Android via Android Recovery
This Android Recovery Software can recover the lost pictures after a factory reset although you don't back them up. It can work with Android internal storage and the SD card simultaneously. Thus, no matter where you store the photos, it can recover them without trouble. Besides, it can also recover deleted SMS, contacts, call logs, music, and more on Android.
Main highlights of this Android photo recovery tool:
- Recover deleted Android data easily, such as photos, music, videos, WhatsApp files, etc.
- Support you to preview the lost Android files on the interface for selection.
- Allow you to back up the existing and lost files from Android to the computer.
- Help you recover data safely, resulting from the factory reset, rooting errors, system crash, virus attack, and so on.
- Support many Android devices, including LG K62/K52/K42/K71, Motorola G Fast/G Power/G Stylus/G9, ZTE Blade 20 5G/Blade A7s 2020/Blade Max View, Samsung Galaxy S21/S20/S10/S9, Huawei, Motorola, Sony, Google, OPPO, OnePlus, and the like.
Download the Android picture recovery program for free below.
Here's how to achieve the photo recovery after the factory reset without backup:
Step 1. Launch the Software
After downloading and installing the recovery program on your computer, please launch it and choose the "Android Data Recovery" tab directly.
Step 2. Select Contacts
Connect the Android handset to the computer via a USB cable, and open the USB debugging mode on Android. Once connected, please check the "Gallery" and "Picture Library" categories. Then tap the "Next" icon.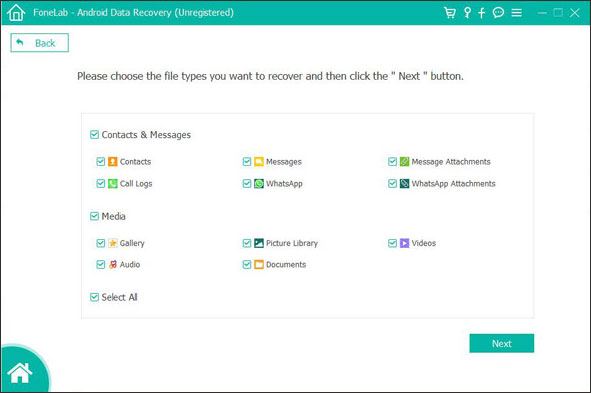 Step 3. Recover Deleted Contacts from Android
You can now pick the desired images on the interface, and click the "Recover" button to begin the process. Finally, you will get the lost photos soon.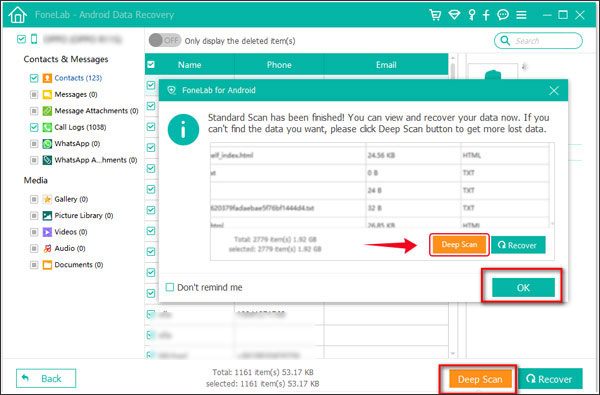 Read also: Here are 5 useful methods about Android music recovery for your inference.
Part 3: How to Get Photos Back After Factory Reset on Android via Local Backup
Most Android phones and tablets have a local backup feature. If you have backed up your photos before the factory reset, you can restore the photos from your local backup.
Guide on how to restore photos after factory reset on Android via local backup:
Step 1. Open the Settings App
Please go to the Settings app, and choose the "Backup & reset" option.
Step 2. Restore Photos from Backup
Select the "Local backup" option and the backup file you want. Then tap the "Restore" icon, and you will restore the backup photos to your Gallery app.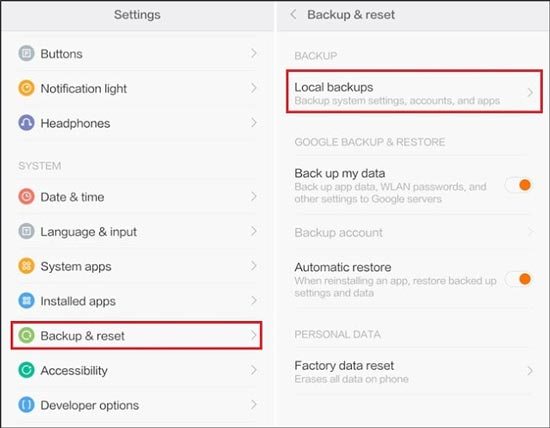 Further reading: Want to fast transfer photos from Android to the laptop? Please don't miss these 6 awesome ways.
Part 4: How to Restore Photos after Factory Reset on Android with Google Photos
Many people are accustomed to keeping photos on Google Photos, saving pictures on the Google cloud space. If you also use Google Photos, maybe you can get your deleted photos from Google Photos. However, the pictures in the Trash folder of Google Photos will be removed over 30 days. Then you cannot retrieve them.
Tutorial on how can you recover deleted photos after a factory reset using Google Photos:
Step 1. Go to Google Photos
Please run Google Photos on your Android phone. If you have uninstalled it, please reinstall it and sign in with your Google account that contains your pictures.
Step 2. Find the Deleted Photos
Tap the "Menu" icon on the top left corner, and select the "Trash" option. Next, you will view the deleted photos.
Step 3. Restore Your Android Photos
To restore your photos, please touch the picture you want to retrieve, and tap the "Restore" button. If needed, you can also download the uploaded photos from Google Photos to Android.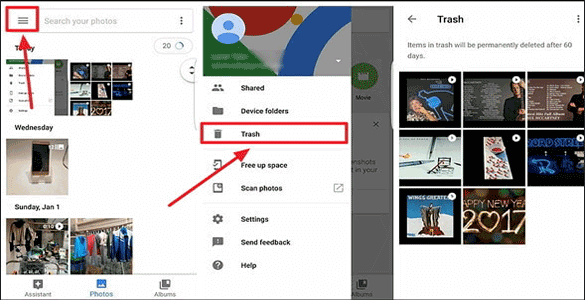 Maybe you need: Deleted photos from the gallery app by accident? These 4 methods can recover deleted photos from the Android gallery without hassle. Let's check it out.
Part 5: How to Retrieve Photos after Android Factory Reset Using Google Account
As we know, we can back up contacts, calendars, text messages, photos, and more to our Google accounts. So, have you added your Google account to your Android phone? If yes, you can synchronize the deleted photos with your Google account. Even if you factory reset your Android device, there is no influence on your cloud storage.
Here's how to retrieve photos after android factory reset via the Google account:
Step 1. Add Google Account
Open Settings, and tap the "Accounts and backup" > "Backup and restore" > "Back up my data" icon. Then click the "Backup account" to enter your Google account.
Step 2. Sync Photos on Android
To get your lost Android photos back, please tap your Google account. You will see various data types. Then tap the "More" > "Sync now" option on the upper right.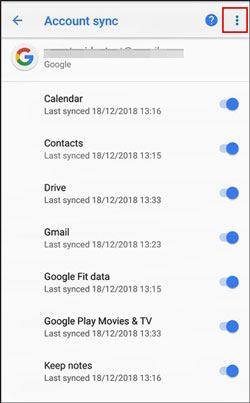 You might like: Many valuable photos on your iPhone, and plan to transfer photos from the iPhone to Android? Click this link and you can get the answer.
Part 6: How to Recover Photos from Android Factory Reset with Undeleter
Undeleter is the third-party Android app for recover deleted files from internal storage. For fast recovery, it requires rooting your Android device. It also offers a deep scan mode to find more deleted photos, documents, videos, etc. By the way, if you don't want to see ads, you can buy the app.
Steps on how to recover pictures after factory reset Android with the Undeleter app:
Step 1. Download the App
You can download and install this recovery app from Google Play.
Step 2. Choose the Storage Location
Open the app, and choose the storage location that you saved your photos. Then you're required to select your file types, and root your Android handset.
Step 3. Recover Deleted Pictures
It will scan your deleted photos out on the screen. Please recover the photos you need after selection, and you will regain the photos after the factory reset.
See also: This is a detailed guide on how to recover data from a locked Android phone with broken screen . If needed, please check it out.
Conclusion
Losing data on Android is common around us though we don't like it. But now, it is easy to recover photos after factory reset on Android with the useful recovery methods displayed above. Furthermore, the professional Android recovery program can recover your lost pictures without backup. Want to have a try?
Related Articles
4 Proven Ways on How to Transfer Photos from Computer to Android (Step-by-step)
How to Recover Deleted Files from Phone Memory on Samsung (3 Ideas)
How to Transfer Photos from Samsung to Mac? [4 Easy Ways in 2021]
How to Recover Deleted Photos from SD Card on Android Phone with or without Backup? (2021 Updated)
How to Transfer Photos from SD Card to Computer Successfully - 5 Proven Tips
Transfer Photos from Android to Mac Wirelessly [6 Fabulous Methods]