Summary
Spoofing location on Android devices is something we often do. Maybe you wish to hide your actual location on an app or deceive an application that you are in a different place. Some applications will access your location data in real-time, preventing you from changing or using another location. But you can still get past this limitation by doing location spoofing or GPS spoofing.
Whatever the reasons, we'll take you through ways to spoof location Android. There are several apps to spoof location on Android devices, and this tutorial is just what you need to get the right app for the job. So, read on to learn about GPS spoofing for Android.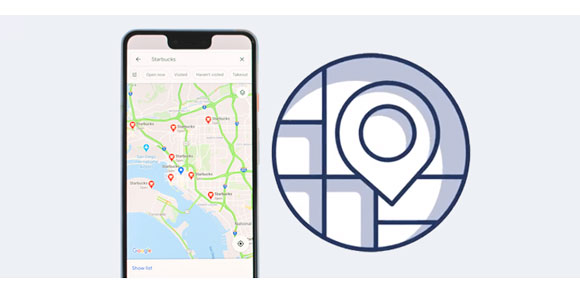 Part 1: Why Fake Location on Your Device
Have you ever asked yourself how to fake your location? And if so, what was the main purpose? Think about those apps and services that use your location to operate. Whether it is for recreational reasons or security, spoofing location has its own benefits. So, why fake a location?
1. To keep ahead in the dating game: Faking location on a dating application will help you get results outside your city. You will be able to match with any person from elsewhere. So, if you are looking for someone outside your area, you can set a different location on your device.
2. To have the ultimate gaming experience: AR games like Pokemon Go are powered by GPS. If you don't want to physically catch Pokemon, you may connect to a VPN and travel anywhere. Doing this will trick the phone into thinking that you are in a certain location while you are at your home.
3. To stream TV shows and movies conveniently: You will find a vast category of movies and TV shows on streaming services like Hulu and Netflix. However, they have location restrictions. If you are in a place where the catalog of shows or movies is limited, you can connect to a spoofing app and unlock the shows that are not available in your area.
4. To get discounts and deals: Some deals and discounts occur at a specified time. But not all are available in every region. By faking your region, you could easily avail these deals.
5. For online privacy: Faking location is a great way to obscure your online identity. You can also fake a location to trick your friends or family in a location-sharing application or hide your real location from the apps requesting it.
See more: Do you want to stop someone from tracking your cellphone? If yes, read this tutorial. It has helped many people.
Part 2: How to Fake Location on Android
Here are the top location spoofer Android that you shouldn't miss out on. They are safe and will spoof your location quickly. So, take a look and decide the most suitable one.
1. Use Android Location Changer (Easy and Safe)
The easiest way to fake a location on an Android will be with this Android Location Changer. With this application, you will be able to change location to a very different place and customize the route you want to use when moving.
It is your ideal software, known as a professional GPS location changer. No rooting is needed to spoof your location on an Android device. When you want to share cool locations with your friends on a social media platform, you can use this app to fake your location with just a click. You cannot be tracked since it is safe to use. The moving is so automatic, and no one can notice. Besides, you can change your location in real time.
Key features of this Android GPS spoofing software:
- Fake locations on Android devices with simple clicks.
- Allow you to freely choose positions on the map.
- Save your favorite routes as GPX files, and import them to access your routes with ease.
- Joystick feature to simulate movements for your location while playing games.
- Location-based applications are supported, so you can change your location on Snapchat, Facebook, and other platforms.
Download this software to spoof location on Android.
Pros:
- Apps cannot detect you are using a fake location.
- Customizes moving speeds.
- Keep your privacy safe.
- Great for testing locations.
- Play AR games without being noticed.
Cons:
- Not free.
How can I mess up my phone's GPS location? Here's how:
Step 1: Download the app on your computer and launch it. Then tap "Get Started". Link your Android to the computer with USB. Enable USB debugging.
Step 2: Choose your device and tap "OK". Then choose a mode "Social" or "Gaming". The software will load the map.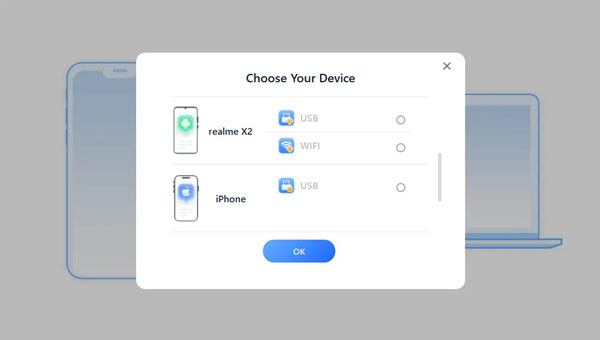 Step 3: Choose the "Teleport Mode" tab at the top corner and select a location by zooming in and out of the map. You may set GPS coordinates or add an address to search for a destination.
Step 4: When you select a destination, you will see your destination location, including the name, distance, and coordinates. Tap "Move".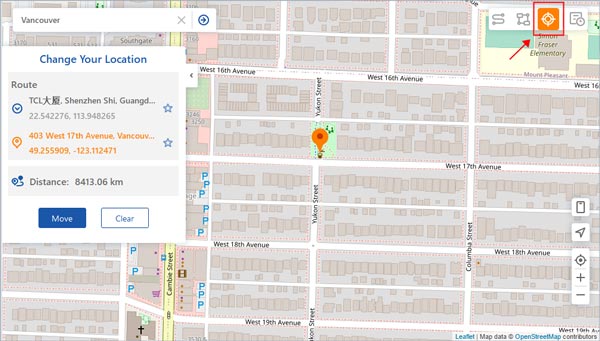 Your GPS location will change immediately. Also, all the location-based apps on Android will change instantly.
Further reading: How to Spoof Pokemon Go on Android [Powerful Methods]
2. Use Mock Locations App
Do you know how to free location on Android without a computer? One of the answers is to use Mock Locations. This app enables you to change the GPS location of your device to any of your desired locations. You can easily simulate the location anywhere worldwide, which could be useful for several reasons, like tricking your friends, accessing restricted services, or testing an app.
Key features:
- Spoof location by the GPS & Network providers.
- Create routes to use in the future.
- Joystick feature to control the faked location.
Pros:
- Offer different options for customization to set a location.
- Fake the GPS location on Android without using a computer.
Cons:
- Some applications can detect you're using a mock location.
Here's how to spoof location on Android using Mock Locations:
Step 1: Install the app on the phone from Play Store. Open it and enable the "Allow mock locations" option from the phone's "Developer options", and choose the "Mock Locations" app.
Step 2: In the app, find the location you want, and long-press it. Then you will change your location successfully. You can check it on Google Maps. If it fails, try it again.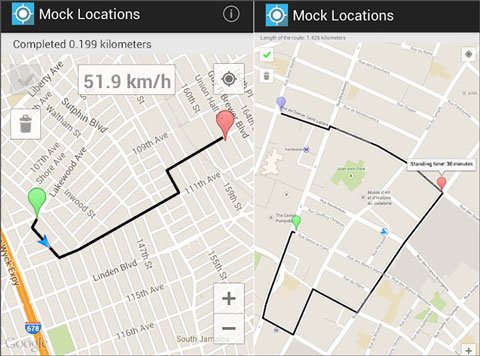 Guess you are interested in it: Best Spoofing Apps for Pokemon Go | Support Android and iOS Devices
3. Use GPS Emulator
GPS Emulator enables one to fake a location on an Android device anywhere instantly. It can show the same location as well as time to other applications on your Android.
Key features:
- Search tool to enter coordinates of the location or city name.
- Choose a specific location by dragging a pin on the map.
- Tap on the map to change location.
Pros:
- Doesn't return to the original location automatically.
- Intuitive interface that's easier to use.
Cons:
- Contain ads that ask for charges before removing them.
How to fake GPS location on Android via this app:
Step 1: Install the app from Play Store. On the primary page, you'll find a map with a marker showing your current location. Then go to the Settings app on your phone, click "Developer options" > "Select mock location app", and select this GPS Emulator app.
Step 2: Find another location using the "Search" feature like a magifier. Zoom in/out of the app's map to choose a location.
Step 3: After you've chosen a location, set it as the mock location and click the "Confirm" button in the middle of the bottom like a pin.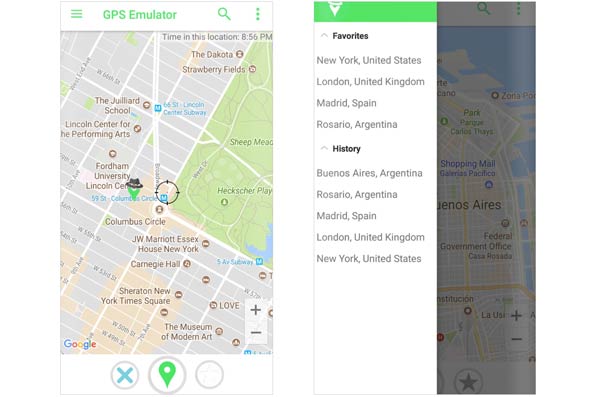 4. Use Lexa's Fake GPS Location
Just like other location spoofing applications, Lexa's Fake GPS app is an incredible app to share fake locations of mobile devices on applications available on it. You can choose a location, use it on your device, and play games that aren't available in your area on your phone. It supports Android version 5.0 and above.
Key features:
- Require at least an Android device with version 5.0.
- Lock location to last mocked location.
- Change location in a specified time.
Pros:
- Automatically alters location after a given time.
- Free to use.
Cons:
- The actual location is locked to the previously mocked location even after removing the application from your device.
Here's use this app to spoof your location on Android:
Step 1: Choose this app on "Select mock location app" of Android Settings after installing it on your phone or tablet.
Step 2: Open the app, enter the location on the search bar, and add it to your device's current location. You'll see a pin on the map showing the location.
Step 3: Finally, click "Play" to fake your GPS location.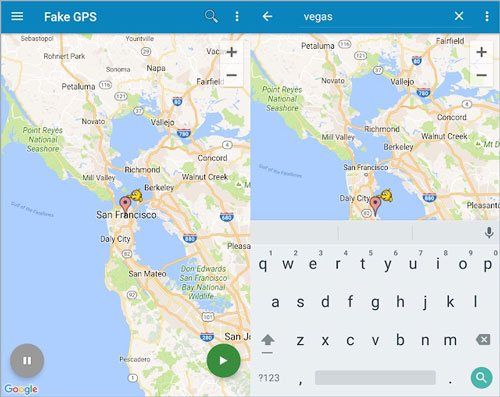 Read also: Fake GPS Not Root on Android and No Jailbreak on iOS (Ultra Guide)
Bonus: How to Fake Location on iOS
As for iOS users, a great app to use when you want to fake a location is iOS Location Changer. It lets you change the GPS location of your iOS device to another location on a computer in just a click. You can use this application if you want to keep your online privacy. All it takes is to enter the most suitable location into the app, and your device's location will change immediately. The three modes will ensure you have an easier time changing your locations. Besides, you will play AR-based and video games and connect to the real world.
Extra Tip: Is GPS Spoofing Always Helpful?
It is no secret that faking your location is fun. But, it is not always helpful because GPS spoofing is not a native feature of a device. Besides, spooking location does not always work for every application on your device that uses your location.
Installing an app to fake your GPS on the device implies that all applications using your location will have to use the fake location. Suppose you are spoofing a location to get deals or discounts in a certain region. In that case, every app that uses location will change its location since they assume you're in that particular region. This can be annoying since all the preferences will change every time you change location.
Besides, not only one app will be affected but all of them. Things such as maps, weather, and family location sharing will also change, which will get more confusing.
Words in the End
At some point in time, we will always need to fake our GPS location. There are various reasons to do so. Whichever the reason, knowing how to freeze location on Android is of utmost importance. The methods mentioned here will help you spoof your location on Android devices. Plus, Android Location Changer is a reliable program to change your GPS info, and it can keep your new location from being discovered. By the way, if you are an iOS user, choose iOS Location Changer.
Related Articles
Fast Change Work/Home Location on Google Maps via 3 Useful Methods
Turn Off Location on Life360 Without Anyone Knowing [4 Effective Ways]
8 Excellent Options of Android Data Eraser Software
[Overall] Lenovo Mobile Recovery: Easily Recover Data from Lenovo
Transfer Text Messages from Android to Computer in 7 Powerful Methods
Fabulous ES File Explorer Alternatives | Handily Organize Your Files