Summary
In today's world, it can be difficult to keep your privacy and have the needed freedom. Employers may take advantage of technology to track their employees' phones. This can make the employees feel being monitored or surveilled, which can cause distress in the workplace.
Employers may monitor your phone calls, texts, emails, internet usage, and location. Whether you're looking to increase security or get some freedom in the workplace, we'll discuss how to stop your employer from tracking your phone. You can get 5 helpful and safe solutions in the following.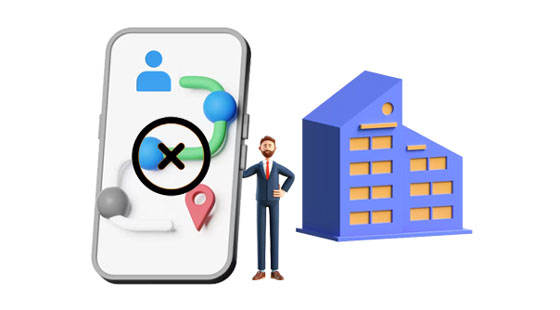 Part 1: Can My Employer Track My Personal Phone Location?
Can a computer track your phone? Of course, it can. Your employer can track your location if you have installed the company's tracking application on your phone or when you are using a phone provided by the company, and it has GPS tracking. Thanks to modern digital technology, many businesses have gone remote. To ensure that employees comply with regulations, many employers install GPS devices in vehicles and spyware tools onto employees' smartphones. This way, they can easily track the whereabouts of their staff members.
Employers often ask their employees to install apps on their personal phones. These applications will later on help track their locations. In addition, if the employee uses a company-issued phone and has GPS tracking turned on, the employer may also use the data to trace your movements. Therefore, employers can track your devices in several ways. So, it is ideal that you know how to stop it.
Part 2: How to Find Out If Your Phone Is Being Tracked?
Before you begin, ensure that your company is really tracking your smartphone. To know this, investigate whether any spyware applications are installed on the device. If you suspect a spying app is on your phone, even if it doesn't show up in the app tray, there are certain indicators you will see on your device. These signs will help you if your phone is really being tracked:
- Increase in data usage.
- Your device operates slower than before.
- The device becomes hotter.
- Decrease in the battery.
- Weird messages keep on popping up.
Read also: How to Change Weather Location on iPad in Trouble-free Ways [Settled]
Part 3: How Do I Stop My Employer from Tracking Your Phone?
Are you worried about your current location being tracked by spyware? There's an easy solution. You can use GPS Changer to fake your real location. The tools let you change and set your location anywhere in the world, thus helping you stop phone location tracking without having to remove the apps.
This location faker is an incredibly popular location spoofing tool that can be used on any iOS or Android device and fakes the location in just a click. It comes with a joystick feature, allowing you to easily move around the map and change your location to where you want. Besides, it lets you simulate movement, helping you create a more realistic experience while playing virtual games or using location-based apps.
Top highlights of this GPS changer:
- Fake location on iOS and Android instantly.
- Hide the real GPS location on your phone to stop phone tracking.
- Come with a joystick for easier movement simulation.
- Work well on social media platforms, like changing your location on Snapchat, Facebook, Zenly, etc.
- Support the latest devices, including iOS 16 and Android 13.
Download this GPS spoofing software to prevent your boss from tracking your phone.
How do I stop my employer from tracking my phone? Here are the steps:
Step 1: Install the tool on your computer and launch it. When done, click on the "Get Started" option.
Step 2: Use a working USB cable to connect the smartphone to the computer and grant permissions. Then choose your device, and click "OK".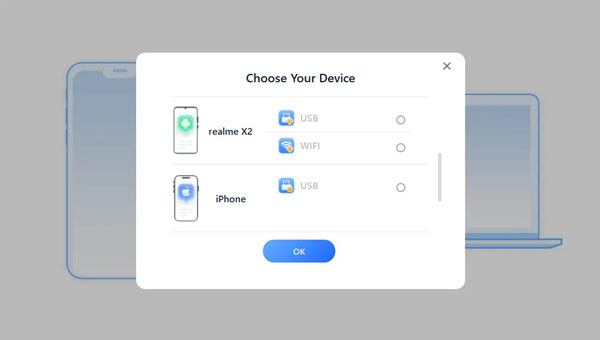 Step 3: A map will show on the screen with your current location. Press the "Teleport Mode" icon in the screen's corner. Enter your desired location in the search bar or enter the coordinates for the location. Click "Move" once you see a window showing the information about your new location.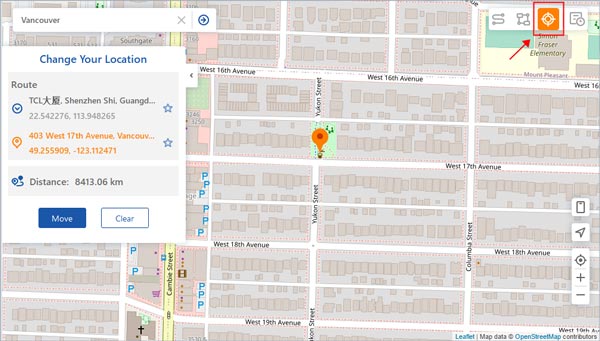 Further reading: Do you want a powerful spoofing tool for Pokemon Go? If yes, please open this guide to select one from the list.
Part 4: How to Prevent Phone Tracking by Disabling Location Services?
You can also switch off location services on your device to prevent phone tracking. Doing this means preventing your device from sharing GPS data with applications installed. Ensure your GPS isn't being tracked while the application is closed.
Step 1: To disable location services on Apple devices, go to "Settings" and "Privacy" and then to "Location Services". From there, you can toggle off the slider.
Step 2: To disable location services on Android, swipe down the notification tray to access the panel. Now click on "Location" to switch it off.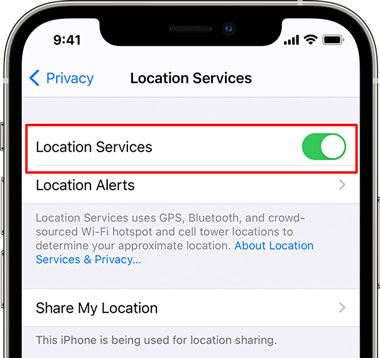 You might need: How to Change Location on Instagram via 4 Hassle-free Methods
Part 5: How to Prevent Your Employer from Tracking Your Phone Using a VPN App?
Can a company track your phone? Yes, and a using VPN will be a great way to stop that. It adds protection by encrypting your data and masking your IP address, making it impossible for someone to track you or get your private information. A VPN also prevents employers from snooping on your device and gives you an extra layer of privacy. Furthermore, a VPN can help protect against malicious software installed on your device.
Overall, using a VPN is one of the best ways to avoid online tracking. It delivers strong encryption and offers anonymity by masking your IP address. Here is how to set up a VPN and stop phone tracking;
Step 1: Go to Play Store and install the VPN on your device.
Step 2: Sign up and enter your credentials.
Step 3: Click on the "Connect" button to enable the application to find the server. Also, tap on the country pin, then connect to the place you want.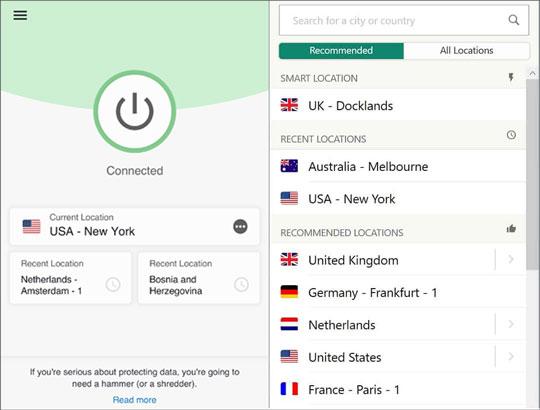 Part 6: How to Use a Private Web Browser to Stop Your iPhone from Being Tracked?
Private web browser is a practical tool that many users rely on to keep their search history, passwords, and website visits private. On Safari, the Private Browsing feature allows you to protect yourself from being tracked while blocking some websites from accessing your data - just like using Incognito mode in most browsers when online. Here is how to turn on Private browsing:
Step 1: Open Safari on an iOS phone, click on a new page icon and add a new tab.
Step 2: Now click on "Private" to add a new private tab.
Step 3: Once done, click "Done".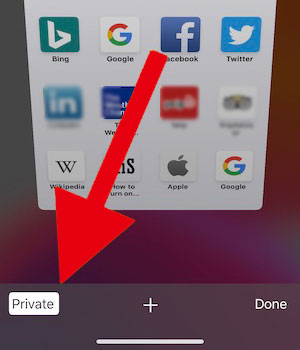 Conclusion
Since phone tracking by employers is becoming more prevalent these days, there are a few useful ways to protect your privacy. You can disable location services on your device or use a VPN for extra security. With the right steps in place, you can not only keep yourself secure but also ensure that your employer is unable to track you.
You can also use GPS Changer, a reliable phone location changer that can instantly change your location anywhere you want. This way, you can ensure that your employer can no longer track you.
Related Articles
Fake GPS Not Root on Android and No Jailbreak on iOS (Ultra Guide)
FGL Pro Pokemon Go Guide: Use FGL Pro to Fake Pokemon Go & Alternative
Forgot Android PIN? Easily Unlock Your Android Phone in 5 Ways
WhatsApp Backup Stuck on Your Android or iOS Device? Safe and Effective Fixes
How to Print Out Text Messages for Court from Your Android Phone and iPhone
Why Is Samsung Phone Overheating and How to Fix the Issue?