Summary
Ordered a new Huawei phone just now? Awesome! You will get a brand new Huawei smartphone soon. This is the best moment to learn how to transfer data from Huawei to Huawei. Here's are 4 excellent approaches for your inference, which can strongly assist you in Huawei to Huawei file transfer. After transferring data, you can use your new Huawei phone without trouble.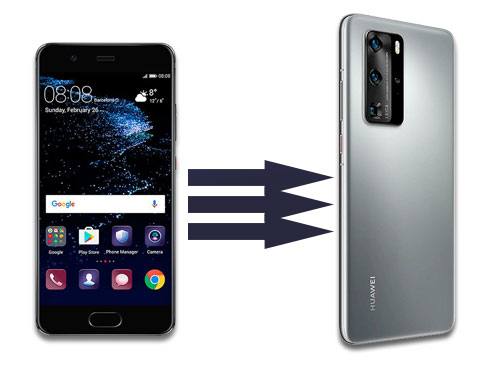 Part 1: How to Transfer Data from Huawei to Huawei with Huawei Transfer App
As an efficient Huawei transfer data transfer software, Samsung Data Transfer, can transfer almost all important files from Huawei to Huawei at a time. With it, you can transfer contacts, text messages, videos, apps, and more files. And you can choose to clear data before copying on the target Huawei phone.
Besides, due to the powerful compatibility, it works with not only Huawei devices, but also other Android and iOS handsets, including Huawei Mate 40 Pro/Mate 30/Mate 20, Huawei P40/P30/P20, OnePlus Nord/8 Pro/8T/8/7T Pro/7T/7 Pro, Samsung Galaxy Tab S/Galaxy Tab 4/Galaxy Tab S5e, iPhone 12 Pro/12/11/X/8, and so on.
Main characteristics of the Huawei transfer program:
- One-click to transfer photos, music, documents, etc., from Huawei to Huawei.
- USB and Wi-Fi connections are supported during Huawei to Huawei transfer.
- Support to transfer contacts and other data from iOS to Huawei, and vice versa.
- Move calendars, bookmarks, books, and more from an iPhone to another.
- Transfer files without data loss.
- User-friendly interface makes the transfer easier.
Download this Huawei phone transfer software for free below.
Here's how to transfer data to Huawei P30 Pro via this transfer tool:
Step 1. Install the Desktop Application
Please download this Huawei transfer utility on your computer. Then install and launch it.
Step 2. Connect Huawei Phones to Your Computer
Connect both Huawei devices to the computer via USB cables. Then enable the USB debugging mode on two devices. It will recognize them quickly.
Step 3. Transfer Data from Huawei to Huawei
- Please check the file types you want on the middle panel, and click the "Start Copy" icon to boost the transfer procedure.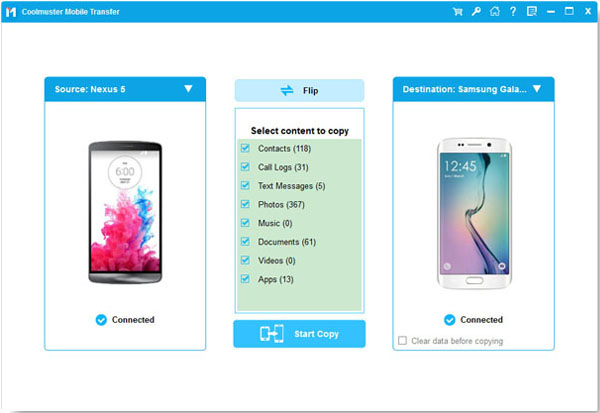 - After finished, you can view the data on your new phone.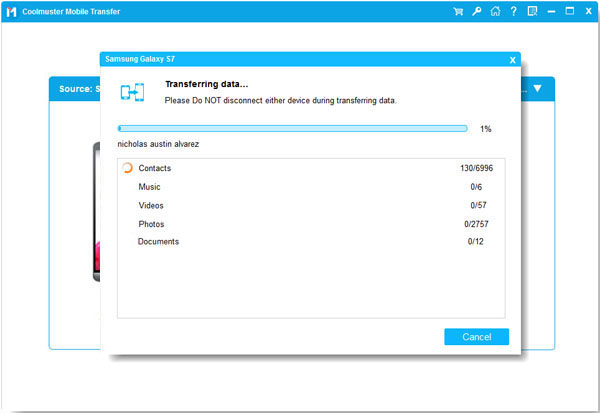 Bonus:
This Huawei backup post will tell you the shortcuts to back up your Huawei files.
If you desire to recover lost contacts on Huawei, please click this link to get 5 effective ways.
Part 2: How to Transfer from Old Huawei to New Huawei via Huawei Phone Clone
Huawei Phone Clone is a Huawei phone switch app to copy the files from one phone to a Huawei phone. As long as the phone's OS is Android 4.4 or upper, it can achieve data migration. It can also allow you to select file types before transfer on the screen. However, sometimes it cannot detect the mobile phone during connecting.
Guide on how to transfer from the old Huawei to the new Huawei via Phone Clone:
Step 1. Install Phone Clone App
Please install the app from the app store to both Huawei mobile phones.
Step 2. Link the Old Phone to the New Phone
- Run the app, and tap the "This is the new phone" > "Huawei" icon on the new Huawei device. And there is a QR code on the screen.
- Next, choose the "This is the old phone" icon on your old handset, and use the camera to scan the QR code for connection.
Step 3. Transfer Files from Huawei to Huawei
Make sure your phones are connected to the Wi-Fi. Then select the desired files and tap the "TRANSFER" button on the old device. The app will begin transmitting data.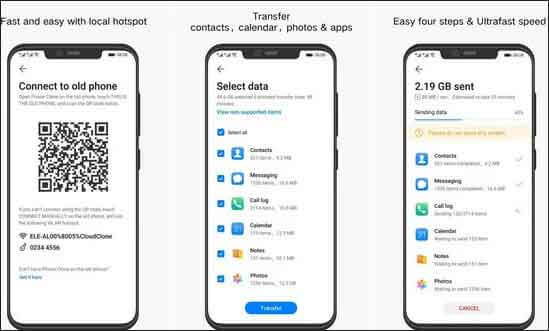 Read also: Want to recover lost data from Huawei? Don't worry. You can use these top 3 approaches to find your lost files.
Part 3: How to Transfer Contacts from Huawei to Huawei via Google Account
Do you have a Google account? If yes, you can make use of it to transfer data from Huawei to Huawei. Although it is slightly complex than the first two methods, you can get help from the following guide to complete the data transfer. If you don't have a Google account, please sign up in advance.
Tutorial on how to transfer contacts from Huawei to Huawei with your Google account:
Step 1. Back Up Data from Huawei to the Google Account
- Firstly, you need to transfer your data from the old Huawei phone to the Google account. To add your Google Account, please open the Settings app, click the "Users & accounts" > "Add account" > "Google" icon.
- Then, you can click your Google account to sync the data to the Google cloud storage.
Step 2. Sync Data to the New Huawei Phone
- Please turn on your new phone. During the setup, when you see the prompt of restoring from Google Drive, you can enter your Google account containing your backup data, and tap the "Restore" icon.
- Next, you will get the files on your new Huawei phone.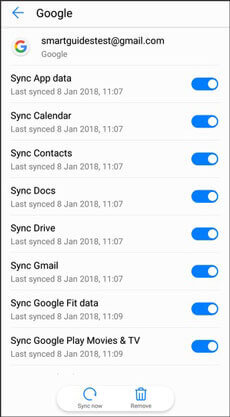 Further reading: Is it difficult to transfer photos from an iPhone to Huawei? Well, if you learn these 5 effective ways, you will complete the photo migration quickly.
Part 4: How to Transfer Files from Huawei to Huawei Using Bluetooth
Bluetooth is available on Huawei transfer so that you can send files to the new Huawei phone/tablet via Bluetooth. You can send pictures, videos, music, and the like. But if you want to share large files, you will spend more time in this way because of its low transmission speed.
Here's how to transmit data from Huawei to Huawei via Bluetooth:
Step 1. Enable Bluetooth
Place Huawei devices together, and directly switch on the Bluetooth icon by scrolling down the screen.
Step 2. Pair Huawei Handsets
Choose your device on the available list, and confirm the code on another phone.
Step 3. Share Files to New Huawei Device
Navigate to the files you want to send on the old phone, hit the "Share" > "Bluetooth" icon, and select your new Huawei device. Then accept the transfer on the new device. The transfer will start immediately.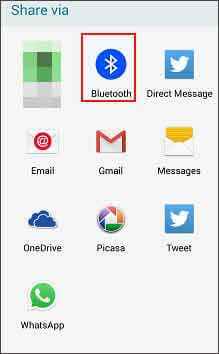 You might like: If you switch Sony to Huawei, please check it out to transfer data from Sony to Huawei with ease.

Does Smart Switch work with Huawei?
Yes, Smart Switch supports Huawei when the Huawei phone is the source device. If you plan to transfer data to Huawei via Smart Switch, you will be disappointed. It is designed for Samsung users, and you can use it to copy files from Huawei to Samsung.
Conclusion
This article has brought you 4 convenient methods to transfer data from Huawei to Huawei. In particular, this Huawei data transfer - Samsung Data Transfer, is capable of migrating different kinds of files to the new Huawei phone. It is the most comprehensive transfer tool among these 4 ways. If you are curious about it, please don't miss this opportunity.
Related Articles
Huawei to Mac Transfer with 5 Authoritative Solutions (Solved)
Transfer Contacts from Samsung to Huawei in 4 Valid Ways
How to Transfer Data from HTC to Huawei? Reveal 4 Seamless Transfer Ways
[Full Guide] Transfer from Huawei to iPhone with 3 Effective Ways
[Effective] How to Retrieve Deleted Messages on Huawei Phone with 4 Options
How to Transfer Data from Huawei to Samsung: 6 Must-Know Tricks Here