Summary
Most people have their favorite music, and like keeping songs on their handset. When getting new iPods, they want to bring the music with them. However, a large number of music files make the transfer onerous, especially when they want to transfer music from Android to iPod.
If you are in the same case, please just calm down and check out this article, which contains 6 practical methods for Android to iPod music transfer.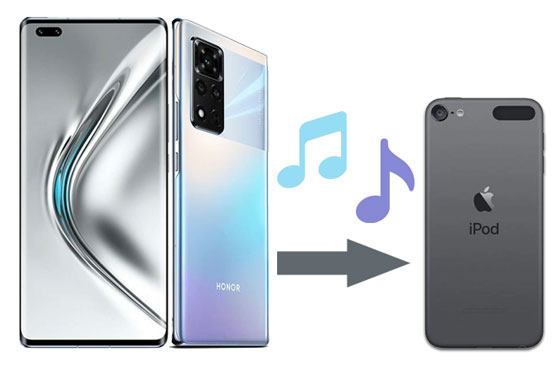 Part 1: How to Transfer Music from Android to iPod with Computer
A computer can help you transfer music from Android to the iPod. Thus, this section has 2 useful ways that you can complete the transmission with a computer.
1.1 Transfer Android Music to iPod in 1 Click (Recommended)
The first solution is to use a transfer program, supporting to send Android music to iOS in 1 click. This is an efficient tool because it can scan all your audio files from the Android device, and transfer them at a time. It can transfer contacts, photos, videos and more from Android to iOS.
Key features and highlights of this Android to iPod Music Transfer software:
- Transfer all music from the Android device to the iPod with 1 tap.
- Support multiple file types, including TV shows, audiobooks, voice memos, etc.
- Allow you to transfer files from iOS to Android, Android to Android, and iOS to iOS.
- Works with many Android and iOS devices, such as iPod Touch 7/6/5/4, iPad Pro, iPad Air 2, iPad Air, iPad Mini, iPad 4, iPhone 12 Pro/12/11/X/XS, Huawei P40/P30/P20, Samsung Galaxy S21/S20/S10/S9, Google, ZTE, LG, OPPO, OnePlus, and more.
Download the music transfer software for free below.
Guide on how to copy music from Android to iPod with this transfer tool:
Step 1. Install the Program
Please download and install it on your computer. Then run the software.
Step 2. Connect Mobile Devices to the Computer
Connect both devices to the computer with their respective USB cables. Then the program will detect your handsets quickly.
Step 3. Send Music to iPod
- Once connected, please tick the "Media" option on the middle panel. Finally, tap the "Start to copy" button to initiate the transfer.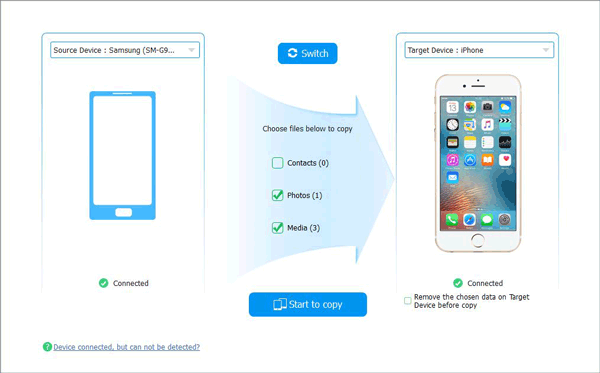 - When the process is over, you can disconnect your devices from the computer.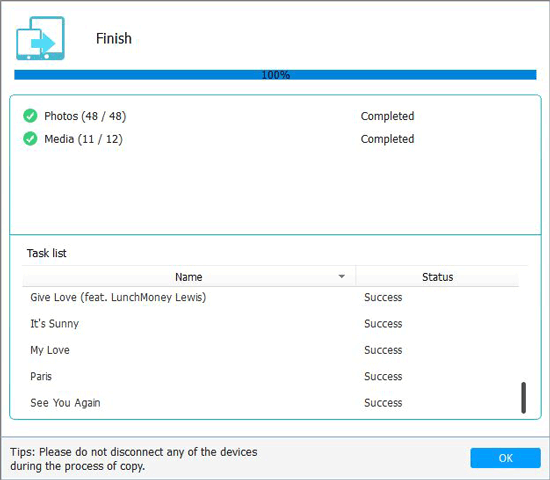 Tips:
Wonder how to transfer photos from Android to an iPhone? Check it out and you can learn 6 helpful methods.
Intend to switch to a new Android phone? Here are important things to do before switching Android phones.
1.2 Transfer Music from Android to iPod via iTunes
Using iTunes can move the music from Android to an iPod, but this is not as simple as the first one. Anyway, you can directly purchase the hot songs and movies on iTunes. By the way, please note that, if your computer is Mac, you are required to install Android File Transfer in advance.
Tutorial on how to transmit music from Android to iPod with iTunes:
Step 1. Connect Android to PC
Please use an Android USB cable to connect your Android device to the PC. Then open This PC, choose the Android driver, navigate to the music folder, and copy the music files to your computer.
Step 2. Install iTunes
Install iTunes on your computer, launch it and link the iPod to the computer.
Step 3. Export Android Music to iPod
- To import music to the iTunes library, please click the "File" > "Add Files to Library" option.
- Next, click the iPod icon on iTunes, select the "Music" category on the left side. Then check the "Sync Music" and "Entire music library" option. To export Android music to the iPod, please tap the "Apply" button.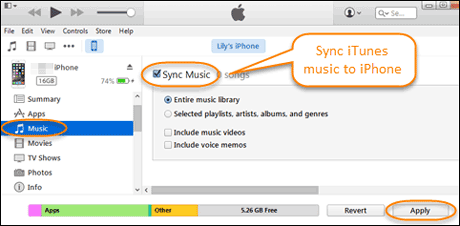 Bonus:
Is there a way that can transfer music from Android to Android directly? Answers are here.
You can also use these 4 reliable methods to transfer music from your PC to your Pixel phone.
Part 2: How to Transfer Music from Android to iPod without Computer
Is it possible to transfer music from Android to iPod without a computer? Yes, of course. Here are 4 ways you can try to send the music. Let's see which one is the best.
2.1 Sync Music from Android to iPod with YouTube Music
A nice streaming music app can let you conveniently find and enjoy the songs. Perhaps you have been using Google Play Music or YouTube Music. If so, you can sync music from Android to iPod with YouTube Music. Although Google Play Music is no longer available, you can transfer your music library to YouTube Music.
Here's how to transfer music from Android to the iPod Touch without a computer:
Step 1. Transfer to YouTube Music
If you have used Google Play Music before, please open the website and transfer the music to the YouTube Music app as soon as possible.
Step 2. Install YouTube Music App
Then download and install the app from Google Play to your iPod.
Step 3. Sync All Music to iPod
Please sign in with the same account, and you will get your music lists on the iPod. Now, enjoy the feast for your ears.
You might like:
Is it time-consuming to download music to the LG phone? If you know these 4 approaches, you can download them fast.
Take a look at the features, pros and cons of these Android to iPhone transfer apps, and select one to move your data without delay.
Click here to repair the Move to iOS not working problem if you want.
2.2 Send Music from Android to iPod with SHAREit
SHAREit is an application that you can use on Android and iOS handsets. It can send music, videos, images, and other files with it. Certainly, it is also a media player so that you can listen to music and watch films with it. However, inevitably, you will see some ads on this app.
Steps on how to share music from Android to iPod using SHAREit:
Step 1. Install SHAREit
Please install, and open this utility on both devices.
Step 2. Select Songs on Android
Tap the "Send" icon and select the desired music on Android. Then click the "SEND" button, turn on Bluetooth, and hit the "Next" icon.
Step 3. Transfer Songs to iPod
Now, tap the "Receive" icon on your iPod, and it will begin searching for another available device. As your Android device shows up on the screen, please choose it for connection. The app will send the music to your iPod.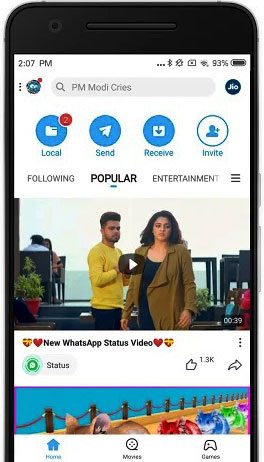 Further reading:
Believe it or not, it's easy to transfer music from an iPod to a Samsung phone with these solutions.
Want to sync music between a PC and an Android phone/tablet? Check it out.
2.3 Move Android Music to iPod with Move to iOS
How to move Android music to iPod without the computer? Please don't forget Move to iOS. If you don't have set up your new iPod, now you can begin to set it up and transfer music with this tool. By the way, if you have complete the setup, please erase the information and set it again.
Here's how to transmit Android songs to the iPod via Move to iOS:
Step 1. Connect Devices to Wi-Fi
Make sure that your mobile devices connect to Wi-Fi, and plug them into a power source.
Step 2. Open the App
Set up your iPod and get the "Apps & Data" screen. Then choose the "Move Data from Android" option. Now, open the app and tap the "Continue" icon. Follow the prompts until you see the "Find Your Code" screen.
Step 3. Move Music from Android to iOS
- Next, tap the "Continue" on the iPod, and wait for a digit code. Enter the code on Android, and you will get the "Transfer Data" screen.
- Please pick the data you want to send, and tap the "Next" button on Android. The app will begin sending the selected files to the iPod. When the loading bar that displays on the iPod finishes, you will complete the music transfer.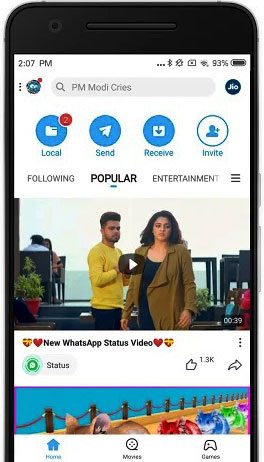 Read also:
Although your songs are stored on Mac, you can transfer music from Mac to Android with these simple ways.
It is simple to unlock an Android phone with a broken screen so long as you know this guide.
2.4 Transfer Music from Android to iPod Using Bluetooth
If you want to transfer music from Android to iPod using Bluetooth, you will be disappointed, since it doesn't support sending files via Bluetooth between Android and iOS. You can have a try and will find they cannot pair with each other. Thus, please use the first three methods.
Conclusion
Even though there is a thick wall between Android and iOS, you can still transfer music from the Android device to the iPod with the ways mentioned above. If you choose the Android to iPod Music Transfer program, it will help you send music seamlessly. That will save your time a lot. Want to try it?
Related Articles
[5 Best Solutions] Recover Deleted Music Files from Android Phone
How to Back Up Music on Android in 10 Alternative Ways? (Easy & Effective)
Music Transfer - How to Transfer Music from Android to Computer in 2022? [3 Easy Ways]
4 Ways to Help You Deftly Transfer Music from iPod to Android
[Practical Guide] Transfer Files from Android to iPhone with 8 Tips
[Fast Transfer] How to Transfer Your Photos from iPhone to Android Effectively?