Summary
Have you ever been locked out of your OnePlus phone? It can be a dreadful experience, especially when it is your only dependable device. But that shouldn't worry you, as it is easy to unlock a OnePlus phone. In this post, we will show you how to unlock OnePlus phone and enable you to access your device again. From easy steps to quirky tips, we have got you covered. So, get ready, and let's solve this mystery together.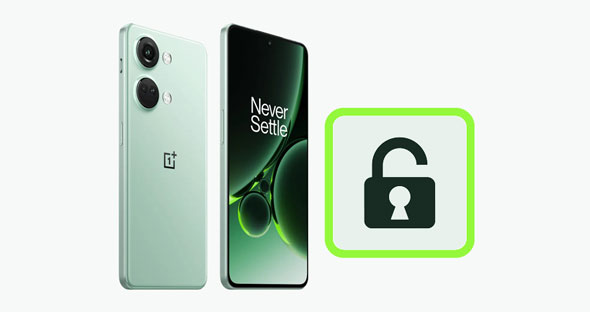 Part 1: FAQs on Unlocking OnePlus Phone
Q1. Will I lose data when I unlock my OnePlus phone?
You'll most likely lose your data when unlocking a OnePlus phone. However, if the phone runs on Android 4.4 and below, a Forgot Pattern function can enable you to unlock a OnePlus device without losing anything. For newer Android devices, the only way to unlock them without data loss is to create a backup beforehand.
Q2. Is it possible to unlock a OnePlus phone without a password?
Yes. Unlocking a OnePlus device is a pretty simple process, even if you can't remember the password you had set. And the good news is that there are plenty of options to achieve that. We have listed 5 reliable methods in this post so that you can use one of them to remove the screen lock from your OnePlus phone.
Part 2: How to Unlock OnePlus Phone in 5 Safe Ways
This section unveils 5 effective solutions to unlock a OnePlus phone with ease. Go through every avenue with a step-by-step demo, where you will know some basics about unlocking OnePlus mobile phones.
Way 1. How to Unlock OnePlus Phone Without Password Using Android Unlocker
If you want a quick option to unlock a OnePlus Nord phone while keeping your privacy intact, a better option is Android Unlocker. This tool will enable you to unlock various screen locks in mere minutes. It's especially suitable for starters since it does not need technical skills during the process, thus providing a smooth and safe experience.
If you've been worried about not accessing your device again after it gets locked, Android Unlocker is here to help with the unlocking. It can remove patterns, passwords, fingerprints, and more from almost all Android devices in several minutes.
Key features of this unlocker:
- Remove types of lock screens from OnePlus, including PIN, pattern, password, and fingerprints.
- Allow you to select your device model to make sure the unlocking is successful.
- Support Android OS 2.1 and upper.
- Guide you step by step with detailed instructions on the interface.
- Widely compatible with 15 Android brands & 2000+ Android tablets and phones, including OnePlus, Samsung, LG, Lenovo, Motorola, and more.
Download this tool to unlock your OnePlus phone.

Here's How to unlock a OnePlus smartphone without a password with this software:
Step 1: Download and install the program on your PC and connect the OnePlus device to the same computer with a USB cable. Choose "Screen Unlock" > "Android" > "Unlock Android Screen" after the phone is connected successfully.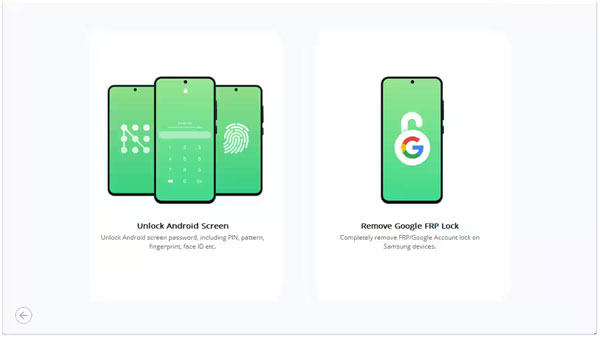 Step 2: Choose your device brand on the interface, and click "100% Remove Screen Lock".
Step 3: Select the correct phone model and name. Hit "Next" after that.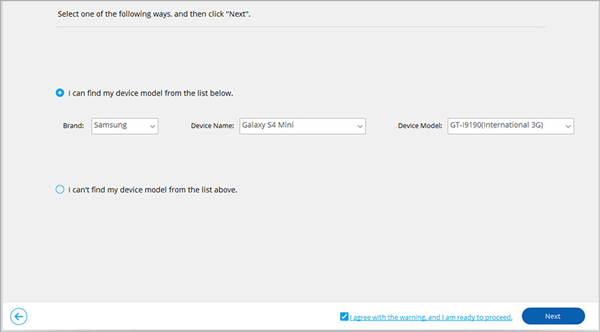 Step 4: Enter "000000" to the box and hit "Confirm" to go on. Then follow the instructions to make your phone enter Download Mode. Once done, the software will begin to unlock your OnePlus device automatically.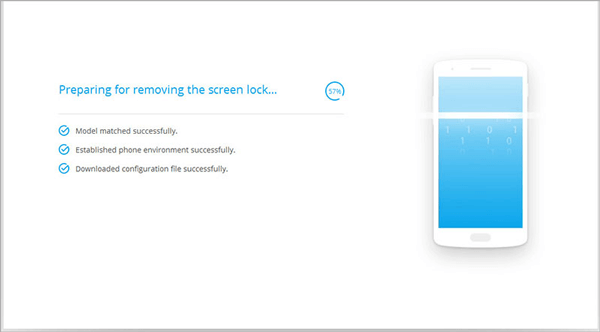 Maybe you need: Fast Transfer Files from OnePlus to Mac | 4 Proven Methods
Way 2. How to Factory Reset OnePlus Without Password via Recovery Mode
Another option to unlock a OnePlus phone is the Recovery Mode. It's a factory reset process that erases all files, so ensure you back up your OnePlus phone. After that, you can now proceed to unlock it.
Steps to unlock Oneplus phone through Recovery Mode:
Step 1: Switch off the phone. Hold the "Volume Down" and "Power" buttons together. Keep holding the keys until the OnePlus logo shows on the phone's screen.
Step 2: Release only the "Power" key and continue holding "Volume Down" until the recovery menu appears. Then choose "English" and "Format data" on the screen.
Step 3: Enter the code displayed on the screen for verification, and choose "Format" to reset your phone. After that, you can access the mobile device without any lock.

Learn more: Want to move data from an iOS device to a OnePlus phone? Utilize these 4 ways to complete the data migration with ease.
Way 3. How to Unlock OnePlus Nord Without Password Through Google Account
Forgot Pattern feature available on Android 4.4 and below is a handy way to unlock any locked phone. This feature lets you bypass the screen lock without a hassle. All it takes is just entering the wrong password five times to display the Forgot Pattern on the screen. Now you just have to log into your Gmail account then create another screen lock.
Below are the steps on how to unlock a OnePlus phone using a Google account:
Step 1: Enter the wrong passcode 5 times until you see the "Forgot Pattern/Password" option on the screen. It depends on the screen lock you had previously set.
Step 2: Click on the option and enter the Gmail account linked with the locked device.
Step 3: After successfully logging in, your phone will unlock, and you can now set a new lock.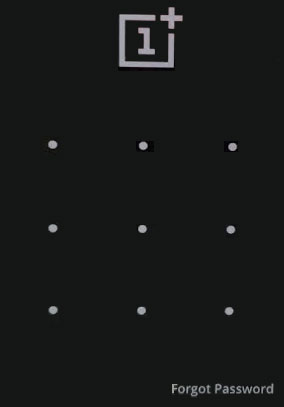 Troubleshooting guide: Fix OnePlus Switch Not Working [Advanced Tips]
Way 4. How to Unlock OnePlus Phone by Answering Security Questions
In most cases, you're required to set security questions for the Google account on some Android devices. So, if you've previously done so, you may unlock the OnePlus phone by answering the questions. However, you must remember the answers to the questions before you can unlock them. By the way, your device should run on Android version 4.4 or below to use this option.
Below are the steps for unlocking a OnePlus phone by answering security questions:
Step 1: Enter the password several times, and you'll see the "Forgot Pattern" option on the screen. Click on it and select "Answer question".
Step 2: You'll be asked questions you set as security questions to set up your Google account.
Step 3: Provide the right answers to the questions, and if they are accurate, the device will unlock. After unlocking the device successfully, you will be asked to create a new screen lock for the phone.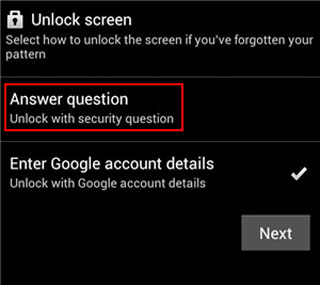 Way 5. How to Unlock OnePlus with Find My Device
Suppose you don't remember the answers to security questions or don't recall the password for the Google account associated with the locked OnePlus phone. In that case, you can seek the help of Google's Find My Device feature. This awesome feature can find, lock or erase a device remotely. You just need a stable internet connection, a Gmail account linked to the locked device, and have Find My Device activated on the phone.
Follow these steps to unlock your OnePlus phone if you meet the needed requirements:
Step 1: On your computer, open a browser and head to the Google Find My Device website.
Step 2: Sign into your Gmail account linked to the locked phone. Now the site will start searching the device, and you'll see three options on the screen: "PlAY SOUND", "SECURE DEVICE", and "ERASE DEVICE".
Step 3: Choose the "ERASE DEVICE" option to wipe all data from the OnePlus phone. All PINs, patterns, and passwords will also be erased, thus unlocking the device. After that, you can set up your phone and create a screen lock.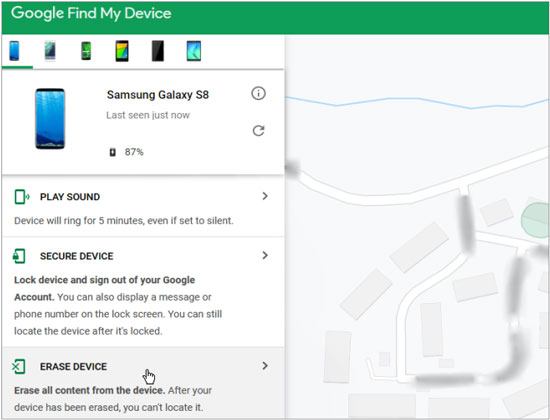 Read also: Easily Bypass Face Recognition on Android [Outsmart Face Lock]
Extra Tips: How to Avoid Data Loss Due to Unlocking OnePlus Phone
Creating a backup of your OnePlus device is crucial. You will not have to worry about losing your data when you forget your password for the screen lock, as you can easily restore it. Moreover, most unlocking options lead to data loss.
Regularly backing up the data on a OnePlus device is a good practice to ensure your files are safe. You can transfer your files to the computer or save them to cloud storage services like Google Drive.
At Last
You don't have to sweat buckets to unlock your OnePlus device. We have shown you easy, practicable options to unlock a OnePlus device without password. Even though it's disheartening when you can't remember the screen lock of your OnePlus phone, you can still unlock it conveniently by applying the above-mentioned ways. To make the process quick, you can use Android Unlocker, which unlocks locked Android devices with simple clicks.
Related Articles
Quickly Bypass FRP Google Account (Useful Tips and Solutions)
OPPO A3s Pattern Unlock Solutions - Excellent Tools to Remove Lock
OnePlus Data Recovery Guide: 4 Methods to Recover Deleted Files on OnePlus
OnePlus Transfer Guide: 5 Ways to Transfer Data from One OnePlus to Another
[6 Ultimate Ways] How to AirDrop from iPhone to Android?
How to Recover Permanently Deleted Photos on Android with/without Backup?