Summary
Owning a smartphone is one of the bare minimum requirements in the current digital world. Our smartphones carry confidential information that we would not want to disclose to anyone. As a result, we protect our smartphone's information using screen locks such as PINs, fingerprints, patterns, and passwords. Although screen locks are helpful, they can also prevent us from accessing our devices if we forget them. What can you do when you can't recall your Samsung A21 screen's password? Buy another phone? No, you will know how to unlock a Samsung A21 phone when you forgot the password after reading this article. Let us dive into that!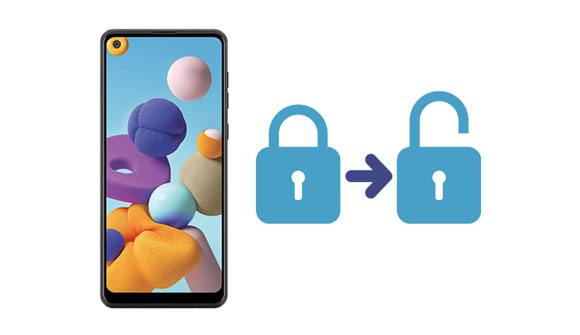 Method 1. How to Bypass Lock Screen on Samsung A21 Using a Professional Tool
Can't remember your Samsung A21 screen password? It is normal to forget passwords. But what can you do to regain access to your device and read the messages you have been waiting for from your client? You may be tempted to factory reset the device. It is not advisable to factory reset a device as it deletes all its files and settings. What is the best way to bypass the Samsung A21 screen lock and still retain the files stored? The answer is to use Android Unlocker, a professional Android screen lock remover tool. It specifically removes screen locks from many Samsungs and LGs without data loss.
Key features of this unlocking software:
- Allow the removal of Android screen locks, such as PINs, fingerprints, passwords, and patterns.
- Do not require a PIN or a Google account to bypass FRP locks.
- Unlock some LG and Samsung models without erasing data.
- Support most Android devices, including phones and tablets.
- Provide an easy-to-understand user interface that can be used even by novice computer users.
Download this software to unlock a Samsung A21 phone.

Below is how to bypass the lock screen on Samsung A21 using Android Unlock:
Step 1: Download the software on your PC, and launch it after installing. Take a working USB cable to link the locked device to the computer, enable debugging mode on the Samsung A21, and select the "Screen Unlock" option from the toolbox.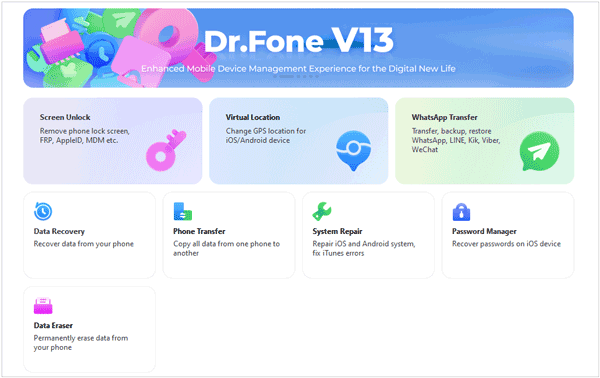 Step 2: You will be directed to a new interface where you must choose whether your device is an iPhone or Android. Select the "Android" option since you are unlocking an Android device.
Step 3: Next, select "Unlock Android Screen" from the available options. A new screen will be launched. Select your phone brand, which is Samsung, and choose "Remove Without Data Loss".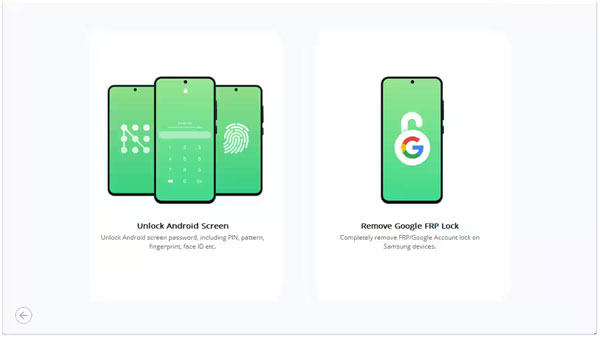 Step 4: Specify your device's information on the screen that will appear by specifying the device's brand, name, and model. After that, check the "I agree with..." warning checkbox and proceed to the next step by clicking "Next".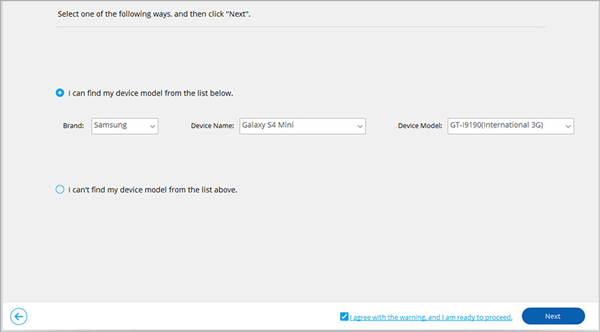 Step 5: Confirm your action by keying "000000" in the section provided and confirm the process. Put the Samsung A21 into download by following the instructions provided by the program. After that, observe the Samsung A21 screen's lock unlocking progress on the application's progress bar and click "Done" when the process completes.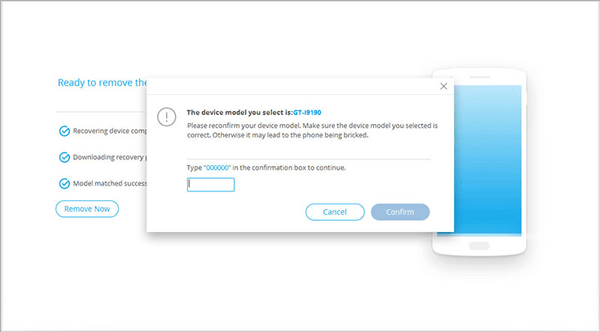 See more: Open this guide to get solutions for unlocking Samsung Galaxy A12.
Method 2. How to Unlock Samsung A21 When Forgot Password via Find My Mobile
Find My Mobile is a feature developed by Samsung to enable Samsung phone users to manage their devices remotely. Samsung phone users can decide to lock their devices, wipe entire data or find their devices' geolocation. In this case, we are employing the capability of the Find My Mobile feature to unlock your Samsung A21 smartphone without factory resetting it.
Here's the unlocking guide:
Step 1: Access another device, i.e., a laptop or a phone with a stable internet connection, open a browser, and navigate to Samsung Find My Mobile web page.
Step 2: Sign into your Samsung account using the same account as the one connected to the locked phone.
Step 3: Once successfully signed in, choose your A21 device from the device list.
Step 4: Choose the "Unlock" icon and tap "UNLOCK" on the prompt. Then it will require you to enter your Samsung account again. Once done, your phone will be unlocked.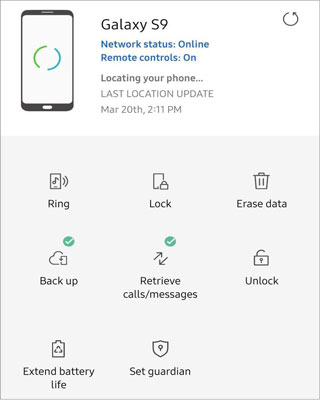 Read also: Then how can you unlock the SIM lock on Android devices? Maybe these ways will help.
Method 3. How to Factory Reset Samsung A21 When Locked via Find My Device
Find My Device is a service by Google for all Android devices. This gives Android users the capability to manage their devices remotely. This service requires a Google account to be signed in to both devices. Managing these devices entails factory resetting, screen unlocking, and finding the device's location in case of misplacement. Since Samsung A21 runs on the Android operating system, you can factory reset Samsung A21 when it is locked with Find My Device.
Let's guide you on how to factory reset your Samsung A21 using Find My Device:
Step 1: Using another device, open your browser, navigate to "https://www.google.com/android/find/#", and enter your Google account details.
Step 2: Once you log in, all devices bearing your Google account details will be displayed on the left sidebar. Tap on your device name to factory reset to activate other options.
Step 3: Afterward, select the "ERASE DEVICE" option and confirm your Google account and password.
Step 4: Wait a while for your device to be factory reset. Once this process completes, you can set up your phone afresh.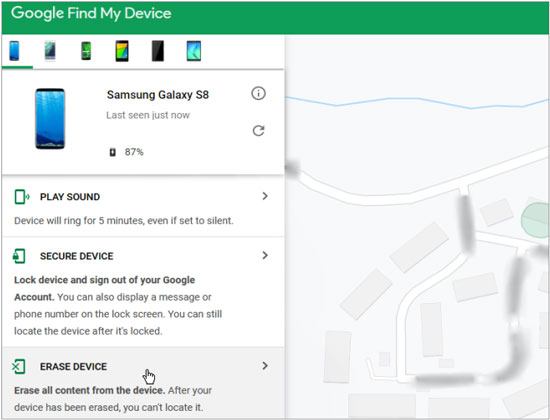 Further reading: Solved: How to Recover Deleted Contacts from Samsung Galaxy?
Method 4. How to Unlock Samsung A21 with Forgot Pattern Feature
The Forgot Pattern feature on Android devices is a helpful function that can help unlock a device when it gets locked. But note that you should have the credentials of the Gmail account associated with the device, and it only works on devices running Android 4.4 and lower.
Here are steps to follow to unlock your Samsung device:
Step 1: Enter the passcode at least five times till you see the "Forgot pattern" or "Forgot password" feature on the screen.
Step 2: Sign into your Gmail account with the correct username and passcode. Then open Gmail on your computer or another mobile device, and you will receive an email for unlocking your phone.
Step 3: Click the link in the email and create a new password for your Samsung phone. Then you can use the new password to unlock your A21 phone.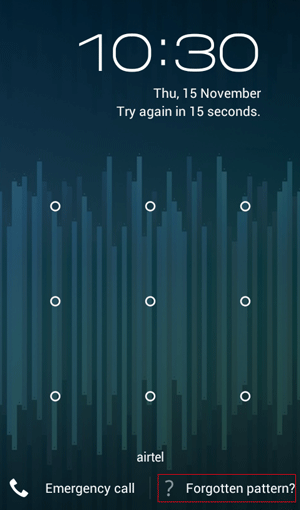 Method 5. How to Hard Reset Samsung A21 When Locked
As a last resort, you can hard reset your Samsung device to remove the lock. But please notice that you will lose all your data from your Samsung A21.
Here's how to hard reset your locked Samsung A21:
Step 1: Switch off the device. After that, hit the "Volume Up" and "Power" keys at the same time till you see the recovery screen.
Step 2: Choose "Wipe data/factory reset" using the volume keys. Then hit the "Power" button for confirmation.
Step 3: Confirm the process and hit "Yes" on the screen to reset your phone. Once done, the screen lock will be wiped.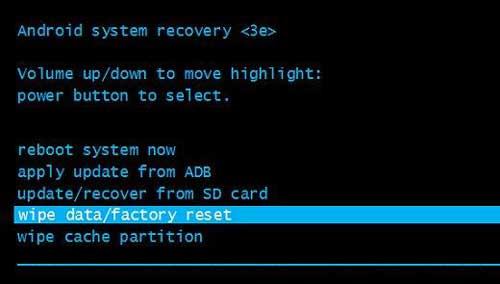 Final Thoughts
If, by bad luck, your Samsung A21 gets locked, fret not. You should check this guide to remove that lock from your device. The methods outlined here are simple, and that annoying lock will be gone in just mere minutes.
The most convenient and easier way to remove the lock from your Samsung gadget is to use Android Unlocker. It quickly removes the lock screen from many Samsung devices while keeping your files safe.
Related Articles
Safe: How to Unlock Vivo Phone If Forgot Password - 5 Solutions
Resurrection: How to Recover Samsung Notes Effortlessly
Why Is Samsung Phone Overheating and How to Fix the Issue?
How to Reset Samsung Tablet via 4 Safe Methods [Cushy Guide]
How to Transfer WhatsApp from iPhone to Samsung with 4 Ideal Methods
4 Easy Methods to Transfer Data from Sony to Samsung [Solved]